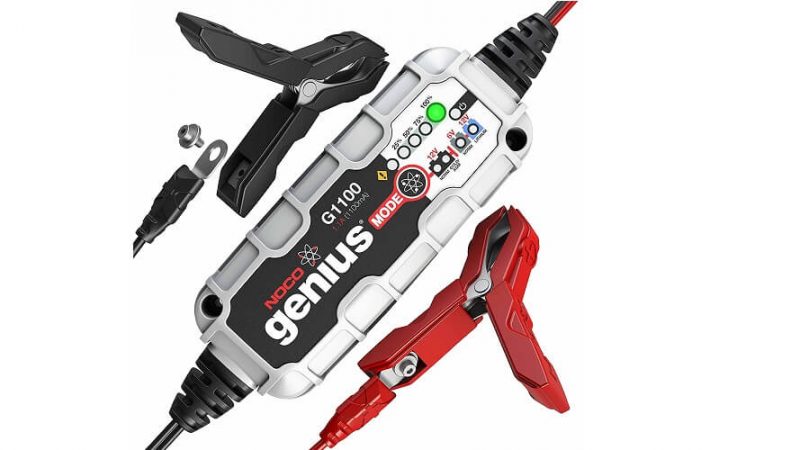 Let's start this NOCO Genius G3500 review with the distinctive feature – it is a waterproof unit that can be left out in the wet and will not short out in the rain. Besides, two additional mounting holes fix the device and help avoid mechanical damages. This trickle charger fits both cars and motorcycles. It puts out 6V/12V and 3.5 Amps.
The NOCO G3500 has the has repair mode, maintenance (norm), and lithium modes. It is able to restore the battery's capacity even if the plates are heavily sulfated. Anyway, you can read the review of different products and choose the best trickle charger.
Furthermore, the spark-proof tech makes the Genius G3500 completely safe. If you put the positive on the negative — the correspondent light is on, saying that it is hooked up wrong. The ability to connect fast to any battery without risk of damage is one of its most amazing specs. The NOCO Genius G3500 battery charger comes with an X connector, a battery end, clamps, and cables. The cables measure out to about 12ft long (6ft cord on the red side, 6ft on the black side).
Pros
Can be used for a wide range of batteries – ATV, lawn and farm tractor, truck, automobile batteries, as well as portable generator ones.
When the battery is completely charged, the device switches to the "maintain" mode automatically.
The clamps are bigger than usually, making them easier to use.
Cons
If the device loses power, it resets, but the charging stops. You will need to manually restart the charger.
It stiffens and turns solid at a temperature below 10 degrees.