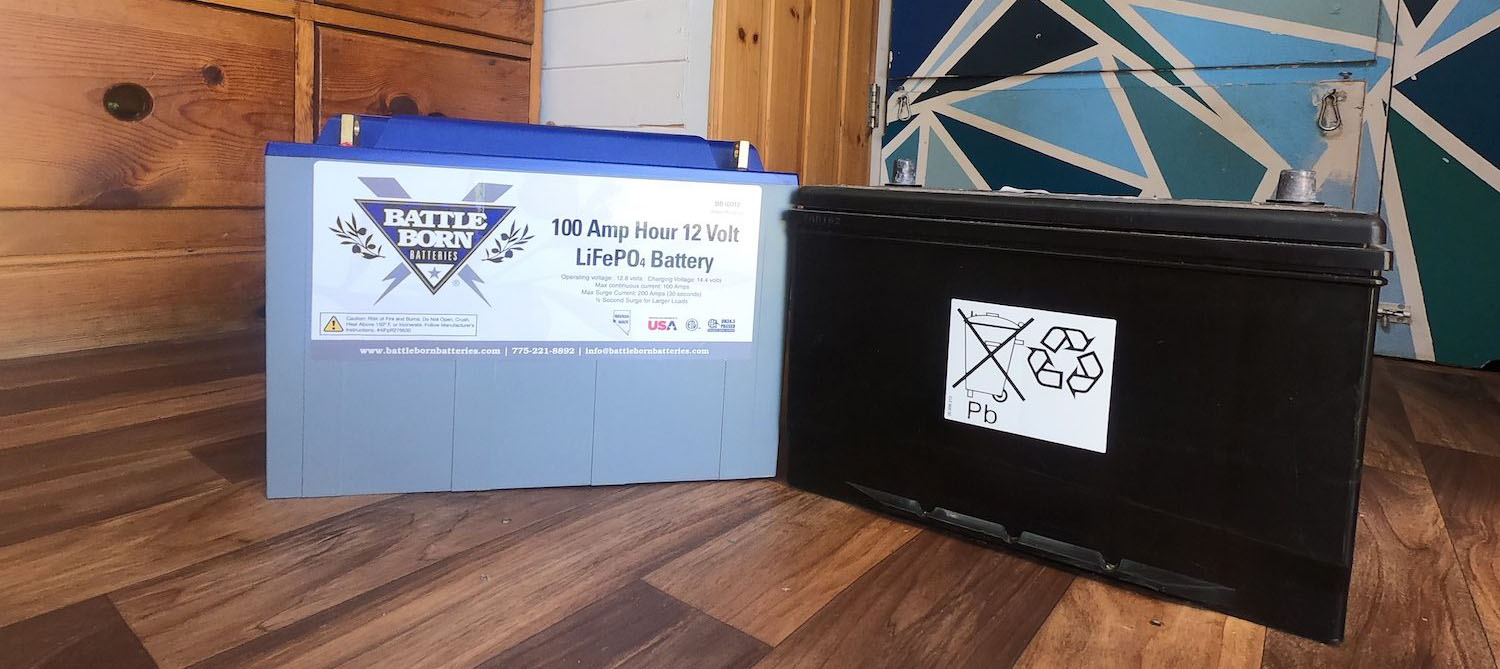 Somehow you have found yourself looking for a deep cycle battery but you not sure which one to get. Technical jargon has never been your forte but still, you want to get the best deep cycle battery. This article will answer the question: what is a deep cycle battery? It will give you a list of the best deep cycle batteries on the market, and explain how to charge and maintain your battery once you've bought it.

What it a deep cycle battery?
A deep cycle battery is a lead battery that is designed to give long-term power and run reliably until it is 80 percent or more drained, at which time it must be recharged. These batteries have several features that set them apart from starting or average car batteries. For one, an automobile battery will produce a powerful surge of energy for a few seconds and then the alternator takes over while a deep cycle battery will give a steady stream of energy. A deep cycle battery can routinely discharge a large portion of its capacity without suffering damage, whereas automotive batteries will only discharge a small portion of their capacity.
There are multiple applications for a deep cycle battery from boats to standby systems to even recreational vehicles (RV) and more. This article will give deep cycle battery reviews for three applications, namely RVs, solar power systems, and marine.
What is the Best Deep Cycle Battery: Reviews
Best RV Deep Cycle Batteries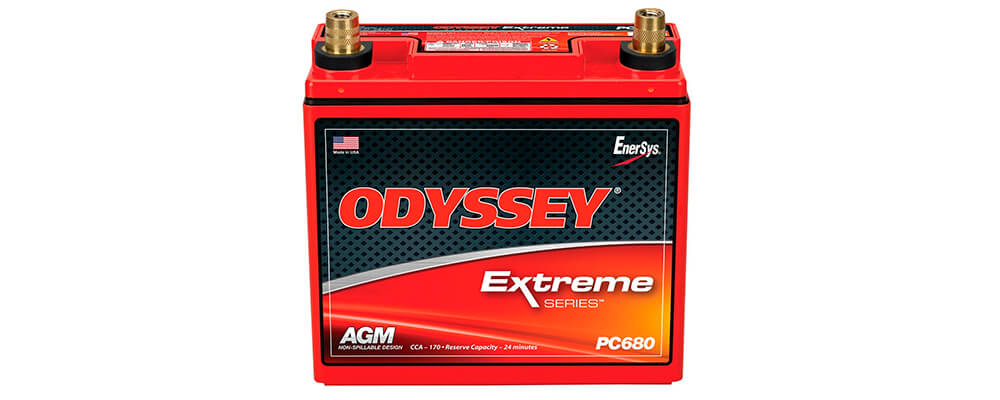 A spill-proof AGM (absorbed glass mat) that shields the battery from shock and vibration is part of its durable construction. The PC680 is a good multitasker deep cycle battery that provides an intense starting power and decent deep cycling. This Odyssey battery produces cranking pulse of over 2250 amps for 5 seconds, multiple times larger than conventional batteries. Odyssey's battery can stay up to 2 years unconnected without charging but if you do charge it, it is quite quick. It just takes 4–7 hours to charge to 100%. However, it has a low cranking rating and reserve capacity, especially compared to the rest of the options on the list that claim to be the best deep cycle battery for RV. It is that it is a small deep cycle battery that is a moderate performer at a low price. In comparison to competitors, the battery is compact and weighs only 15 pounds.
Pros
Affordable battery
Fast recharging rate of 100% in 4-7 hours
Cycle life of up to 400 cycles
Leak-proof and maintenance free
Extreme temperature and vibration resistance make this model potentially the best deep cycle car battery
Cons
Low CCA rating
A limited number of reserves with 24 minutes
Power of the battery significantly drops in a short amount of time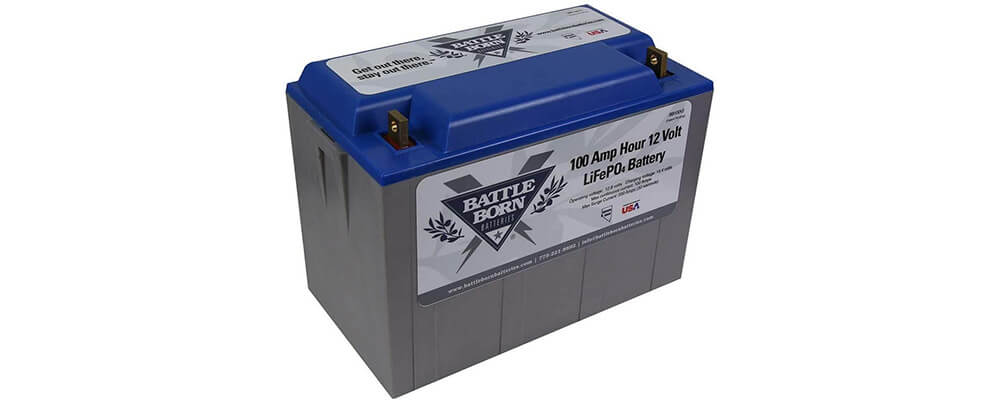 Consider this model if you're looking for the best RV deep cycle battery. The Battle Born 100Ah is an American product made with Lithium Iron Phosphate (LiFePO4). This best RV deep cycle battery delivers a lifetime capacity of 300 000 Amp-hours and between 3000 – 5000 charge/discharge cycles. It can charge to 99% in less than 3 hours and can even be charged with lead-acid battery chargers. The Battle Born's lithium-ion technology makes it extremely dependable and safe. Lithium-ion batteries are better for the environment than the usual lead-acid batteries. Plus, they last longer and outclass all other batteries. They are very light, weighing 29 pounds and they don't require any extra hardware to install. In addition to RVs, this battery is excellent for trailers, golf carts, boats, and off-grid systems. But don't think these are cheap deep cycle batteries. The most advanced technology is always prohibitively expensive, and the Battle Born is no exception.
Pros
Ten-year warranty
Long battery life with 3000 – 5000 cycles
Maintenance free
Mountable in any position
Energy efficient and super quick charging
Cons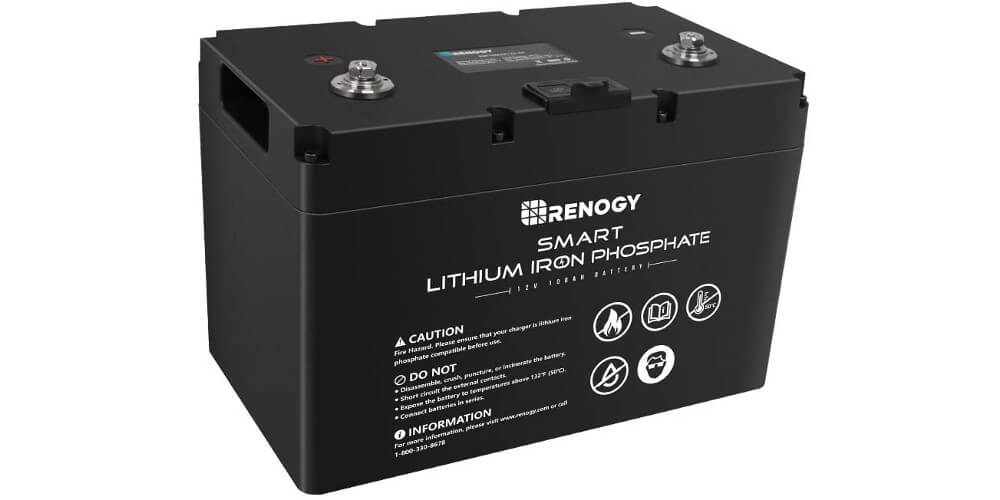 This deep cell battery from Renogy uses lithium-iron phosphate technology to provide a powerful solution in a small package. The battery is much lighter than other lead-acid batteries of 100Ah, weighing 27 lbs. This battery is ideal if you value deep cycle battery life. This 12-volt deep cycle battery can produce thousands of cycles thanks to the built-in protection system. It also has a low monthly self-discharge rate of less than 3%, indicating that it is an excellent storage device. It is a robust device that is both fire resistant and explosion proof and can still operate in a wide range of temperatures. Because this is a high-end item, expect to pay a premium for it. But the thing is you get a lot for a lot. The Renogy battery has minimal maintenance, fast charging, and lasts much longer than the ordinary lead-acid battery.
Pros
Good battery life with over 2000 cycles
Very safe and low Maintenance
Energy efficient and super quick charging
Cons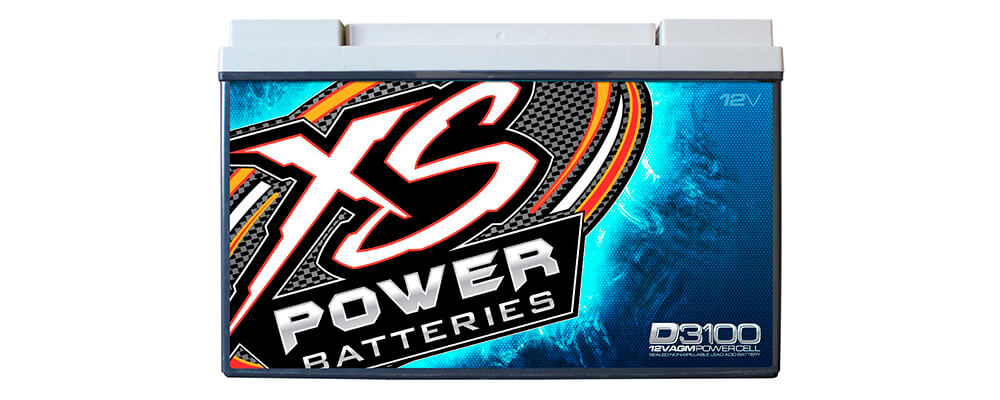 The battery model is an excellent deep cycle battery for RV with 1360 cranking amps and 110 amp-hours of discharge capacity. These batteries include an absorbed glass mat (AGM) that eliminates dangerous leaks while also delivering a high energy density for a powerful battery. This battery on sealed using a reinforced ABS plastic that makes in resist extreme heat as well as intense vibrations. This makes the XS-Power D3100 a simple solution that performs well in a hatch area or trunk. This battery is also suitable for high-end audio systems requiring 4000 – 5000W. The weight and price of this 12-volt deep cycle RV battery are the only drawbacks; otherwise, it is the best RV deep cycle battery.
Pros
Three-year warranty
Mountable in any position
Vibration and high temperature resistance
No maintenance
Reserve capacity of 237 minutes
Cons
Expensive
Very heavy battery
Best Solar Deep Cycle Batteries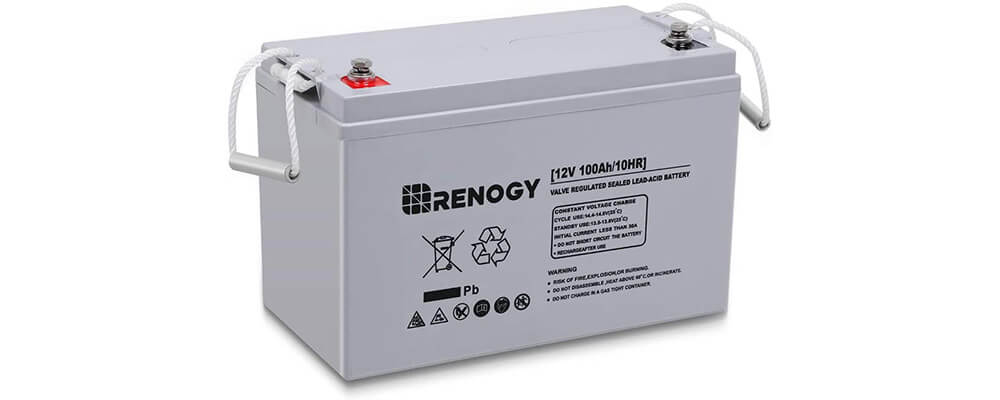 This is not a lightweight deep cycle battery, but if you are on a budget then this could be an option for you. The Renogy is a good value for a 100Ah deep cycle marine battery, as it is neither too expensive nor too inexpensive. This battery uses absorbed glass mat technology to ensure no spills and leaks, making it maintenance free and mountable in multiple positions. If you choose this product, you will see that it converts 21% to 24% of solar power into energy, making it a very efficient solar battery. The battery is also rated for 600 cycles at 50% depth of discharge (DOD).
Pros
Maintenance free
Mount it in any position
2-year warranty
Cons
Not the cheapest option
Quite a heavy battery
Reported to take several days to charge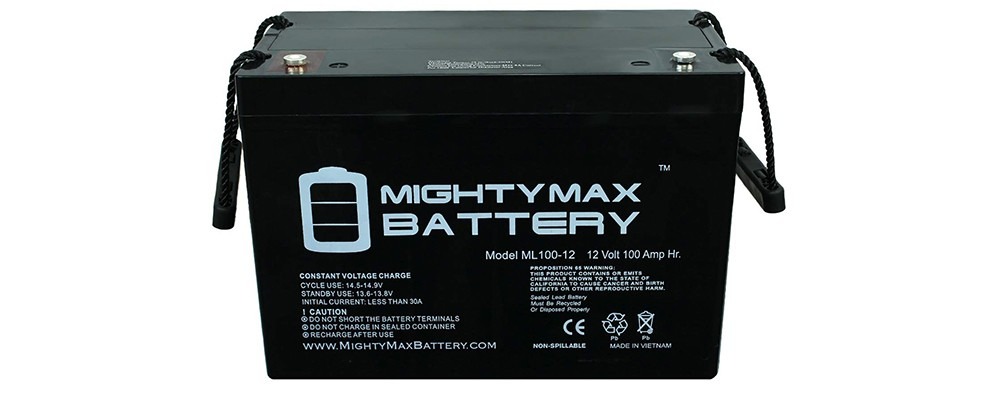 This Mighty Max battery uses AGM and valve regulated design to give a great product that provides long service life and good performance with little maintenance. What makes these solar deep cycle batteries stand out from the rest is that they are specifically designed for off-grid solar. Because these batteries are spill-proof thanks to the AGM, you won't have to worry about liquids or where to mount them. But the battery is quite heavy at 64 lbs. It's not as big as other batteries, but it's not very compact. Furthermore, the battery does not include any mounting accessories. There is a warranty though only for one year, which seems a bit short when all things are considered.
Pros
Can be used indoors and outdoors
Mounting flexibility
No maintenance
Low-priced deep cycle batteries
Cons
Mounting equipment is not included
If left idle, some batteries may not hold a charge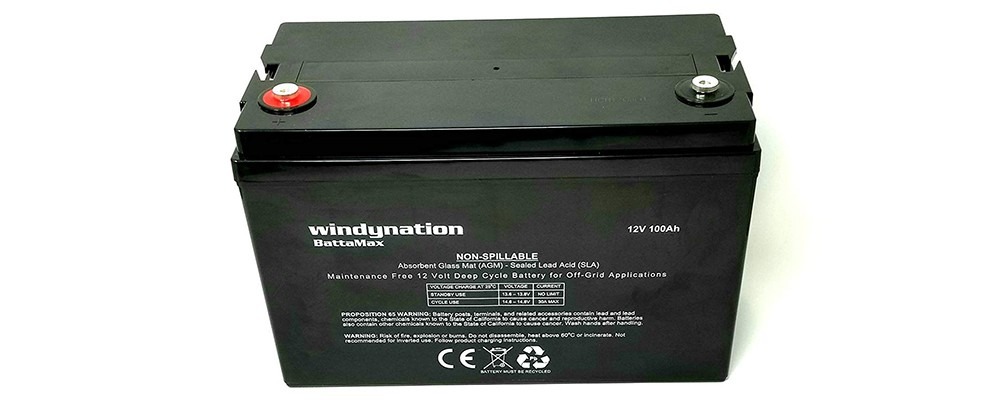 When you're looking for the best deep cycle battery for solar, the BattaMax must be considered since it is designed for off-grid systems. First, the battery delivers power with a low self-discharge rate every month. The second benefit is that it is spill-proof, enabling installation in a variety of locations. The BattaMax has a thick plastic exterior that resists shock, vibrations, and even acids. This is the main reason it has a life expectancy of 3 – 5 years. With the depth of discharge, you can expect 200 – 1200 cycles depending on whether you fully discharge or only discharge about 30%. This battery is backed by a, rather short, full 1-year warranty. The price of this item is another positive aspect. WindyNation's battery is one of the cheapest deep cycle batteries on the market and yet you get all this.
Pros
A good number of discharge cycles
Durable and robust build
No maintenance
Powerful battery with 240 min reserve capacity
Cons
Heavy battery at 64 lbs
Short warranty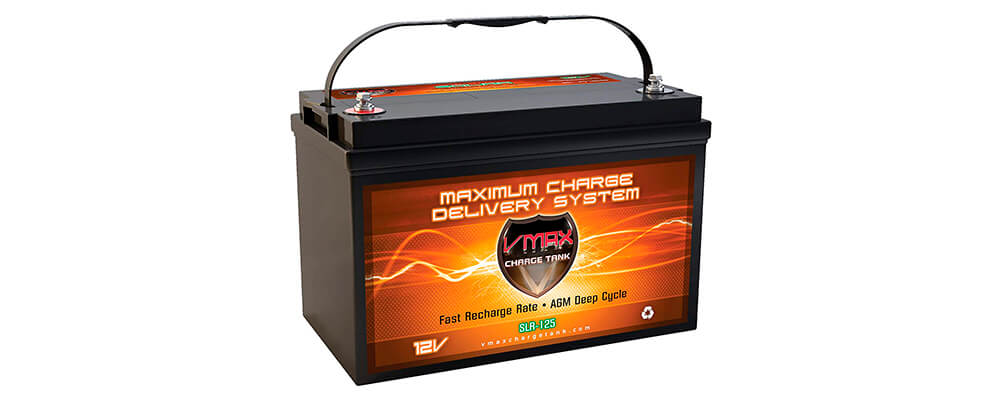 This company expects the SLR125 to last a whopping 8 to 10 years. First, the battery military grade plates and a rugged exterior. Next, it uses an AGM design that not only provides reliable starts but also makes the battery spill-proof, so if you need the best AGM deep cycle battery, consider this one. You can also count on the SLR125 to hold its charge when left unused since it only discharges at 3% per month. It has fast recharging which makes it a great choice for solar, wind, and emergency power backup systems. Since the battery does not vent, you won't need to be concerned about any potentially harmful gases or fumes. Though you will need to vent the battery to prevent an explosion. The battery weighs 75 lbs, which is a lot and should be taken into account when deciding where to store it.
Pros
Long life span
Mountable in any position
A great option for RVs too
Reliable battery with excellent quality
Cons
Heavy
Poor construction of the handle
Best Marine Deep Cycle Batteries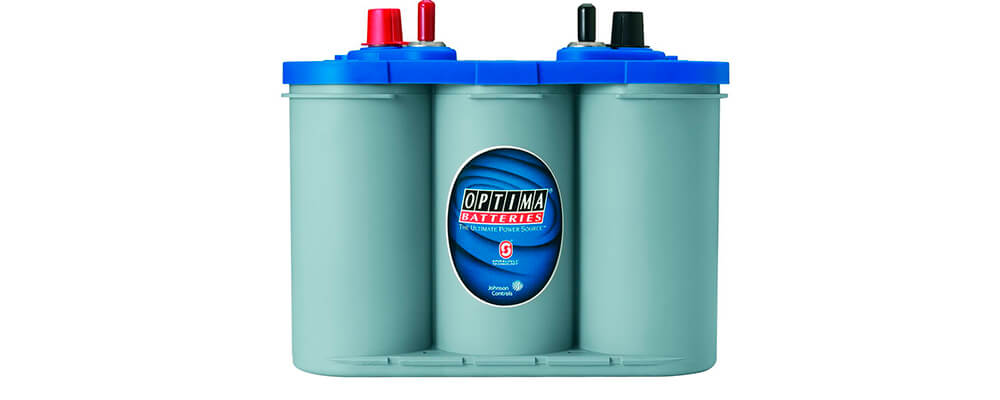 This battery has 750 cold cranking amps, 120 minutes of reserve capacity and 55Ah capacity, meaning it is powerful and consistent. It uses a technology called SpiralCell which are simply spiral-wound lead cells with a lead oxide coating. This design makes the battery more useable as you can recharge them more times more than other batteries. It has a casing that is several times more resistant than similar batteries, allowing it to survive extreme vibrations. You won't have to worry about upkeep either, because the battery is spill-proof and can be mounted almost anywhere. In short, this is potentially the best marine deep cycle battery for its price point.
Pros
Reserves capacity of 120 minutes
Can be recharged more times than regular batteries
Two-year warranty
Can be used as a starting battery
Cons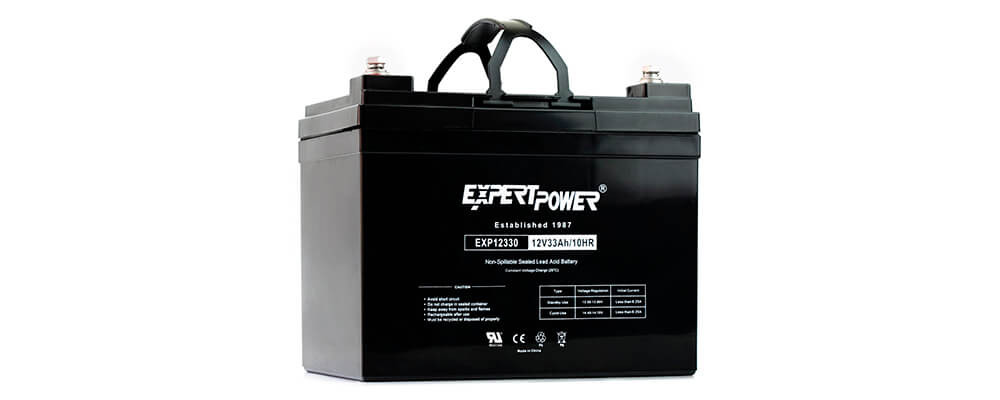 This is a lightweight deep cycle boat battery that is an excellent option for applications that don't need that much power. The 33Ah rating allows for 10 – 17 hours of use on a single charge, which is quite impressive. This battery is not just the best cheap deep cycle battery but compact and you can easily install it into most spaces. It uses AGM valve regulated technology to make it a versatile battery that can be used both outside and inside.
Pros
Inexpensive battery
Only 23 lbs
Long use from a single charge
Indoor and outdoor use
Due to its low price, can be potentially the best value deep cycle battery
Cons
Not suitable for intensive applications
The low rating of 33Ah
Need to be careful not to overcharge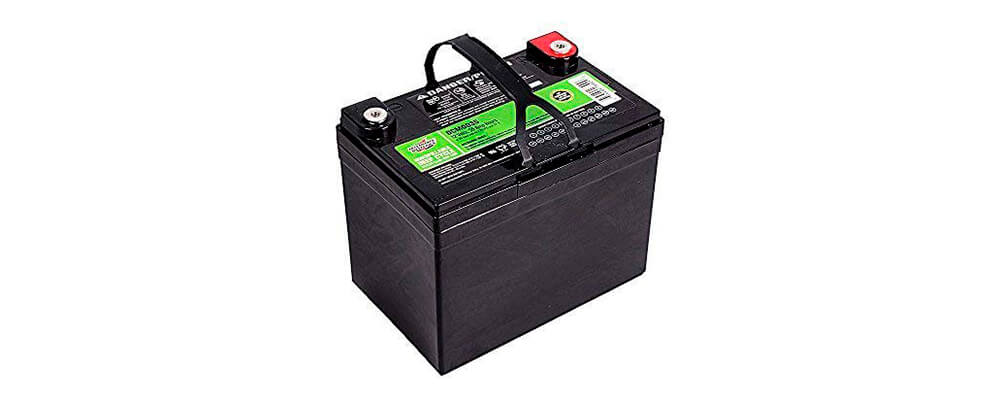 Mounting and transporting this battery is a breeze. It is only 23 lbs and pretty compact which is perfect for small motors for several hours of normal use. But it doesn't have the same capacity as its heavier competitors. The DCM0035 only has a capacity of 35Ah, which is too little for certain applications. The battery uses AGM technology and so you know it is maintenance free, spill proof and can withstand vibrations. This allows the battery to be mounted in almost any position. The small deep cycle battery is from Group U1 or GT9L and despite its size, it has a thick durable plastic casing that prevents major damage to the battery. If you are on a budget, this is a good option for you. The DCM0035 is way cheaper than 100Ah batteries so if you need enough power for small equipment then this may be the best deep cycle marine battery for you.
Pros
Cheap deep cycle batteries
Light and compact
Fast charging
Cons
Low capacity of 35Ah
After a year of use, they don't easily hold a charge
Long term damage caused by overcharging
VMAX MR127: Electrolyte Suspension Support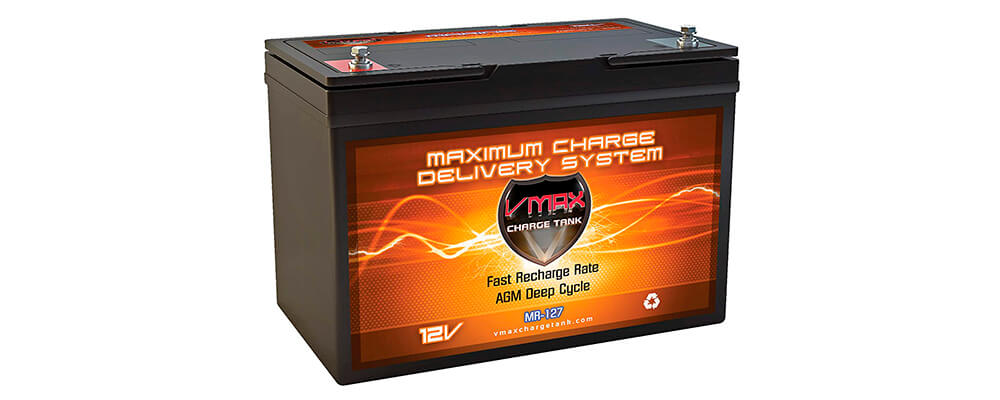 This is one of the best deep cycle marine batteries meeting the trifecta of performance, price, and value. While the battery is a little more expensive than most it is value for money when you learn that the battery has 200 minutes of reserve capacity and a 100Ah capacity. The MR127 is an exception deep cycle battery because it uses an electrolyte suspension system. This is also why it is dependable and long-lasting. It is very durable due to a thick plastic casing that shields it from wear and tear while also resisting vibrations. The battery weighs a substantial 67 lbs, which is due in part to the thick casing, which serves a purpose. With a capacity of 100Ah, this deep cycle battery can supply enough power for large motors, RVs and renewable energy systems like solar and wind.
Pros
Fast charging time
Mountable in multiple positions
Reliable use
Cons
Heavy battery
Costs more than most batteries
Buyer's Guide
Maintaining a Deep Cycle Battery
If you plan to acquire a deep cycle battery, you need be aware of how to maintain it. Even if a number of batteries say they are maintenance free, you will still have to do regular checks and interventions to maximise the life of your battery and its performance. For a list of helpful tips to make sure your deep cycle batteries last for years, keep reading.
Charge new batteries

Before you use your new deep cycle batteries you should charge them. Not all batteries are fully charged from the manufacturer. Also, since batteries lose charge with time and you do not know how long they sat in the store, it is imperative that you charge your battery before you use it.

Clean dirt and debris

Make sure you clean your batteries and ensure there is no dirt or debris that will build up on the battery terminals and hinder their effectiveness.

Regularly check for bulges and cracks

Physically inspect your battery if the are any cracks or if the battery has bulged out. Bulges and cracks indicate problems like freezing, lack of battery fluid or a problem with the alternator. The simplest way to avoid all of this is to wipe the battery with a paper towel.

Check the fluid level

Deep cycle batteries should have their fluid level checked. They should be watered with distilled water after charging except if the plated were exposed before charging.

Do not discharge below 80% capacity

To extend the life of your battery, make shallow discharges. Beyond 80% of discharge, sulfation speeds up and the deep cycle battery will work harder than it should. Ultimately, this will end up in a shorter battery lifespan.

Always use batteries of the same size, age, and usage level

If you are going to be using multiple batteries, you have to ensure that they are all of the same size, age, and usage level otherwise you will face some problems. If you replace one battery with a new one, the other older batteries will drain the newer one to their level since they cannot keep up with it.

Regularly test your batteries' specific gravity and voltage

It is crucial to measure your battery's specific gravity and voltage to make sure it is operating correctly. If you need to test sealed batteries then you will need a load tester, otherwise, test your battery, you will only need a DC voltmeter and a hydrometer.

Do not leave batteries inactive for several months

Batteries lose charge with time and so leaving them inactive for several months could result in them passing their threshold of discharge. Charge it at least once a month to keep the voltage up in warm weather, but in cold weather, you can go 2-3 months between charges.

Battery maintenance changes with age

You will have to change your battery maintenance routine with time. With time there is more use, wear and tear, and exposure to detrimental factors. As a result, older batteries will require more care, which you should keep in mind.

Use the right equipment to charge your batteries
Ensure you use the right sized charging source for your battery. An over-sized charger will result in excess gassing, thermal runaway, and even explosions. However, an undersized charger won't charge the battery no matter how long you charge it for.
Ways to Charge a Deep Cycle Battery Properly?
First, you need to know that after you have bought even the best rated deep cycle battery, you will have to charge it. It is crucial that you know how to charge a deep cycle battery properly because you can literally cause an explosion if you don't. Also, please use the right sized charger as mentioned above. Now follow the steps below:
Only work in an area that is well ventilated since battery gasses may be released while you're charging it.
Wear protective gloves and eyewear so that there is no irritation to your skin or eyes.
Connect the battery charger to the correct terminals, i.e. red clamp to "+" on the battery and black clamp to "-"on the battery.
Next, plug the charger into the wall receptacle.
If your charger is able to charge multiple types of batteries then select the option that matches your battery.
Press start and leave the battery to charge. The charger will notify you with an indicator light when it is done.
Turn off the charger, then disconnect the battery and use or store it as you feel fit.
How Long does a Deep Cycle Battery Last?
To determine how long a deep cycle battery lasts, you have to keep in mind several factors. You will have to consider the cell chemistry, depth of discharge, how you take care of the batteries when you're not using them and if you leave them idle and for how long. All these and more culminate to your overall battery life. However, with proper care, you can keep your batteries for well over 5 years.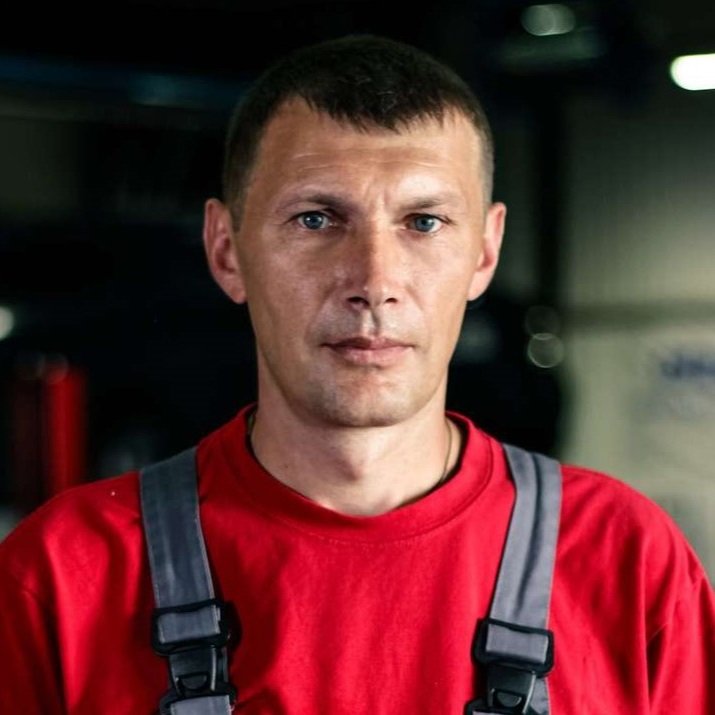 My name is Brandon, and I've been interested in cars since I was a kid. I got a bachelor's degree in Automotive Technology and worked in a private car workshop. I have two cars that have been completely upgraded with my own hands. So I successfully put all my knowledge into practice.
Last update on 2023-02-17 / Affiliate links / Images from Amazon Product Advertising API