There's a myth that a common charger can be used instead even the best AGM battery charger. Let's dispel it to exclude damages and to let the battery stay save for a long period.

AGM batteries are designed to charge them gradually not to overheat or boil battery acid. Average chargers are unable to operate in stages. Besides, AGM batteries demand low voltage that is not the common units' strength. They can't control either voltage or amperage.
AGM charger is dedicated to AGM type of batteries and comes with the microprocessor to track the battery's power and to set right both voltage and amperes based on the data obtained. Every modification of AGM battery has its own parameters and requires a proper AGM charger.
AGM Battery Charger Reviews
The following AGM battery charger reviews deal with advanced multifunctional devices that can recharge several types of batteries and are compatible with plenty of vehicles.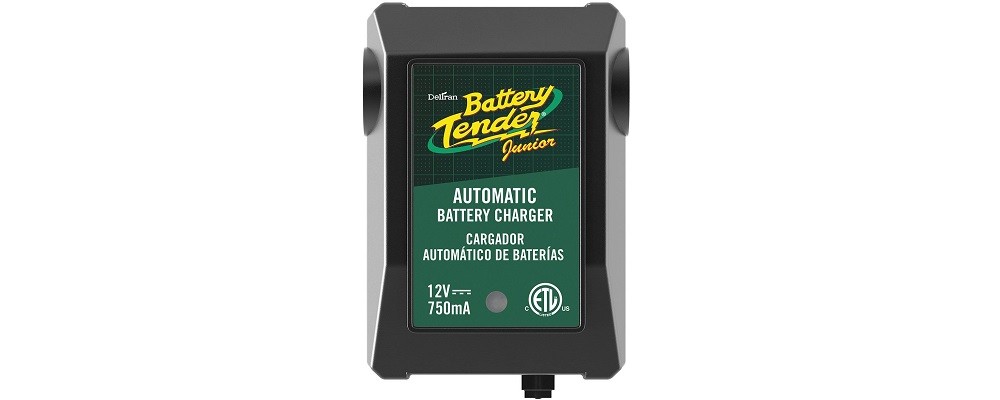 The 12-volt/0.75-Amp battery charger is compact and lightweight enough to save space in the car or in the garage. It is compatible with different vehicles including airplanes, ATVs, motorcycles, scooters, watercraft, and lawnmowers. Ring terminals and an alligator clip make it simple to connect. Its spark proof spec protects from current surges.
It comes with a 4-step program for charging AGM batteries and helps optimize the battery power. This model works great on flooded, wet-cell, lead-acid batteries, and AGM ones but except for the gel-cell battery.
The Battery Tender starts floating voltage automatically after it has been fulled due to its ISM adaptive charging tech. It is not possible for the battery to burn out or overcharge. This AGM battery tender comes with reverse-hookup protection to avoid damaging when the battery is inserted incorrectly.
Pros
A weatherproof connector on wires to use the charger for water vehicles.
The AGM 12v battery charger can be stored and use in the unheated garage.
Keeps batteries fully charged.
Cons
Produces noise while operation.
Its cord isn't water resistant that requires to be cautious when charging watercraft.
Hard to understand the indicators lights – green and red colors have several statuses.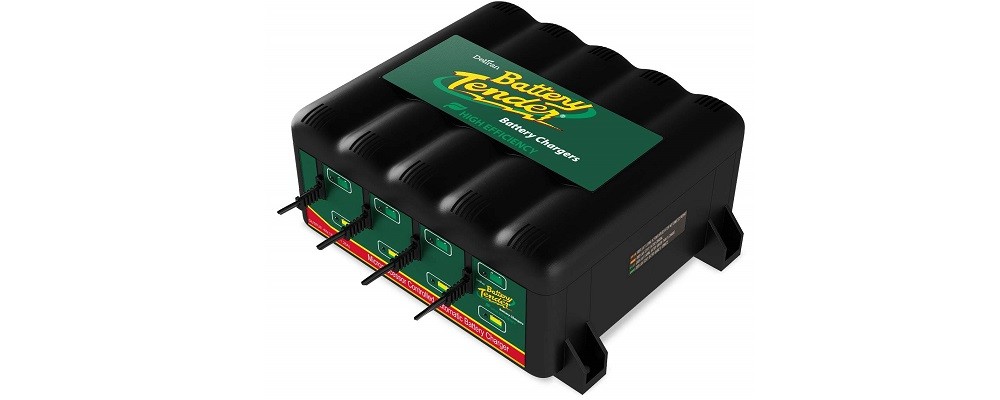 This AGM charger is designed for 12-volt batteries and it fits different types of AGM batteries – sealed, maintenance free, and flooded. It is ideal for owners of multiple vehicles, including recreational vehicles. It is possible to charge up to four batteries simultaneously (1.25 amp per charging bank) without a danger to overcharge or ruin them. There's no need to supervise the charger – it can be hooked up for a long time and provide the necessary level of power. All the toggling between stages proceed automatically.
The device comes with 4-staged charging system – initialization, then bulking charging process, further absorption, and entering a float mode.
It comes with the reverse-polarity function to stay turned off in the case of incorrect polarity. Spark-proof connectors protect you from electrocution.
Pros
The mounting system is well-advanced mount it to the wall of a garage or a trailer for easy access.
LED indicators for a variety of vehicles.
Cons
Not for an emergency, it is for slow charging only.
Connectors can be damaged in rainy or snowy weather.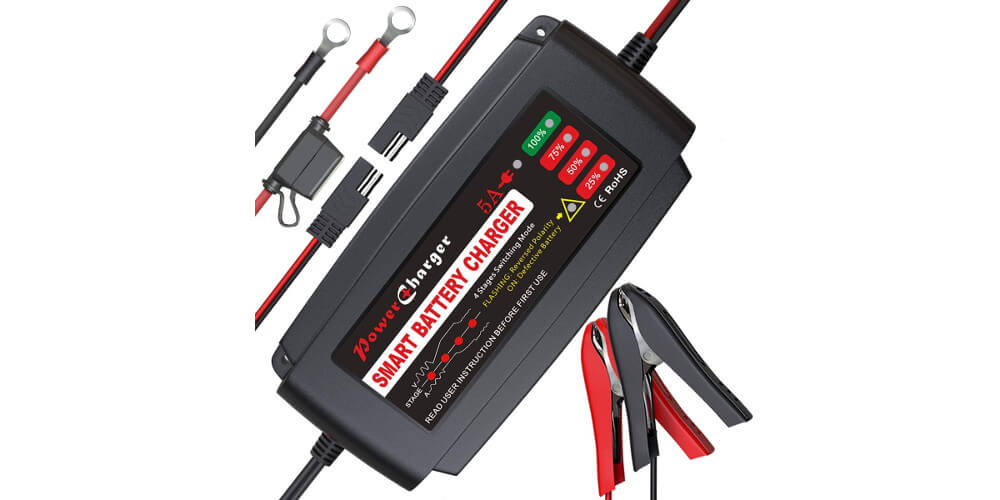 This 12-volt high frequency/5-Amp compact model can control the whole process providing accurate charging, excluding overcharging and breaking the battery down. The BMK battery charger deserves to be called the smart one because the manufacturer implemented a special feature to detect defective batteries in the first place. Its 5A DC output current allows it to charge batteries ranging from 15 to 100 Ah.
One of its main features is 4-stages charging: 25%, 50%, 75%, 100%. This feature is really accurate and will be handy for those who want to monitor the charging status while it is on. The BMK will automatically stop after it has been recharged.
The BMK has LED indicators to see the power on/off and charged status. Despite the absence of the display (some models in this price range have it), this model has a chance to become the best AGM battery charger due to the overload protection to escape endless checking the charge levels and full reverse polarity function.
Moreover, the BMK smart charger is a very compact model, weighing just 1.3 lbs and having 9.5 x 4.5 x 2.9 inches, you can always take it with you or store it in the glove box of the car.
Pros
Detachable alligator clamps.
The unit goes with eye connectors that can replace alligator clamps.
It is IP65 rated being quite waterproof.
It can be left connected to the battery for a few days and won't damage it due to the floating mode.
Cons
The clamp sometimes falls off from the wire because of some vibrations.
To use the side mount, you must first remove the protective plastic covers.


This CTEK AGM battery charger fits both cars and other 12-volt vehicles – boats, dune buggies, ATVs, etc. The device is lightweight and portable. Its cables are well insulated and very flexible. The CTEK (56-353) is safe because it can't be activated in case of crossing connections.
It has 4 modes to use it in normal conditions, in colder climates with the average temperatures of 41 degrees Fahrenheit, for reconditioning heavily discharged batteries, and to provide a stable supply of 13.6 volts. Many drivers consider this model to be the best AGM battery charger due to its 8-staged system of charging; however, its alligator clips that are made of brittle plastic and can break easily.
Pros
It can stay connected for several months without causing battery damage, making it the best charger for AGM deep cycle battery for seasonal vehicles.
Simple plug – just supply jumpers to the charger, connect to the batteries + and – terminals and turn it on.
Cons
Absorption phase overextends that provoke delays and make AGM battery recharging too long.
Positive clamps that are only about one size are too small.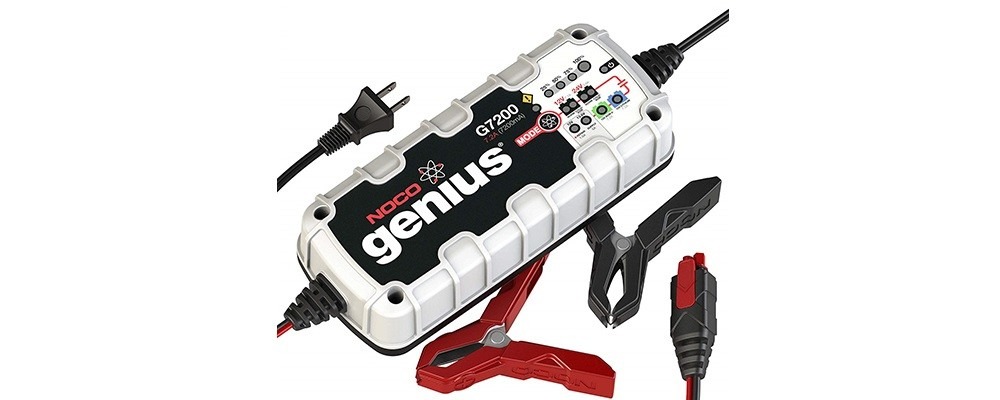 It is a 7.2-Amp, 12/24-volt device that charges and maintains lead-acid and lithium-ion batteries up to 230Ah, as well as deep-cycle batteries for automotive, marine, RV transport, as well as lawn and garden equipment. It is also possible to apply it for 120-volt 50-60Hz electrical systems.
This AGM battery maintainer is remarkable for its rubber cabinet to provide the non-slip effect and protection from UV rays and water. The NOCO is small enough to fit in the palm of your hand. It is also very reliable to let it work for 24/7 without any control. This AGM deep cycle battery charger is energy efficient due to the auto-optimization of the flow of charge. Its LED indicators display not only the charging status but also real-time diagnostics to inform about the battery condition.
Pros
Large clamps make them easier to use.
The inline fuse is easily accessible.
Low power consumption up to 132W.
Cons
The Genius AGM smart battery charger can't revive dead batteries but need a bit of charge to start.
No alligator cable in the box requires extra spending.
Optima Digital 400 – Powerful Device to Recover Fully Discharged Batteries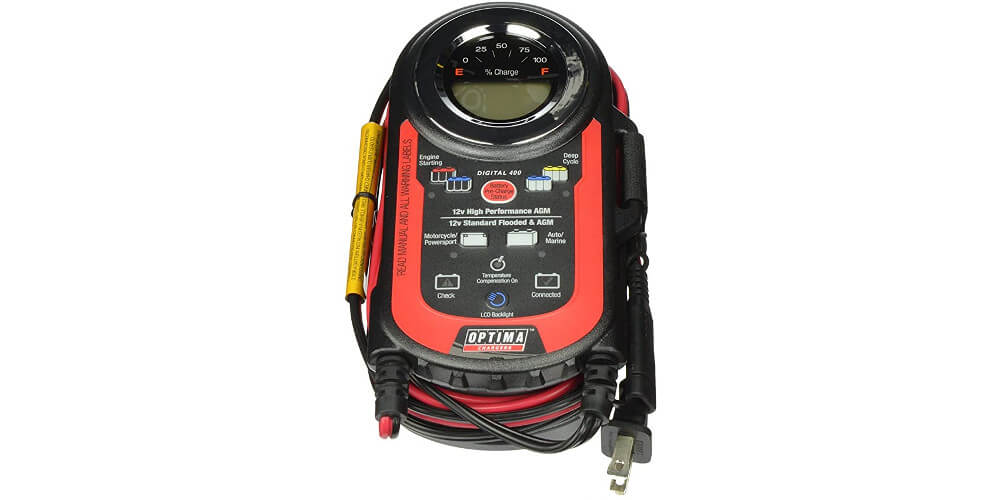 If you're tired of constantly buying new batteries because your previous charger couldn't stop and overcharged them, take a step back and look at this smart charger. The Optima AGM battery charger is what you need. It won't damage the battery but prolong its life due to the inbuilt battery health mode, by diagnosing electrical problems. Moreover, if you have a large vehicle, don't worry, the Optima is capable of starting SUVs, trucks, and other large batteries.
Besides, this AGM battery charger 12V has a hybrid LED battery charging indicator with an LCD screen and a quick selection of battery types for easy operation. The design of the hook and tilt stand for dual-purpose or hang it with the included wall bracket.
Despite the fact that it is a branded Optima battery charger, it is compatible with any other brand of AGM battery.
Pros
The recover mode can bring even completely dead batteries back to life.
A convenient display to monitor the recharging status and it will guide you through the process, showing necessary tips on what to do next.
An analyzation phase at the beginning of the charge cycle.
Cons
Plastic terminal clamps that can be broken easily.
The cables are barely accommodated in the rear cable compartment.
BatteryMinder 128CEC1 – Smart Device for 6 Vehicles Charging Simultaneously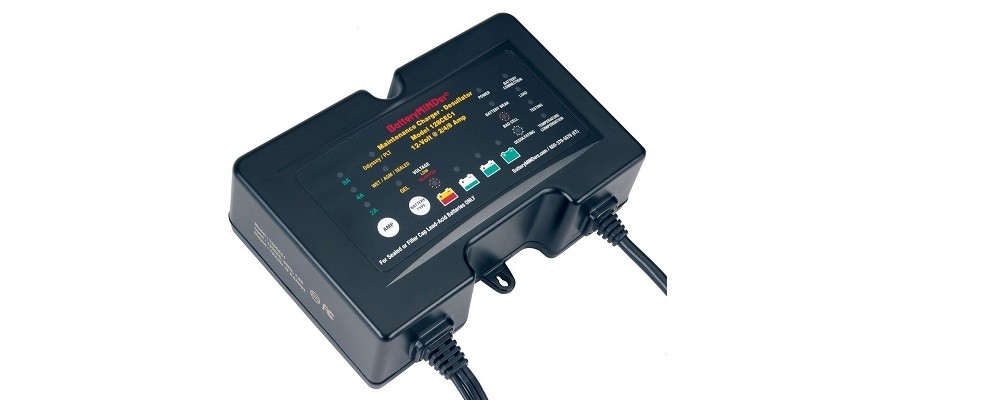 This model is a 12-volt and 2/4/8-Amp battery charger for AGM battery (dry-sealed and wet modifications) that can charge, maintain, make disulfate, and condition it. It operates with low amp rates (2,4 or 8 Amps) that gives the batteries longer life. It enhances batteries' performance without either undercharging or overcharging due to brand Auto-Temp Compensation Sensor. The unit is designed to work flawlessly in temperatures ranging from 33°F to 130°F. It comes with a 5-step charging system:
Check the battery to reveal bad cells.
Charging AGM batteries up the maximum.
Absorbing stage to confirm 100% capacity.
Check the ability to hold power.
Desulfation (if necessary) while keeping the battery at full charge.
The 128CEC1 can charge up to 6 vehicles at once that is not typical for the chargers in this price range.
Pros
A setting option for Odyssey/PLT batteries with the charging voltage of 14.7V.
Strong construction with high-quality cables.
Cons
All the batteries have to be at the same level to charge them simultaneously.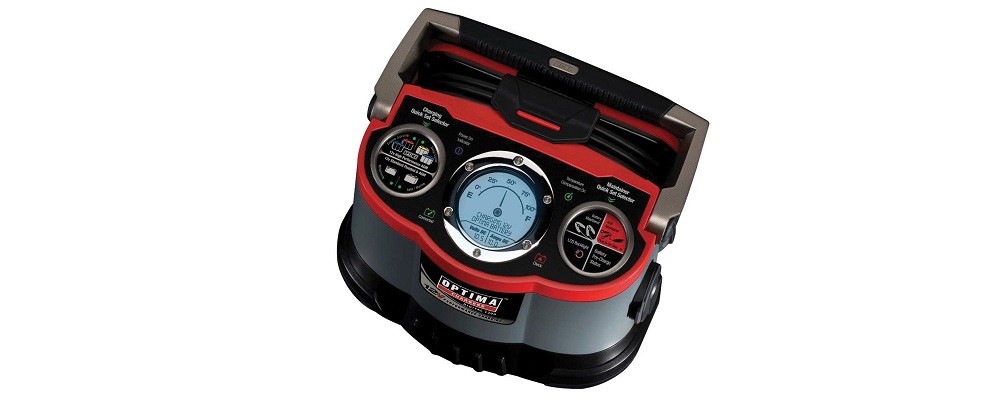 This 12-volt/12-Amp AGM trickle charger contains many features including a USB adapter to charge the mobile devices and cameras. Its back panel houses cable storage. The model is compatible with 2V AGM and flooded batteries. On the top of the charger, there is a large circle display to show the charging process and error messages. Quick set controls for maintaining and choosing the type of battery to charge LED backlight button and pre-charge status sensor are also there. The unit informs about the quality of its connection to the battery.
It has 6 charging stages to fully recharge and maintain a battery for 12 hours. The 1200 recovers even a deeply discharged battery.
Pros
Separate setting for High-Performance AGM battery, regular AGM, and flooded types that are used in motorcycles, automotive, and marine.
It operates quietly.
Cons
It can't charge several batteries at once.
LED light for the charging status is a bit dim.
Buyers Guide
AGM Battery – Rules of Charging
Acid glass mat batteries are sensitive to overcharging. How to charge AGM battery to prevent heat and damages? They should be charged in at least three stages using an appropriate charger.y is deeply discharged, it may take more stages, including desulfation. Main stages' are the following:
Constant-current stage of the charger powers a battery up to 80% of its energy capacity operating at the maximum voltage and current amp rating.
Topping charge makes absorption after an AGM battery's got 14.4V. During this process, the voltage stays stable and the amp is getting lower until the battery reaches 98% of charge.
Float charge makes no more than 13.4V and no less than 1 Amp providing the battery with 100% of charge.
AGM technology – the Basic Principles
AGM (Absorbed Glass Mat) batteries or starved electrolyte, as they are also called, have fiberglass mat wedged between 2 plates that are impregnated with acid. Those plates are welded to the battery and compress the mat. This tight connection provides the battery's resistance to the vibrations. The plates contain enough liquid to keep the mat wet but not enough to leak out if the battery is broken.
Can Normal Chargers Charge AGM Batteries?
Initially, standard chargers could not charge AGM batteries because they require different voltages than conventional ones. They are usually used in deep cycle situations and need special kind of recharging that consider the ratio of voltage to amperage and the necessity of slow charging. When using normal chargers, there's a threat of overheating that force the driver to track the charging process all the time. Besides, they aren't able to maintain the AGM battery to revive the dead one.
Still, there are some agm battery maintainers designed to charge both lead-acid and AGM batteries by having charging mode selection feature.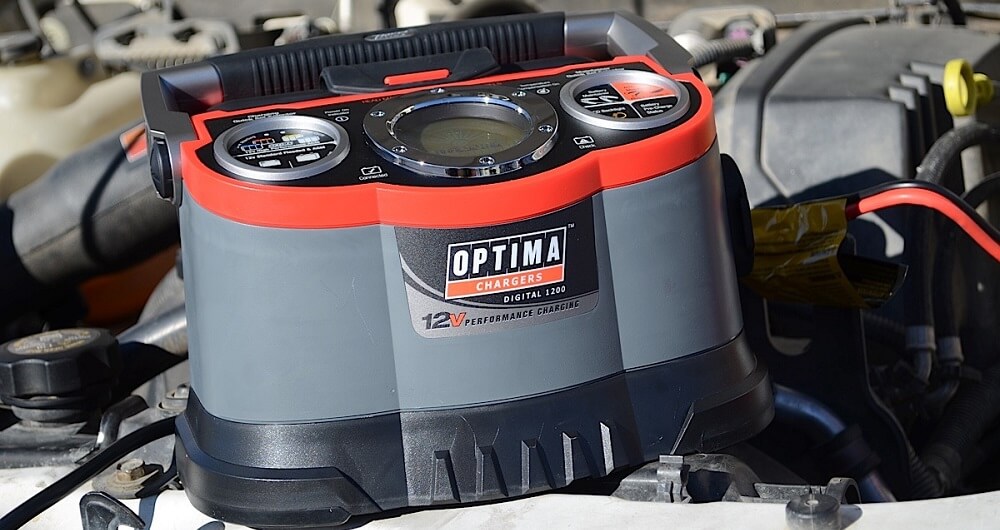 Correct Voltage for Charging AGM Battery
The optimal charging voltage of the AGM battery chargers is from 14.6 to 14.8V for deep cycle use and from 13.6V to 13.8V for standby use. When activating a special mode on an AGM battery, the precise output voltage is used (for example, automotive charging systems for flooded lead acid require 14.40V).
Charge Time – When is It Enough?
The time depends on the level of discharge. The average period is 4 – 6 hours. It takes near 12 hours to revive heavily discharged battery. Completely dead ones may demand 24 hours to recover. Slow charging is required – up to 20-amps.
When comparing standard vs AGM battery charging, time and temperature control is necessary in case of using a normal trickle charger for AGM battery to stop charging when it is hot (up to 125 Fahrenheit). An AGM battery trickle charger does not require regulation because they cannot overheat the battery.
The time of charging depends on the battery's reserve capacity that is usually given in manufactures specs. You can determine the number of amp-hours in a battery multiplying the battery's reserve capacity by 0.6. The result is for the 20-hour rate. If using the 10-hour rate, 36 amp-hours should be replaced in the battery. Divide 36 by 10 to get 3.6 hours for charging.
Recovering a Dead AGM Battery
Choose the best battery charger for AGM batteries that performs as a maintainer and can proceed desulfation to restore the discharged battery.
If this is insufficient, bring additional equipment:
Jumper cables
An AGM/Wet Cell battery above 12.2V
The discharged AGM battery
Timer
Steps to recover:
Make parallel connections between two batteries via jumper cables but leave the charger disconnected for a while.
Then hook up the charger to the terminals of the extra battery (not the dead one) and switch it on to start the process.
Switch the charger off in one hour and disconnect it from the extra battery.
Remove the jumper cables entirely.
Check the temperature to avoid overheating and stop the charging if the battery is hot (that means the battery may be broken).
Stop charging if the battery hisses that means the start of its inner overheating.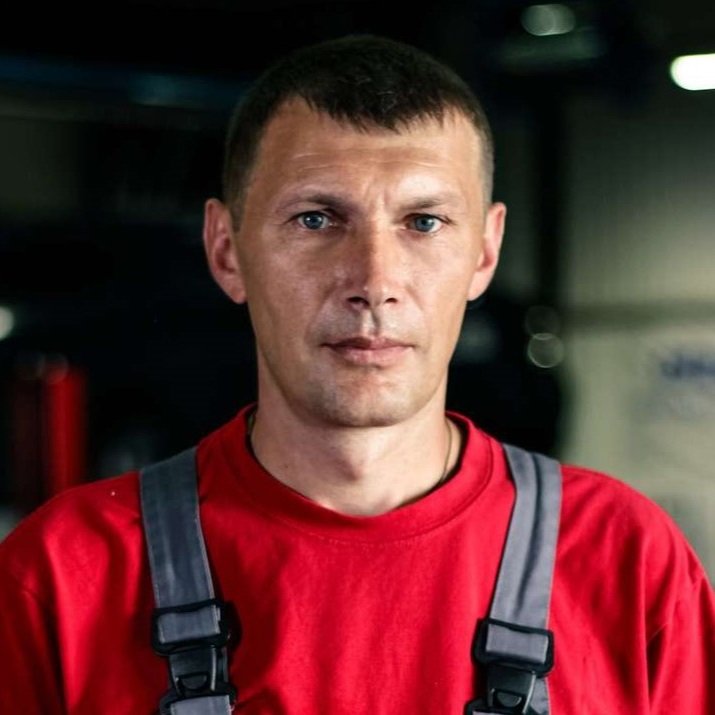 My name is Brandon, and I've been interested in cars since I was a kid. I got a bachelor's degree in Automotive Technology and worked in a private car workshop. I have two cars that have been completely upgraded with my own hands. So I successfully put all my knowledge into practice.
Last update on 2023-02-17 / Affiliate links / Images from Amazon Product Advertising API