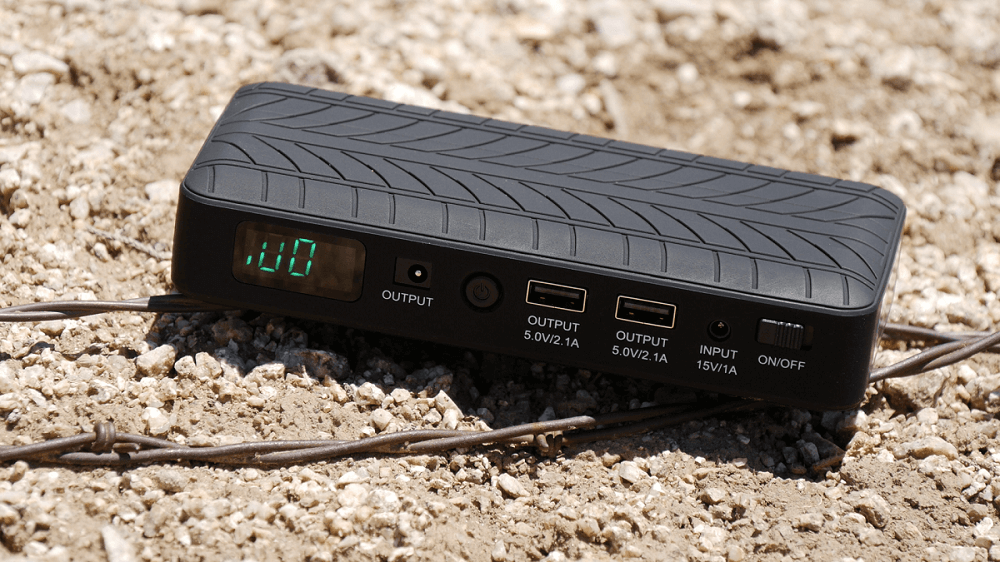 Being a driver, you should know that sometimes you may find yourself in a difficult situation when you vehicles does not start up. That is the case, when you need an emergency jump starter. I have tried many of best lithium ion jump starters but Rugged Geek RG1000 amazed me. This is a perfect and a very reliable device that can help you and start up your automobile.

It looks very attractive, since its body has a nice tire pattern. However, it is not a simple jump starter, it has a LED flashlight that has three modes:
The SOS mode.
The Steady on mode (the flashlight is just working on).
The flash mode.
Another great feature that this device has, and I think it is super useful, is a LCD display that provides you with important information. It also can be used as a power bank as well. I used it to charge my smartphones sometimes.
Therefore, it is not a useless device that you have for an emergency case. It is super useful and I find its design very attractive. It is provided with high capacity cables, USB cables, wall and car chargers, Apple compatible cables and a special case where you can put all the cables and the device itself.
The features of Rugged Geek RG1000 jump starter

This device is super reliable and it is able to start up even large vehicles.
Pros of Rugged Geek RG1000:
The peak boosting capacity is 1000A. It is enough to start up an automobile with a 7.0L gas or a 3.5L diesel engine.
The battery is Lithium Ion. IT guarantees high capacity and battery life.
The battery life is more than 1000 cycles.
The charge time is 3-5 hours. It depends on the way of charging (it is faster with an AC adaptor, however, you can charge it while the vehicle runs with a DC adaptor).
The cables are designed in accordance with the latest safety regulations. You will damage neither your vehicle nor the device.
The weight is 2.2 lbs.
The dimensions are 8.6×5.1×3.5.
Cons of Rugged Geek RG1000:
No air compressor.
The charging time may be quite long (especially if you use a DC adaptor).
It is a great option for all drivers who do not want to be afraid of any non-standard situation.
Rugged Geek RG1000 – the best solution for all kinds of drivers
This device is an option for all drivers, whether you have a small car with a diesel engine or a large vehicle with a 7.0L engine, Rugged Geek RG1000 is able to start up your vehicle without any problems. I think this is one of the best jump starters available right now.
Of course, it takes some time to charge the device, but overall it is a good device and I would like to recommend buying it, especially if you like travelling by car or you use your automobile frequently and you go outside towns.