Choosing the best jump starter for diesel for car battery recovery is not an easy task. On the modern market, there are plenty of powerful jump-starting machines for the engine that will save you in an emergency. I offer a detailed guide on how to choose the starter for a diesel engine to make it simpler for you to make a decision on a suitable charging device.

Jump Starters for Diesel Reviews


I'm confident that this power station will not go unnoticed because it handles a wide range of tasks and is reasonably priced. The GB70 is the one best jump boxes for diesel, a tire, and air mattress inflator, and an effective power station. In an emergency situation on the road or when you want to charge your smartphone quickly, the NOCO makes it best to satisfy your needs.
Besides the device itself, you get a series of different cables: charge cable, as well as a cable to plug other 12-volt accessories to run off the jump pack. And you get a carrying case to put it all in.
This is a 2000 Amp battery, it's rated for gas engines up to 8L and a diesel engine up to 6L. On the side here, you have 2 separate ports in and out. This has a 2.1 amp USB out and 12V/ 15A out. Also, the user gets a 2.1 amp micro USB in and 12-volt/3A in for a fast charge.
In addition, this mini jump starter diesel comes with a 7-mode LED light and a 1-year manufacturer warranty.
Pros
It is extremely effective. It started 10 cars without needing to be charged.
Flashlight on the end is much bigger than average flashlights on other jumpstarters.
It is really safe. So in case you accidentally mix up the cables the warning flashlight will light up.
Cons
It is slow to recharge when you plug it directly into the wall with a micro USB. It may take a full day.
Cables could be longer. They are only about 10 inches.


It's a heavy-duty model designed to work for up to 10L gasoline and diesel engines. The first thing that makes it stand out from its competitors, in this NOCO GB150 review, is a small voltmeter gauge that helps see if the battery is actually dead.
As well the all Naoko units, this one has reverse polarity and spark protection. It implies that, for example, if you mix up the cables, it won't turn on, or if you only have 2 volts, it will shut off on its own. If you don't have 2 volts, you should push a red button on the front panel, to override it. The white light means that you have enough power even if you can a fully discharged battery.
You can charge a device via a cigarette lighter. To find a necessary port, just take a look at one side of the device where you will find 12V USB out, and 12V USB in. It takes 2-3 hours to be charged this way.
Another way to charge the booster is via USB cable, but the charging time ranges from 7 to 11 hours. However, it will take you a full day or even longer to recharge the NOCO if it is completely depleted.
Besides, on the end of the unit, there is a huge LED light with 6 different options (100% light, 10%, different strobes, SOS).
Pros
It worked fine with a nearly dead battery that was left in the cold for several days.
Big cranking power.
Cons
Low reserve capacity.
It lacks a wall charger.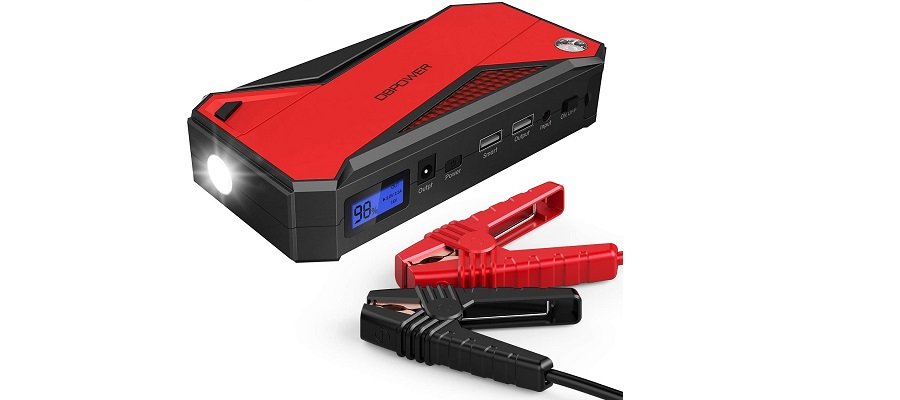 The portable DBPOWER 800A is a multi-purpose diesel jump starter and one of the best novelties among the up-to-date jump starters. Power of 1800mAh, 800 amps of peak current, the possibility to serve up to 7.2L gas and 5.5L diesel engines aren't those features making the DBPOWER as one of the decent boxes for diesel?
The diesel jumper has got a compass up top left. On the bottom side, there are output port, power port, smart charge for 5V/2.4A smart USB, output for 5V/2.1A USB, 15V/1A DC input port, on/off switch. Along with all of these ports, there is also an LCD screen that shows the percentage.
The device itself, different accessories, and cables come bundled in a small pouch. Cables do feel sturdy for the most part. Clamps at the end of the cables are made of hard plastic. Moreover, in the pouch, you can find a power supply with a light indicator, which starts flashing if the jump starter is ready to go. Also, the kit includes 8 in 1 laptop adapters of different sizes.
Keep in mind that the DBPOWER must be charged approximately every three months.
However, you shouldn't rush to conclusions, I suggest looking through the main pros and cons of the DBPOWER presented below.
Pros
Portable and easy to use.
A warranty that lasts for three years.
This jump starter works in the cold.
Cons
Short cables.
It's hard to call it a ready to go unit as it requires 5 minutes to power it up.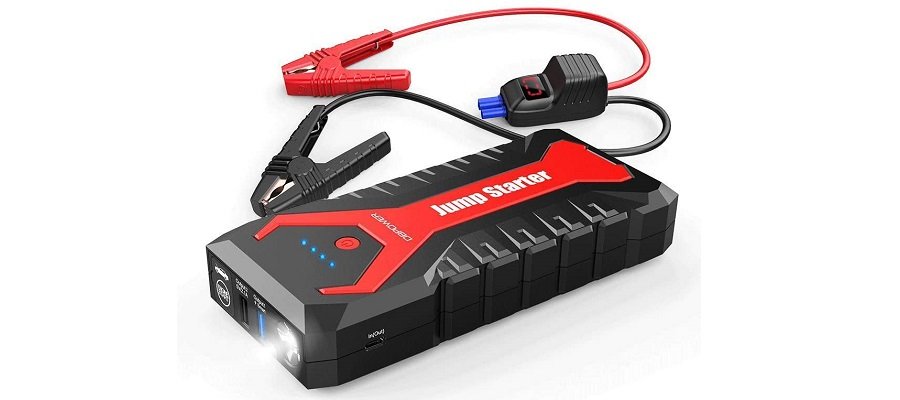 The DBPOWER jump starter is a portable appliance delivering power to cars, RVs, SUBs, motorcycles, tractors, trucks, trailers, and many other vehicles. Its high-quality and powerful clamps can jump start diesel and gas engines. Furthermore, it is a small and light battery jumper so there won't be any problem for you to fit it in your pocket. Sounds fantastic, isn't it?
It comes in a little case with the jumper cable wires and the USB charge cable, book with instructions, and jump starter itself.
With four lights, the jump starter is extremely easy to use. When all four lights flash, the battery is fully charged. On the front side of it, you have a flashlight and 2 out port charge cables. One is a smart cable, another one is capable of 5V/2.1A. On the same side, there are ports for the cables to jumpstart a car. The built-in flashlight is also included.
When buying the DB POWER jump starter, you're being offered important safety features that will secure your electronic equipment in cases of overload, overcharge or short circuit.
Pros
Solid jumper clamps with integrated circuit protection.
Multiple and quick charging.
Compact and easy to use.
Modern safety precautions.
Fair price.
Cons
Not cold-tolerant.
The cables need to be improved.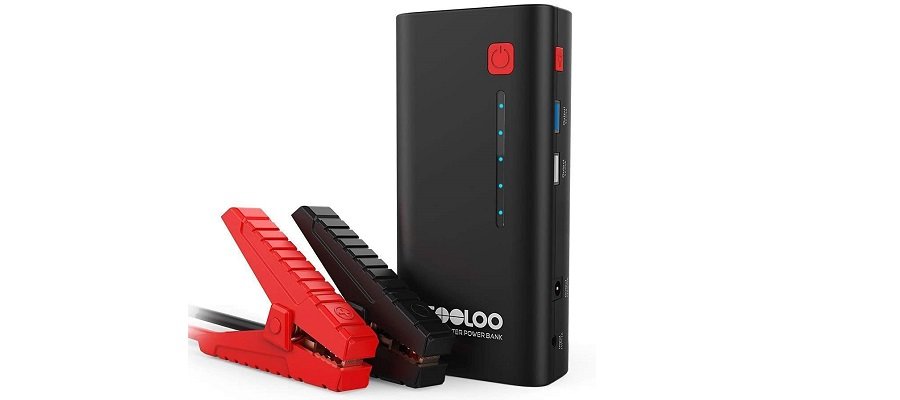 This jump starter power bank comes in a zippered case with a leather feeling cover of very nice quality. That holds everything inside there, being all organized inside.
In the package, there are AC adapter, battery boosting cables, micro USB cord, UL rated, and ETL rated power supply.
In general, this GOOLOO 800A review is devoted to a 12V portable booster with 800 peak amps, 1800mAh of capacity, USB quick charge 3.0.
On the front panel, there are some LED lights that inform you about how much charge left and an on/off switch. On one side, the manufacturer placed 15V/1A input, 12V/10A and 5V/2.1A outputs, and quick charge output.
On the top, a 12V car jump start and an LED flashlight occupied their positions. The flashlight has regular light, blinking, and SOS mode. There are two main output ports hidden beneath the flip.
This works with any 12-volt battery system of car or truck. It will jump start up to up to 7.0L gas or 5.5L diesel engine. So basically that's most of the cars and tracks out there. Moreover, it has multiple advanced protection circuitry on this jump starting system.
The GOOLOO charges in 5 hours and can last up to 3 months. To prevent overcharging, there are a few lights that start flashing if something is wrong.
Pros
It's so small that it can fit in your car's glove box.
After two starts, the indicator lights show fully charged.
12+6 months warranty lifetime technical support.
Cons
Starting a car in a cold environment may require several attempts.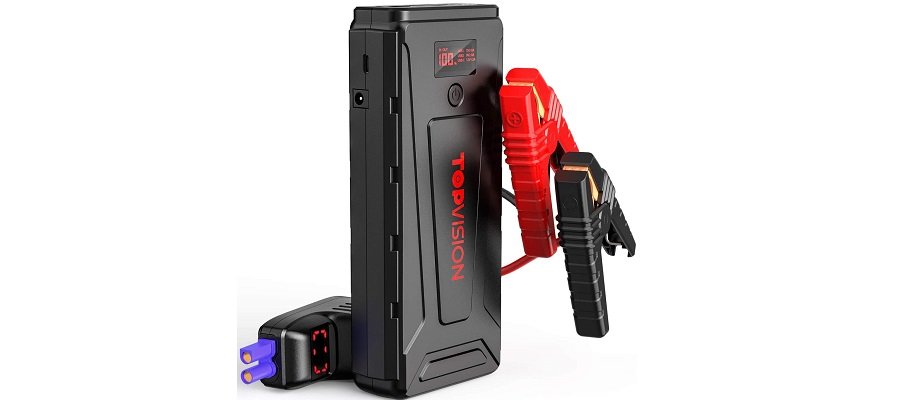 The second system, which may be considered as the best jump starter for a diesel engine is the TOPVISION. This particular device is designed with the latest technology and in such a way that you can jump-start any vehicle, from cars to huge trucks. In my immodest opinion, the developers skillfully placed all the important functions in the TOPVISION jump starter, making it very powerful and beneficial.
This compact automotive power unit can start up vehicles with 12V rapidly (up to 7L gas or 6.5L diesel engine) with 2200A peak current.
This jump starter pack for diesel includes cables, manual, and starter itself. The manufacturer even included a cigarette lighter connector that should be plugged into the DC output. Everything is well-packaged. When you take this device in your hand, the first thing that strikes your eyes is an LSD display which shows the voltage. A power button is located next to it.
On one side, there are input to charge the jumper up and DC output. On another side, on the front, 2 connectors to charge your phone took their place. The device includes a flashlight with three modes.
Pros
It has over-current, over-load, over-voltage, and over-charge protection.
It only takes 30 seconds to get started.
Cons
Doesn't work with a remote start. You need to be in the car to get the RPM higher so you get some juice going into the battery.
For example, the charging cord is too short to be used while driving.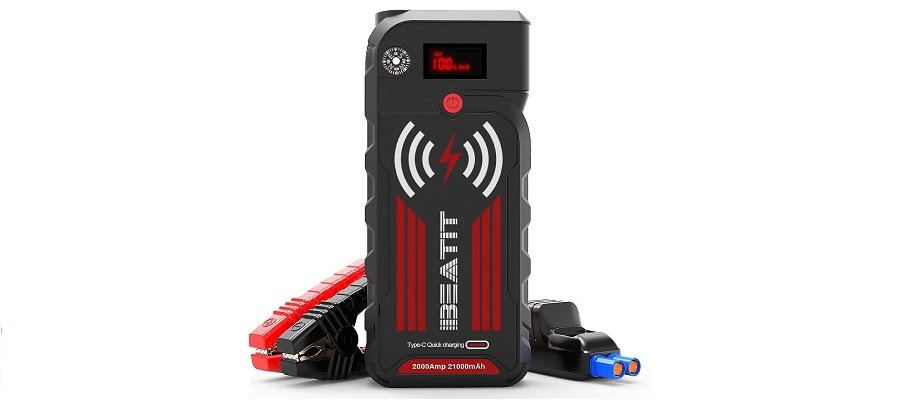 This jump starter for a diesel truck can also be called a portable battery charger. Being supplied with a 2000 Amp Peak, 2100 mAh, this 12V power bank can serve up to 8L gas and diesel engines. It also has a 10W wireless charging capability.
On one side, under the flip, there are 2 main ports to connect the device straight to the car's battery. Next to it, you can find 2 similar 5V/9V/12V outs and a flashlight with SOS. On the front side, there is a red power button that is hard to miss and the average LED screen where you get the percentage. A compass that works perfectly can be found on the same side.
The device itself and all accessories (smart jumper cables, clamps, USB type-C cable, user manual, wall charger adapter) come in a durable case.
Pros
It supports 3rd generation QDSP technology.
Integrated voltmeter.
Reverse polarity protection.
Cons
When I attempted to jumpstart the diesel car, it became extremely hot very quickly.
The LED light runs down the battery quickly.
Buyer's Guide
How does a Diesel Jump Starter Work?
The battery jump box for diesel and gas allows you to start your vehicle's engine without using a tow from another vehicle. Basically, it's a charging device that jump starts the vehicle by giving it enough current. One of the greatest things about these units is that they help the battery start charging right away. When you hook up the clamps to the battery's terminals, it transfers its peak amperage to the vehicle's battery, boosting its cranking amps.
Note that even the best jump starter for diesel only gives out a base peak amperage, so it's not capable of charging the battery, and it doesn't matter how long you keep it plugged. It also may not be helpful if your battery is dead or very low on charge. It works by giving you one shot of starting the battery.
Nowadays, many diesel jump starters come supplied with an air compressor and a couple of USB ports. This way, they can also work as the air pumps for tires and the charging units for portable devices (phones, tablets, etc.).
Difference Between Diesel Jump Starter & Gas Jump Starter
The diesel engines need much higher cranking current than their gas analogs of the same size: for example, a four-cylinder gas engine requires 150-200A, while a four-cylinder diesel engine will need 300-400A. So, when opting for a jump starter for a diesel/gas engine, you need to take into account the size of the device: the jump starter for a diesel engine is bigger than the ones that work for gas engines, and, accordingly, are more powerful. It is true that even a weak jump starter can re-energize the gas engines. Though, today's market can offer the jump-starting units that work for both diesel and gas engines.
How to Jump Start a Diesel
Follow the next steps to jump start a diesel-powered vehicle:
Read the owner's manual, provided by the manufacturer of your jump-starting device. In the case, if your vehicle has a positive ground, the instructions on how to use it will be different.
Make sure the starter has at least half a charge.
Ensure that your vehicle's battery voltage matches the jump starter's output voltage.
Turn your vehicle off and take the keys out of the ignition.
Turn the jump-starting device off as well.
Identify the positive (may be marked with such symbols as "P," "POS," or "+") and the negative (may be marked with such symbols as "N," "NEG," or "-") terminals on the battery.
Identify the positive/negative clamps on the jump starter. As usual, the positive ones are red and the negative ones are black.
Hook up the jumper cables to the corresponding terminals. Don't forget to check if the clamps are solidly fixed so they didn't get loose.
Turn the jump starter on.
Don't start the car for at least 30 seconds.
Don't crank the engine for too long: do this for no more than 5 seconds. If the vehicle won't turn on after the first attempt, wait for at least 2 minutes before trying again.
Turn the jump starter off and remove the clamps after the engine starts.
Allow the vehicle to idle for 3-5 minutes before driving.
Difference between Cranking and Peak Amp
The peak amps are the indicator of the jump starter's performance. More precisely, it's the highest current that the unit pushes out during an initial burst when starting the engine. It's an electrical current that causes the engine to rotate. However, this current fades pretty quickly.
The more stable current is called cranking current, and it gives a more prolonged engine cranking. This way, the cranking current is a more precise measure of the true abilities of the jump-starting device. In most cases, the peak current is sufficient to start the engine before the device's output power fades out. However, there are times when even the cranking current is insufficient to get the engine started.
How to Jump Start a Diesel Truck with 2 Batteries
In fact, the process of running the vehicles with 2 batteries is about the same as with a single battery car. The only thing that should be noted if you want to know how to jumpstart a diesel truck is that one of the batteries may have thicker cables. In this way, you should connect the starter terminals to the battery using thicker cables. You can use either battery if the cable thickness is the same.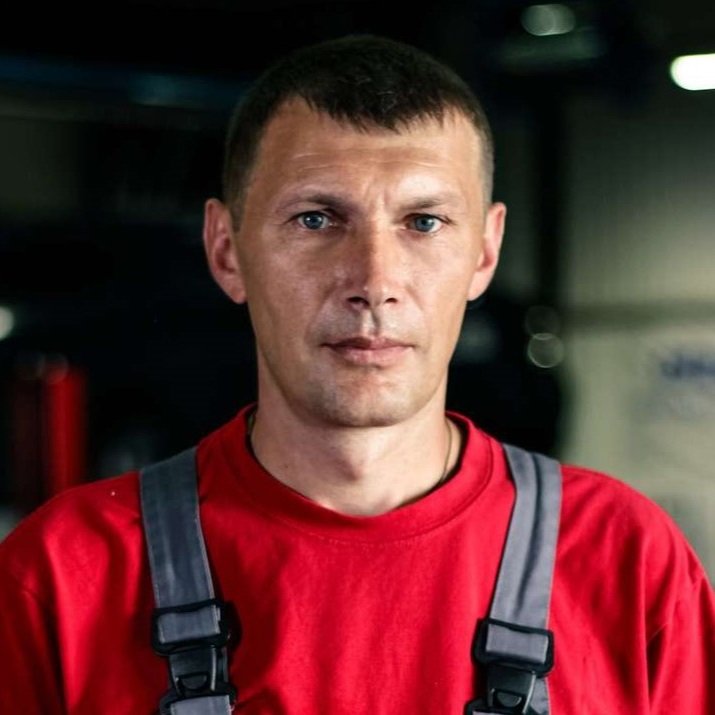 My name is Brandon, and I've been interested in cars since I was a kid. I got a bachelor's degree in Automotive Technology and worked in a private car workshop. I have two cars that have been completely upgraded with my own hands. So I successfully put all my knowledge into practice.
Last update on 2023-02-17 / Affiliate links / Images from Amazon Product Advertising API