The car starter is a very useful device capable of helping the driver in case of the discharge of the accumulator, phone, laptop and other equipment. If you want to purchase such a battery, we invite you to consider the advantages and flaws of one of the best lithium jump starters of the market.

Basic characteristics
This useful power bank has the following features:
Weight – 1.16 pounds;
Dimensions – 6.2*1.9*2.4 inches;
Jump starters on full charge – 30+times;
Lithium polymer battery is required;
Smooth exterior;
No folding;
Bulb type – LED;
Quick charging USB output – 5V/2.4A , 9V/2A;
Maximum current – 800A;
Standby time – 6 Months;
Recharge is required every 3 months;
Battery Life – 1000+ Cycles;
LED flashlight with 3-modes: Solid, Strobe, S.O.S.;
Amperage – 800 A;
Voltage – 12 volts.
Strong and weak sides of the GOOLOO 800A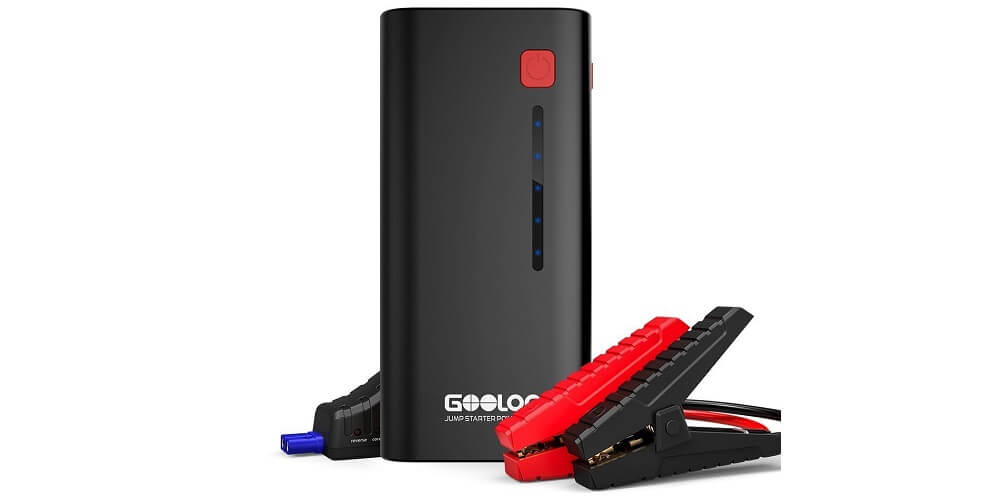 The device is easy to use, meaning that even if you aren't a mechanic, you can use this product without pulling your hair out. The product can work on a seven-liter gas engine, or a five-liter diesel engine.
Since this is one of the most standard sizes of car batteries, this device can be used on almost any kind of car. The device has a screen which gives you all the information that you would need, and also has a couple of LeD lights to denote the options that you are choosing.
Pros of the GOOLOO 800A:
High capacity is enough to bring your car into a working condition in a very short period of time. If the battery is discharged in the middle of the road, you no longer have to panic and ask the strangers for help. Universal starter is suitable for autos, ATVs, motorcycles, snowmobiles and some other vehicles.
Using the high-speed USB-port you can quickly charge various types of equipment. It is very convenient if you need your laptop or phone to work right now.
Manufacturers paid special attention to safety issues and protected users from problems related to overload, reverse polarity, overvoltage. So the starter will work fine even in the most difficult conditions.
If you like the adventures, a LED flashlight will be very helpful. It can be used during travels and in everyday life.
Together with the starter, you will receive the clamps, a charger, a USB cable, a reliable carry bag, a user manual. In addition, there is a guarantee for 12+6 months and a round-the-year customer service.
Cons of the GOOLOO 800A:
Some customers reported that the device did not work in cold weather. In such situations, the connection to the car accumulator did not give any result.
Sometimes the starter did not work even under standard weather conditions. Perhaps the reason is that people bought not branded products but fakes. Be attentive in the choice of the seller.
There also were messages that some parts of the device quickly went out of order. It is possible that this is due to improper exploitation. Read the instructions carefully to avoid such problems.
Conclusions
This device has many advantages and a few minor drawbacks. It is worthwhile to understand that it is quite difficult to find an impeccable starter about which only positive reviews have been published. In any case, this battery justifies its price (about $69.99) and can become an indispensable assistant in extreme situations.