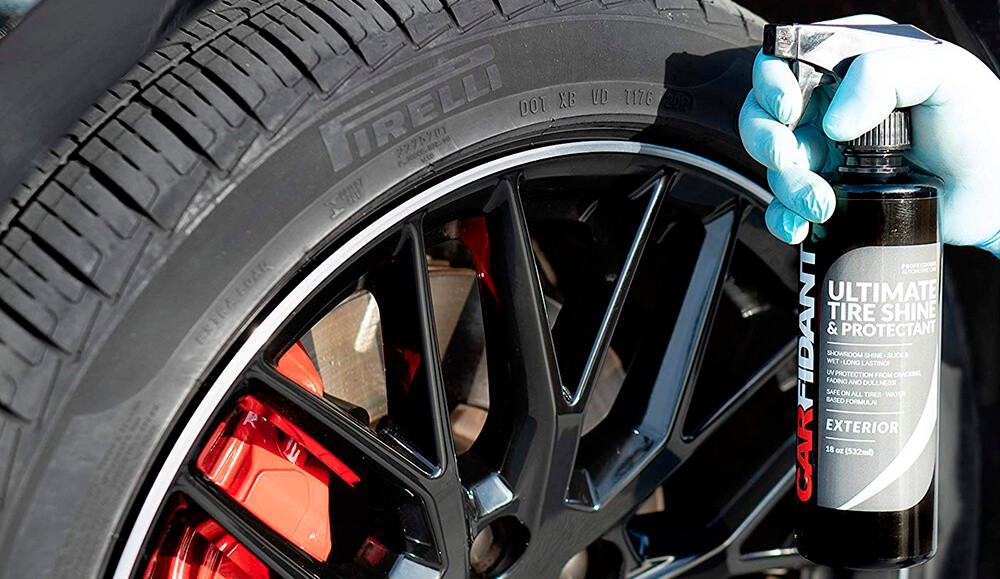 You can't ignore taking care of the wheels when it comes to car cleaning. The modern market gives the possibility to buy the best wheel cleaner — a specialized remedy that effectively removes dried mud, road grime, and brake dust.

Keeping your wheels clean is one of the keys to their long service life. In order to provide the most effective cleaning, you will obviously need to choose the right remedy that will be able to bring the wheels back to their factory look. However, you don't need to be an expert to find the most suitable detergent as our reviews offer you eight great options so you could choose the most suitable one for you. Besides, our informative buyer's guide will give you some important recommendations on how to choose the right detergent and how to use it in a proper way.
Wheel Cleaner Reviews

This Sonax wheel cleaner has an acid-free and pH balanced formula which means that it's safe for most types of wheel surfaces (however, we still recommend being attentive when applying this product to anodized wheels and brake systems). Thanks to its color-changing formula, you will immediately find out when the cleaner has done its work (it turns pink as soon as it dissolves the dirt). However, note that you can't just wash it off with water from bucket: use only a high-pressure washing to achieve the desired effect. It's also necessary to mention that this remedy must be used only on cool and dry wheels.
The present detergent is powerful enough to deal with caked on brake dust and grime. It works good on hard-to-reach wheel barrels and calipers, being suitable for both the DIY and the professional use.
Pros
It doesn't damage the rubber.
Cons
This cleaner has a specific smell.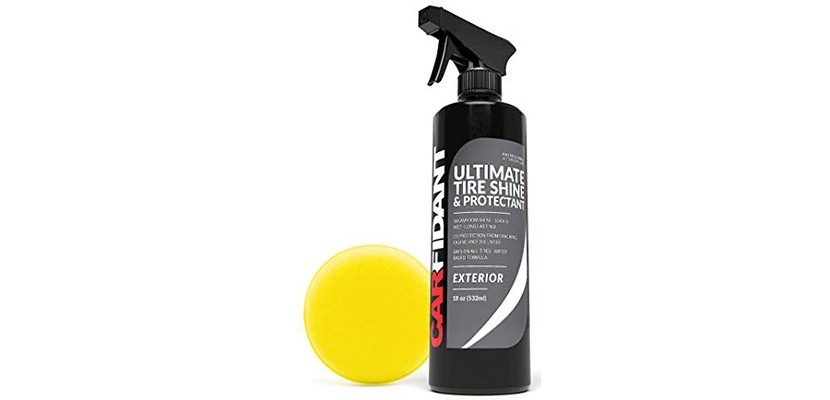 This tire cleaner from Carfidant is quite economical: one 18-oz bottle is enough to clean the tires of three cars. It can serve as both tire protectant and tire shine spray. Additionally, if you follow the instructions, you will be able to get either natural shine or soaking wet deep shine. This is also one of the most easy-to-use cleaners as you won't need to wash it off after application. A special applicator and hence are included in the kit which make the process of application easier.
This spray is based mainly on water being safe for all rubber trims. The Carfidant Ultimate Tire is safe not only for the tires but also for you and for the environment as it doesn't contain toxic chemicals.
Thanks to its nano-polymer formula, the cleaner penetrates and bonds to the tire, preventing cracking, fading, and wear caused by changes in weather.
Pros
UV rays protection.
The provided instructions are easy to follow.
Cons
The layer keeps shining only for a couple of days.
It will be easily washed away in rainy weather.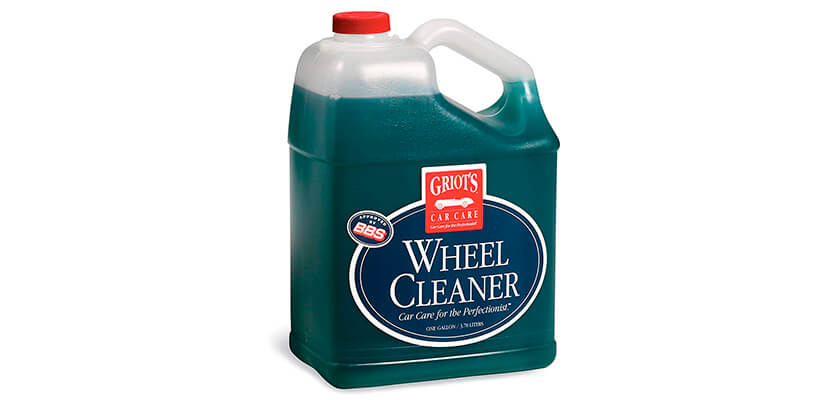 If you are searching for the wheel cleaner of premium quality, take a closer look at this Griots wheel cleaner. It has mild a pH-balanced formula which makes the wheels clean and shiny after cleaning. It's safe to use on surfaces of different materials such as aluminum, chrome, steel, etc. In addition, it can be used for polished, powder-coated, and painted wheels. Besides, The Griot's Garage 11107 is eco-friendly. This means that you won't have to worry about where the runoff is going when you rinse the cleaner away.
This cleaner has a highly-concentrated formula that penetrates and loosens the brake dust, grit, and road grime. By the way, it doesn't smell bad like most of the other cleaners which also simplifies the process of cleaning as you won't have to inhale smelly chemicals during the whole cleaning process.
Pros
Effectively cleans up dirt and grease.
The 11107 can work as a black rim cleaner.
Suitable for regular use.
Cons
It is not effective when dealing with built-up brake dust.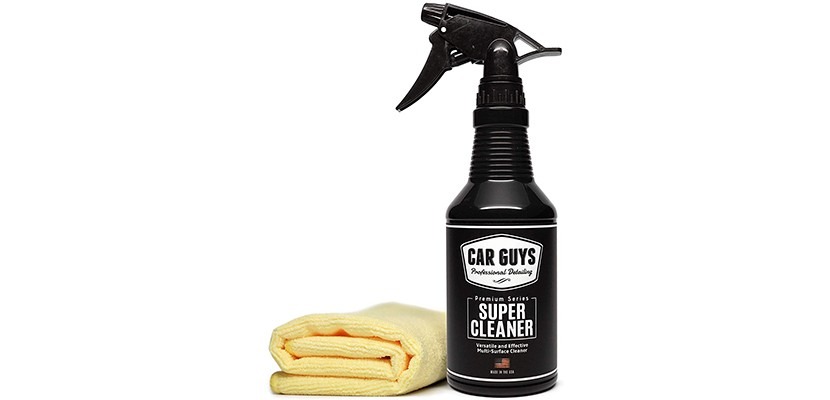 This multi-purpose cleaner from CarGuys lifts away dirt and grime at the molecular level thanks to the nanotechnology formula. It's one of the most universal cleaners on the market and can be used to clean the whole car. It's suitable not only for wheels and tires but also for anything made of plastic, vinyl, leather (floor mats, trim, etc.) and much more. Don't be afraid to use it for carpets, upholstery, door panels, steering wheel, and dashboard. Actually, it can work on every interior or exterior surface except glass and delicate instrument panel screens like cluster or navigation.
Except being able to wash off the dirt that forms on the wheels, this remedy is also able to clean up bird poop, grease, and tree sap. It doesn't contain harsh chemical detergents and you won't even have to rinse it off with water.
Pros
It doesn't leave a greasy film on the surface after cleaning.
Safe to use for home cleaning.
Cons
The CarGuys doesn't protect from UV rays.
The ingredients aren't listed on the bottle.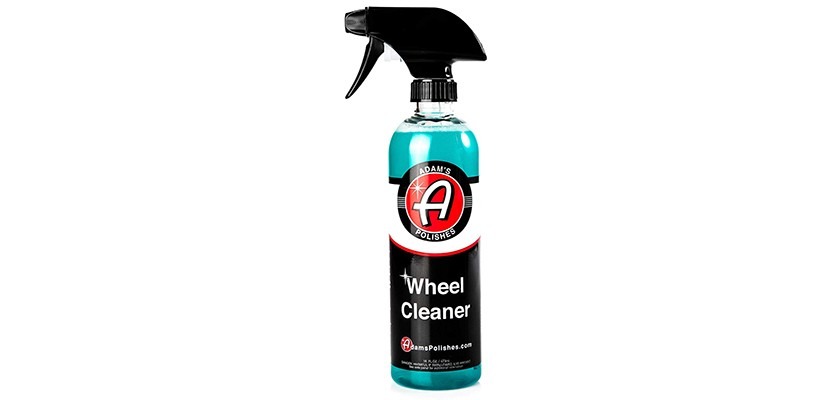 This Adams wheel cleaner is designed for highly contaminated wheels. Thanks to active cleaning agents and surfactants, the cleaner deeply penetrates dirt and grime. It's especially effective for baked-on brake dust commonly found in the barrel of your wheels. Its thick and viscous formula is pH neutral and acid-free, but still effective enough to make this spray potentially the best wheel cleaner for brake dust.
This remedy is safe for several different finishes, like powder-coated, clear-coated, alloy, chrome, and painted wheels. The cleaner goes with a nozzle with long sprayer straw which ensures convenient application.
The advanced chemical formula makes cleaning time significantly shorter, and you won't have to put a lot of effort into cleaning.
This Adam's wheel cleaner is also very helpful against orange iron particles that stick to the light-colored paint.
Remember that you can't let this product dwell on the surface for too long: if it dry, it can cause a damaging effect.
Pros
It won't discolor your tires.
The Adam's Deep can be used for cleaning brake dust from motorcycles.
Cons
Bad smell.
It is able to cause stains on uncoated metal wheels.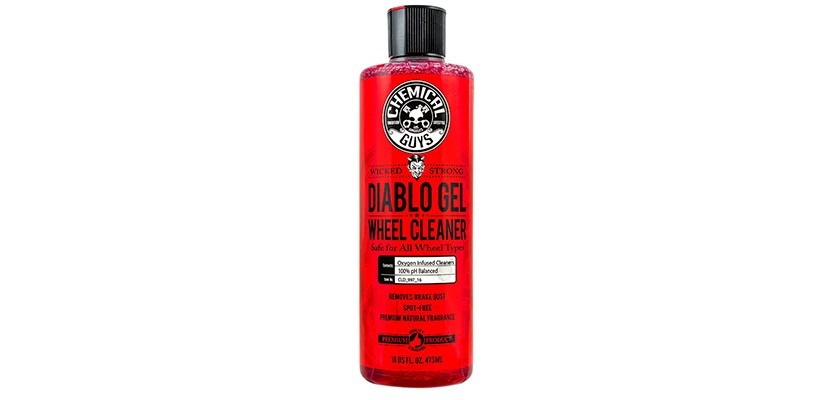 This product can be the best rim cleaner in terms of ease of use. It doesn't require hard scrubbing and rubbing that can damage and scratch the rim to lift brake dirt and dust rapidly away from the surface.
It's a pH-balanced cleaner based on a concentrated suspension technology to stick on grime and dust, efficiently loosening them. Thanks to the oxygen-infused formula, the remedy leaves spot-free results. This cleaner contains slick lubricants that guide filth off the wheel without damaging the surface. It's also safe to use around any other car part in the vicinity of the wheel, so feel free to apply the cleaner without excessive caution. Besides, it can be used on painted and powder coated wheels, chrome, carbon fiber lips, and decal wrapped wheels.
You can apply this Chemical Guys wheel cleaner with a brush or as a spray. Thanks to its non-caustic formula, it's suitable for weekly maintenance washes.
Pros
You can easily dilute this cleaner as it's very concentrated.
It doesn't contain harsh chemicals.
Cons
It leaves some spots on the wheels.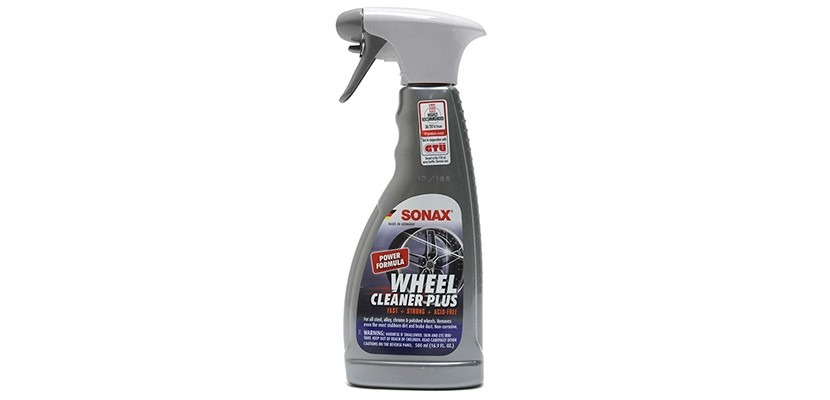 The present Sonax cleaner is able to deliver good performance without affecting the tire surface as it's acid-free and pH-balanced. It's also environmentally friendly so can be safely rinsed off even on the grass around your house.
This detergent provides quick action even on thicker, stuck in dirty areas of the wheels, so you won't have to wait for a long time till it works or apply it several times to get a satisfying result. Note that it requires thorough application with the help of a brush, and highly contaminated wheels may require agitation.
This product can be used on different types of wheels: aluminum, painted, anodized, and even clear coated. It's able to handle embedded metals, brake dust, dirt, grime, and grease. After the cleaning process is completed, you will get the shining wheels. Its enhanced formula is also designed for difficult to clean wheels that are frequently subjected to high heat and dust.
The color-changing formula activates once it comes into contact with the iron surface. It turns red or deep purple when it dissolves the brake dust.
Pros
It brings the wheels back to their factory look.
Safe enough to use on other surfaces.
Cons
Some people may not like how it smells.
Heavy soiled wheels may require some agitation.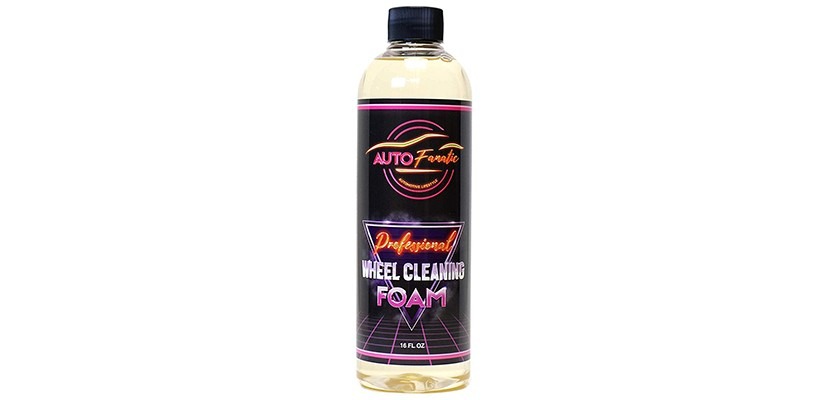 This professional wheel and tire cleaner is one of the safest on the market because it doesn't contain acids and doesn't release dangerous fumes. It also doesn't have color-changing ingredients and can be safely used on non-colored metal rims. Due to its highly concentrated formula, one 16-oz bottle can make up for 4 gallons of the other wheel cleaner. It works on painted, clear coated, chrome, anodized, and aluminum finishes. It doesn't include any harmful to wheels and vehicle braking components, but may be harmful to skin.
It isn't the best wheel and tire cleaner for those who don't like to put a lot of effort into the cleaning process as it has to be mixed with distilled water in the foam applicator before usage.
Pros
It doesn't have a caustic smell.
Safe for ceramic coatings and wax protectants.
Cons
The foam applicator isn't included in the kit.
Buyer's Guide
How to Clean Tires the Right Way
The rubber is a fairly porous surface so it can be hard to get the contaminations off your tires. Fortunately, there are remedies designed specifically for the tire or for the whole wheel. They are able to make the process of cleaning easier and more effective. All you need is to use those remedies in a proper way.
The easiest way to clean the tires is to use foam or liquid cleaners as they usually go in a spray form. Apply a certain amount of spray on the tire and let it dwell on the surface for a minute or two. During that time, the cleaner will soak in and dislodge as much dirt and grime as possible. After that, use a hose to rinse the tires off. It is not necessary to wash away some cleaners: they mix with the dirt and then drain on the surface by themselves. It also should be mentioned that such remedies can be used regardless of whether the tires are dirty or not as they are supplied with reducing properties and can return the rubber its original shade of black. Besides, they prevent dirt from settling on the rubber surface in the future.
The other type of cleaners must be removed from the surface with the help of brush or cloth. In general, they are applied the same way as the previous type of cleaners and also must be left on the surface for a few minutes. After that, clean it up from the surface with the help of tiff brush (or a soft cloth) and water. Such cleaners aren't very popular nowadays and are usually used to clean the white tires which you must scrub to get them clean.
If the tires are still brown even after a thorough cleaning, you can use the tire gel which will endow them with a more intense black color.
9 Effective Wheel Cleaning Tips
Do not use the car wash soap for wheels. It's designed to clean and protect car coating, not the rubber, so it can film over the wheels and prevent them from shining.
Just as car wash soap isn't suitable to clean the wheels, some wheel cleaners aren't suitable for car paints and can damage them. Ensure that your remedy is safe for car paint. Otherwise, be careful when applying it.
Many drivers try to use remedies, designed specifically for tire, as a universal detergent for the whole wheel. However, it simply won't be effective as a car rim cleaner.
Do not neglect reading the instructions provided by the manufacturer of the cleaner you purchased. Some may specify that the remedy should be applied to the dry rubber and the others indicate that you should rinse the wheels with water before applying the cleaner.
Do not apply the cleaner on the hot wheels. This can compromise the wheel finish and may also damage the brake rotors. Wait till they cool down after driving and avoid cleaning in the direct sunlight.
The usage of the cleaner on the highly contaminated wheels won't be very effective: you will have to use a large amount of product and still won't get a satisfying result. So if the wheels are extremely dirty, scrub them with a brush before using the cleaner.
Make sure that you have cleaned up the wheel part where the brakes are placed as well as possible. The road dust and the dust from the brake pads accumulate exactly in this area, making it vulnerable to corrosion.
Apply wax to the tires after cleaning. It will not only make them look better but will also give them additional protection against road dust and reduce the UV rays impact on tires.
Some tire cleaners are based on silicone oils, which make the surfaces more slippery. Accordingly, you should avoid cleaning the tread with such cleaners.
Things to Consider When Choosing the Best Wheel Cleaner
The modern market offers a great variety of wheel cleaners but how to choose the right one?
Versatility
Buying an expensive wheel cleaner, you will not want to find out that it can't clean your wheels because it only works on chrome, for example. The right cleaner can actually work with all types of wheels and all kinds of finishes.
Environmental safety
The cleaners that contain strong solvents and toxic chemicals may be quite effective, but they definitely aren't safe and easy in usage. To use them, you will need to wear a special mask and glasses to protect yourself. Also, you wouldn't want to pour toxic chemicals into the grass around your home. So be sure to choose an eco-friendly wheel cleaner.
Ease of use
When you are buying a specialized detergent for wheels you expect it to simplify the cleaning process, so do not choose the remedy that will make you thoroughly rub each wheel for hours. The good wheel cleaners are supposed to reduce the most tedious aspects of the cleaning process.
Penetrating qualities
The most common kinds of contaminants that form on your wheels are brake dust and residue. They are extremely hard to clean up, and the right cleaner must be able to get into the wheel below, pulling all the grime out of it.
Ability to stick on the surface
The main reason why car wash soap isn't able to clean up the wheels lies in the fact that it doesn't stick around long enough to be fully effective. The proper wheel cleaner sticks onto the surface and doesn't move until you wash it off with water.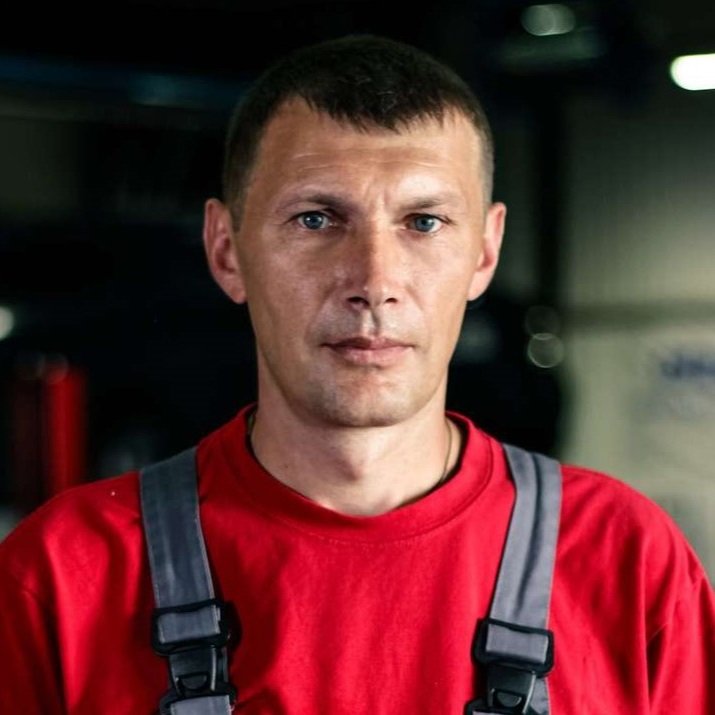 My name is Brandon, and I've been interested in cars since I was a kid. I got a bachelor's degree in Automotive Technology and worked in a private car workshop. I have two cars that have been completely upgraded with my own hands. So I successfully put all my knowledge into practice.
Last update on 2023-02-17 / Affiliate links / Images from Amazon Product Advertising API