Winter can be a wonderland; playing in the snow, making snowmen, and having snow fights. It can be such a dream. The extreme cold outside, on the other hand, is another story. Short days, miserable weather and if you don't have the best car battery for cold weather then you can find yourself stranded in the absolute worst time. To prevent this, you should buy a car battery that can operate despite the tough climate. Wonder what is the best car battery for cold weather? Thankfully, this article has vetted the market for the popular car options for low temperatures. We also explain the useful criteria for deciding on the best solution for your automobile and offer tips on how to keep it alive in cold weather. Read on to find out more.

What is CCA?
CCA stands for Cold Cranking Amps. It is a standard across the motor industry to establish a battery's ability to start an engine in the freezing cold. It is the current that a 12-volt battery can deliver for 30 seconds at -18°C (0°F) as it maintains a terminal voltage of at least 1.20 volts per cell. CCAs show how well a battery will perform in the icy winter. As a battery ages, its starting power depreciates and so choosing a battery with higher starting power should assure you of its long use. However, in warm areas, having too many CCAs is not a good idea and will negatively effect the battery's performance.
Car Battery for Cold Weather Reviews
ACDelco ACDB24R: Good Cranking Amps at an Affordable Price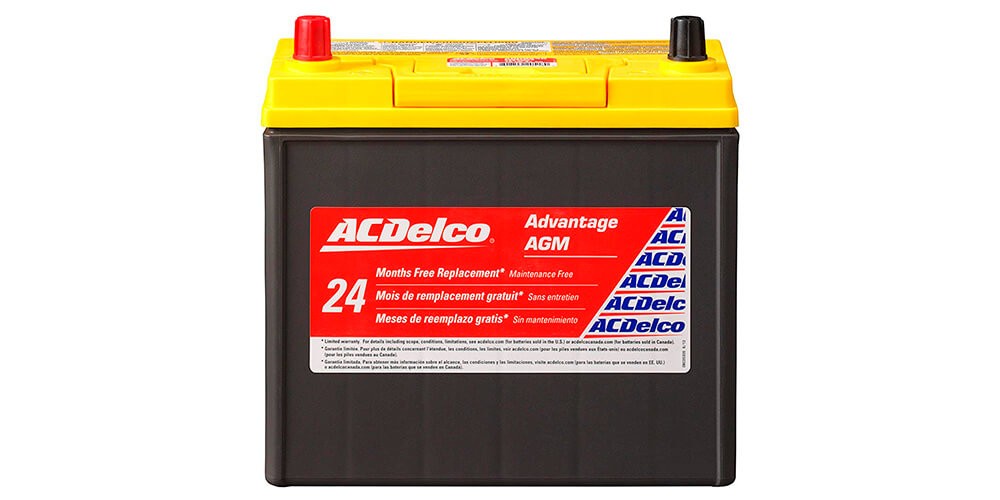 This is a sophisticated battery at a moderate price. The cold weather automobile battery combines two separate technologies to make it an excellent alternative. First, it uses Absorbed Glass Mat (AGM) technology to guarantee no harmful spills with this battery. The ACDB24R also uses valve regulated-gas recombinant technology which gives it up to 3 times the cycle life of typical batteries. When you compare these batteries with others that use flooded calcium technology, these ACDelco batteries are engineered with full frame power path grids that give them higher cranking power and decrease its self-discharge rate for off-season storage.
Tested for rigidity to assure its usage in extreme conditions and backed by some of the industry's best battery warranties, the ADCB24R is an incredible deal. This battery series has a variety of types to accommodate various automobiles. It can be daunting to pick the best battery for cold weather but do your research to get the right battery for you.
Pros
Good CCA rating
Longer cycle life
18-month warranty
Cons
May not match certain car models, especially heavy-duty vehicles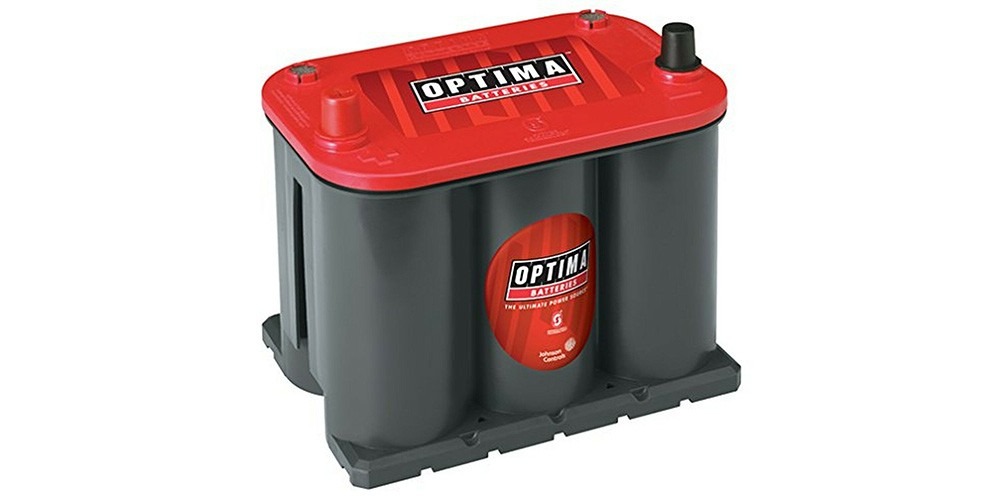 Optima's RedTop is a cold weather battery that uses ultra-high AGM technology that delivers powerful and reliable start-up. It offers 720 CCAs and a reserve capacity of 90 minutes which enough to even be used on heavy-duty vehicles. The spill-proof AGM construction allows it to be mounted in a variety of places, which is especially useful given that the battery can tolerate significant vibrations and has a high tolerance for extreme temperatures outside.
In general, the battery outperforms other batteries in demanding cranking and starting applications so can potentially be the best car battery for winter. This RedTop offers very fast recharging and the strongest 5-second starting burst in the industry. In general, the Optima 8025-160 outperforms other batteries in demanding cranking and starting. But this model has its drawbacks. If your car has a lot of electrical loads and attachments, this is not the best option; instead, choose Optima's YellowTop series. If you need a cold cranking amps battery for non-cycling applications then look at the brand's BlueTop series because the 8025-160 just won't cut it.
Pros
High-performance battery
Maintenance-free
Works in extreme climates
Long-lasting battery
Cons
Only works in certain applications
Has a carry handle that can get in the way after mounting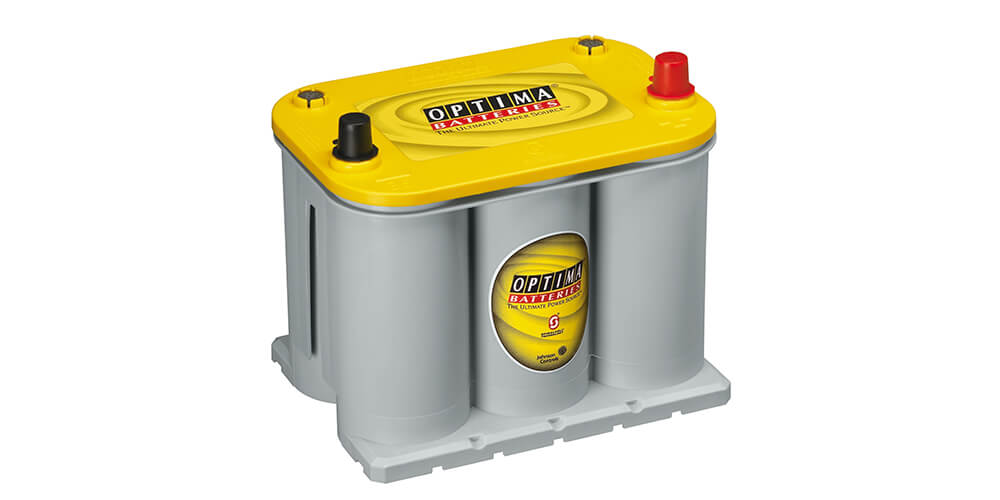 The YellowTop series by Optima battery as designed for electrical loads that are larger than usual and machines without alternators, you could even use it as the best truck battery for cold temperature. This is one of the best car batteries for cold weather conditions since it uses a unique SpiralCell technology to give 620 cold cranking amps. Because this battery can charge and recharge numerous times, it can manage a variety of electrical demands such as winches, hydraulics, and a high-end sound system.
Plates are made by the process of spiral winding pure lead. The SpiralCell is also responsible for the battery's ability to cope with high vibrations and provide a 98-minute backup capacity. You can rest assured with this technology that there will be no forms of harm to yourself, people in the vehicle or the environment. This battery is durable, reliable, and it is supposed to last thrice as long as normal batteries. All this make the YellowTop ideal for off-road and racing vehicles. It is smaller than most batteries which can be a double-edged sword. On the one hand, this Optima AGM battery is a good option when you have limited space, but on the other hand, further adjustment is required if you are changing your original battery.
Pros
Good CCA rating and fast recharging
Spill-proof and mountable in various positions
Can be used by heavy equipment such as forklift and tractors
Can be used by vehicles with high-demand electronics
Cons
May need a custom spacer to fit in certain car models
Has a low reserve capacity
ACDelco 94RAGM: Good Rating but a Short Lifespan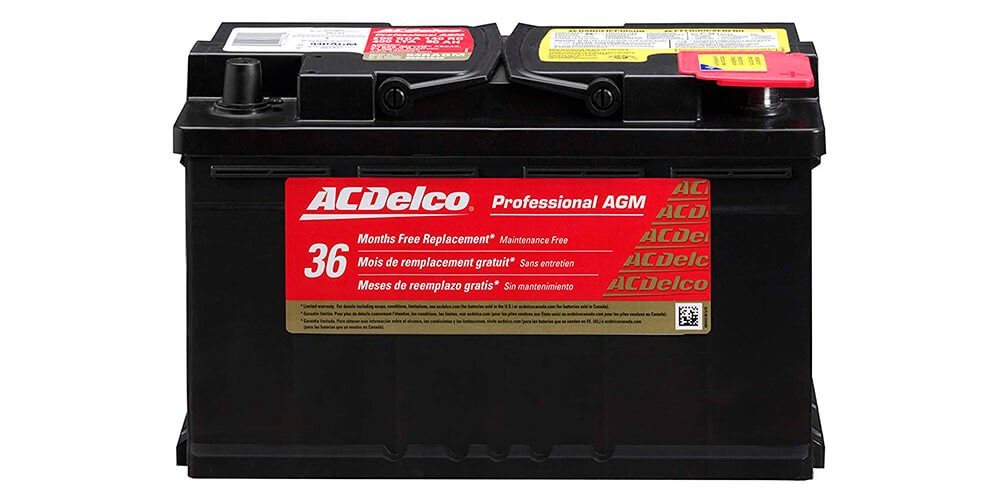 This option from ACDelco is an excellent car battery for winter with a remarkable 850 cranking amps, 80 amp-hours, and 140 minutes of reserve capacity. It's a great device for reliable starting power in a variety of applications, including automotive, recreational, and heavy-duty. Rest assured that the battery has been extensively tested to meet ACDelco's high standards. This model utilizes high-quality technologies and materials to ensure its performance, battery cycle, and durability. It has an Absorbed Glass Mat (AGM) to ensure there are no leaks. It is engineered with a silver calcium alloy to enhance its battery cycle performance. Plus, the calcium lead plates minimize resistance and improve conductivity. This battery can also resist extreme shock.
At 51lbs, this 850 CCA is by no means a light battery. Its weight can make mounting cumbersome. A major issue is that the battery has a limited lifespan. There have been several reports that this battery's lifespan doesn't exceed two years of use. This is pretty picky, but it is a crucial consideration when purchasing one.
Pros
Affordable
Spill-proof
High cranking rating
Cons
Very expensive
Short lifespan
Heavy battery
Can only be used on vehicles that need AGM batteries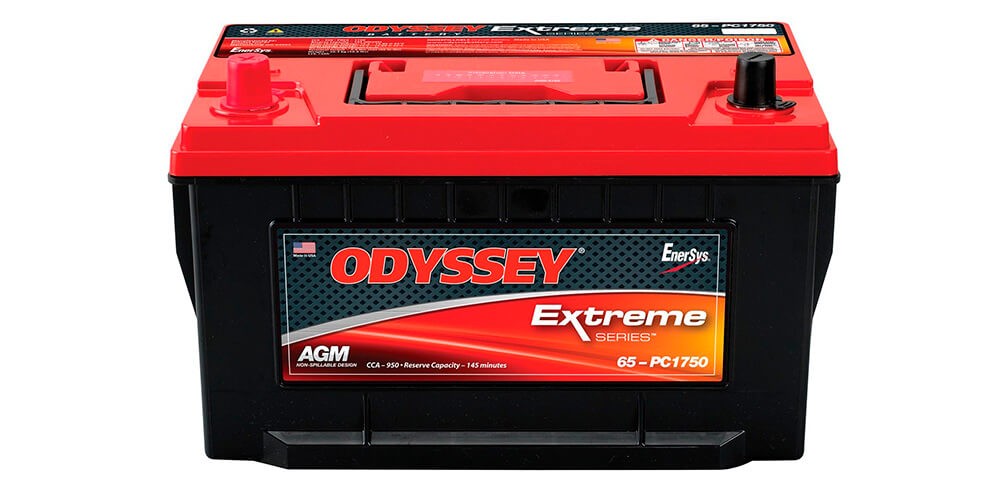 If there was ever an overachieving battery, it would be this battery. The 65-PC1750T has an incredible 950 cold cranking amps and you'll be hard pressed to find a better rating on the market. On top of this, it is a military grade deep cycle battery that can resist a lot of mechanical wear, intense vibrations, and extreme temperatures outside. Its leak-proof construction, together with its low maintenance, provides you with all but one mounting choice for the battery. It cannot be inverted.
According to Odyssey, this battery lasts 70% longer than other deep cycle batteries. You can have a stable voltage across it for a long time and yet it will have a longer cycle life than its competitors. Odyssey's battery is also the most efficient recharge lead batteries with a charge time of 4-6 hours. All of these accolades, however, come at a high cost. Excellence doesn't come cheap. Put in another way, this is the best cold weather car battery if you have the money for it.
Pros
High-performance cranking
Long battery life
Mountable in most positions
Quick recharging
2-4 year warranty
Cons
Very expensive
Cannot be inverted when you mount it
Not for those who need low CCA rating
Buyer's Guide
How to keep your car battery charged in the cold weather?
You would want to prevent sudden battery discharge in the freezing cold by all means and here are some useful tips to keep even the best cold weather battery fully charged throughout the winter.
Check your battery beforehand

It's a good idea to schedule an auto care check-up prior to the blistering cold to know the status of your vehicle. When you know how much charge your battery has, you can operate more effectively and pick the appropriate actions to extend its charge.

Get a battery charger

A quality battery charger, sometimes called battery tenders, is a more affordable option than purchasing a new winter car battery every year. You should buy a battery charger with a float, storage, or maintenance charge mode otherwise it will be a waste of money.

Be conscious of accessories

Even if you bought the best car battery for cold weather, if you leave all your accessories on before turning off the vehicle, your battery won't last that long. Make sure your AC, lights, and radio are off before you park. When you restart the automobile, wait a few moments for the alternator to charge the battery before turning on all of these loads.

Keep it clean

When temperatures drop, electrical resistance rises, and engine oil thickens. This already makes the battery work harder without dirt and debris on the battery terminals, that further increase the resistance. Any white powder around the battery terminals is corrosion that can be easily addressed with a damp cloth, a toothbrush, baking soda, and H20. Afterward, apply dielectric grease to prevent more corrosion from happening.

Take care of your engine and opt for appropriate oil

While low winter temperatures may affect motor oil to a large extent by making it thicker, it is crucial for caring drivers to avoid this negative phenomenon by adding winter oil. The cause of the engine running more slowly and the battery requiring more charge after each use is excessively thick oil. There are different types of winter oil that can withstand different milestones of temperatures below zero, so it is up to you to decide what one to choose based on how low the temperature can get in your country.
How many cold cranking amps a battery have?
So now that you've decided on a battery you may be wondering to yourself, how many cold cranking amps should a battery have? To choose the appropriate CCA to start an engine, a number of parameters must be taken into account. Engine size, car make, auxiliary loads, just to name a few. The car manufacturer has taken all the necessary considerations so it is best to purchase a battery with at least the same CCA rating as the vehicle's original battery. A lower CCA rating could result in unnecessary problems.
Where and how to store battery in winter?
Experienced drivers know that extreme winter temperatures can affect even the best batteries for cold weather by reducing their capacity. Therefore, it could be very beneficial to share some impactful tips explaining how to properly maintain a car battery in winter whether it is at a full charge or not.
Here are seven effective tips that every driver should follow:
Correct storage location. If the garage has enough storage space, the battery may stay in the car even for extended periods of time. The correct temperature is important in choosing where to store it. Vehicle batteries prefer to be stored in cool and dry conditions. The optimal storage temperature for a car battery is 59° F. Storage in the basement is basically possible, but the area should be dry. It would be better to store in a house where even in winter the atmosphere is dry and the temperature stays the same.
Make regular tests. Although this piece of advice may seem a bit trivial, you still need to be well prepared for the winter period and check the entire vehicle. However, testing the battery is the most meaningful way to make sure that everything is alright with its essential elements and total capacity. Using a digital battery tester is the simplest way to inspect the vehicle.
Try to keep your high CCA battery warm when you're not using your car. You can either leave your car in the garage or at least use a weather-proof car cover in order to prevent the vehicle from freezing. If you cannot afford these two methods, then try to park your vehicle in a safe place that is protected from strong wind.
Do not be lazy and dedicate some time to clean up the battery's terminals now and then to get rid of dirt and corrosion. You can just take a worn-out toothbrush and baking soda mixture to do this in an easy and quick way.
Charge your battery. Avoid letting the automobile battery completely drain. It's easy to forget about it in winter. So remind yourself to check the battery state on a regular basis and recharge it.
Try starting your battery with small pauses from time to time. If you cannot start your car during a cold winter morning, but you know that it must have some charge to share, then you should wait for a while and try again. If the battery suddenly stops functioning, inspect the battery connections for corrosion or dirt. This should be helpful too, as it's your only chance to start the car normally without charging the best car battery for cold winters again.
Stay patient after starting the engine. It is vital to let the alternator charge the car battery properly before you can turn on the radio, lights, etc. This will help you prevent the situation when the battery gets dead very quickly at the most inconvenient moment.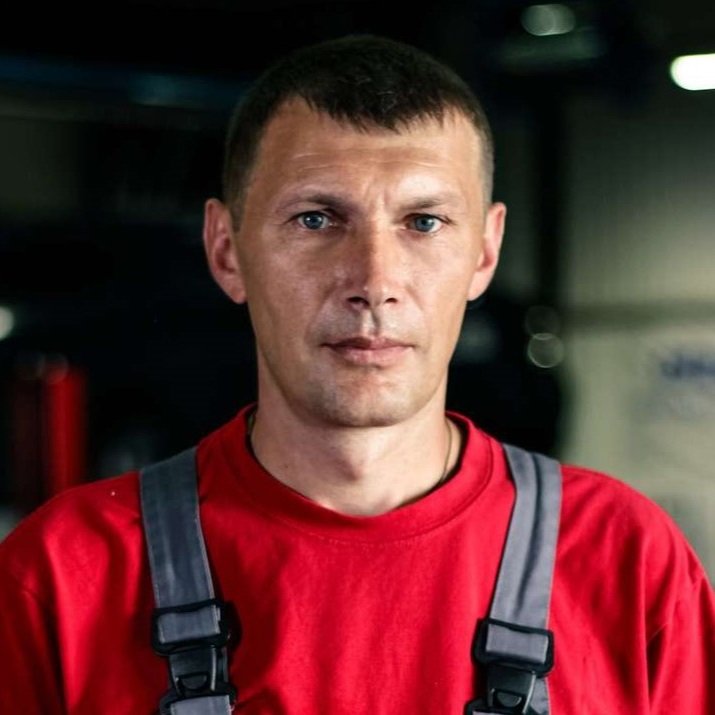 My name is Brandon, and I've been interested in cars since I was a kid. I got a bachelor's degree in Automotive Technology and worked in a private car workshop. I have two cars that have been completely upgraded with my own hands. So I successfully put all my knowledge into practice.
Last update on 2023-02-17 / Affiliate links / Images from Amazon Product Advertising API