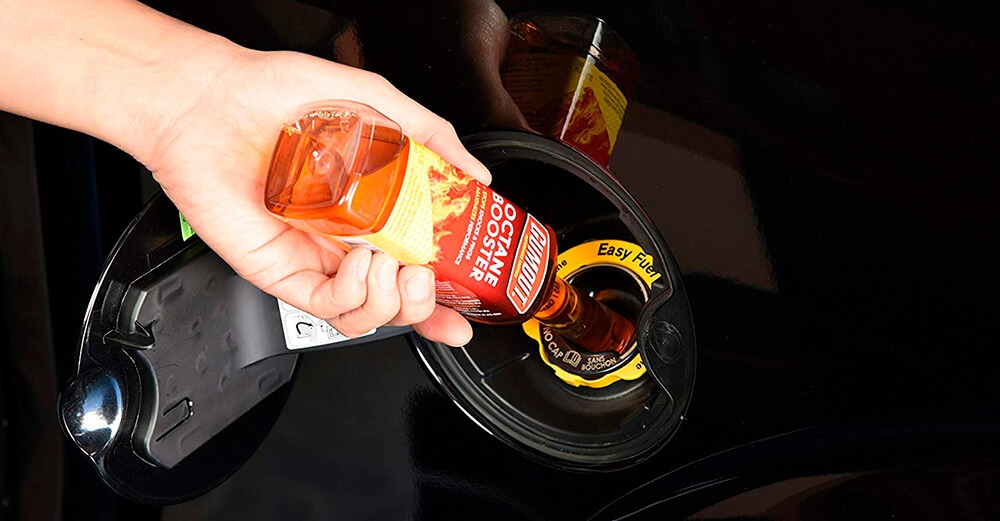 Even if you are totally sure that this product can make a huge difference for your car, finding the best octane booster may be a real problem given the fact that so many options available on the market provide miserable changes of the fuel octane number.

Additionally, some cars do not require this product at all as they rely on medium-quality fuel that is pretty affordable right now. This is why I have conducted this small research to determine what options have a proven ability to boost the performance of most cars. As a result, I have tested seven products to assist you in making your buying choice. Moreover, this article will also teach you about the core properties of this product and provide you with a guide on how to use an octane booster correctly. However, after reading this article, make your own research in order to find out whether your car really requires this addition.
Octane Booster Reviews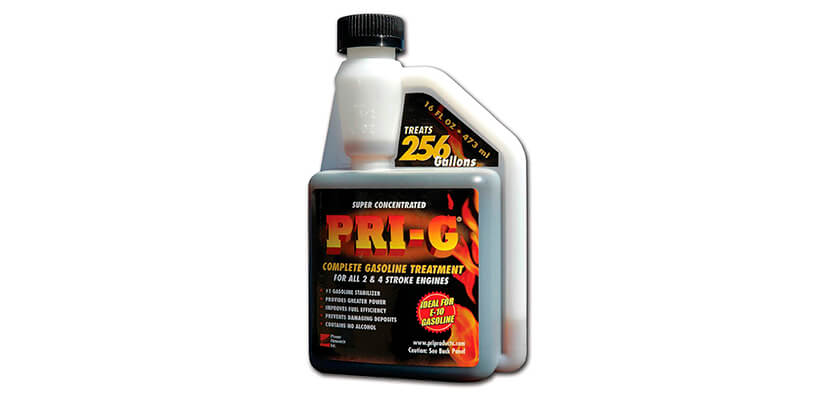 The PRI Fuel Stabilizer is a low-cost option that can be easily chosen by those individuals willing to get their vehicles more powerful in an easy way and without spending too much money. I should say that besides its core purpose of increasing the octane number of fuel, this product also serves as a complete gasoline treatment (cleans out fuel system) and a gasoline stabilizer (keeps gasoline fresh longer). After testing this product properly, I can assure you that it can improve fuel efficiency by as much as 10% depending on what type of engine your vehicle has. Moreover, this effective octane booster also performs very well in terms of protecting your engine from harmful substances that can coat the inner sides of the combustion chamber. I also like the fact that this particular product boasts the concentrated formula that allows 1 bottle to treat as much as 256 gallons of fuel. The item weight is 15.2 oz with a bottle size of 16 oz.
Pros
This product can be used for all 2 and 4 stroke engines.
The item has a gauge built right into the spout with 1/2 oz and 1 oz markings.
Cons
The item works worse with high-performance engines.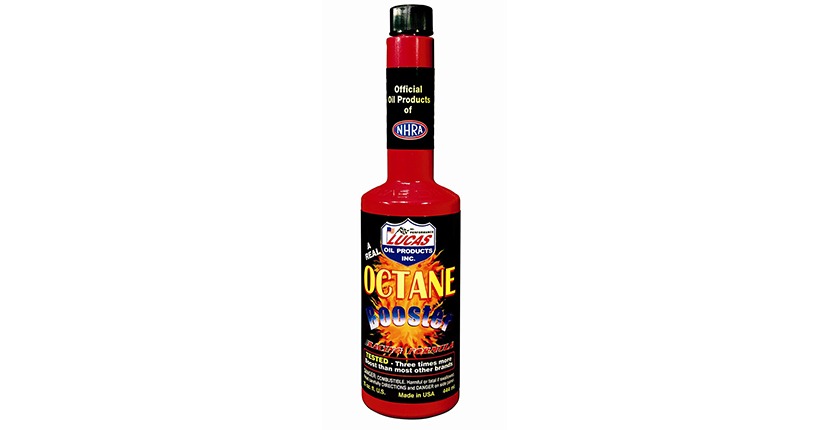 I truly believe that this particular product deserves only positive comments. First of all, it works great with different types of engines, including those with fuel injector turbos or carburetors. In other words, this model is absolutely safe for turbos, catalytic converters, and oxygen sensors. Secondly, the Lucas octane booster is very good at improving the overall performance of the internal combustion engines. Moreover, this model has a double efficiency when it comes to emission reduction due to the fact that this product positively impacts the fuel structure and blocks harmful contaminations. This is why the Lucas 10026-PK12 can be recommended to those drivers pursuing the goal of achieving cleaner burning of fuel. The manufacturers of this item claim that their product gives more boost than most other brands, though this information should be researched and double-checked. I should also mention that this high-quality octane booster comes in a pack of 12 small bottles, every 15 oz in size. Hence, this item can be called extremely portable and can be easily stored or kept safely in your vehicle.
Pros
The item works perfectly even with high-performance engines.
The product has a proven capability to improve torque.
Cons
The item's high price is the biggest upside of this octane booster.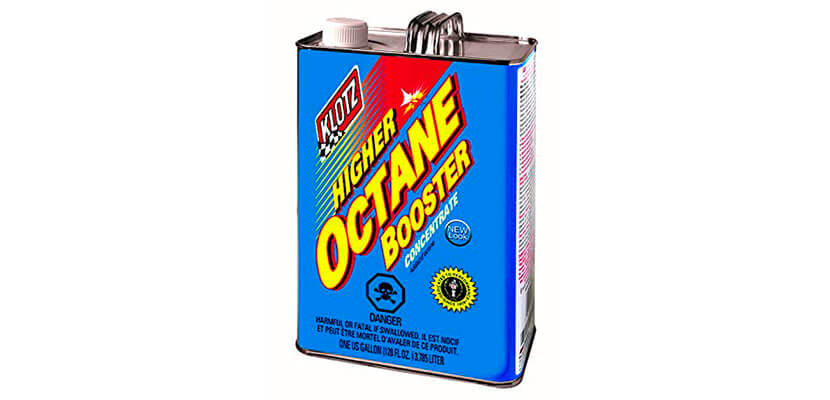 This particular model has everything to be considered among top-rated octane boosters available today on the market. Meant to enhance the overall performance of your vehicle, this product is capable of turning regular fuel into a premium one. You should just pour it in your vehicle's fuel tank every time you are going to take a ride. Also, the Klotz octane booster features a chemical compound called tetraethyl that is intended to better lubricate your motor for delivering smoother performance and preventing your engine from overheating. Additionally, this product is mentioned in this article as stabilizes the burn caused by the spark plugs to provide your vehicle with a stable performance. Similar to other great octane boosters, the Klotz can clean both the carburetor and injectors. I really appreciate this product as it both controls burn speed and stabilizes the flame front. However, it must be used with caution as this octane booster can easily discolor paint, fiberglass, and plastic. Keep in mind that this product either comes in a pack of 16-oz bottles or in a 126-oz gallon.
Pros
This item has a proven ability to increase pump gasoline octane up to 10 numbers.
This Klotz works great for gasoline or ethanol enriched fuels.
It perfectly absorbs moisture.
Cons
The product's expensive price may serve as a repellent to many customers.
It can leave stains on your car.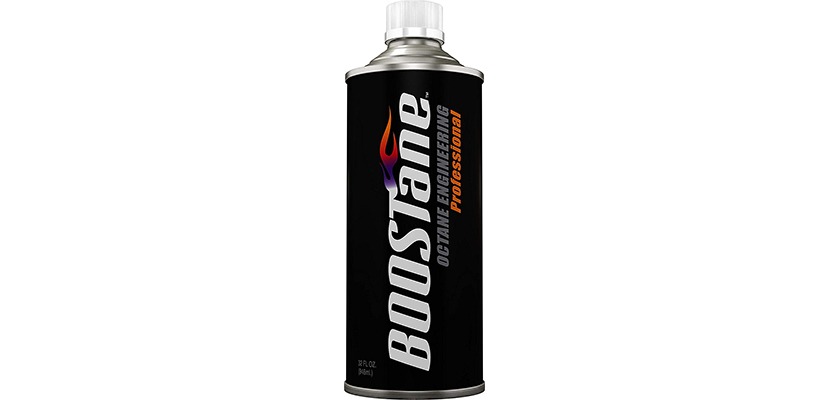 When analyzing this particular model, I should say that this product fairly belongs to the industry's leading high-performance octane boosters manufactured today. This product is capable of converting 93 premium pump gasoline to a fuel with a 116 octane number. This is why this octane booster can be used even as a source for race fuel. It should be noted that the BOOSTane is backed up by independent third-party testing reflecting excellent results. Surely, this model also works effectively when it comes to purifying the fuel and protecting your engine from getting the coating of harmful contaminants.
It should be also stated that this product allows users to customize the fuel for a certain engine. If you want, you can easily achieve exact measurements with the help of the BOOSTane smartphone app that can be downloaded in the iTunes store or Play Market. The BOOSTane ensures protection against the negative adverse effects of ethanol as well as restores lubricity and prolongs engine life. The item is usually sold in small 32-oz bottles, which can be easily carried and stored.
Pros
The item effectively eliminates knock and pre-detonation.
This product can be safely used on all gasoline engines.
This octane booster is ideal for tuning and additional maps.
Cons
The item does not work well with low-performance engines.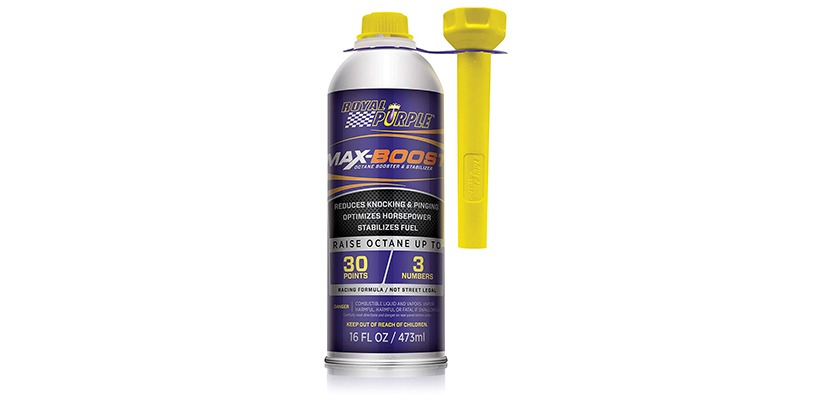 I truly believe that this wonderful option is ideal for both owners of modest cars and high-performance vehicles. This product is a highly effective octane booster known for its ability to guarantee fuel treatment. The primary function of the Royal purple octane booster is to increase gasoline octane. However, the list of its functions is not limited to this property only as this octane booster also works great in terms of reducing emissions and enhancing engine performance through its ability to stabilize the fuel. I should also mention that it is made with MMT, which delivers the biggest octane enhancement to protect your engine from detonation, pre-ignition, and knocking that can be caused by using low octane gasoline. You can freely use this formula for different types of engines including those equipped with carburetors or having port fuel injection or direct injection, turbocharged, supercharged and even nitrous-injected motors.
Moreover, is absolutely safe when used in unleaded and leaded gasoline, reformulated gasoline, and all-ethanol blends. It is also recommended for use in catalytic converters and oxygen sensors. The biggest upside of this product is that it has a special formula protecting the engine against phosphorus that comes from engine oils and can negatively impact catalytic converters. The ROY11757 is sold in compact 16-oz bottles that can be easily stored in the glove compartment.
Pros
The item's low price is appropriate to most customers.
The product is good at absorbing moisture.
Cons
This model provides a modest improvement of octane number.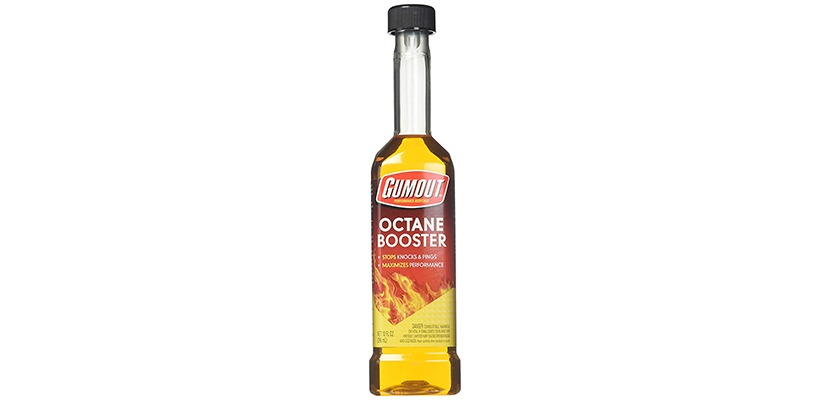 The Gumout octane booster is perfect for any vehicle that runs on fuel. The booster helps you raise the octane level in gas without impairing your car's performance. Unlike other common boosters, the Gumout has no negative impact on fuel economy and timing. The product is of superior quality. It is alcohol-free and thereby produces no harmful effect on oxygen sensors when the car is en route. The Gumout is easy to use as the bottle itself has a caped end and very handy. The booster is versatile and compatible with all types of gasoline (unleaded, reformulated, or oxygenated). Similarly, you can mix it with other gasoline additives if necessary. The booster is fit for any fuel filter. Its volume is sufficient for up to 15 gallons. Besides, it is sold in packs of 6, so you will save a lot by ordering the entire pack at a time. I recommend buying the Gumout Octane Booster if your goal is to ensure a good gasoline treatment for your engine and maintain your car performance on a high level at the same time.
Pros
The price is relatively affordable.
It is easy to open and leaves no mess on your hands.
Cons
The product contains naphthalene that is known for causing cancer.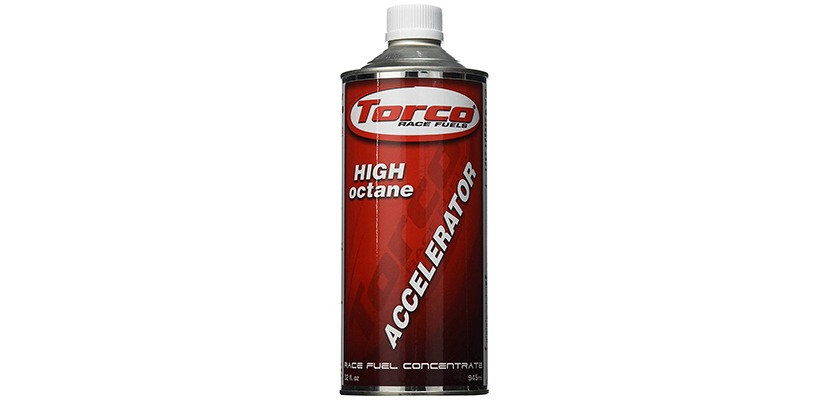 The Torco octane booster is another smart option for all drivers who want to increase the octane rating of fuel safely. The Torco can be called motorcycle octane booster, its composition includes high-quality components that considerably improve your engine's knock resistance. After applying the Torco F500010TE, your fuel properties become a lot similar to that of race fuel and the octane rating is up to 105. The accelerator is absolutely harmless and degrades neither O2 sensors nor converters. The product works with a wide variety of vehicles, including motorcycles, ATVs, watercraft, etc. on condition that they are equipped with advanced high-performance engines. The Torco booster is equally tolerant of different engine additives, so you are free to create your own unique combination. One bottle contains 32 oz that suffices for the entire three months of active use. If you are striving to keep your vehicle in perfect condition and minimize the risk of explosion, the Torco accelerator is a good bargain.
Pros
The price is budget-friendly.
The accelerator maximizes your car's performance and eliminates the pinging.
Cons
It leaves an orange residue on the tips of spark plugs.
Buyer's Guide
Does Octane Booster Work?
Those of you who are going to try this wonderful liquid for the first time can be unaware of its real potential. Do they have enough quality and physical properties to refine your vehicle and raise the octane number of fuel by several points?
Well, it should be mentioned that everything depends on the brand and fuel quality. Reputable brands strive to manufacture superior products that can work well even with low-performance or outdated engines. The only way to check out the product's efficiency is to perform thorough tests and assess the performance of the engine. Again, some octane boosters manufactured by notorious brands will make no difference for your car even when adding them to premium fuel. However, products made by the recognized brands on the market can really bring your car's performance to the next level in many different ways. High-quality octane boosters provide not only improve the octane number of the fuel but also protect the engine from harmful contaminants, reduce emissions, and don't let your engine overheat. Hence, this automotive product can be extremely beneficial. In this context, you need just to find the answer to the question of what is the best octane booster and pick up the most effective product for your vehicle.
How to Use Octane Booster?
Despite the growing popularity of this product on the market, some of you can still be unaware of the method of using this product to refine your vehicle. This small guide will help you find out in what way you should use this product to gain maximum performance and secure a lot of benefits to your vehicle.
First of all, try to determine precisely what recommended octane level your vehicle normally requires. This knowledge will help you opt for the most suitable product. Remember that octane boosters are most useful when they are used in high-performance motors that require high-grade fuel only or in engines battling detonation.
The second thing you should be bothered with is the minimum octane rating mentioned on the bottom of the bottle. This simple figure helps users find out what result they should expect from adding this product into the fuel. The cheapest models give a boost of 3 points only, while the best octane booster can make a huge difference by adding up to 20 points in some rare cases.
After you have decided what octane booster suits your situation (of your car really requires some boost), you should learn how to use this product in practice. In fact, there is nothing difficult in this process. You just need to pour the liquid into the gas tank prior to filling it up with the fuel. You need to pop off the cap and pour it in the amount that is prescribed by the manufacturer. Most products normally have this information written on the back of the bottle. Then add the gas and wait for a while. This will help get the booster mixed properly into the gasoline. That is all, nothing special. Again, make thorough research prior to finding the octane booster for your car as it often happens that no positive changes will be observed in case there is no particular need for using this product.
Can You Use Octane Booster Instead of Premium Gas?
Well, basically octane boosters work in such a way that they increase the octane number of the fuel, which means that they help you achieve premium gas just by adding this mixture. The technical side of the question does not deny the fact that octane boosters can help you cut costs and get premium gas at a cheaper price. The owners of high octane sports cars can feel no improvements for their vehicles is they just use the low octane gas refined by the octane booster. At the same time, some products may increase the octane rating just by 2-3 points, so you just pay more for nothing. Finally, you should remember that most experts will admit that using pure premium gas is almost always preferred over using additive one of any kind.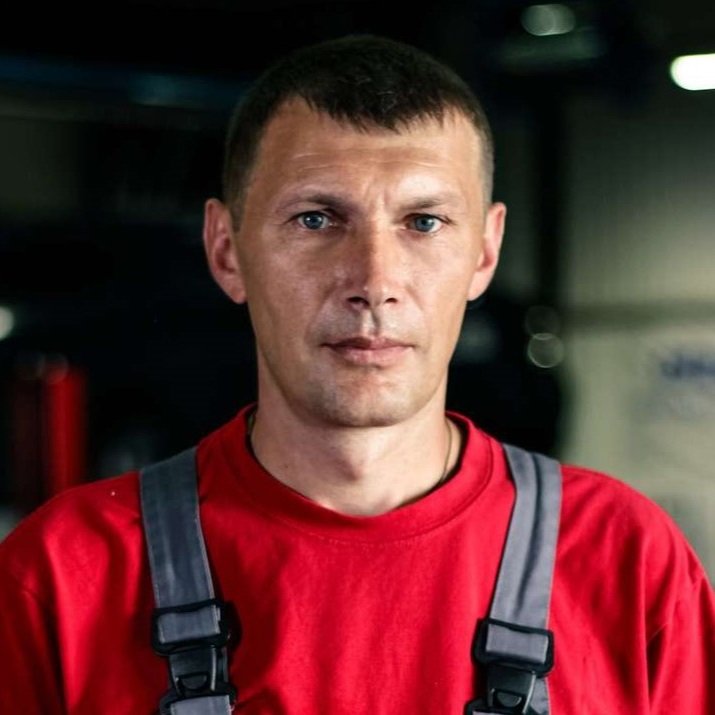 My name is Brandon, and I've been interested in cars since I was a kid. I got a bachelor's degree in Automotive Technology and worked in a private car workshop. I have two cars that have been completely upgraded with my own hands. So I successfully put all my knowledge into practice.
Last update on 2023-02-17 / Affiliate links / Images from Amazon Product Advertising API