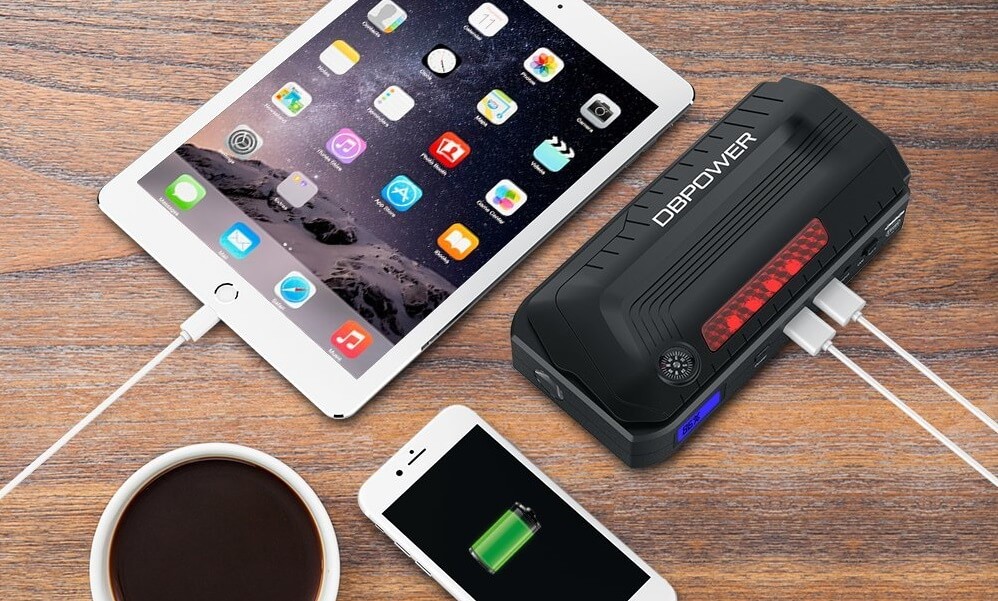 Have you ever discharged a car accumulator in the middle of the road? How did you feel? Probably you were irritated or upset. A portable car starter can protect you from such inconveniences. Also, it is useful if you are an active user of a smartphone, tablet or laptop. In the shortest time they will be charged. Let's consider one of the best lithium jump starters of the modern market.

This innovative device has the following features:
weight – 1.35 pounds;
dimensions – 7.5*3.4*1.6 inches;
amperage – 800 A;
current at the start – 500 A;
voltage – 12 volts;
capacity – 18000mAh;
5V/2.1A 5V/2.1A USD Outputs;
15V/1A Input;
lithium ion battery is required;
no folding;
the USB cable and user manual are attached to the starter.
Strong and weak sides of the DBPOWER 800A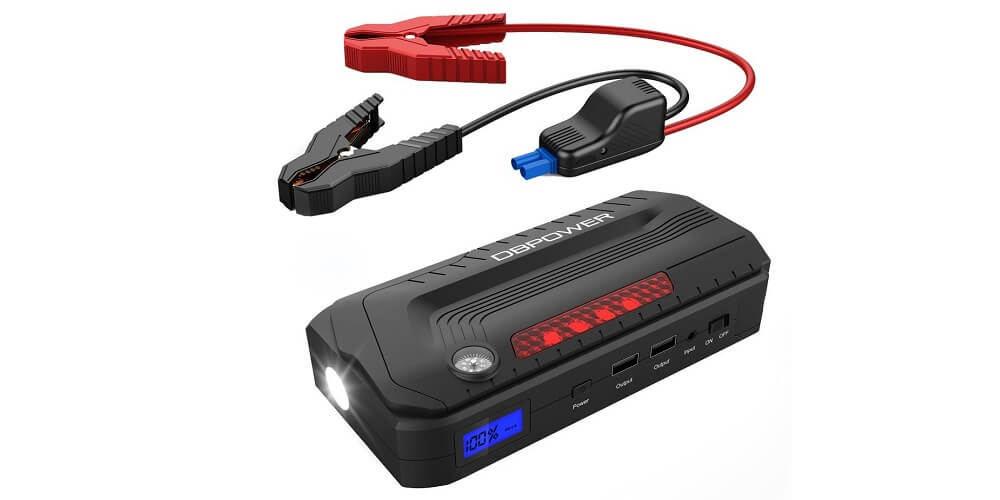 This device comes with a very well designed and sturdy carry case housing all the accessories: mains and 12v car cigarettes socket chargers, jump start charging clamps and a USB lead. The power pack contains a compass and a bright torch which are quite useful if your car breaks down in the dark. There is plenty of power to jumpstart a car with flat battery and it is a lot lighter than the conventional jumpstarter. It is a must for someone whose car is not in top notch condition and has no time to sort out a new battery. It can also be used as a power source for laptops, mobile phones and even power tools.
Pros of the DBPOWER 800A:
Due to the small size and weight, you will not experience inconvenience while carrying the device. Put it in your bag or car glove box. There will be no mess in your auto.
High power allows to bring the vehicle into working condition in just one charge. You will quickly take the critical situation under control.
In addition, there is the possibility of charging mobile phones, tablets and other gadgets. You will always stay in touch with relatives while going to rest on a picnic. The business meeting will not be disrupted due to discharged laptop.
Not the least role is played by stylish design. You will be pleased to look at the battery and hold it in hands. Hard black corpus protects internal mechanisms from damage.
A convenient LED flashlight with three modes (lightening, SOS, strobe) is provided. In emergency situations, you can use a special red light.
The modern LCD screen provides all the necessary information about the state of the device so that you can easily monitor its performance.
It is not only reliable and stylish but also absolutely safe starter. Manufacturers equipped it with protection from a short circuit, reverse current, overload, overheating and other abnormalities of work.
Cons of the DBPOWER 800A:
Some customers noted that the device does not reach the maximum amperage. According to their observations, the real level remained 500 A.
Users have published comments about the fact that low temperatures can adversely affect the operation of the starter.
It has also been observed that over time charging passes slowly and does not always reach the primary level.
Conclusions
Undoubtedly the advantages of this device exceed its minor flaws. 90% of customers put the highest mark and are satisfied with the purchase. The starter corresponds to its price (about $82.99).
In some cases, you can get free shipping. This battery will become the reliable assistant in everyday life and critical situations. So don't doubt that this is a good device. Enjoy comfort and security wherever you are.