Since engine's lifespan largely depends on the level of its cleanness, the best engine cleaner is required to remove grease and mess from the motor. It's also crucial to make the heart of a vehicle look presentable if planning to sell the used car.

The following list of products reveals 3 types of substances: cleaners, degreaser, and 2-in-1 solutions. Cleaners are liquids produced for frequent use that's why they work softer and more delicate. If having tons of mess in the motor, pay attention to degreases is more abrasive and intended for heavily soiled areas. Some advanced items can be used for all purposes.
The best engine cleaners and degreasers below, as well as the tips beyond them, will be helpful for choosing the right solution.
Engine Cleaner Reviews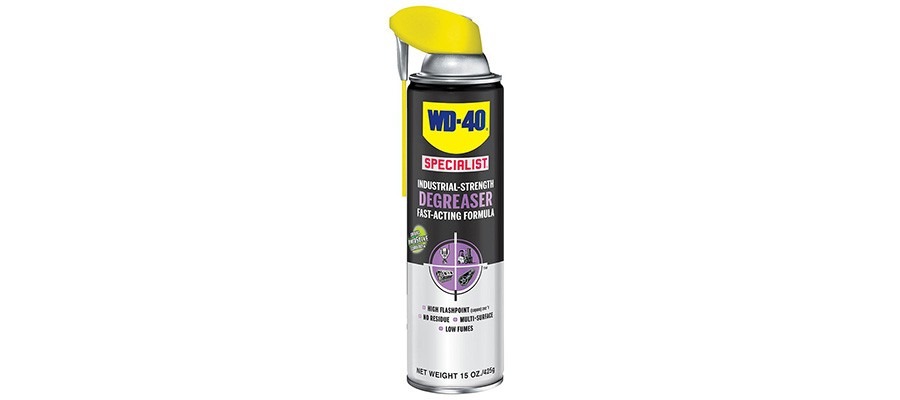 If looking for the best engine cleaner, consider the WD-40 as this product features a wide array of applications since it's able not only clean car motors, but it's also used to clean all kinds of dirt from bike chains, eliminating the blowback from the brakes that stain the rims, cleaning industrial equipment, commercial appliances and equipment even with the painted surfaces.
It is also great for removing labels (it dissolves the glue in seconds), grease stains on clothes, and for cleaning cooking pans. It handles tough and old grease and oil fast and it's easy to use as it can be hosed off but not wiped out manually.
The unit has a newly designed straw. It's narrow to make spray highly-focused and it's permanently attached. Now, they're impossible to lose and easy to install in the hole of the nozzle on top of the can. Besides, the nozzle won't spray when the straw is folded down and the latter flips up and down easily and smoothly.
Keep in mind that once cleaning is finished, rinsing the part well is required as the product may leave a residue and make the area is a bit oily. The residue evaporates or dries off soon, but it takes a day or even more time.
Pros
This aerosol is able to work on different surfaces – metal, vinyl, variety of plastics, tile, or laminate– and it doesn't damage anything.
It takes a little to activate after applying it on the surface and only a few sprays are required for an area to finish cleaning.
It's a solvent-based product, but it has no too bright expressed and a distinct chemical smell.
Cons
The liquid cannot be used indoors as it will leave the chemical scent.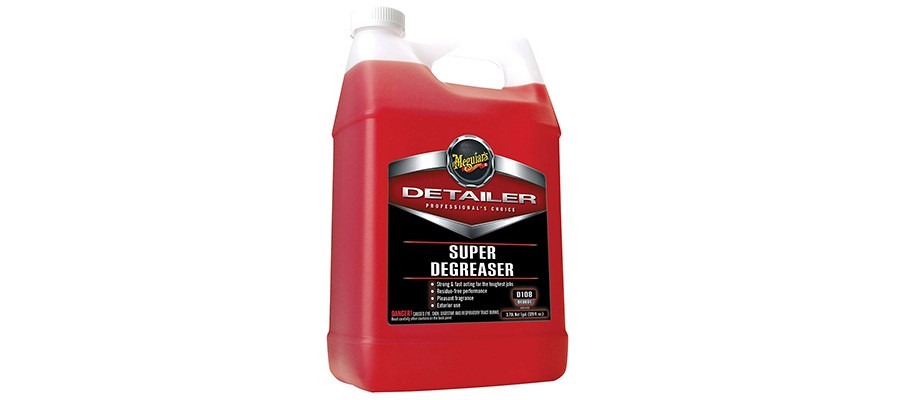 When thinking of the best engine degreaser, give attention to the MEGUIAR'S D10801 working both effectively and delicate that makes it suitable for heavy-duty and basic cleaning. It's suitable for cleaning engines, removing rust proofing oil from the wheel wells, as well as eliminating spots on clothes and carpets. It also does its job when removing road tar on painted parts. The product doesn't fit polished aluminum surfaces because it contains potassium hydroxide as an active ingredient and this caustic etches bare aluminum.
If it's necessary to eliminate grease on the light dashboard or vinyl boat seats without damaging them, it's recommended to dilute 2 Oz of liquid with 10 Oz of water. This unit can be used to clean a home shower if adding 1 Oz of the product to 5 Oz of water. One should know that only distilled water is required for mixing.
The manufacturer claims that they used "free rinsing formula" in production. Note that it doesn't mean that no rinsing required. It means that the solution is rinsed away very easily or freely with water.
Pros
The product doesn't harm or discolor the leather but does a job in half a minute.
No gloves are required since the substance doesn't burn the skin that is very atypical for such a product.
Cons
It's necessary to pick up the bottle and the spray nozzle separately to help out on the correct dilution ratios.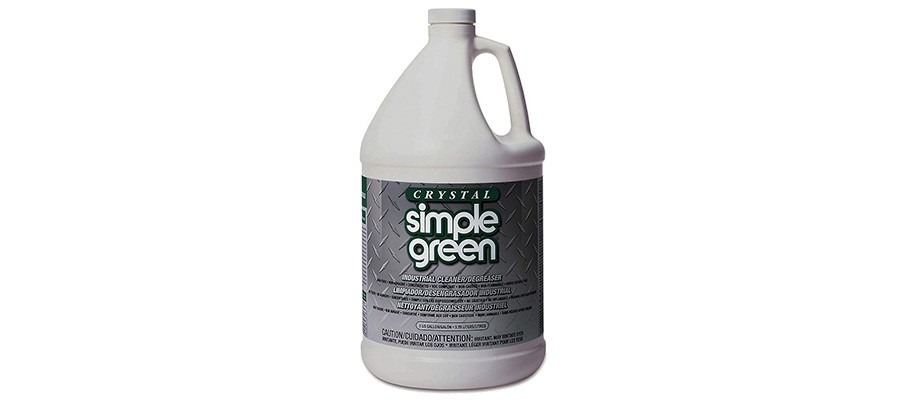 When degreasing engine, this fragrance-free water-based solution comes in handy. It's a non-toxic product and that's the reason for using it as a kitchen cleaner. If one uses the liquid for cleaning motors, don't get this product into the alternator, starter, fuse box, coil pack, or any wire connections and seal off all openings before spraying around.
One can also use the fluid for general bike washing and be sure that it won't wreck bearings but consider to keep low pressure on the hose while washing.
The manufacturer presents the unit in a large bottle and it should be diluted for a specified application. The solution is so concentrated that allows cutting it 50/50 with water and it works as effectively as at full strength. It has no dyes, so it's possible to use it as a carpet cleaner even on the lightest-colored carpets without worrying about leaving a greenish residue behind. Note that the fluid works well in both cold and hot water.
Pros
There is a helpful dilution chart on the bottle.
It's safe for hands: they're not getting red or itchy if the product Gets on them.
The liquid works very quickly and cost-effectively.
Cons
When cleaning the alloy aluminum components, they might become gray and the printed graphics on the parts can disappear. To avoid such problems, it's necessary to scrub and then wash the substance immediately. No soaking is allowed.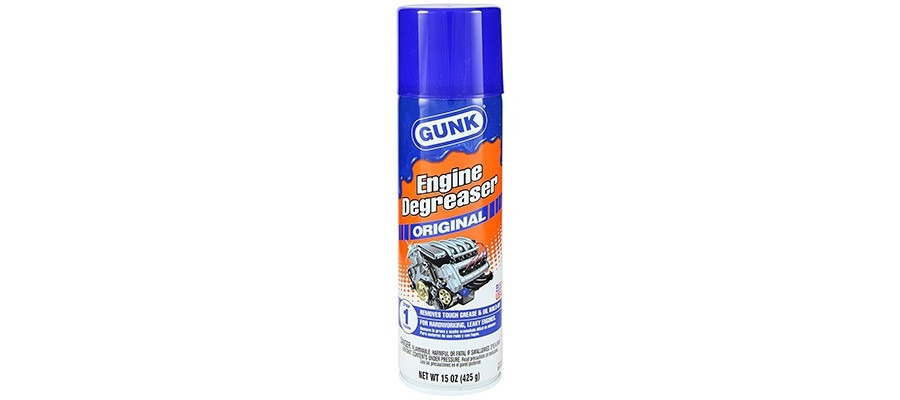 This engine cleaner spray is developed to remove grease from tractors, compressors, farm assemblies and vehicles, trailers, and ATVs. It's also safe for chrome finish on intakes and motor accessories. However, it contains too powerful petroleum solvents and that's why it's too aggressive for plastic engine parts or for home use. The fluid's composition makes it particularly smelly like kerosene or diesel fuel.
It's flammable and cannot be used for cleaning the engine without water. It can be directly sprayed on the engine, but it's necessary to avoid electric contacts. Besides, it's crucial to warm up the motor but not to operating temperatures. To clean hard-to-reach areas, it's great to use a soft-bristled brush and a paintbrush.
The product comes as an aerosol in a compact can with the convenient dispenser that works flawlessly. One should wait 10-15 minute before rinsing the degreaser.
Pros
It requires no extra equipment (hoses, compressors, etc).
It can handle the most stubborn grease.
Cons
It cannot be diluted to expand its scope.
It makes the surface oily after cleaning and it's hard to get rid of this residue even when rinsing.
It smells really bad.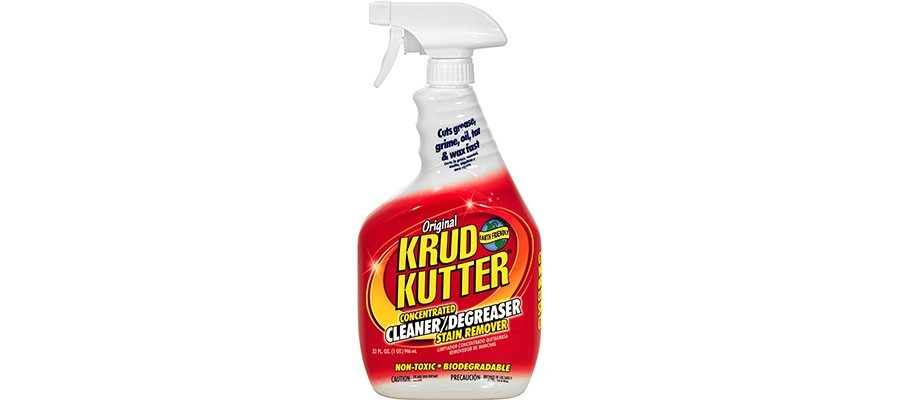 In search of a top engine cleaner, consider the KRUD KUTTER KK32 since it is made of environmentally friendly ingredients and can be used as both cleaner and degreaser. For example, it removes spots from leather without damaging or discoloring it and, at the same time, it cleans stubborn grease on engines (sometimes, it requires scrubbing a little harder in the dirtier areas).
Note that when cleaning leather car seats, applying special conditioner is recommended. If using the fluid for cleaning the oven, it leaves a few the most stubborn spots not dissolved.
This all-purpose cleaner even works on fiberglass in the bathrooms. I've also tried on wood kitchen cabinets and it works great. Moreover, the product doesn't ruin the finish inside them. However, it's better to test a small part in order to check whether it damages paint or not. Note that the manufacturer doesn't recommend using it on varnished surfaces.
Pros
The fluid doesn't small potently.
It doesn't hurt the skin, so, it's ok if somebody forgot to put gloves on.
The product is used sparingly and the manufacturer claims it's able to cover 300 sq. ft. per a gallon at full strength.
Cons
No opportunity to use the substance as a carpet cleaner since it's useless to dilute it with a large amount of water that is required for cleaning carpets. This product works much better concentrated.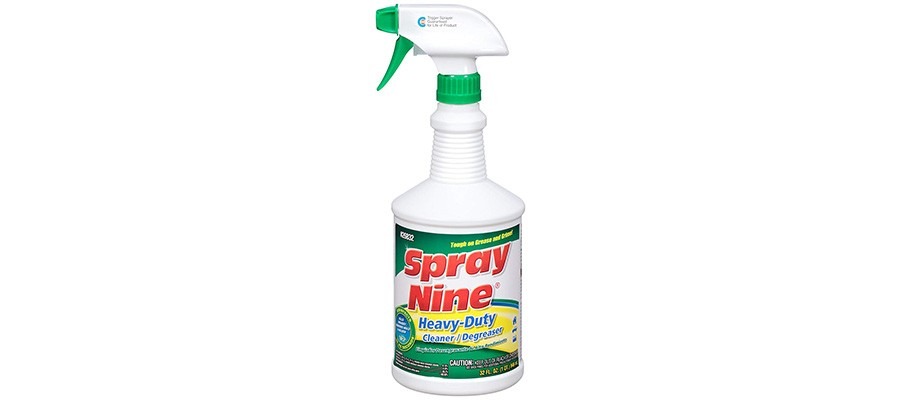 This unit is among the most effective automotive engine cleaners and degreasers as it's focused on both removing mud and disinfection. The product's ability to eliminate viruses and bacteria in 45 seconds is one of its declared specifications. It features a wide range of applications – automotive, industrial, commercial, institutional, and home. It is also compatible with the manufacturing and food processing facilities.
It cleans motors and frames well if mixing it 50/50 with water in a sprayer. It's great to use it on stove hood and other cooking equipment as it leaves a light pleasant odor that evaporates quickly. It removes grease fast from fiberglass, ceramic tile, stainless steel, and porcelain but requires much effort to handle wood surfaces. Still, it works flawlessly on textiles.
Consider rubbing smoothly only the spot but not the entire cleaning area. Use hot water to rinse the fluid from the surfaces more effectively. Besides, it's not good to use it on appliances with labels as it takes the writing right off.
Pros
The fluid melts grease in a couple of minutes after applying. Tough spots start melting after 5 minutes of soaking in the liquid.
Cons
The product can't remove the exhaust residue.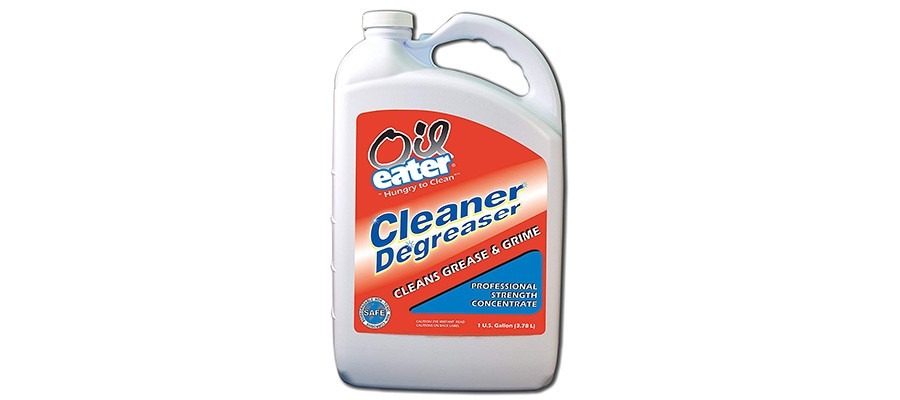 The Oil Eater is among the most popular engine cleaning products as it's eco-friendly (it contains biodegradable ingredients) and water-dilutable that expand its array of applications. For example, to clean a car carpet, it's necessary to mix one part of the fluid with four parts of water. Such proportions are recommended to remove the product's residue from the carpet.
If using the liquid for cleaning the engine, the latter should be cooled first and it's necessary to cover all the electrical components around it.
The product eliminates grease faster if pouring it into a sprayer. It's also rational to use pressurized water to rinse the substance residue fast and thoroughly, especially if it has already dried off in the sun. To avoid complete drying, soak the engine, transmission, suspension, drive-train components or any other parts no more than 15 minutes.
Pros
The unit requires very little scrubbing.
The fluid eliminates grease and oil spots on clothing without ruining it or leaving traces on it.
Cons
It might take to repeat cleaning 2 to 3 times to remove the oil completely from the paver stone driveway.
It's not compatible with asphalt as both the solution and asphalt are oil-based products that's why the liquid breaks it down and leaves a visible spot.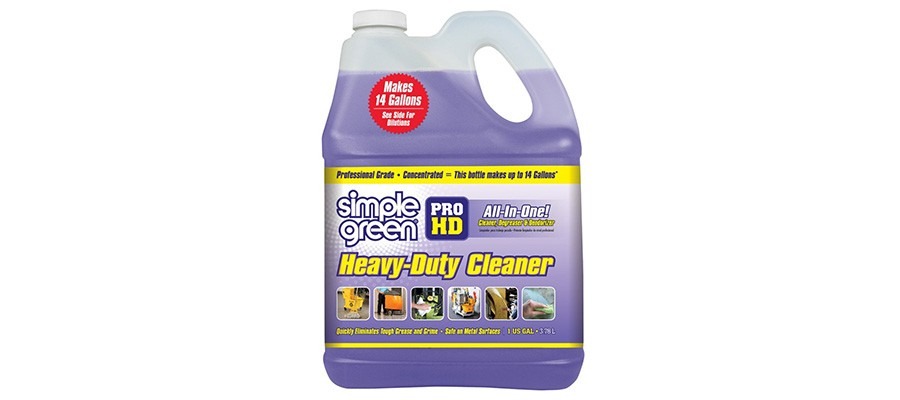 When thinking of the best engine bay cleaner, don't miss the Simple Green Pro HD as it breaks down spots and grease on a wide range of surfaces – car bodies and motors, industrial equipment, walls, and floors. Certainly, one-minute cleaning of the oldest and the most stubborn stains shouldn't be expected since it deals with a multi-purpose cleaner but not a dedicated degreaser.
The product works on tables, chairs, windows, and siding without an issue. It cleans carpets thoroughly and leaves them soft but only if mixing it with water. To take the grease right off the kitchen facilities, it's good to use a scrub brush. The unit is safe for alloy/aluminum surfaces unlike plenty of other similar items in this price range.
It's not a heavy chemical substance so, don't leave it in the sun because it might become yellow and lose its properties.
Pros
The item is biodegradable that's why it's not harmful to plants and lawns.
It works on composite decking flawlessly.
It's able to remove rust.
Cons
It's not able to disinfect and to eliminate mildew or bacteria.
Buyer's Guide
How to Apply the Engine Degreasers?
The automotive degreasers are able to melt the old grease on the motors completely and, at the same time, not to damage the parts. However, to succeed, it's crucial to follow the next cleaning algorithm.
The preparatory phase:
Cover all the electrical elements in order to protect them from liquids.
It's recommended to take gloves and mask to protect the skin and airway respectively. It doesn't matter whether the solvent or eco-friendly water-based product is used since both types of degreases contains chemicals in different quantities.
Choose a solvent product if expecting faster results and melting heavy grease on the first try. Pick a water-based item if being too sensitive to odors or having allergies, asthma, etc.
Consider using a foam or a gel type of the degreaser for vertical components and liquids for horizontal ones.
Stock up on brushes for scrubbing and rubbing, as well as wipers.
The main phase:
Wash the engine with water first to remove debris and dust that facilitates further cleaning.
Take a sprayer to disperse the fluid on the surface. It's possible to use the fabric can/bottle or an air compressor with a hose and the appropriate nozzle on it for higher pressure.
Start the engine to make it warm but not hot. It heats the grease and makes it more removable. It the engine becomes too hot, let it cool down.
Test the greaser on one small spot. A more concentrated substance might be required.
If it's okay, apply the degreaser and let the engine soak for a couple of minutes. Use a toothbrush to clean hard-to-reach areas.
Rinse the solution with water. If using a high-pressure hose, be careful to avoid damaging electrical connections.
If the engine or any other element isn't too greasy, it's possible to save the product when diluting it with water. Note that some brands produce non-dilutable items.
Engine Degreasers' Advantages
A car engine degreaser becomes indispensable if it's crucial to handle cleaning extremely fast. It's a chemical product that is able to melt stains almost instantly. Сar service staff claims that it prevents the engine's overheating since the absence of dirt and oil allows motors running cooler.
When using degreasers, the sources oil leaking become visible and it gives the opportunity to reveal and solve the problem on time. Besides, rubber hoses and plastic parts serve longer when they are completely clean and demand repairs or even replacements far less frequently.
One more benefit is that, if keeping the engine grease-free, one can save clothes and hands clean while checking the oil level or accessory belts.
Top-quality degreasers feature a wide scope of application and it's possible to use the same bottle/can for cleaning various types of surfaces, vehicles, equipment, and even furniture.
Categories of Engine Degreasers
There are several types of engine degreasers on the market and the difference lies in their chemistry.
Petroleum-based substances are effective but smell bad and for a long period, but they're able to remove any types of grease and lubricants.
Metal solvent products are mostly used for cleaning engines, joints, and bearings. Vapor solvent solutions don't demand any water or scrubbing, but it's the industrial item that is used to clean plastic, glass, metal, gold, and ceramic in the process of producing.
If it's necessary to clean glass and chrome surfaces, as well as the interiors, ammonia-based solutions are the most suitable products.
Foam items are great for cars since they don't need water to be rinsed and that's why they ensure electric parts' protection.
Eco-friendly products are water-based and feature light smell. They allow avoiding skin damages and don't provoke allergies. Such products are not dangerous for greenery but require several times of using to remove stubborn spots or old grease.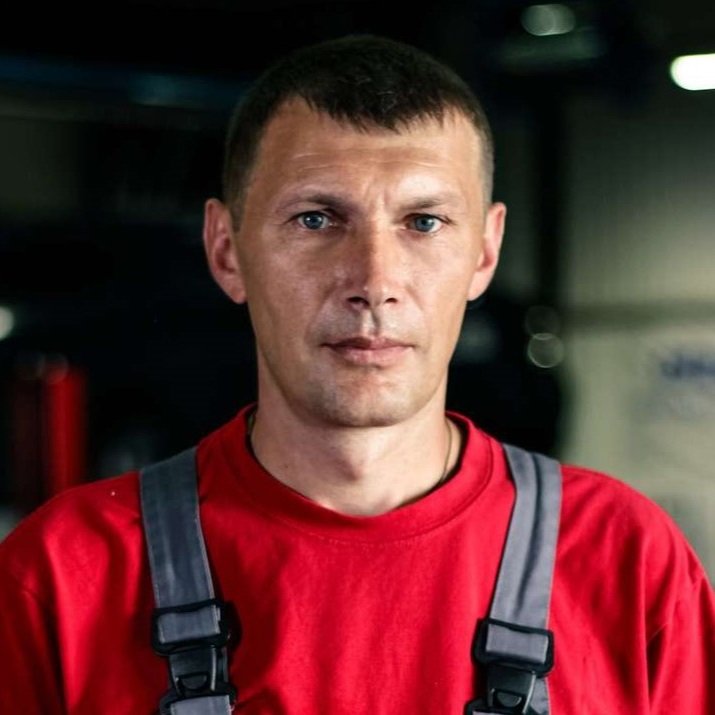 My name is Brandon, and I've been interested in cars since I was a kid. I got a bachelor's degree in Automotive Technology and worked in a private car workshop. I have two cars that have been completely upgraded with my own hands. So I successfully put all my knowledge into practice.
Last update on 2023-02-17 / Affiliate links / Images from Amazon Product Advertising API