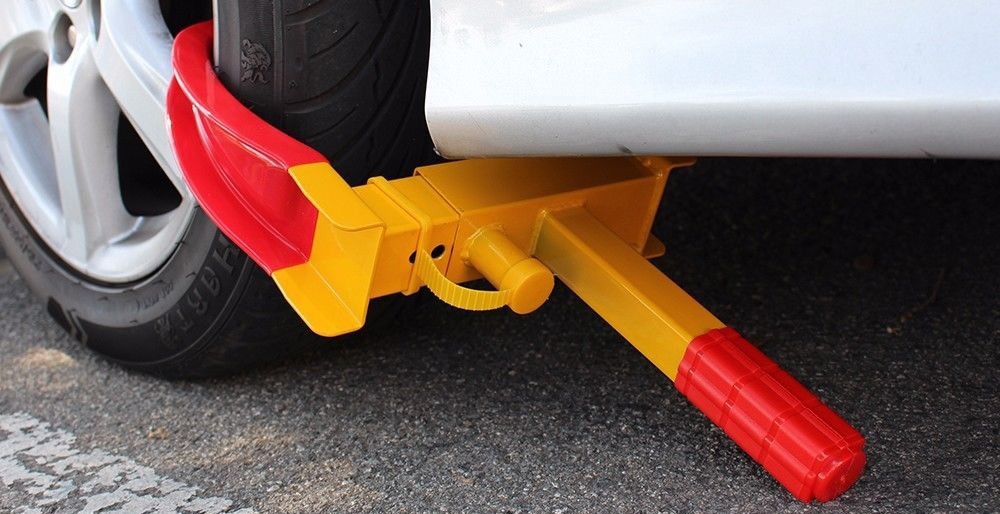 As alloy wheel theft has become an urgent problem in the modern world, installing the best wheel locks is a must for all drivers who do not want to find their car being stripped. While a car alarm does not always ensure full protection of your car, it is vital to consider some additional options, which can reduce the risk of wheel theft.

A tire lock is still a good choice, though it cannot guarantee that wheel thieves will not steal the entire wheel. That is why you should think about installing more reliable tools in your car. A wheel lock nut and wheel clamp are exactly those tools, which can serve both as physical and visual deterrents to those persons who steal alloy wheels and tires. In fact, both these tools have their upsides and downsides and it is fully up to you what anti-theft mechanism to install in your car. This article is intended to help you make the right choice and significantly increase the security of your car with high-quality wheel locks.
Wheel Nuts vs Wheel Clamps
You might have heard a lot of stories about numerous car thefts. A car alarm is a security system that serves as an audio deterrent to the car thieves willing to steal a car. Most modern drivers will never even try to leave their car on the street without properly working car alarm. In fact, only crazy persons do not install car alarm systems on their cars! However, a car alarm is not an effective tool in protecting your car from thieves who have recently become an urgent problem in the modern world.
Wheel nuts and wheel clamps are the two most reliable tools when it comes to protecting your alloy wheels and tires from wheel thieves. Actually, both tools have their pros and cons.
A lug nut lock is perfect for those drivers who want to avoid the necessity to constantly lock and unlock their wheels, as it can be installed once and you can forget about it until you will need to replace your wheel or something like that. However, wheel nuts can be sometimes cracked by skillful and experienced wheel thieves. The problem of identical keys also makes wheel nuts not that good when compared to wheel clamps, which are extremely reliable and much tougher (cracking attempts may be vain).
The biggest downside of wheel clamp is that you will need to constantly lock and unlock them (most of them are pretty heavy). Moreover, they are far more expensive than wheel nuts but still protect only one wheel.
Wheel Locks Reviews Reviews
Best Wheel Nuts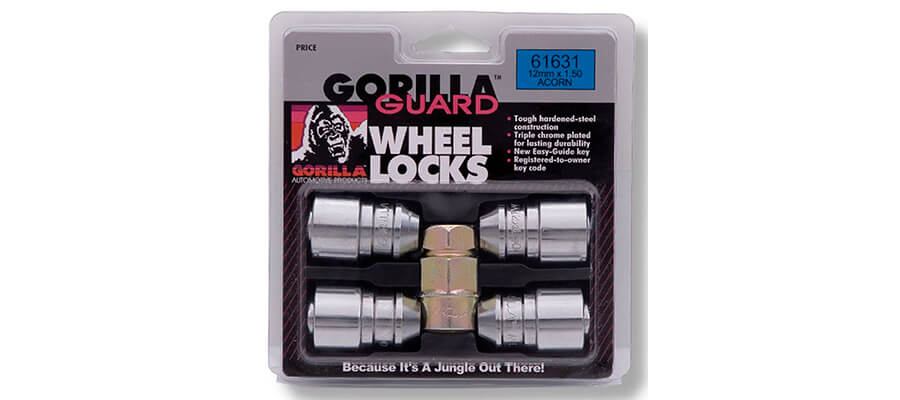 I have already worked with Gorilla wheel locks and can admit that this manufacturer cares a lot about the quality of its products and the 61631 model in particular. The considered component has a thread size of 12mm x 1.5 and goes with a conical seat (designed at 60 degrees). Similar other Gorilla models, the 61631 boasts unique locks and keys. By the way, when buying these security lug nuts, you get a set of 4 high-quality locks and 3/4″ and 13/16″ dual hex key, so this product seems to be a worthy investment.
I think that the best feature of this product is that it has a wisely designed outer sleeve that will rotate immediately if a socket is jammed over the lock. The item also has the narrowest groove possible to get its security characteristics to the next level. Therefore, these clever features may save your car from losing its wheels as thieves will be forced to spend a lot of time and make a lot of noise if they dare to steal them.
I would also like to praise the manufacturers for the fact that they use case-hardened steel as the main material (ensures the product's firm construction) and chrome plating (gives them shiny look). However, the product's cheap price makes the uniqueness of each car wheel lock set rather questionable without further tests run by impartial experts.
Pros
The 61631 locks can be installed and removed easily if you own the key.
They can fit both passenger cars and trucks.
Cons
The item may get rusty due to the fact that these wheels are not made of stainless steel.

Based on test results, the McGard 24517 can be called one of the best locking lug nuts that you can order online today. I can fairly state that the item seems to perfectly perform its function of protecting your car from being stripped. The product's thread size 12mm x 1.5, which is a standard for modern car disks and has an overall length of 1.28 inches. The set consists of 4 McGard lug nuts and 1 key.
When purchasing this product, you pay for a set of cone seat style wheel locks and one 19mm and 21mm dual hex key to help you install and remove the nuts. The manufacturers claim that they use a special computer program to generate unique locking lug nuts and the McGard wheel lock key for every customer. However, this feature still needs to be further checked by impartial authorities.
When assessing the quality of materials used to construct these McGard wheel locks, I would like to say that the manufacturers have opted for a restricted chemistry steel (that is not just case-hardened but also through-hardened) as the core material and the items look really solid. Being produced in the USA and in compliance with the U.S. quality standards, the 24157 also features a chrome plating that gives it a finished look. What I do not like in this model is that it can be used for aftermarket seat wheels only even despite the brand's high position in the wheel lock industry.
Pros
The product has an attractive price.
It is can be used both on lorries and passenger cars.
The product can withstand high temperatures.
Cons
The item seems to be vulnerable to rust.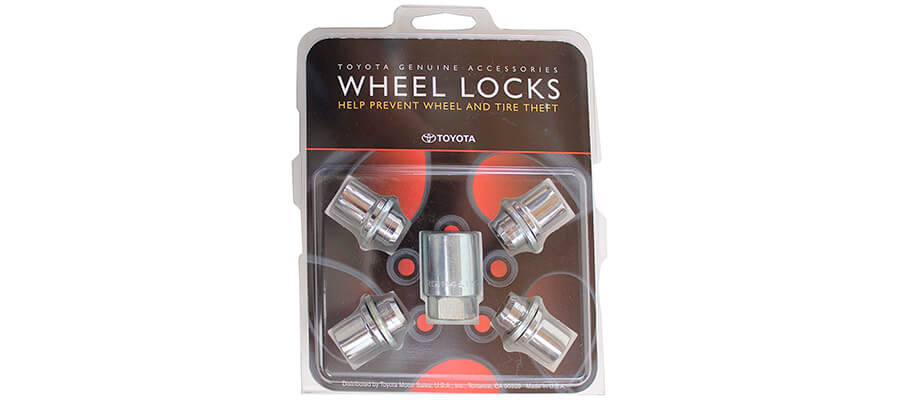 This EOM component designed to protect Toyota cars. I am really impressed with the reliability of these genuine units as they really look very solid and provide the same quality that differentiates this world-known brand from other similar products on the market. Apart from the product's extremely high-quality properties, these anti-theft lug nuts have been already balanced to the same weight as the stock lug nut. In fact, this means for you that there will be no need to recalibrate your wheels as their weight will remain the same. Although there is usually a tiny difference in weight between wheel locks and stock lug nut, this minimum difference can still play its role in affecting the balance of your wheel rotation.
I also want to express my satisfaction with the quality of materials used to construct these components as they are featuring precision-machined and hardened steel intended to prevent them from being fractured easily. Moreover, the product also has triple-nickel plating and a chrome overlay both having an anti-corrosion effect. Again, when buying this item, you normally receive a set of 4 unique lock nuts and a specially designed wheel lock key to fit them. I am only disappointed with the fact that this high-quality product should be installed on Toyota cars only.
Pros
These authentic Toyota wheel locks can be easily installed.
The product can withstand high and temperatures and seems to perfectly withstand sustained attempts to crack it.
Cons
The item is very expensive and does not fit trucks.
It is universal model and doesn't fit to a lot of Toyota cars (e.g. Tacoma, Highlander, Tundra). So, ask customer support about your model, before placing an order.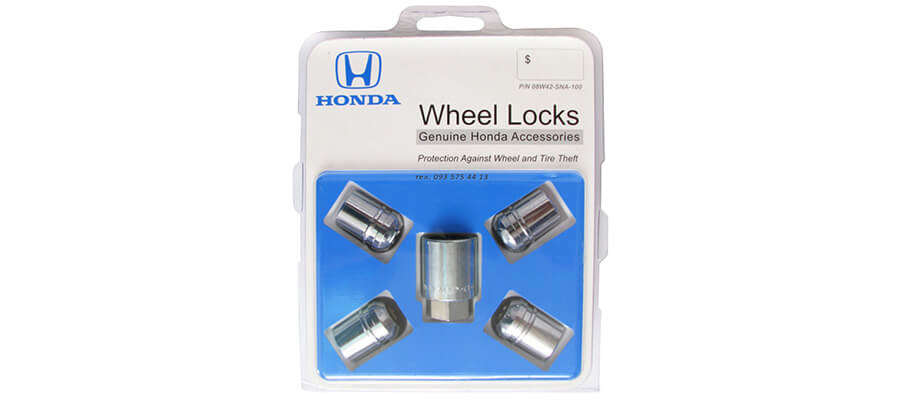 This is another high-quality OEM locking lug nut option, which ideally fits Honda cars. These genuine units are manufactured in Japan to perfectly protect your Honda car from losing high-rated alloy wheels and expensive tires. These factory Honda locks are made of hardened steel to ensure that they will be tough enough to withstand attempts of wheel thieves to crack them.
Moreover, Honda wheel locks also have a chrome-plated triple nickel finish, so the product has a brilliant shine and prevents it from forming rust. When purchasing the product, you get a kit of 4 original lug nuts and a locking lug nut key. Honda guarantees that every kit is unique and there are no chances that the same key can unlock several kits. At the same time, I have heard a lot of complaints from those drivers who have lost their key tool on how difficult it was for them to get a replacement from Honda.
Pros
You can easily remove and install each lock nut easily of you have a unique key.
The product is sold with a handy storage pouch that is normally attached to the lug nut wrench to prevent a key or removed lug nuts from being misplaced.
Cons
The item is still very expensive and targets a specific customer group of Honda owners.
Before purchasing, contact support service to be sure that it will fit your Honda because it doesn't fit to all models.
Best Wheel Clamps


The Trimax wheel lock is a perfect choice for those drivers who have got used to straight methods of protection. Despite the product's unusual look, it serves both as a physical and visual deterrent to the car thieves. I have tested the item and can admit that it is really tough and extremely firm, so only crazy persons can dare to try cracking it with an aim of stealing your car's alloy wheels with and tires.
The item is provided with a strong pick-resistant locking mechanism to give maximum security to your vehicle and it goes with 3 keys. Made of extremely strong, heavy gauge steel, the product will simply give no chances to wheel thieves!
What I also like in this strange-looking but very effective device is that it is coated with a strong epoxy powder intended to prevent the item from getting rusty. The product's jaws have a rubber coating in order to protect your car from getting damaged or scratched once you attach the item. However, you may get quickly annoyed with the necessity to constantly lock and unlock this device every time you leave your car on the street. I also do not like the fact that this model is rather heavy as it weighs almost 8 pounds.
Pros
This item functions both as a lock and a chock.
This product can be easily installed.
This model can be used for securing different types of vehicles and even boats.
Cons
The product is very expensive.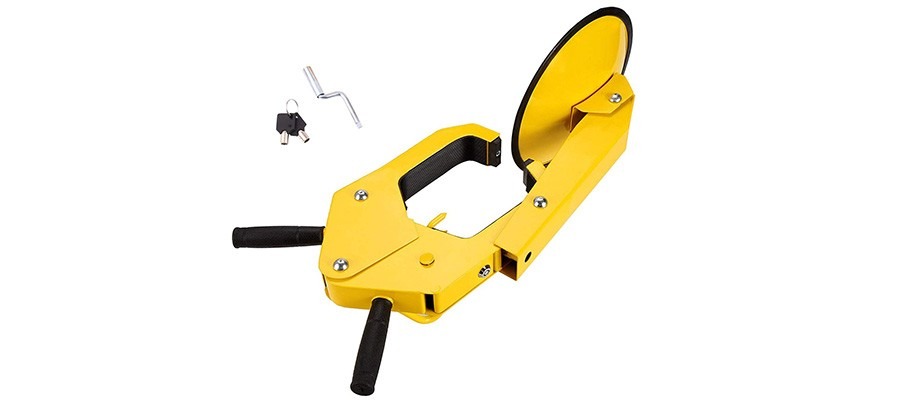 When I was testing this cool Homdox product, I was amused with its customized design bringing user experience to the next level. The distinctive feature of this particular wheel lock system is that it has a property to get adjusted to different kinds of rim and to various tire sizes. At the same time, it should be mentioned that the item cannot be used with tires exceeding 14 inches. That is why pay special attention to this feature if you want to work it properly.
When speaking about dimensions of the item, it has a bit weird and bulky look (25.1 x 12.6 x 7 inches) as it weighs more than 14 pounds. The model is manufactured using cold roll steel sheets, which make the item rather sturdy. Some parts of the Homdox are covered with soft PVC, which is meant to protect your car from getting undesired scratches as you are locking the wheel. The item has also rust-resistant coating, so you can be sure that neither snow nor rain will affect this clamping tool. Think that the biggest downside of the item is that it occupies a lot of space in a trunk boot.
Pros
This easy-to-use item has a very low price compared to other similar products.
It fits almost all vehicle types (passenger cars, boat trailers, caravan, trailers, SUV).
The model has soft grip handles.
Cons
It takes a lot of effort to carry this heavy device.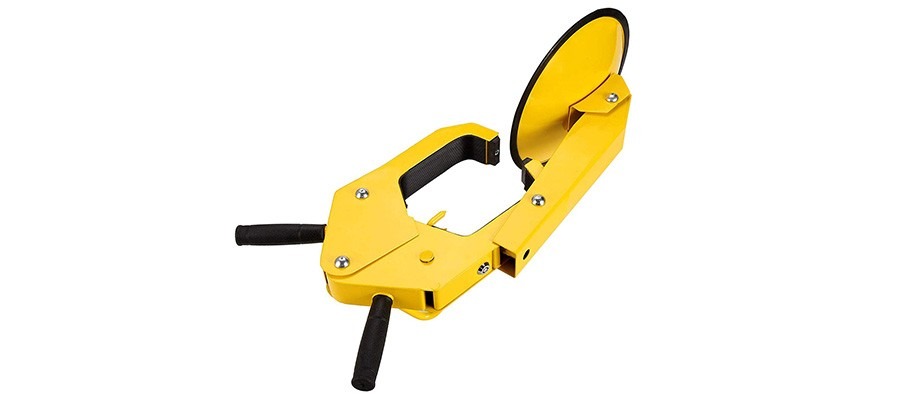 This is the last anti-theft wheel clamp option in the review but not the least. This tire lock is very similar to the Homdox in terms of design as it has almost identical construction that can be used only with wheels having a tire radius less than 14 inches. This item also has pretty bulky construction (25 x 13 x 7 inches) and weighs as much as 14.07 pounds.
Nevertheless, the weight of the item derives from the fact that the product is made of heavy-duty steel, which ensures that the clamp will be sturdy enough to withstand attempts of thieves to crack this wheel lock and remove the entire wheel. Add to this rust-resistant coating this product also has and you get a reliable and durable option that can perfectly perform its functions throughout the year. The only thing that may frustrate the users is that they need to learn how to choose a proper angle when unlocking the clamp with a key.
Pros
The item has rather attractive price.
The item's unusual design and attention-grabbing yellow color can serve as an effective visual deterrent.
The model can fit different vehicle types.
Cons
The item is very heavy and occupies a lot of space in a car's trunk boot.
Buyer's Guide
What are Wheel Locks?
Wheel locks have become a must-have option for modern drivers with an increased number of cases of wheel thefts throughout the world. All units are made using tough and sturdy materials to make it impossible to crack them. To say it simple, wheel locks are special mechanisms or tools, which literally deter wheel thieves from your car. The main principle of their work is to make it impossible for others to remove wheels from your car. When we speak about locks, we mean that there is some key that is going to open the locking mechanism when necessary. The same happens with wheel ones. You have a locking mechanism (security nuts or wheel clamps) and you have a special key (or several keys) with unique pattern to unscrew your lug nuts or unlock a wheel clamp. Manufacturers should normally guarantee that the customer always gets only unique wheel locks and keys to them, which cannot be found anywhere else in the world.
How do Wheel Locks Work?
Those of you who want to protect your vehicles from losing its wheels must be interested in purchasing these small but effective anti-theft tools. So how do they work? All wheel locks are created to make your car protected from wheel thieves who use various tools to steal expensive alloy wheels and tires. Basically, when we talk about them, we mean wheel nuts, which are meant to replace stock lug nuts in order to disallow thieves to remove a wheel. Each set of locking lug nuts has an original pattern, which can be normally used only by one key that belongs to the car owner.
However, we should not forget about such amazing and reliable tools as wheel clamps, which are literally locked on a wheel to prevent it from getting removed. These locking clamps fix a wheel tightly and, due to their very sturdy construction, they serve as an effective physical and visual deterrent that is almost impossible to crack. Keep in mind that wheel locks should fit the tire radius in order to work properly. That is why you need to make sure that you have chosen the best wheel locks that fit your vehicle perfectly if you want to guarantee the maximum security of its wheels.
How to Install Wheel Locks?
The best thing about most wheel locks is that you can easily install them without going to auto technician. When trying to install locking wheel nuts, you should follow the following steps:
You should remove the hubcaps on your wheels (surely only if you have them).
The next step will be to take your tire iron tool and remove a lug nut from the wheel (try to store your removed components in a safe place.
Then, you will need to screw your locking nut in a free hole (you can do it just with your hands).
Now put the locking nut in the lock key and tighten the nut properly.
Do the same with the remaining locking wheel nuts.
Tighten the installed wheel locks again after driving approximately 25 miles to make sure that they fit ideally.
How to Remove Wheel Locks?
There is nothing difficult in removing your wheel locks, certainly if you have a key to them. For the reason that the best lug nuts have a mission of holding a wheel close to a car, they are usually screwed tightly enough to prevent a wheel from getting lost during a ride. However, you just need to take the same key you used to install your locking lug nuts. Be careful and take your time to unscrew them properly in order not to distort the pattern of your locking lug nuts. You can use some lubricants to make things easier if weather, rust, and time have affected your wheel nuts.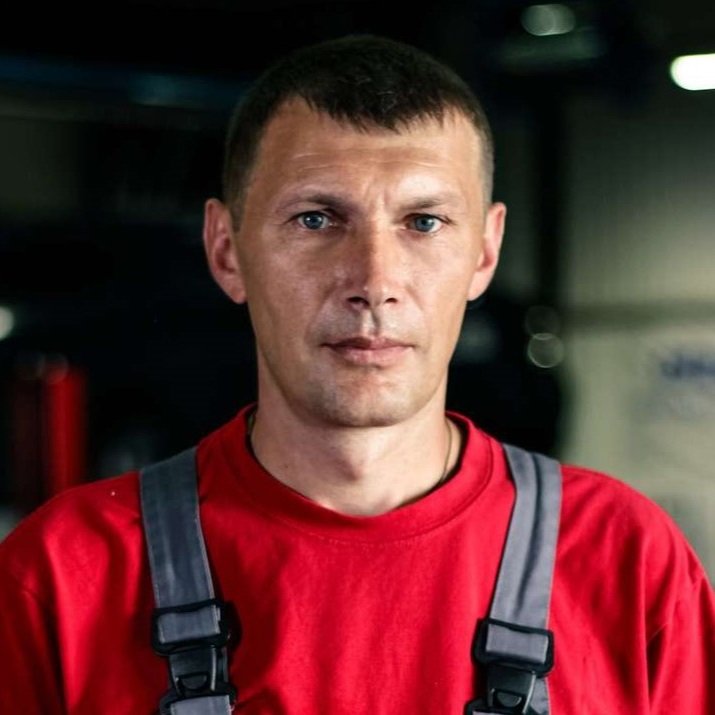 My name is Brandon, and I've been interested in cars since I was a kid. I got a bachelor's degree in Automotive Technology and worked in a private car workshop. I have two cars that have been completely upgraded with my own hands. So I successfully put all my knowledge into practice.
Last update on 2023-02-17 / Affiliate links / Images from Amazon Product Advertising API