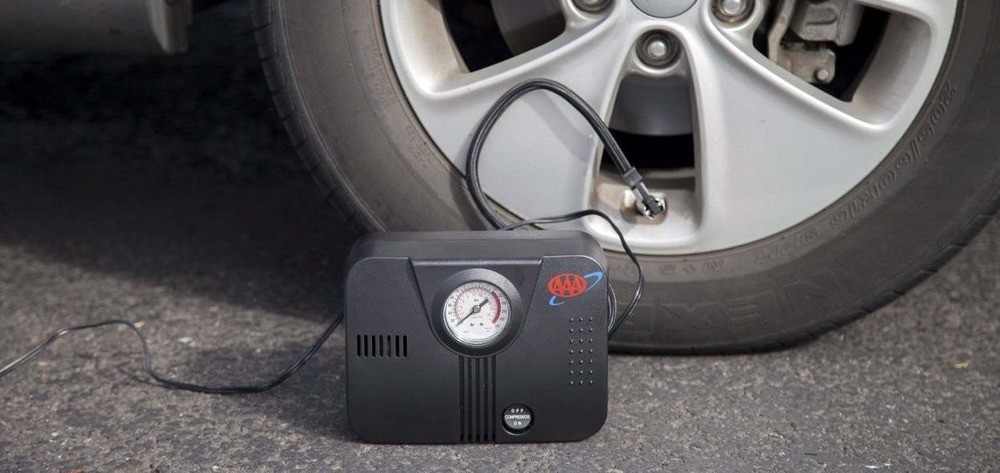 If you really want to get the maximum performance from your tires, then you should definitely buy the best tire inflator! Today, you can easily find a good-working portable and affordable air compressor that will go with lots of cool features.

This professional review contains 7 perfect models of portable tire inflators that will meet your demands. All of them have shown perfect test results and can deliver really good value to the users. Pay attention to the fact that they are made to target different groups of customers, which means that they have unique technical characteristics and fit different types of vehicles. After reading these tire inflator reviews, you will definitely find a reliable and long-lasting device tailored to your specific needs. Moreover, this article will also teach you how to use this device correctly in order to prevent your tires from getting overinflated.
Tire Inflators Reviews


The owners of this wonderful product can not only inflate their flat tires but also monitor the air pressure in them for excellent tire maintenance. This reliable inflator requires 12V and can generate a maximum pressure of 120 PSI. This portable inflator is powered via alligator clamps directly to the battery. This car tire air pump also has a 10-feet powered cord, so there will be no problems for you to reach a valve stem, especially when keeping in mind the fact that the 88P also has a 16-feet long air hose.
Additionally, you can use this powerful device to inflate up to 33-inch tires, so this is a good option even for trucks, wagons, and SUVs. I like that this model comes with an LED power indicator, which makes it functional even after the sunset. The biggest upside of the model is that it has a 45% duty cycle 4.5 minutes run time and 5.5 minutes of cool-down time. The item comes in rather compact dimensions (6.8 x 6.2 x 10.8 inches) and weighs 4.5 pounds, which is a good result for a portable air compressor. However, I do not like that this product lacks a cigarette lighter adapter.
Pros
The product works super-fast.
This versatile item and it is easy to use.
This tire compressor is relatively cheap.
Cons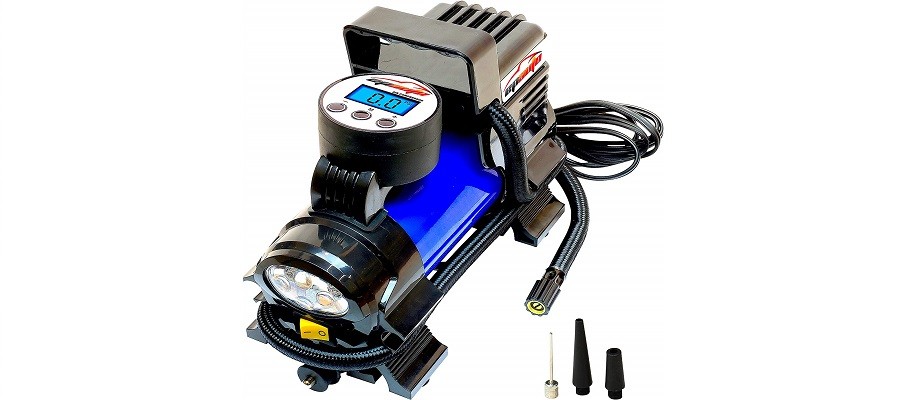 This is a cheap inflator for passenger cars and domestic use (e.g. when you need to inflate basketball and rugby balls or swimming pool accessories). This inflator has a working voltage of DC12V (you can use a cigarette lighter socket plug to start the device) and a rating power of 120W. In fact, this model works in the range of 10-15 Amps. It should be also mentioned that this model works only with bikes, passenger cars, and midsize SUVs with the engine less than 3.5 liters.
The users of the EPAuto 12V DC can get the information about the device's performance from the easy-to-read display and use a LED flashlight with a very bright torch in order to work comfortably in low-light conditions. The model still has a pretty long 9-feet cord, so you will be able to inflate all tires even with the device being plugged into a 12V cigarette lighter socket.
I was pleased to discover that such small inflators (13.5 x 8.1 x 5.6 inches) weighing only 1 pound can be so good at inflating tires. The outstanding feature of this model is that it shuts off immediately when it gets overheated and its working temperature exceeds 167°F. However, it is so bad that you cannot use it to inflate truck tires, as this portable air compressor pump works at a maximum of 70 PSI.
Pros
The item will not allow you to overinflate the tires.
The product has a flawless cable management system.
Cons
It works rather slowly at higher PSI.


Looking for the best portable air pump for car tires consider this model that offers lots of benefits to the customers. It is necessary to point out that the 45043 has a motor voltage of 12V and boasts maximum working pressure of as much as 150 PSI. This means that this device has enough power to easily inflate truck tires even without reaching its maximum potential.
Despite the fact that this product has relatively short power cable (its length is 8 inches), it has a super-long 35-feet long air hose. With such a long air hose and an extremely powerful permanent magnetic motor, you will quickly fill your truck tires with air without visiting a gas station!
At the same time, I think that its weight is the most disappointing thing about this versatile inflator. The tool still seems pretty compact (10.9 x 5.8 x 7.5 inches), but it weighs more than 15 pounds. But let's be fair in saying that manufacturers should always sacrifice the weight if they have an aim to create extremely powerful tool using only high-quality materials. As the item is staffed with thermal protection, it shuts off the item immediately before the item will go overheated. What I really find strange is that the item lacks LED lighting.
Pros
The item is easy to use and connect.
It goes with an anti-vibration tray.
It works perfectly with different types of vehicles.
Cons
The product has no mechanism to keep the inflation gun in a squeezed position.


This fast inflator is designed for car and home use. With the Kensun inflator, you will be able to pump your car or bike as well as other inflatable stuff. The air compressor features optimal connectivity options. You can power it by a cigarette light plug or a wall outlet, which lets the user to benefit from the Kensun indoors and on the road. The AC/DC switching ability makes the air compressor extremely user-friendly and handy. The analog gauge keeps the driver informed of the air pressure and boasts extreme accuracy in measurement that can be converted in any unit out of kPa, BAR or PSI.
The product is made of premium heavy-duty materials which reinforce the structure and allow for quick and effective inflation. What you may also find satisfying is a screw-on air connector which ensures solid and firm connection attachment to any inflatable. The air compressor comes with a number of essential nozzles needed to hook up all kinds of inflatable equipment as well as a convenient carrying bag which most likely benefits users who are used to applying the inflator on the road. With a maximum pressure of 100 PSI, the Kensun inflator is a smart choice for users who seek to get swift and flawless inflation in any conditions and within a short period of time.
Pros
The price is fairly low on the market.
The unit is lightweight, compact, and easily portable.
Cons
The inflator tends to shut down automatically when overheated.
The cigarette lighter extension cable requires the user to be within about 5 inches of the tire.


Unlike the Kenson above, the Lifeline inflator is limited only to 12V application, but a maximum inflation performance reaches up to 300 PSI. This compressor is basically designed to work with all kinds of terrain vehicles such as bikes, vans, trucks, and cars. The average inflation time usually makes up 8 minutes which is not so long if you happen to be in an emergency situation. The installation is pretty simple. All you need is plug in the DC cable, connect the air hose, and turn the inflator on. The built-in gauge allows keeping track of the pressure level.
The product features a set of nozzles to hook up a variety of inflatables. The inflator is set to a standard tire that needs normally up to 35 PSI. I would like to highlight that this model is also fit to light-duty applications. If you plan to use this air compressor for your home purposes, it will perfectly play this role as it can easily pump balls, mattresses, and all other equipment not related to car driving. The Lifeline product is one of the most essential accessories any driver should have in their car. This tire pump for cars provides increased safety on the road as well as helps you achieve better fuel economy by keeping all of your tired well inflated.
Pros
The price is affordable for lots of drivers.
Cons
The unit operates very loudly.
Some components are made of plastic and tend to heat up during work.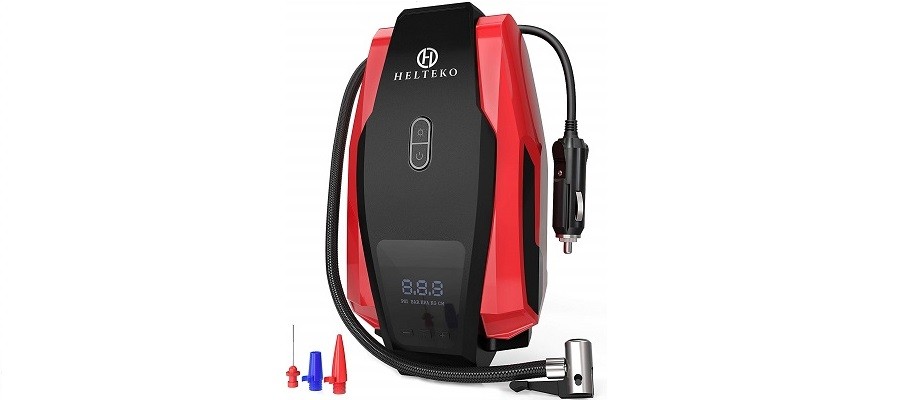 I should say that this portable air compressor for tires is definitely worth buying if you get rid of visiting gas stations! It works from the power source of 12V and a rating power of 120W. What is more important, the item can provide the maximum pressure of 150 PSI, which is more than enough to inflate sedan and SUV tires not mentioning sports equipment and bathroom accessories (the item goes with 3 additional nozzles for these purposes).
I really like the fact that this product has very long cable (11.5 feet) that can be easily plugged into a 12V cigarette lighter to let you inflate the tires of your car when being on the road. The model also goes with an easy-to-read LCD display that informs users about the pressure status in PSI, BAR, kPa, KG/CM². You will be also pleased to find out that the Helteko air compressor goes with a bright emergency LED light to let drivers use the item even in low-light conditions.
The product can be called ultra-compact (9.8 x 6.7 x 4.3 inches) and lightweight (2.58 pounds). Like many other air compressors, this item has an automatic shut off at preset pressure. The only thing I would like to improve is that with the stated maximum pressure of 150 PSI, this inflator lacks power to cope with truck tires.
Pros
The item is very cheap.
It is constructed using high-quality materials.
The item is characterized by quiet performance.
Cons
The product gets overheated almost after every 10 minutes of work.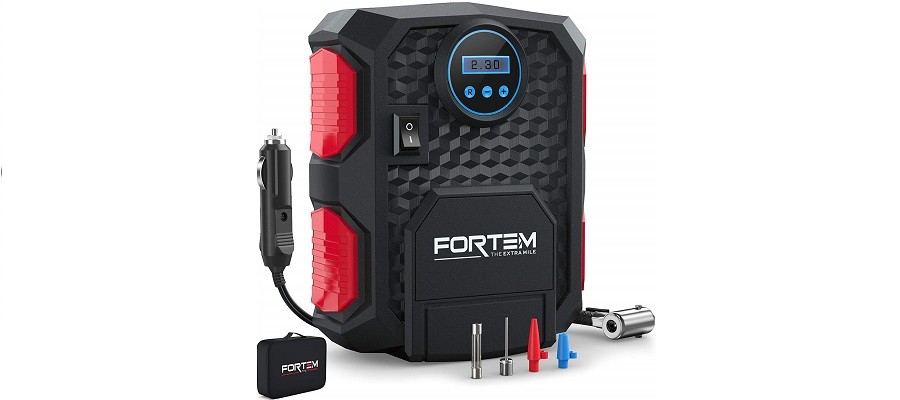 This is another low-cost option, which should be considered by those users who want to be able to use the air compressor both indoors and on the road. This 12V tire inflator has a wattage of 120W, so you can connect to the cigarette lighter socket. This particular has a stated maximum pressure value of 150 PSI, so it seems that it works smoothly when it delivers no more than 40 PSI. This inflator should be better used for inflating tires of passenger cars and small SUVs.
The product also boasts extra-long cord, so users can easily increase the air pressure in their tires when being on the road. Similar to other inflators, the Fortem will automatically shut off at desired pressure, so you will never overinflate your tires. What really makes me happy with this model is that it is made using high-quality durable and lightweight plastic, so it has all the chances to offer long-lasting performance.
I also like the fact that this portable air compressor is very small (8 x 6.5 x 3.3 inches) and weighs less than 2 pounds. Although it is provided with LED flashlight and easy-to-read digital display, I cannot say that they work good enough as it sometimes happens that it shows the wrong pressure (measurement error of 1-2 PSI).
Pros
The product is easy to use.
It also works quietly compared to other portable air compressors sold today.
Cons
It can get overheated too fast.
Buyer's Guide
What Should I Look at When Choosing the Best Air Compressor for Car Tires?
If you are seeking to find a reliable and super-efficient air compressor that will last long, then you should know what technical characteristics are intrinsic to the most advanced tire inflators. Different brands target different customers and make their own product development decisions with an accent on certain technical characteristics. However, in the era of multi-functional devices, a high-quality portable inflator should possess all the essential features.
The first thing that should draw your attention is the availability of several power sources, so you can use the item both indoors from your wall socket or on the road with the device plugged into a cigarette lighter socket.
The second issue you should keep in mind when opting for the best portable tire inflator is an automatic shut off function and overheating protection. These simple but important features seriously boost the safety characteristics of the item.
The third aspect you should look at is whether the product has enough adapters for common items, as their abundance can make the tire inflator really versatile. Moreover, such features as LED lighting and digital pressure gauge are intended to make the item more user-friendly.
Finally, you should always make sure that the desired item definitely fits your type of vehicle and has enough power to inflate its tires.
What Size of Air Compressor Should I Choose?
Everything depends on the purposes of why you are buying this item. When speaking about tire inflators, you should buy those products having around 4 CFM in order to be able to inflate a wide variety of tires. Passenger cars usually require tire pressure of 32 to 35 PSI. At this point, a typical 90 PSI compressor will be enough to inflate the tires on your passenger cars. Trucks and SUVs require far more powerful tire inflators with a maximum pressure of 100 PSI and more. Other domestic purposes, such as inflating a basketball ball or swimming pool accessories do not require a lot of power, so you can take the same air compressor that you use to inflate the tires on your passenger car.
How to Use the Air Compressor to Inflate the Tires?
Every experienced driver knows how important it is to maintain correct tire pressure! Tire inflators are the tools that are meant to help drivers control the changes of air pressure in their tires. Previously, most people had to go to the gas station to check the pressure in their tires or fill them up with air. With the increased number of tire inflators on the market, the prices on them have fallen drastically making these useful devices more affordable.
The only thing the owners of the best tire inflator need to know is how to use this tool in order to maintain correct tire pressure in their vehicles. The first thing you need to check is how much air pressure the tires on your vehicle should normally get to perform well. The figures will be different depending on the type of vehicle you have (32-35 PSI for passenger cars and almost 100 PSI for trucks). Try to check the vehicle's owner's manual in order to avoid mistakes.
Then, you should get your tires ready by removing the caps of the valve stem and putting them in a safe place to prevent them from being misplaced. The next step will be to plug in the tire inflator and turn it on. Place it near the flat tire and attach the air hose. Secure the hose to the tire's valve stem and select the desired air pressure if your item has the function of automatic shut off. Turn on the inflator and detach the air hose when you have reached the desired air pressure in the tire. Repeat the same with all flat tires and unplug the inflator after you have finished your work. Make sure that you have screwed the caps back onto the valve stem.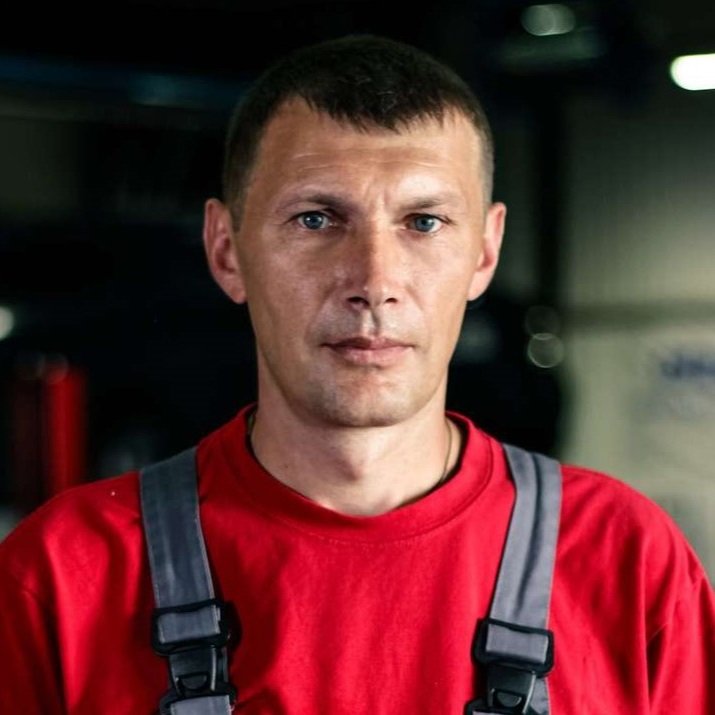 My name is Brandon, and I've been interested in cars since I was a kid. I got a bachelor's degree in Automotive Technology and worked in a private car workshop. I have two cars that have been completely upgraded with my own hands. So I successfully put all my knowledge into practice.
Last update on 2023-02-17 / Affiliate links / Images from Amazon Product Advertising API