Winter is harsh on humans and dangerous to cars. Though some manufacturers have already elaborated effective ways on resisting low temperatures, they still find it hard to make their vehicles invulnerable to slippery highways and snowdrifts. However, if you are lucky to have a pair of the best tire chains, your vehicle is entirely safe no matter in which month winter is going to turn up.

Tire chains are needed to provide your car with better traction on the road. Modern technologies allow producing chains with numerous tech advantages, such as damage resistance, durability, long operating life, and portability.
To get a better idea of what the best tire chains look like, I've made up the list of the most popular user's choices that involve items marketed by different worldwide brands.
Keep reading to discover five in-depth snow chains reviews that cast the light on the most advanced and high-end tire chains.
Car Tire Chains Reviews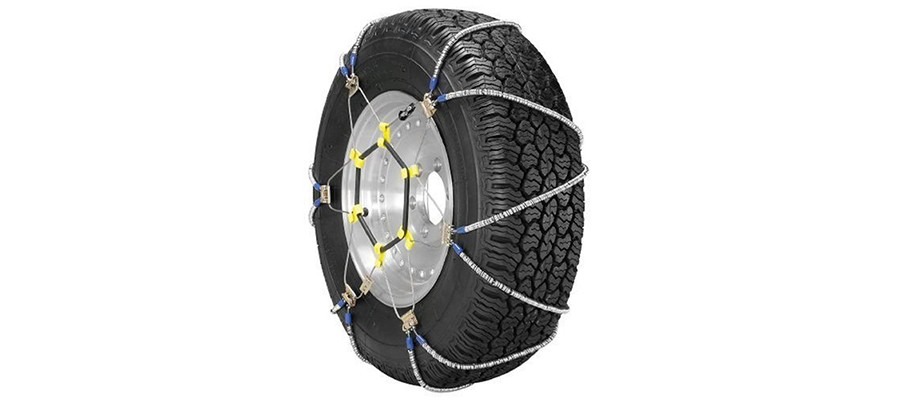 Excellent traction performance and extreme durability are what define the major advantages of the Security Chain ZT729. Based on that, lots of drivers could have a reason for calling it the best snow chains for 4×4 trucks.
The unit is designed to deliver better performance than an average tire chain does. You can see it by the rubber tensioner which spares you from the need to retighten the chain long after installation. The chain is made of tough materials that promote higher damage resistance and reduce vulnerability.
The Chain ZT729 is also quite an attractive option in terms of compatibility. The unit works for a large variety of terrain vehicles, namely cars, minivans, SUVs, and compact pickup trucks. If your vehicle is equipped with different electronic monitoring systems, the Security chain is fully capable of dealing with them without causing setbacks or disruptions.
What makes the Chain ZT729 stand out on this list is its consistency with Class "S" clearance requirements which indicate that the chain is suited even to the newest car models.
The installation is a piece of cake because the product is followed by detailed and step-by-step instructions that can guide a green driver through the correct installation process.
Pros
The unit fits any tire size.
The package includes rubber tensioners, waterproof gloves, and a storage bag.
Cons
The chain comes tangled, so you need to untangle it yourself.
The price is fairly high.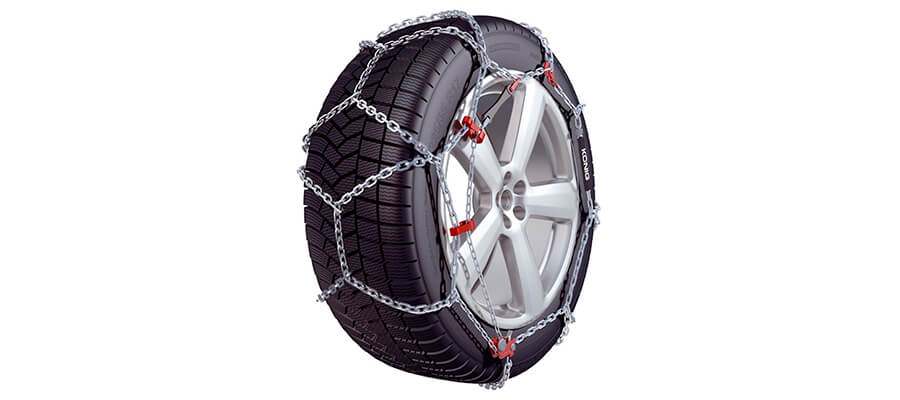 These car snow chains are an excellent way out for users who seek to provide their vehicle with utmost safety and protection.
Konig designed this product with a vision of combining advanced technology and long operating life. The chain is made of high-quality alloy steel that makes the construction hard and durable, whereas D-shaped links give the construction excellent traction. The Konig chain features a large diameter which ensures sure-fire tire traction and prevents the risk of vehicle slip.
Konig's design is backed by its branded unique auto-tensioning system that allows the user to achieve the maximum fit tightness with any tire. This system is equally involved in the installation process. It completes the installation started by a driver and promotes 100% precision in tightness. To make this process smooth and fast, the chain is color-coded so that the user has a better image of what assembly points he/she should connect.
Removal is as simple as the installation. You just need to lift the control hook and the chain automatically lets the tire go. With regard to all the design features, Konig can be viewed as the most successful Italian manufacturer of easy to install tire chains.
Pros
The unit offers maximum usability.
A user's manual, a hard case, waterproof gloves, and spare links come in the kit.
Cons
The chain is compatible with a limited number of tire sizes. See to it that your vehicle can work with it before making an order.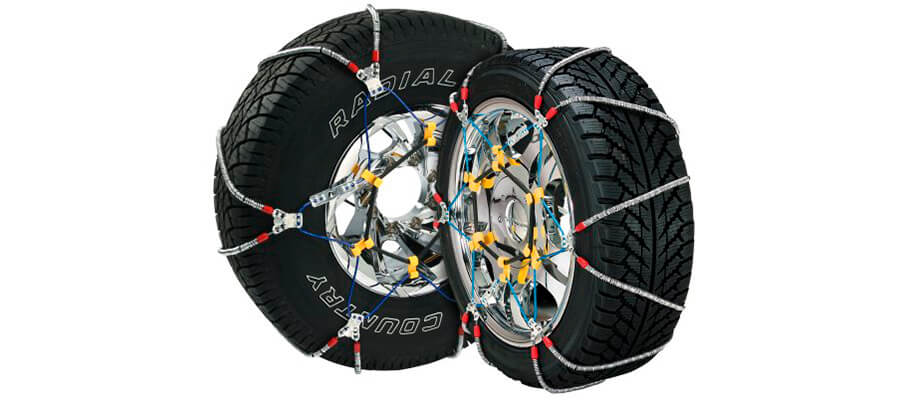 It is another pair of auto track tire chains from Security that promises exclusive traction and increased protection in winter conditions.
The design builds on rubber tensioners that provide the solid connection of chains with tires. The chain itself is super-thin and needs only 0.25-inch for mounting, which is twice less than a conventional tire chain needs. The SZ143 works well on vehicles equipped with electronic monitoring systems. For example, if your car cannot do without anti-lock brakes, this Security chain is totally the right choice.
Likewise, the owners of the newest cars will be pleased with this chain which is compatible with Class "S" clearance requirements and therefore can be used in the latest cars with little operating space.
This chain model is literally compatible with all cars, pickup trucks, SUVs, and minivans. Whatever type of vehicle you own, the installation is always simple. But do not put off the day of installation and do not wait when the winter comes. You will have a lot more troubles with mounting when it is freezing outside.
The unit is also remarkable for the low potential for preliminary breakage and features enhanced resistance and durability. If you are in search of the best snow chains, this Chain SZ143 should definitely be among your favs.
Pros
The package includes a user's manual, rubber tensioners, waterproof gloves, and a storage bag.
The chains grip extremely well.
The chains roll up into an easily transported package which fits into the bag.
Cons
The price is really high and not attractive for buyers on a low budget.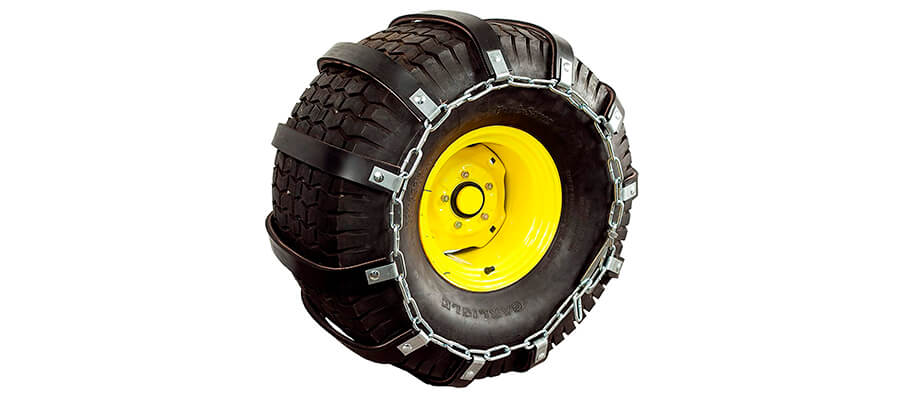 This set of car tire chains is an amazing alternative for those buyers who need superior grip and the minimum of surface penetration.
The unit is made of premium rubber slates that provide excellent traction and eliminate the risk of car damage in the winter time. The chain is extremely durable and tends to wear more slowly than an average steel chain. The design also envisages resistance to scratches and chips.
The TerraGrips is absolutely versatile as it can be applied to any type of surface, such as grass, gravel, asphalt, or mulch. Likewise, the chain is workable if you need to operate a vehicle that has to move in loose materials. In this regard, it is the most beneficial option on this list because it envisages a larger scope of application.
The installation is pretty simple. Before tightening the slats, you should make sure each of them is placed correctly. Keep in mind that the chain is fixed successfully when each side of the tire is backed by one belt.
I recommend buying these very chains if you cannot find an appropriate size for your vehicle. TerraGrips is the only manufacturer that provides some adjustment to fit your vehicle's tires precisely.
Pros
The unit is manufactured in the US.
The components are rust-resistant.
The price is less expensive in comparison with other chains on the list.
Cons
If you are driving down a tough highway, the chains tend to knock.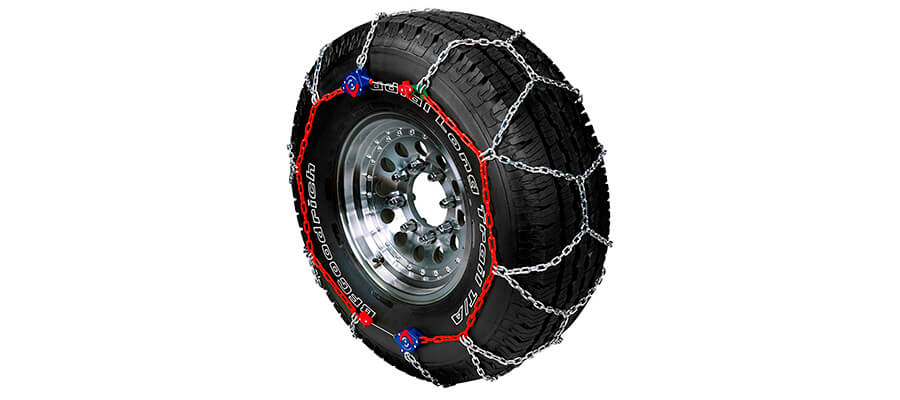 This is the last tire chain review that represents the Peerless brand on this list.
The chain is designed to fit chiefly newer car models as it is compatible with the Class "S" clearance requirements. The Peerless model has a number of built-in self-tightening ratchets that allow for quick and automatic installation with the minimum of driver's assistance.
The unit is made of manganese alloy steel that allows making it compact, lightweight, and narrow. Based on these properties, the chains are less prone to wear and provide better and fail-safe performance.
Like other chains, this one is equally capable of protecting your vehicle from a harsh winter environment. The diamond pattern promotes a smooth ride and firm grip with the surface so that you can feel safe while driving. However, this model is effective when the speed does not exceed 30 mph.
What you may also like about this pair of chains is a unique tensioning system elaborated by Peerless. It prevents untimely breakage and prolongs its operating service.
The Peerless 0232805 has every chance to be called the best snow chains for tires for its one-of-a-kind design and amazing tech advantages it offers.
Pros
Ride quality is fairly good on all types of terrains.
Cons
These chains are more prone to breakage in comparison with heavy-duty ones.
The price is relatively affordable but not cheap.
Buyer's Guide
How to Put on Tire Chains?
The installation of most snow chains is a difficult process. If you are going to do it for the first time, here are a number of tips on dealing with it successfully.
Make sure you bought the right size of snow chains. If you are baffled by a variety of choices and cannot realize which one is yours, look at the code written on your tires. These characters are width, height ratio, and wheel diameter that are all measured in inches. Use these parameters when buying the snow chain in a store.
All snow chains usually come tangled. Before getting down to mounting, you should untangle them properly. It is a lot longer process than you could think at first.
Place the chains next to the tires to be equipped. Sometimes you do not need to put on chains on all of your vehicle's wheels. For instance, if your car is driven by rear wheels, two rear wheels are enough to provide good protection.
Next, see to it that the brakes are engaged. Straighten out the chains and cover the tires across the width. Some chains have rings that should rest on the ground during installation.
Then you should drive a car with disengaged brakes a bit to make the chains fit the tires completely. If you are putting the chain on the left tire, turn your vehicle to the left, and vice versa.
Connect the hooked edges on both inner and outer parts of tires and align the connections.
Finally, you should test your car to make sure you have tightened your tires successfully. Drive a distance of about 100 feet. If tightening is not good enough, use the closer link to fix it after short driving.
When to Use Tire Chains?
Snow chains are primarily intended for use in winter conditions when vehicles are prone to slip and damage easily. Most chains can be used strictly in cold, icy, and freezing conditions. If you cannot see any snow outside, it is not yet time to put on snow chains on your car.
Some US states require drivers to have their tires protected with snow chains to minimize the risk of collision and crash on roads and highways. Even if you do not have to abide by the chain requirement, it is better to prepare your vehicle for snowy weather in advance.
Likewise, tire chains are important to have when driving in rural areas and there are at least three inches of snow on the road. These are the right conditions enabling you to get a set of tires out of your garage. Urban roads, on the contrary, are easier to take even in winter. They are typically cleared from snow so that there is no need to upgrade your vehicle with tire chains. It is for this reason that tire chains are obligatory only in situations where you have to drive on snow in hilly roads that require improved traction for smooth driving.
Since chain installation is the thing you cannot manage on the first try, I recommend practicing it way before the winter months. You should read the user's manual attentively to get an image of how to mount tire chains successfully. It is also desirable to prepare in advance safety apparel you may need to feel fine when lying on the snowy ground during installation.
How to Measure for Snow Blower Tire Chains?
Chains come in different sizes. It is crucial to make sure the snow chain you are about to purchase is actually compatible with your car. To find the right size, look at the sidewall of your tire. Here, you can see a set of numbers divided by slashes. They all are used to indicate the tire parameters, namely width, height ratio, and wheel diameter correspondingly. When looking for the correct tire in shops, these numbers are what you should rely on.
How do Tire Chains Work?
Basically, a snow chain is designed to wrap a tire with tensioning straps that fix it across the wheel. The chain digs into the ice while driving. This helps to create a firm grip with the surface and eliminate the risk of slip on the road. The snow chain is a must accessory if you drive in extreme icy conditions, but it cannot be applied when the road is dry.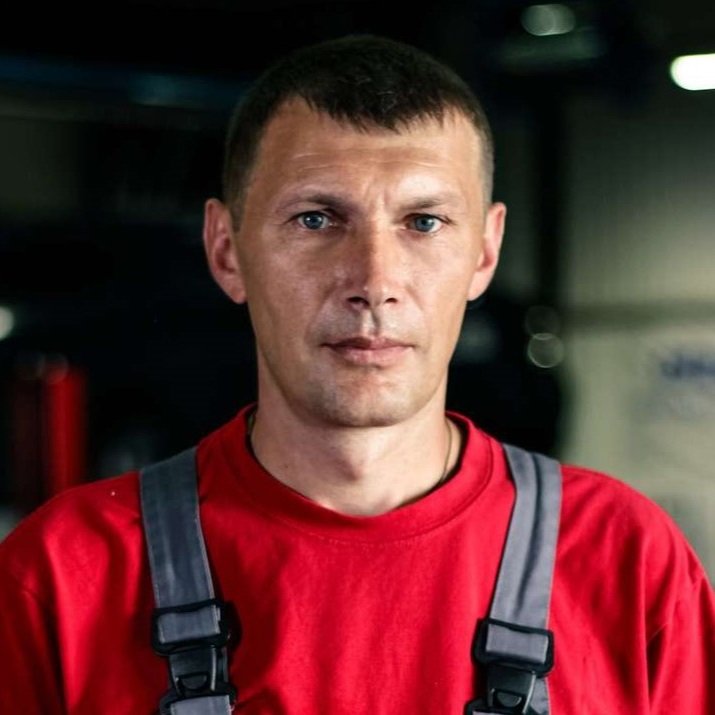 My name is Brandon, and I've been interested in cars since I was a kid. I got a bachelor's degree in Automotive Technology and worked in a private car workshop. I have two cars that have been completely upgraded with my own hands. So I successfully put all my knowledge into practice.
Last update on 2023-02-17 / Affiliate links / Images from Amazon Product Advertising API