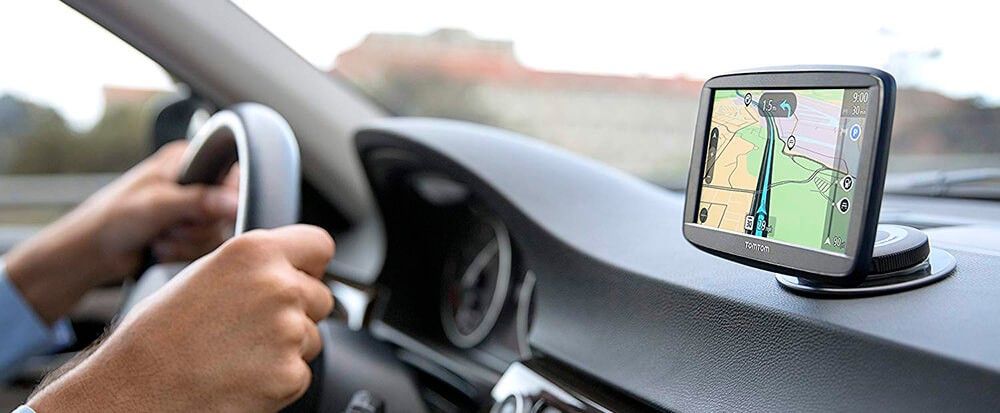 It's fair to say that a standard GPS device or GPS app on a smartphone is not very helpful when you drive an RV. That is why the RV owners tend to search for the best RV GPS as it's especially important for long-term journeys.

Whether you are on a business trip or just travel with your family, you can't neglect the importance of navigation devices. The recreational vehicles are bigger and higher in comparison with traditional cars and serve for another purpose. The narrow roads and low bridges may turn your trip into trouble when you use a regular GPS, but a specialized RV GPS considers the specific needs of the RV drivers. Except for the standard GPS functions, it performs a bunch of some additional ones. For example, such device plans the route considering the specific weight and size of the vehicle. Plus, it contains a catalog of specialized RV stops. Being engineered to meet the needs of camping enthusiasts and tourists, it also includes a list and descriptions of campsites, attractions, and different interesting places. Thus, the standard GPS units aren't very effective for RVs as they don't consider such peculiarities.
It's hard to overestimate the importance of RV GPS when you spend the whole weeks or months in completely unknown places. Such device will save a lot of your time and fuel by giving you the most effective route to a specific destination. All that is required from you as an RV driver is to find a unit that will make your journey as convenient and efficient as possible. The informative RV GPS reviews can help you with your buying decision. So read on to supply yourself with all the necessary information on the topic!
RV GPS Reviews


The Garmin RV 770 NA LMT-S is equipped with a bright 6.95-inch display. It shows a clear image on a sunny day and doesn't require additional illumination at night.
The device is supplied with the TripAdvisor app where the users from all over the world leave their pictures and reviews of attractions, interesting places, routes, hotels, restaurants, etc.
The communication with other people is provided by the LiveTrack feature, which also allows sharing your location. The device has built-in Wi-Fi, so data and maps are updated quickly. A smart travel planner advises attractions and places along your route where you can stop and relax.
The RV 770 NA LMT-S will inform you about road signs, upcoming steep slopes or climbs, bridges, and speed limits. It will also warn you if you have been driving for too long and need a rest.
In order to ensure safe driving, the RV 770 LMT-S has voice control, allowing the driver to keep hands on the wheel without being distracted. You can also wirelessly connect a smartphone to this unit, and all the messages will be displayed on the GPS screen (without occupying the map).
The device is also compatible with the Garmin BC wireless camera (sold separately), which allows viewing the area behind the vehicle.
Pros
You can customize your route basing on the weight and size of your vehicle.
Has a great database of RV services and parking places.
Provides easy access to weather and live traffic apps.
Cons
Doesn't include an address book.
Quite complicated to install.
The provided USB cable is very short.


This GPS for RV is a part of TomTom entry-level GPS units line. It has a screen of around 6 inches with 800×600 pixel resolution. It's also supplied with an integrated mount which makes it possible to install the unit on the dashboard or windshield. The suction cup for improved stability is included in the kit.
The unit has lifetime traffic and maps updates. Just download the latest update from the PC. The manufacturer issues new maps seasonally and you will be able to update them for free during the whole life term of the device. Plus, it contains info of about 7 million points of interest. This unit will also help you find a fuel-efficient route. Additionally, it can serve as a guide if you decide to travel on foot.
It provides clear and simple navigation thanks to the Lane Guidance which highlights the correct driving lane making it easier to navigate complex junctions. Thus, it will be hard to miss a turn and you won't have to make sudden lane crossings.
Pros
It contains spoken instructions in more than 30 languages.
Contains maps of the USA, Canada, and Mexico.
Cons
It lacks Bluetooth and a multi-touch capacitive screen.
The unit works quite slow, sometimes you have to hit the button several times to make it work.
The info bar occupies 1/3 of the screen.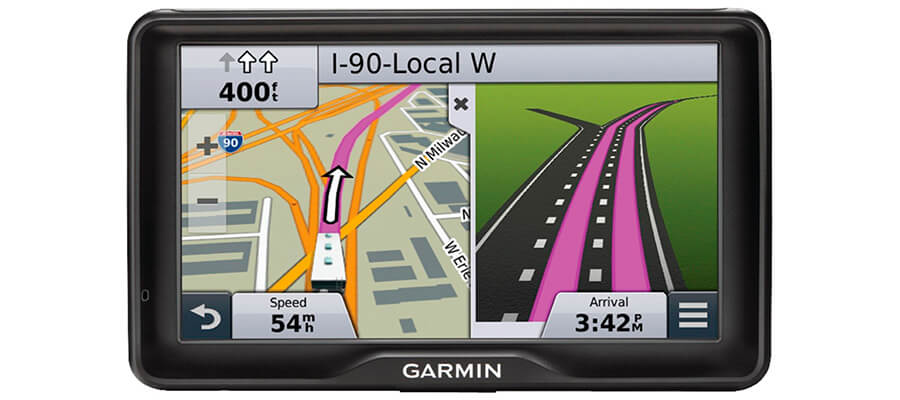 This RV navigation system from Garmin is equipped with a large 7-inch display. It not only helps plan all kinds of routes but also takes into account the size and weight of the vehicle. It's supplied with the complete catalog of RV Parks & Services on the US territory.
The RV 760LMT has a voice navigation function and the possibility of free lifetime data update. In addition, the user can keep abreast of weather forecasts thanks to the Garmin Smartphone Link, which provides access to various live services. The BaseCamp is useful for planning tasks and future travels.
The navigator goes with a detailed map of North America. This map contains information about the presence of bridges and their heights. It also includes info about more than 20.000 different campsites and leisure parks and about 14.000 services for campers in the USA and Canada. In addition, the device includes information about hospitals, gas stations, restaurants, etc. It also shows crossroads, road junctions, and road signs in real time. Plus, this model has the Up Ahead function, which displays nearby places alongside your driving map and constantly updates as you travel your route.
In addition, the user can download routes from other similar devices. With the help of Bluetooth, you can use the speaker or microphone for hands-free calling via an Android smartphone or iPhone.
Pros
The Garmin Real Directions gives easy-to-follow driving directions.
It's compatible with a wireless backup camera.
Cons
The battery is quite weak and doesn't last long.
Might guide you to overpopulated locations or routes.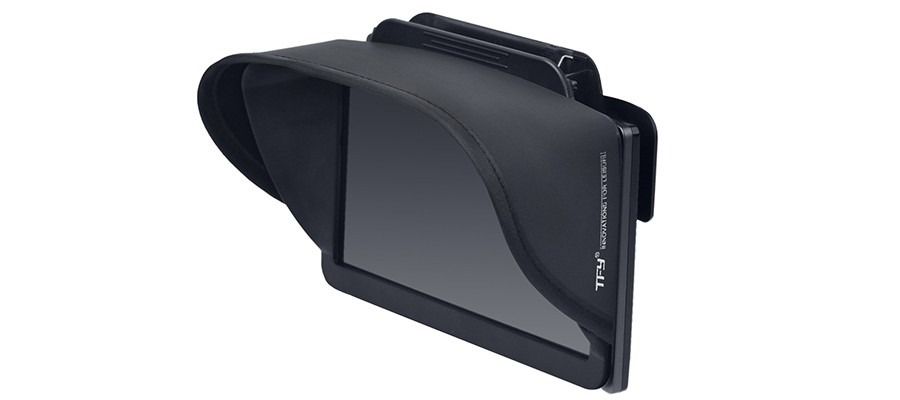 This visor is designed to protect your GPS navigator from the sun exposure during driving. It contributes to a more convenient usage of the GPS unit on a sunny day as it reduces glare and reflection on the screen. This visor will also extend the lifespan of your GPS device by protecting it from the negative influence of sun rays. This way, the navigator will not overheat even if you leave your vehicle under direct sunlight.
This product is mainly designed for RV GPS navigation devices from Garmin but actually fits for any 7-inch GPS unit. It's extremely easy in the installation: just fix it on the top of your device and that's all. The visor can be easily removed as well.
It's constructed from sturdy and reliable plastic. This is not an expensive premium material but still solid enough to provide decent protection. It's quite small in size (6.89 x 5 x 3.35 inches) which makes this product quite portable. It also means that the visor won't block the view. Plus, it weighs only 2.72 ounces. Therefore, it won't add too much weight to your device.
Pros
The visor is thick enough to prevent ultraviolet rays from reaching the touchscreen.
Cons
It feels a little bit flimsy.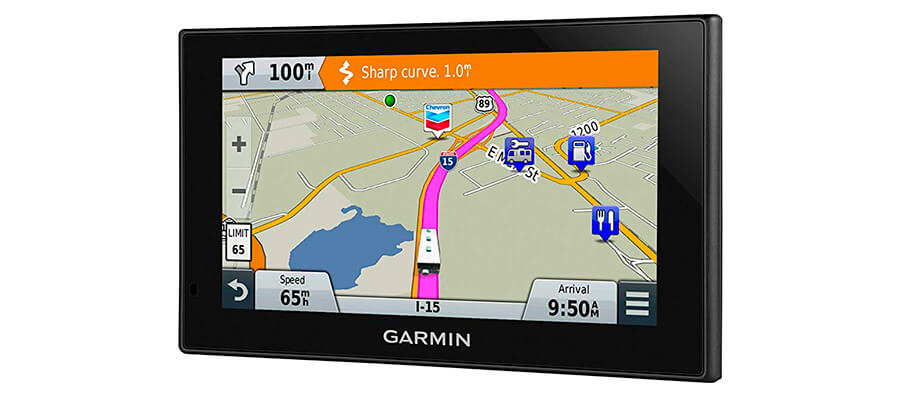 The RV 660LMT from Garmin has a 6-inch screen. It can potentially be one of the best GPS for RV as it contains a lot of features designed specifically for campers. For example, this device has information about different parks and services that will let you find specialized places for camping. You will also have the opportunity to set a filter based on your personal preferences. For example, you can adjust the navigator to show RV parks near water or places with Internet access. In addition, it informs the driver about the height of the bridges, weight restrictions, and sharp turns. At the same time, the smart system takes into account the dimensions and weight of your vehicle when choosing the optimal path.
The Elevation Profile feature shows information about any possible steep grades along your route. It also has the voice navigation function, so you can give commands to the device by voice without taking your hands off the wheel. The Bluetooth technology for hands-free phone calls is also present. Besides, Garmin Real Directions informs you about the right path, basing on the roadside signs and traffic lights.
Pros
It's compatible with a wireless backup camera.
Features free maps and updates for the lifespan of the device.
Helps avoid traffic jams by finding time-saving detours.
Cons
The audio isn't loud enough.
Doesn't have a traffic receiver cord.
It has a short battery life.
Buyer's Guide
RV GPS: Features and Specs
The RV GPS is a navigation device, used for vehicles like trucks and trailers. This way, it's specifically designed for long trips on large-sized vehicles and has some features that set it apart from the usual GPS devices on the market.
The RV GPS can work either as an autonomous device or it can be connected to a special RV GPS app which will allow monitoring all the info on your phone. It works by providing real-time updates, sending notifications about road features, adjusts road navigation, and provides the user with very detailed maps, preventing from getting lost.
There are not many types of GPS navigation devices for RV as they all have the same purpose. What can possibly differ one from the other are several features. For instance, some of them offer a basic set of features, and the others can offer a bunch of advanced ones like preloaded apps (RV map app, for example), Bluetooth, voice control, etc. They also have different screen sizes: some of them are a little bit bigger than a phone screen and some of them look like large tablets.
How does RV GPS Work and Why You Need It
The RV GPS works with a global navigation system that consists of 24 satellites, located on the Earth orbit. The GPS technology determines your location, regardless of the weather and time of day. Considering the fact that this device performs its function due to satellite signals, GPS doesn't need the connection to the Internet.
The GPS satellites constantly transmit signals to the Earth, helping the GPS navigation device determine where exactly it's located for the moment. The signal contains encrypted information about the satellite number, time, and place of its location. To display the correct information, the GPS unit must catch a signal of at least three GPS satellites. The distance inaccuracy can be minimized by recognizing the information of four satellites.
The GPS navigation device operation algorithm is as follows:
The GPS module picks up the satellite signal and compares the time indicated on it with the present time.
Given the speed of light, the unit determines the current location of the satellite.
Comparing information from three to four satellites, the GPS device determines its location.
The processed data, adjusted by the vehicle speed, displays on the screen.
Let's take a closer look at all the possibilities and main advantages of the RV GPS:
Quick determination of location, amenities, and services
The RV GPS systems let you find all the necessary locations like pharmacies, cafes, hotels, gas stations, etc. The smart system informs you about all kinds of establishments throughout your journey.
Pointing to the right direction
Find directions and locate where you are heading using an RV GPS and you will never get lost in the unfamiliar places. It won't let you turn off the right path warning you with sound signals or voice alerts.
Increased operational convenience
A specialized GPS provides much bigger navigational functionality than a smartphone GPS app can ever deliver. It doesn't require a Wi-Fi connection and can work from anywhere in the world. Plus, the average size of RV GPS devices varies from 6 to 8 inches which prevent eye stress and straining making you feel less tired.
An accurate navigation system
The best RV GPS constantly provides the user with the updated info of road maps, warning about any possible dangers or unsuitable road conditions for the RV.
Important traffic alerts
When you are aware of the real-time traffic conditions, you can have a trouble-free RV experience by avoiding heavy traffic areas and finding alternative routes for your destination.
Lifetime maps
All the GPS units have lifetime maps. They make it easier to find landmarks and any other places that you are looking for.
Additional advanced features
If you have ever been interested in RV GPS units than you probably know that some models are supplied with additional useful features. They can have various apps, including even apps for entertainment (music, radio). Many of the RV GPS devices also come with fuel management feature and other necessary informational functions that the RV driver may need. Plus, some of them can offer weather and news updates.
Things to Consider When Buying an RV GPS
Screen
The screen size of 5 inches is okay for a usual passenger car, but RVs require a large screen of at least 6-7 inches with high resolution for convenient operation. Check if the screen has an anti-reflective coating so you could see the display well even on sunny day.
Control
The GPS unit controls should be convenient and easy for usage for you personally. So take a closer look at the interface of the unit before buying it (the models with a touchscreen are less troublesome). Plus, pay attention to the loading time of the device — quick loading on the GPS is even more important than the one on your phone.
Memory
The maps, loaded into GPS units, are distinguished by extreme accuracy and detailization which affect the memory. The modern navigators have micro or SD slot, which are either included in the kit, or you can buy them yourself. It allows using almost all types and formats of memory. The navigator's built-in memory capacity may be not enough.
Bluetooth and Wi-Fi
It's recommendable to get a Bluetooth-enabled unit if you would like to connect it to your phone. It also provides the possibility of hands-free calling. Wi-Fi is important for weather and real-time traffic updates.
Mounting
Before buying a GPS unit, you should find out how it can be mounted. Ensure that you will get the device that has a steady and angled arm. Most of the devices can be installed on the windshield with the help of a suction cup. We recommend avoiding the gooseneck arm as it has a tendency of vibrating when the vehicle is on the move.
Accessories
Make sure that the unit that you are going to buy has all the necessary accessories for operation: cables, maps, cases, vehicle mounting brackets, etc. It won't be a cost-effective purchase if you have to buy all of those things separately.
Additional functions
Some models can have FM receivers so you could listen to your favorite radio stations. There is also a text-to-speech feature which informs the driver when to turn left or right and tells which street or route to take. You can also buy a unit with a predictive data entry — the smart system will provide you with addresses that you often searched for when you enter the first few letters. It provides extra convenience since you just have to scroll down to pick the right address.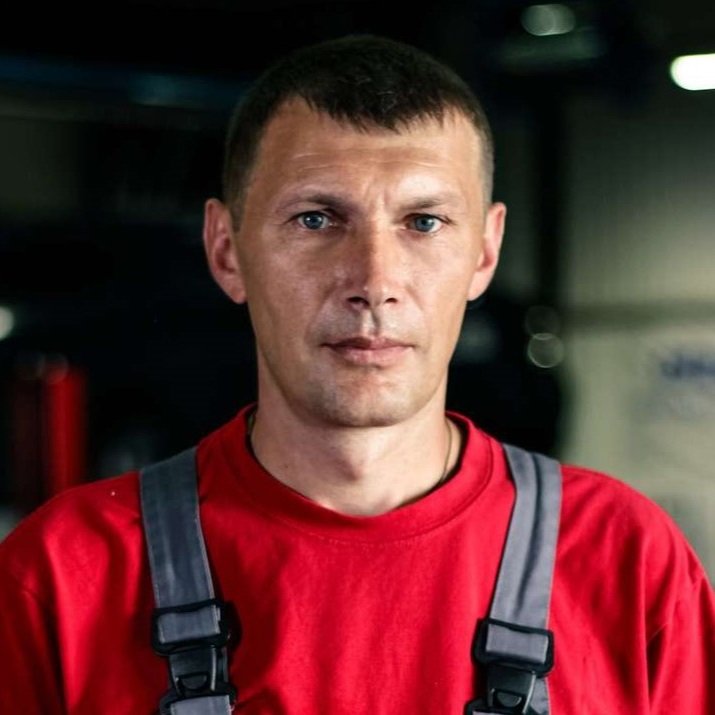 My name is Brandon, and I've been interested in cars since I was a kid. I got a bachelor's degree in Automotive Technology and worked in a private car workshop. I have two cars that have been completely upgraded with my own hands. So I successfully put all my knowledge into practice.
Last update on 2023-02-17 / Affiliate links / Images from Amazon Product Advertising API