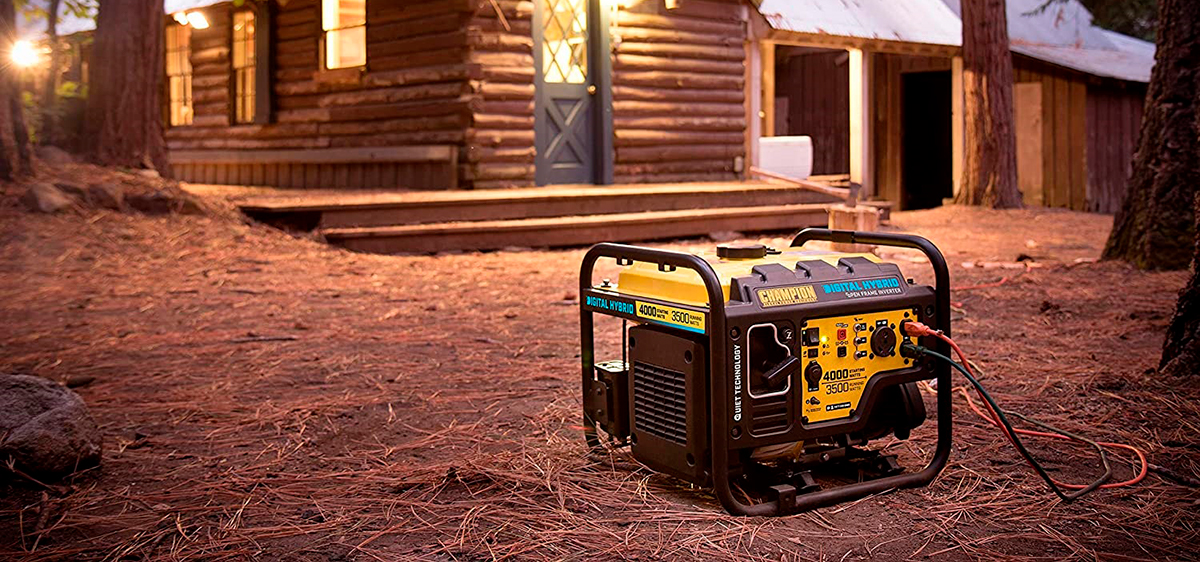 Buying the best generator for an RV air conditioner can be overwhelming. There is a wide choice of offers on the market, and if you have no prior experience with using a generator, it may be difficult to determine what you require. Here's a checklist of things to consider in the first place to run the AC on your RV:
An RV-ready outlet. Though you can use an adapter and connect an RV plug to a regular AC outlet, the specific RV ports usually have higher amperage.
Wattage. Determine how much power your AC system takes and what other devices you plan to connect to a generator. This will let you understand what generator capacity is optimal for your needs.
Ease of refueling and oil changing. Prefer the models that don't require specific tools for these operations, as you'll be performing them quite often.
There are numerous other features that contribute to the ease of use of the generator. An electric starter, a built-in display, a single shutoff lever, and automatic circuit protection will make the generator's operation safer and easier. Check out the following descriptions and find the generator that will fit your RV AС the most!
Reviews of Generators for RV Air Conditioners
DuroMax XP4400EH — Best Portable Generator for RV Air Conditioner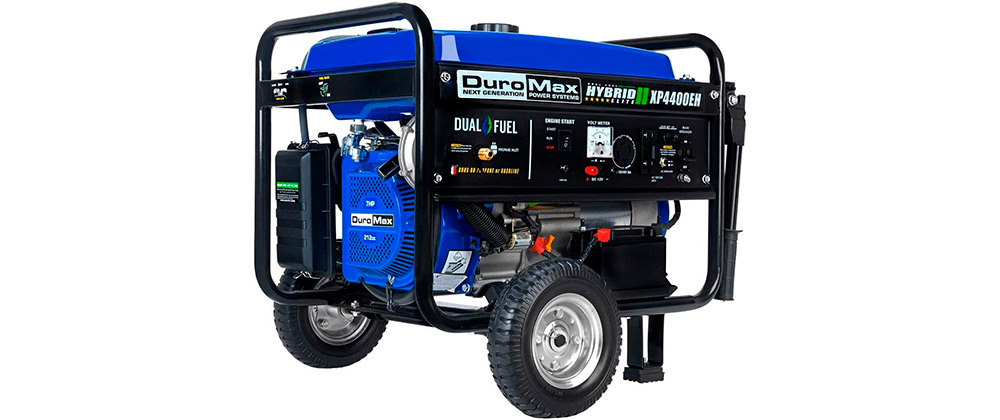 This generator's ability to provide a constant 30A circuit via the onboard L14-30R makes it a good match for a variety of RV demands. Its other advantages, such as dual fueling option and control over the circuit, can make it the best generator for an RV air conditioner on our list. It's also relatively small (25 x 24 x 21 inches) in comparison to many competitors, so it won't take up much room in your RV. However, if you plan a long trip with the conditioner mostly on, it's a good idea to have enough fuel on hand.
The generator is easy to transport due to 2 big wheels mounted on a frame and 2 foldable handles. There's also single support that ensures the system's stability on different surfaces.
You can choose between gasoline and propane for fuel. The productivity is slightly better on gasoline (it can emit 4,400W at peak and maintain a constant supply of 3,500W), while propane is much cleaner during refueling and is easier to store. The generator can run up to 11 hours on a tank of gasoline (the capacity of the tank is 4 gallons).
Apart from the RV-ready receptacle, the XP400EH model features a duplex 120V AC outlet that can be used for pumps, small power tools, etc. There's also a DC outlet emitting 8A at 12V that can be used for charging batteries on various devices.
In terms of safety, this generator for RV AC has a plethora of control options. It has a switch for a full engine stop, overload protection, and a low-oil shutdown mechanism. It also lets you monitor the output via an onboard voltmeter.
Pros
The generator has two starting options: an electric switch (requires batteries) and a pulling cord starter.
The RV outlet is 120V/240V compatible and can be used immediately with any network.
The frame is elevated high above the ground thanks to the wheels and support and is not affected by wet grass, mud, etc.
Cons
It's rather loud at 69 dB, which may be an issue in a packed camp.
The system requires frequent oil replacement and, sometimes, refilling.
DuroMax XP10000E — Best Inverter Generator for RV Air Conditioner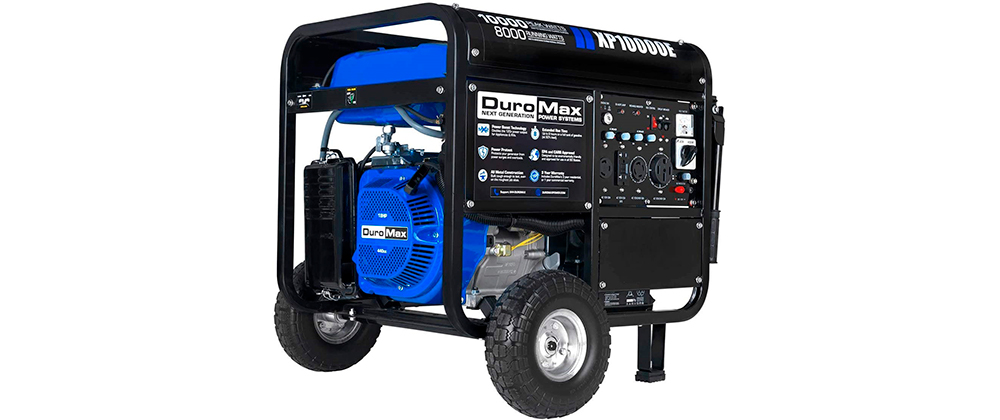 If you're looking for the best RV generator for AC, check out this 10,000W model. It's running power is 8,000W, and it has several outlets letting you power up not just your RV air conditioner but also numerous other devices. Working tools, water and air pumps can be easily connected and powered by the onboard receptacles. You can also select the outlets based on their amperage to avoid overpowering your tools. The generator has 5 AC and 1 DC outlet. Two AC outlets can supply both 120V and 240V current and can be used with the RV (a big round outlet emitting a 50A circuit) and the home system (a twist-lock receptacle rated at 30A power). There is also a twist-lock outlet for 120V connection and 2 standard AC plugs.
The generator has the Idle Stay switch, which lets it work as an inverter and reduces its engine rotations if there's no load or a small load. This way, you can save on fuel and prolong the running time. At a medium load, the latter lasts about 10 hours. The tank of the XP10000E has an 8-gallon capacity, and the fuel level can be checked at a gauge on top of the generator.
If you plan on using this generator to run RV AC, keep in mind that it is quiet but not silent. Think of a suitable location for the 72 dB sound, which will be heard about 25 ft in diameter.
Pros
The generator gets started with a turn of a key.
The build quality is high, with all frame parts made of metal and the oil winding made of copper.
The additional muffler can be connected thanks to a small lip and a hole on the muffler's body.
Cons
The unit weighs 300 lbs and is hardly portable.
The plastic wheels visibly flatten under the generator's weight.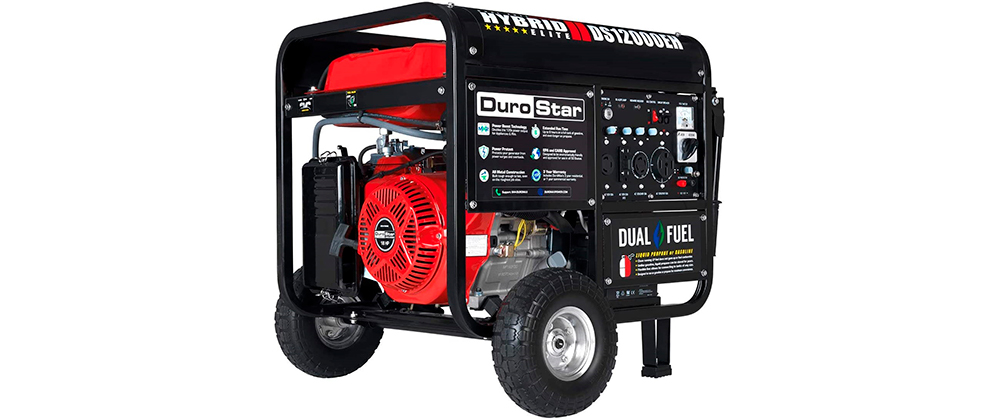 A compact frame factor and considerable power supply make the DS12000EH a worthy option for a generator for an RV air conditioner. The generator is 29 x 30 x 26 inches and fits easily into any RV. Besides, it has plastic wheels and can be towed by the foldable handles located in the front. The generator's peak power output is 12,000W when running on gasoline and about 10,000W when running on propane. The running wattage is 9,500 for gas and 8,750 for propane. The generator is easy to refill with both types of fuel due to the convenient refueling system.
The onboard tank has an 8.3-gallon capacity and can provide up to 12 hours of continuous power supply at half load. That's true for gasoline, though, the numbers for propane would be slightly lower.
The control panel of the unit holds 2+3 AC receptacles of different types. There's a single 50A outlet, type 14-50R, with the ability to emit 120V and 240V. There are 2 AC outlets rated at 30A, one of which can also work in both 120V and 240V systems. Finally, there's a duplex plug with a 20A capacity. The variety of choices lets you hook up a lot of power devices and even charge your battery-powered gadgets via the 8A DC outlet.
The safety of this generator for camper AC is ensured by the built-in shutoff mechanism that reacts to a low oil level. The red light on the control panel also indicates a problem. There's also overload protection, a manual circuit breaker lever, and a voltmeter to monitor power consumption.
Pros
Easy and even start with any type of starter chosen (a pulling cord or an electric starter).
The sturdy construction is weatherproof and can be used in light rain and wind.
The frame is supported by 2 wheels and 2 supports that help distribute the weight and keep the wheels from flattening.
Cons
The unit is not RV-ready but can be connected to the L5-30R AC plug using the TT-30R adapter.
The fuel gauge reading is a bit inaccurate for propane and may show a lower level than there actually is.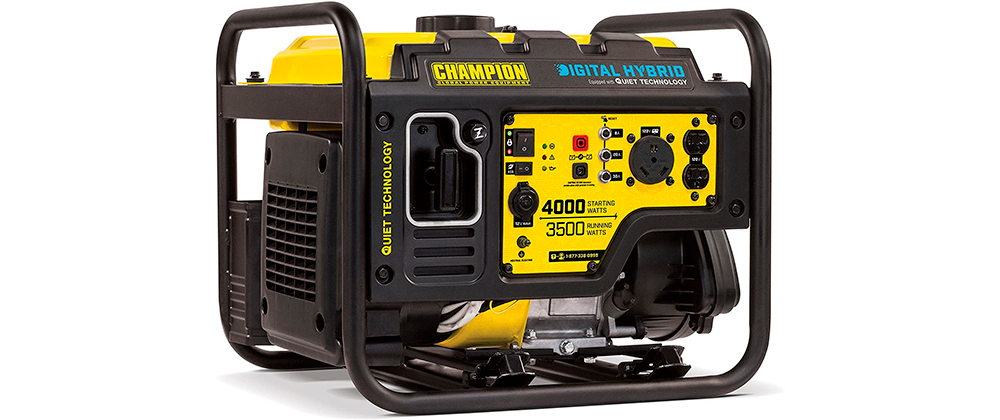 The power supply of this inverter generator makes 4,000W at a peak and 3,500W at constant load. However, it can be doubled and even tripled due to the possibility of hooking up parallel inverters of the same type. The tank of this unit holds about 2.9 gallons of fuel, and it can run for 6-8 hours at a medium load on a single tank.
The hybrid technology used in the 100302 model makes it a quiet generator for an RV air conditioner. The noise level doesn't exceed 64 dB at a peak load. The generator is RV-ready, with a 30A RV plug (TT-30R type), and can power the AC system in your RV. For other purposes, it has 2 AC plugs for a 20A supply and a DC one.
The control panel features the circuit breakers for all the outlets on the generator, including the DC one. The unit will also stop working if the oil level sensor signals a low level (in this case, the red LED light will light up on the panel). There's another red LED light that warns about the overload and the green one, meaning the unit is operating normally.
You can feel safe running RV AC on a generator or plugging in some demanding power devices such as a TV or a computer. The generator produces the circuit with the THD of less than 3% and thus, making it safe even for fragile electronics.
Pros
The inverter function saves on fuel and reduces the wear of the generator by reducing engine work at low loads.
The unit is supplied with a dual USB plug (to be inserted into the DC port) to charge your smartphone from the generator.
The starter handle is large and convenient to pull and hold.
Cons
It does not include portability accessories such as wheels, handles, and so on.
There is no 240V option, only a 120V circuit.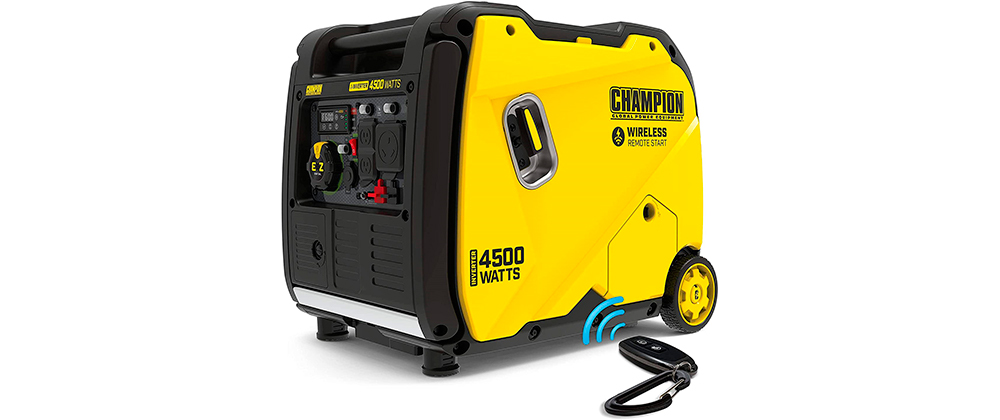 The noise of this generator is highest at the start, but it does not exceed 70 dB. Normally, the generator works at 61 dB, making it one of the quietest in its class. It has an electric starter, which is activated by turning a sturdy knob on the control panel. Another way of turning on this quiet generator for RV AC is by pressing the start button on the supplied remote control. A traditional pulling cord is also installed on the side, just in case the batteries run out.
The generator is an inverter, which regulates its surge and slows down the engine when the load is minimal. This feature can be activated by turning on the Eco mode. The latter is available via the intelligauge display, which also shows inverter operating parameters such as real-time frequency, fuel consumption, voltage, and work time.
The unit can emit up to 4,000W as a peak wattage, with a constant wattage of 3,500W. The tank has a 2.3-gallon capacity and can supply the unit for 8 to 15 hours (depending on the load). The outlets include the RV one for 30A maximum output and a pair of 20A AC plugs. There's also a DC port for plugging in a USB adapter.
The unit has low emission, it is EPA-compliant and is similar to a solar generator for an RV air conditioner by its environmental impact. Besides, it can be used to safely power electronics like TVs, laptops, stoves, and so on. The THD is quite low, not exceeding 3% and ensuring the safety of connected devices.
Pros
The parallel connection to another inverter can be performed through the special ports, doubling the power capacity of the unit.
The remote control has a range of up to 80 feet.
Built-in rear wheels and the extendable handle let you easily transport the generator around.
Cons
Starting on propane is tricky, as the position of the starter should be shifted in order to start the generator.
The bottom clearance is very low so that uneven surfaces may become an issue.
Buyer's Guide
How to Run RV AC on Generator
In order to power up a standard rooftop AC system in an RV, you'll need a generator rated at least 3,000W. There are also options of modifying the AC system and implementing the soft starter technologies, which will reduce the need for power to as little as 2,000W. If your current generator supports a parallel connection, you can also double its power by hooking up another one.
It's better to turn off all other devices connected to the generator and located inside the RV. The refrigerator should be completely shut off or set to run on gas only. Start the generator and let it run for a while. Plug in the RV plug into a relevant outlet (use an adapter, if needed). The outlet should be rated at least 20A. Turn on the AC and wait for the temperature to drop. Then, monitoring the voltage on the generator's panel (there can be a display, a voltmeter, LED lights), you can add the power to the AC or turn on other devices you need, one by one.
Remember to refuel your generator before the tank gets fully drained. At the constant work, it's also crucial to replace the oil timely.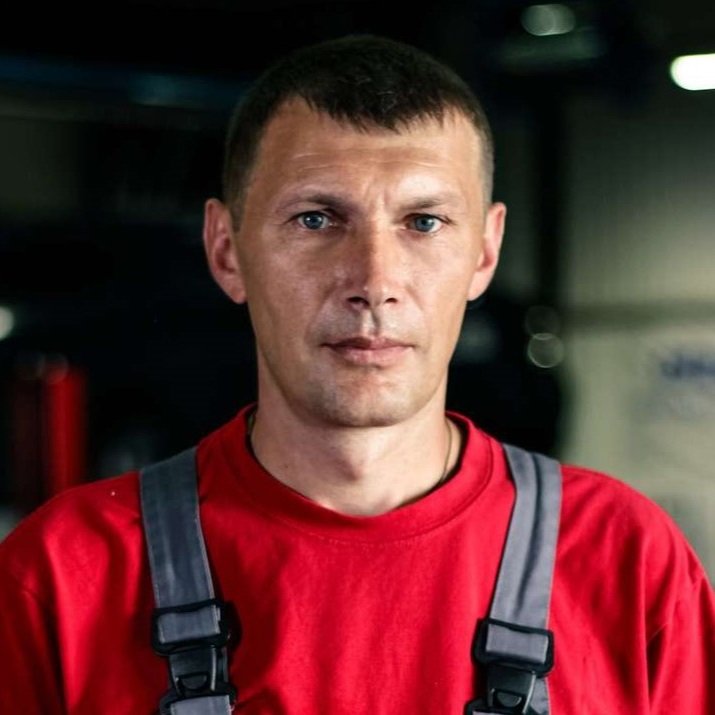 My name is Brandon, and I've been interested in cars since I was a kid. I got a bachelor's degree in Automotive Technology and worked in a private car workshop. I have two cars that have been completely upgraded with my own hands. So I successfully put all my knowledge into practice.
Last update on 2023-02-17 / Affiliate links / Images from Amazon Product Advertising API