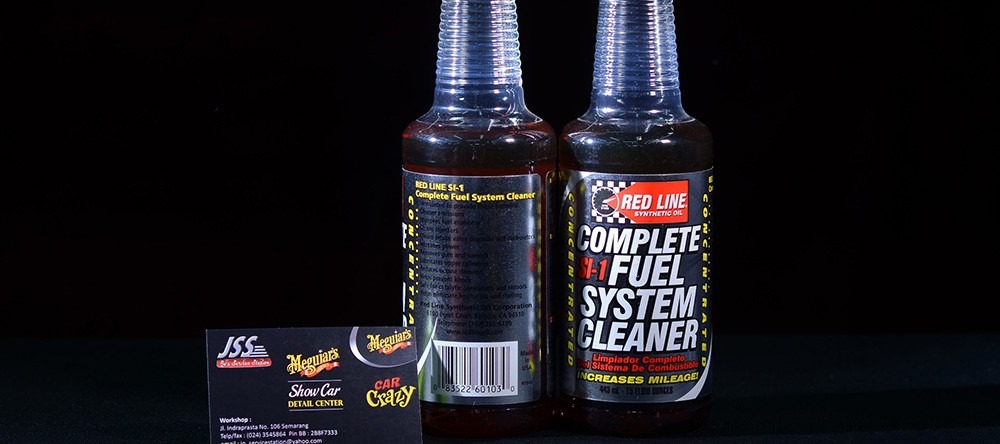 Every experienced driver has no doubts about the need for the best carburetor cleaner as the carb is exactly that part of the vehicle that immediately causes problems when neglected. The impurities in the fuel form grime and oil layer. The lubricating materials, blending with dust, settle on the surface of the most important working elements and begin to impede the work. An excess or low-quality oil, over time, will also lead to the bridging and carbon deposits in the fuel system. Such kinds of pollutions cannot be washed off with plain water or household detergents. That is why a special carburetor cleaning solution is the only way to get rid of the deposits that hinder carburetor activity.

However, what does the contaminated carburetor actually leads to? In result, the engine works unstable, stalls while driving and in transient conditions, or even don't start at all. The driver also faces such problems as jerks, failures during racing, the engine consumes too much fuel, etc.
Thus, carburetor cleaning is a mandatory and regular car maintenance routine. The operation of the motor system and safety of driving depend on the carburetor condition. In this regard, we offer you to read our article so you will be able to choose the most suitable carb cleaner and learn about the basics of carburetor purification.
Carburetor Cleaner Reviews

If your vehicle runs on gasoline, this cleaner from Berrymen can be good, and quite money-saving option — for around $100, you'll get a pack of twelve 16-oz cans. It's designed to purify carburetor from gum and fuel deposits. You can use this product for usual cars, all-terrain vehicles, motorcycles, etc.
This cleaner allows preventing a lot of problems connected with car repair as it's not only thoroughly cleans the carb but also creates the protective layer on its surface. This way, it gets polluted more slowly. In result, the life term of both carburetor and engine increases. Another significant advantage of the cleaner is its careful treatment: it's absolutely secure for oxygen sensor and catalytic converter. However, this product isn't designed to help with fuel consumption reduction.
On a regular basis, the Berryman (0117) can reanimate even too old and the most clogged up carbs as it contains strong solvents. Note that excess use of this cleaner may cause harmful effect on engine parts — it's recommended to use the remedy between 3000-3500 miles and no more.
Nevertheless, its powerful formula makes it potentially the best cleaner to remove varnish from carburetor.
Pros
Rapidly disperses moisture.
Is capable of cleaning the whole fuel system.
Cons
It doesn't work properly with diesel-powered cars and can even cause harmful effect on them.
It has increased level of toxicity compared to other cleaners, so be careful and not spill it on yourself.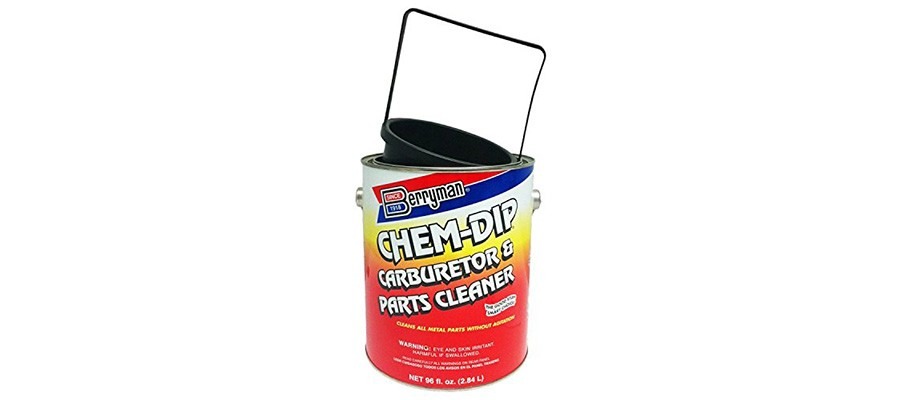 This product from Berryman can be the best carb cleaner dip for those who appreciate versatility: it supports combustion of all types of gasoline, works with all types of carbs, and most types of vehicles (cars, motorcycles, scooters, snowmobiles, etc). It is particularly good for big carburetors as it contains enough active elements to clean up large areas. The remedy is remarkable for great effectiveness against solid deposits, being also able to soften other types of contaminants like gum and varnish.
This cleaner is one of the safest on the list. Its formula is chlorine-free (which means that it can be safely used on plastic, rubber, and painted parts without worrying about potential damages) and non-flammable.
However, this is an immersion cleaner which means that its usage requires complete disassembly of the carburetor. The cleaner goes in a special buсket where you should bate the carb details for about 15-30 minutes. However, $29 for 0.75 gallon may seem too expensive for some drivers.
Pros
The cleaner doesn't emit toxic fumes.
It's able to increase a vehicle's durability if used regularly.
Cons
Dipping won't work to clean larger parts.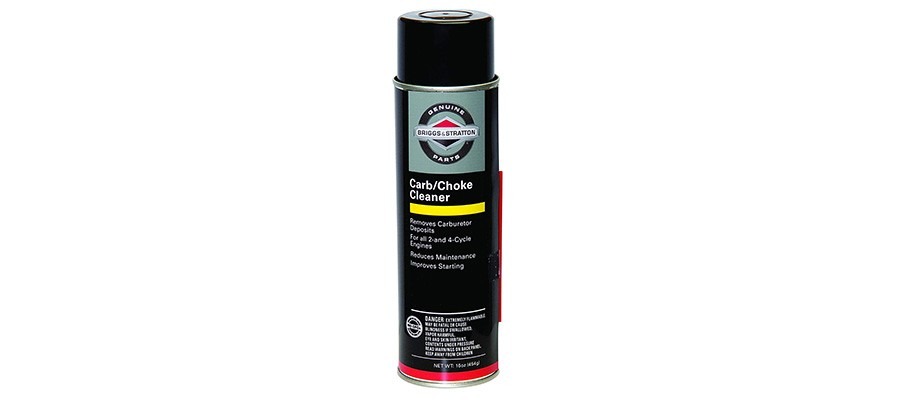 This product from Briggs & Stratton can be the best carburetor cleaner for those who are searching for a fast-acting remedy, as it quickly dissolves deposits of different origins. This product belongs to the universal remedies. It's suitable for vehicles with 2-cycle and 4-cycle engines which means that it works not only for the vehicles but for a lawnmower as well. Besides, the 100042 works for gas and petrol engines. It also has quite affordable price of about $12 for 16-oz can which is enough for more than one application.
It cleans all the metal parts of the carburetor, decreasing engine downtime and helping get rid of issues connected with starting. Although it's not really safe for plastic or rubber elements, and it does contain chlorine. However, the cleaner is made from eco-friendly ingredients which are 100% toxic free. It means that the product is not only safe for the environment but also doesn't cause harm to human health during usage. This cleaner also doesn't have a bad, strong smell like most other cleaners. You can even use it for cleaning garage equipment.
The specific formula of the Briggs & Stratton made it durable which means that it has a long shelf life.
Pros
Especially effective for vehicles with small engines.
It works not only for carburetor but for the choke as well.
Cons
It doesn't include a spray straw for precise and convenient use.
Not very effective for old carburetors with hardened contaminants.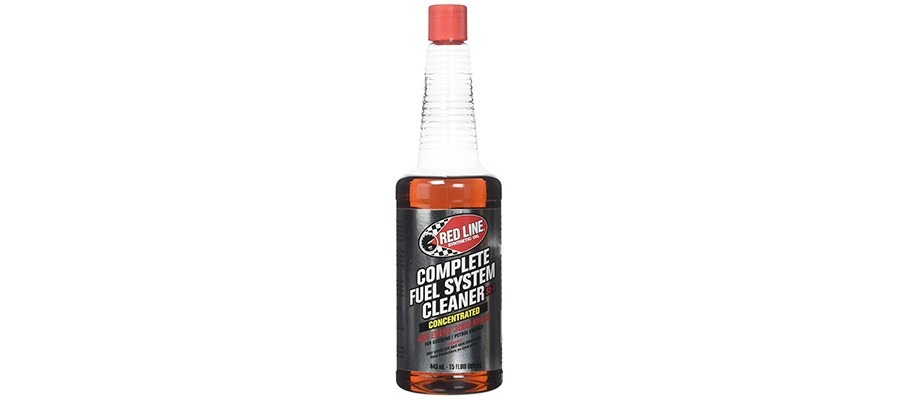 As it's obvious from its name, the cleaner is designed not only for the carburetor but for the whole fuel system as well (combustion chamber, valves, etc). It's safe for usage on a regular basis as it doesn't contain aggressive components and dissolves only deposits. The 15-oz bottle is enough even for large systems. Plus, the price point of the product is affordable for regular use (around $14).
The cleaner has polyether amines in its composition which are known for effective cleaning qualities. It's quite concentrated detergent with synthetic lubricants. Due to this, it's able to renovate carburetors, prevent corrosion, wearout, and moisture build-up. The remedy also helps get rid of fuel gauge malfunctioning, which frequently shows wrong fuel level when the carburetor is heavily polluted. It enhances fuel quality and stability, removes gum, varnish, and doesn't cause harmful effect on oxygenated sensors.
The Red Line works with almost any vehicle, but can potentially be the best motorcycle carb cleaner as it's soft formula doesn't cause damage to the motorcycle fuel system which is more fragile than the one from car or truck.
Pros
It's able to handle both high and low temperatures in the engine.
Increases efficiency of fuel consumption.
Due to high concentration of synthetic ingredients, the Red Line can restore even neglected fuel systems.
Cons
Can't be used for diesel vehicles.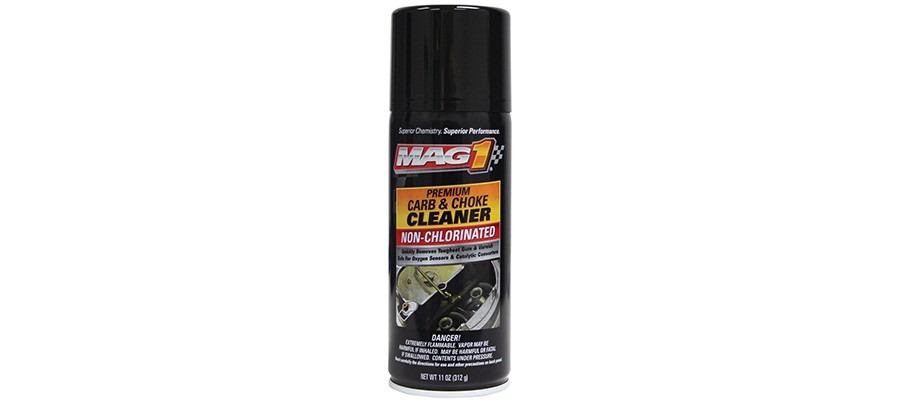 This remedy from Mag 1 helps cope with deposits and pollution on the carburetor and choke. It can be the best carb cleaner regarding simplicity: due to its spray form, it doesn't require any specific actions from the user. It's highly recommended for all-terrain vehicles, but also can be used for cars, motorcycles, scooters, and some kinds of marine vehicles. The remedy fits for internal and external cleaning. It goes in a pack of twelve 11-oz bottles for less than $40 so it's an extremely budget solution.
The remedy contains a strong combination of various solvents that thoroughly remove deposits. It can even be used for removing oil stains from the garage floor. However, these solvents aren't too harsh as the Mag 1 is designed for regular use so there's no need to worry that the carburetor details will start losing their color due to aggressive actions of solvents. Although those solvents still aren't safe for human health so be sure to wear gloves when working with this cleaner. It dissolves tough gums quite quick and doesn't harm metallic and plastic details as it's non-chlorinated. Keep in mind that this carb cleaner spray shows results after the first application.
Pros
It can be used for lawnmowers.
It contains volatile organic elements.
Cons
Not effective for old vehicles.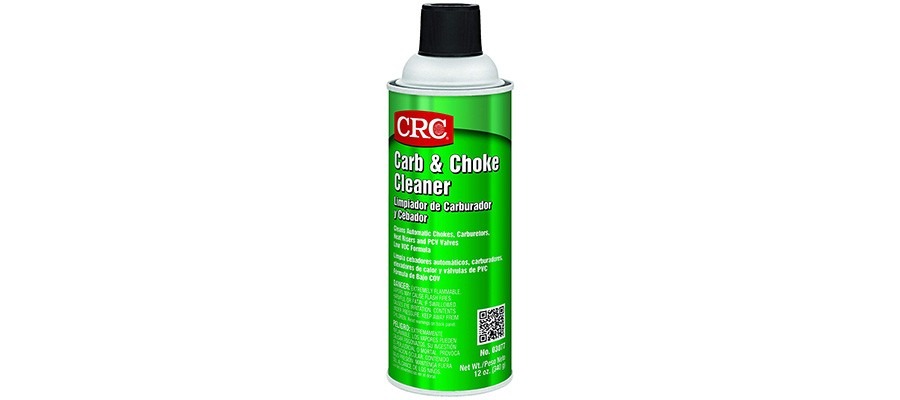 This cleaner from CRC is offered for around $10. It's easy to use as all you need is to spray it on the carburetor parts (the plastic tube for hard-to-reach places goes in the kit) and rub it with a rag. In this regard, this is a decent carburetor cleaner soak to take with you as it can provide quick help when you can't start a car for a long time — you don't even need to disassemble the carburetor or remove it from its place. The action time of CRC doesn't take more than half an hour.
It's able to fight different types of pollutions: gum, varnish, oil film, grease, etc. However, do not use it on rubber, plastic, and painted parts. It's preventing abilities include protection from any kinds of varnishing, fuel consumption improvement, maximization of carburetor performance. In result, the vehicle's response increases. Generally, this cleaner is recommended to those drivers who frequently face troubles connected with the polluted fuel system, even on a fairly old vehicle.
Pros
The remedy is made from eco-friendly ingredients.
Improves general engine usability.
Doesn't contain chlorine.
Cons
The cleaner doesn't show great results when used on large engines.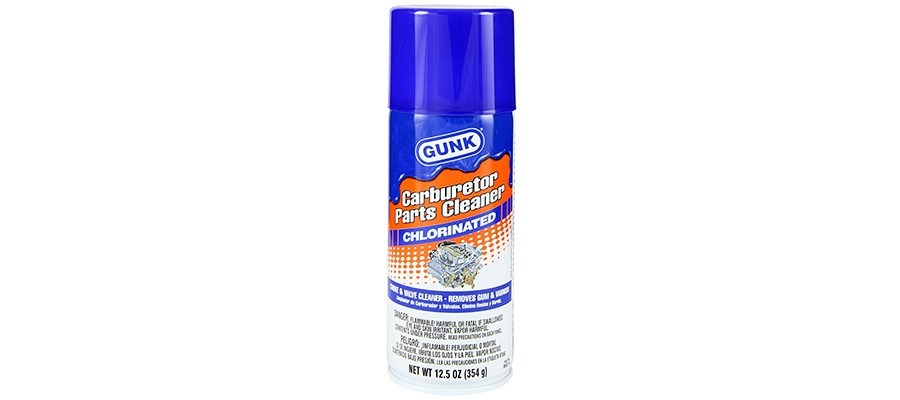 The Gunk M4814 is a decent choice for those who are looking for a quick and cheap solution. This cleaner goes in a spray form and costs only $9. Of course, it isn't a professional carburetor cleaner with an advanced formula, but it still has quite effective properties.
First of all, it doesn't contain chlorine which means that it won't be harmful to non-metallic components of the carburetor. Generally, it's designed to clean parts that have varnish buildups. However, this cleaner also has a solvent base and contains all the right chemicals to clean the carb surface from gum and dirt and doesn't require too much time for this. You can also use it to clean up the other parts, like, for example, heat controls, or choke linkage. The Gunk M4814 has great degreasing properties as well.
This remedy comes along with a high-pressure tube, but it's not so long and thin like those tubes that come with other cleaning sprays, but you can easily replace it if you need.
It's mainly designed for vehicles with small engines but can also be used for other types of vehicles (all-terrain vehicles, motorcycles, scooters, snowmobiles, etc).
Pros
Doesn't have problematic compounds that could possibly cause a damaging effect.
The nozzle helps create heavy volume stream.
It leaves no residue after cleaning.
Cons
The cleaning lasts longer in comparison with chlorinated remedies.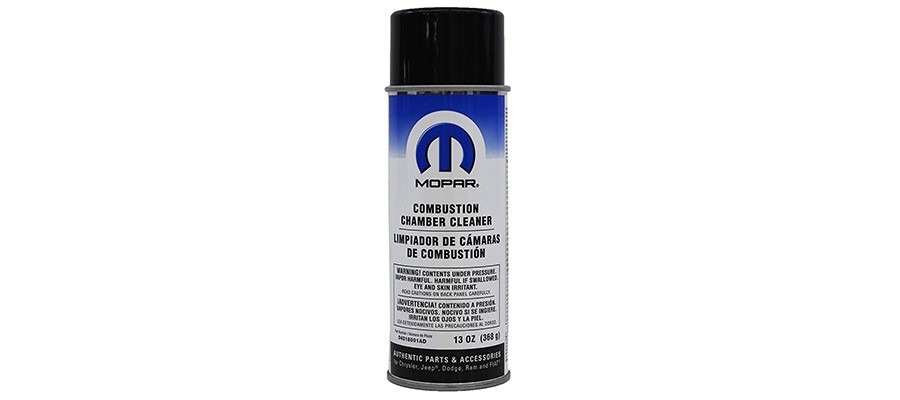 This aerosol cleaner from Genuine Chrysler is a versatile option for most types of vehicles. It costs around $17 for a 13-oz can, so it's not among the most budget solutions, but still has decent value for the money. It's really capable of restoring general vehicle's performance if used correctly.
Firstly, the remedy has quite noticeable preventing properties. It protects the carburetor from different buildups and varnishing. The Genuine Chrysler Accessories also has an environmentally-friendly formula so it definitely won't make your vehicle blow toxic fumes. Among its particular qualities, I would like to highlight the ability to cope with idle issues (if they are connected with polluted carb, of course).
One of the most unique things about this cleaner is the fact that it designed rather for old vehicles than for newer ones. After all, most of its direct competitors work mainly with new carburetors. Thus, if you have an old car or motorcycle and want to restore its carburetor condition, this cleaner can help you dissolve deposits of various origin even if they are hardened.
Pros
It gets the job done fast (about 30 minutes).
Its aerosol form makes it easy and convenient to apply the product.
Cons
Doesn't contribute to the fuel economy.
Buyer's Guide
How to Use Carburetor Cleaner in the Proper Way
The carburetor cleaning is not a hard process. Before using the cleaner, we recommend you to get acquired with instructions provided by the manufacturer: the nuances of the procedure may vary depending on the type, composition, and structure of the remedy. It also should be mentioned that the carb cleaner is a combustible product, so don't forget about safety measures.
Follow the next steps to clean up your vehicle's carburetor:
Remove the covering of the cleaner can. To do this, you may need wrench or pliers.
After that, it's necessary to unscrew the plug-holder of the fuel nozzle which is responsible for idling.
After unscrewing, you'll get access to the hole in the carburetor cover. The carburetor cleaning solvent should be used to purify the channels of the idle and transition systems of the first chamber through this hole.
More effective usage of the carb cleaner also includes the applications of the mean on the chamber's walls, diffusers, choke and throttle. A straw which usually comes along with a cleaner that allows processing the most hard-to-reach elements.
In addition, the cleaner should be sprayed to all the levers and accessible drive elements. This allows you to remove dirt from the controls, which ensures the normal operation of carburetor injection.
After applying the cleaner, wait for about 15-20 minutes (more accurate time is written on the label of the cleaner). During this time, the product softens deposits and flushes dirt.
Now you have to allow the engine to work at idle without an electromagnetic valve. It is also necessary to slightly gas.
After this, you need to gas several times again.
What is the Best Carburetor Cleaner and What's Good About It
A carburetor cleaner is aimed to purify the dirt that accumulates during carburetor operation: layers of oil, gasoline, dust, and soot. One of the main benefits of the carb cleaner is the ability to remove pollution under high pressure. So now you know what is carburetor cleaner.
The basic element of any carburetor cleaner is gasoline or acetone. The acetone is one of the strongest solvents that can significantly soften the carbon deposits. In addition, the composition of the cleaning spray includes various chemical compounds that enhance acetone's efficiency. For example, toluene, benzene, various acids and other organic and inorganic compounds.
They usually are sold in two forms — liquids and aerosols. The application method of these forms is different. Some cleaners require manual use while some are designed for automatic use. The liquid cleaners considered to be automatic as they don't require human intervention. The aerosols or sprays are used manually and are equipped with a special nozzle.
The length of the nozzle allows you to spray the cleaner in the most inaccessible places. Just for the record, sprays are the most popular type of cleaners among drivers as they act very fast and doesn't require carburetor dissembling or removing.
What does Carburetor Cleaner Do?
The carb cleaner removes deposits of different origins from jets, idle system, channels, and carburetor valves by transferring them into a soft form, after which they become easy to remove. It definitely surpasses all the alternative ways of carb purification in its effectiveness. The product quickly evaporates from the treated surface and doesn't require rinsing with water or a degreaser.
If you use a carb cleaner correctly and on a regular base, you will notice the following changes:
the engine starts quicker and works smoothly at idling;
reduced fuel consumption; decreased exhaust gases toxicity;
better car performance even if you use a low-quality fuel.
However, most modern cleaners perform not only their main objective. In particular, they include additional additives and oils that provide lubrication to the carburetor moving parts. The cleaners also cover the carb parts with a protective film, increasing its service life.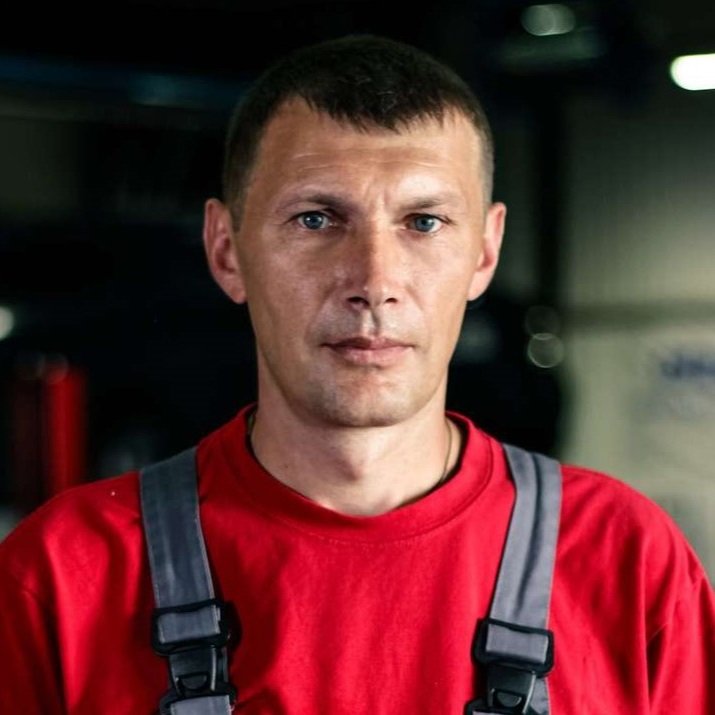 My name is Brandon, and I've been interested in cars since I was a kid. I got a bachelor's degree in Automotive Technology and worked in a private car workshop. I have two cars that have been completely upgraded with my own hands. So I successfully put all my knowledge into practice.
Last update on 2023-02-17 / Affiliate links / Images from Amazon Product Advertising API