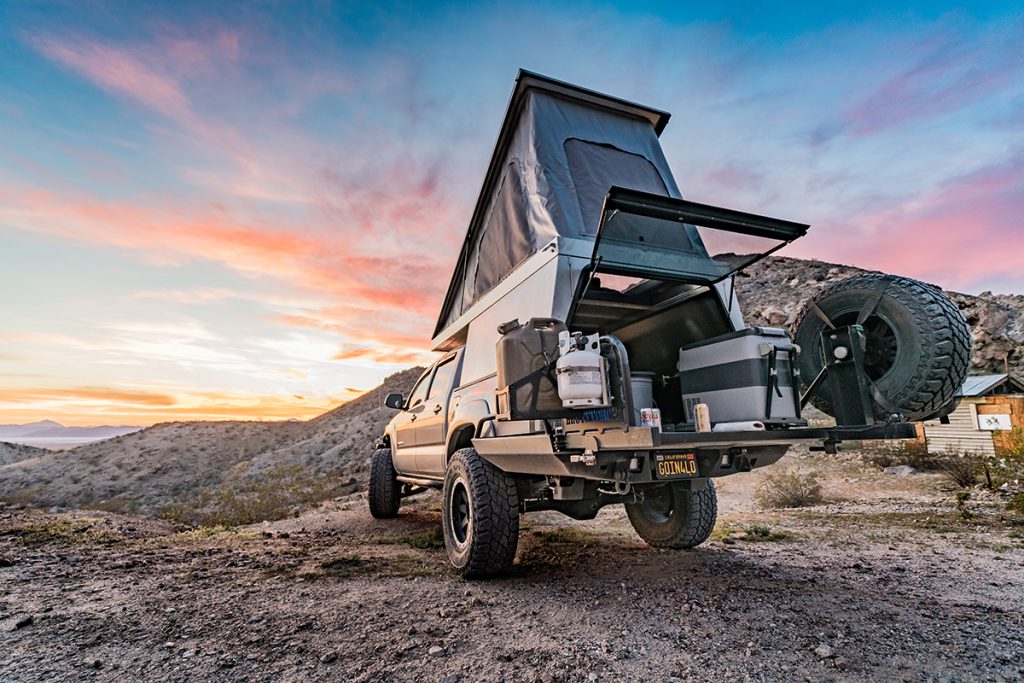 A camper shell is an accessory that can turn your truck into a camper or an RV. It mounts on top of the truck bed and completely covers it. If you are a Toyota Tacoma owner who likes to take long trips, you have probably been thinking that it would be a cool idea to turn your truck's bed into a sleeping place. This post is intended to help you choose the most suitable Tacoma camper shell for this purpose.
Although the truck shell was initially designed solely for camping, many people now use it for storage purposes as well since a canopy is a great way to protect cargo from bad weather and theft.
There is a wide choice of camper shells on the market: some of them can turn your truck bed into a small bedroom, and the others look like regular tents. A shell's housing can be made of fiberglass, aluminum, wood, canvas, or fabric. In this post, we offer you to read reviews about soft-type camper shells as they are exceptionally convenient for camping. Here are some of the reasons:
More economical. When you purchase a fabric camper shell for your camping trip, you may save a lot of money since hard-shell choices are significantly more expensive.
Lightweight. Soft truck caps usually don't weigh more than 40 pounds, while hard ones weigh around 200 pounds.
Very compact and foldable. When you need additional room, the fabric shell can be effortlessly turned out and folded like a convertible.
Thanks to our well-researched top, you'll be able to choose the best camper shell for Tacoma.
Reviews of Toyota Tacoma Camper Shells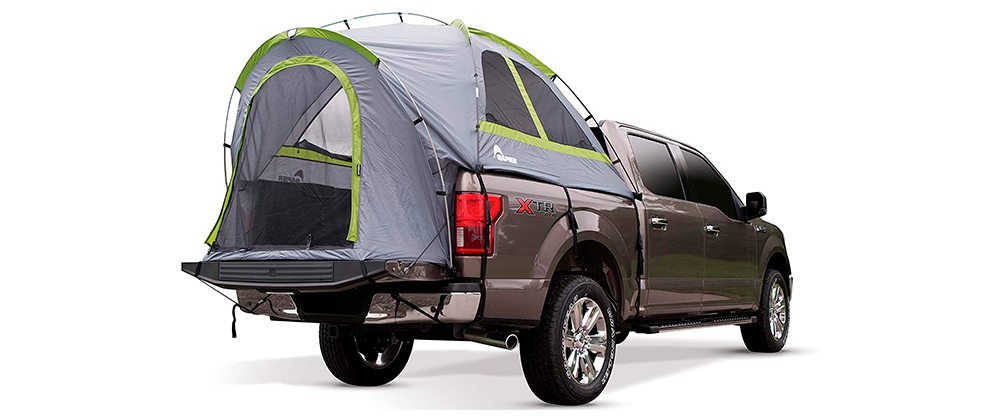 This camper shell for Toyota Tacoma is made of nylon that provides good protection against bad weather conditions as it's water-resistant. As for the exterior design, this shell combines gray and green. It has two mesh windows on the sides and an additional small one on the top. The door is mesh as well and is fairly large, making entry easy. There are also special flaps to cover windows and doors when you need privacy or during stormy weather.
The interior area is quite spacious (over 5 ft of headroom). Two adults can be conveniently accommodated inside. There are two pockets and a gear loft to help you organize your belongings. The tent also has a hook for a lantern at the top of the interior to illuminate the inside of the tent. The Sportz is also one of the few tents that has the floor area fully seamed.
The shell is well-made. It comes with 4 poles: two long ones for the frame (black), one small for the center (gray), and the smallest one (green) for the tent opening. The installation may be completed in about 10 minutes since the color-coded poles and sleeves make the setup easier and faster. Taking down the tent will also be a quick task.
This model is available in 5 sizes and fits almost any truck available on the market, including Toyota Tacoma, manufactured in any year. The smallest size will work as the 2021 Toyota Tacoma camper shell (for the double-cab model), for example.
This shell is offered for an affordable price. As for me, it's a fantastic value when you consider the quality.
Pros
The poles are flexible and lightweight, made of durable fiberglass.
The tent comes with a high-quality bag with a special pocket for instruction, so you won't lose it.
There is a protective cover on metal parts to prevent them from scratching your vehicle.
Cons
Although there are 3 windows in total, the tent does not provide enough ventilation, which may be a problem when the weather is hot.
The zippers are quite fragile, so you have to be careful with them.
Overall rating: 9/10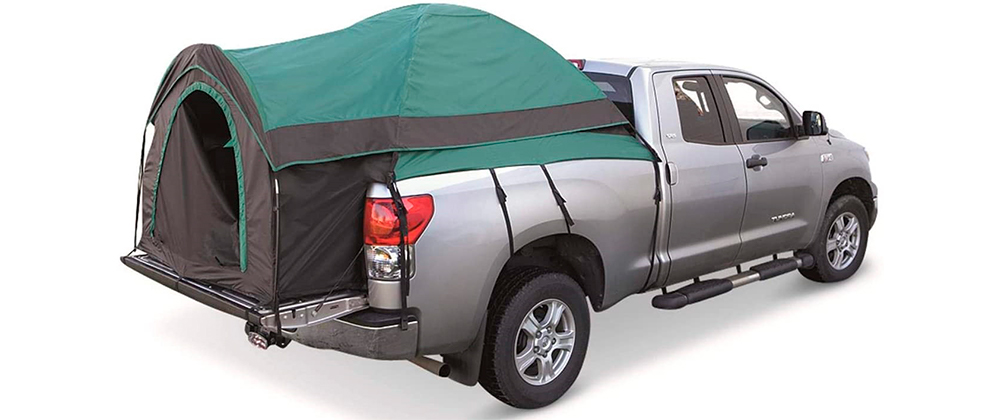 This Tacoma shell is well made and is clearly built for durability, yet it is still available at a low price. The exterior is green and black. The tent is made of waterproof 190T polyester and is designed for 3-season camping, so the interior will stay dry no matter what the weather. You can also attach a rainfly for added protection. The sewn-in floor is also made of polyethylene.
The setup is a breeze. The tent comes with 4 shock-corded poles that deploy quickly. Two of them must be connected in the X-shape and the two others serve as side poles for support.
The tent fits full-size truck beds that are 79 to 81 inches long (with the tailgate down) and 63 inches wide. The center height is 5.25 ft, so you can conveniently sit up in the tent. It can easily fit two people.
This truck bed topper has two mesh windows and a D-shaped meshed door. The mesh is thick and durable, so it won't allow any insects in. If necessary, both the windows and the door can be zipped up with covers. Inside, there are two storage pockets and the holder for a lantern in the center of the top area.
Pros
The tent comes with special straps that must be secured to the underside of the truck, so even high winds won't blow it away.
Due to the tent's dome-shaped design, water just rolls off without falling into any cracks.
It comes with a heavy-duty handy carrying bag.
Cons
Although the tent is advertised as being suitable for camping in spring, summer, and autumn, there are no thermal insulation features, so we wouldn't recommend it for hot summer days.
The pockets don't seem to be reliably stitched.
Overall rating: 9/10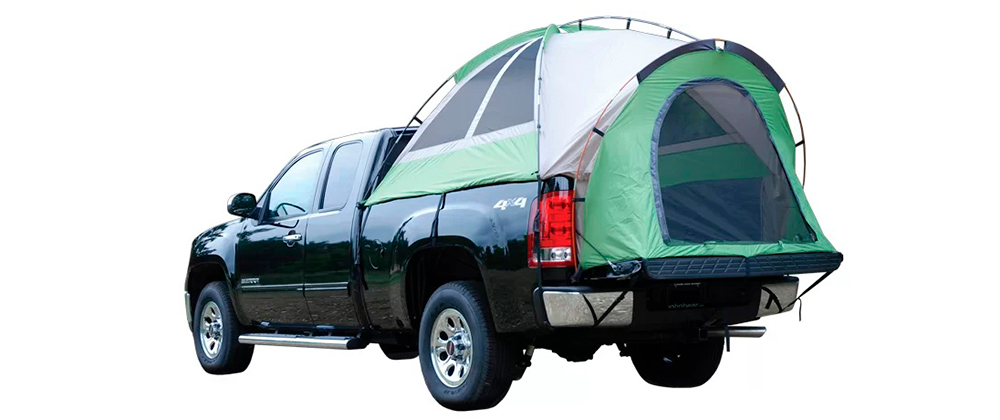 This wallet-friendly tent is available in 4 different sizes. The "compact regular bed" option will work as the 2020 Toyota Tacoma camper shell.
The shell is made of 800mm PU polyester taffeta. This material is lightweight, durable, and wrinkle-resistant. In addition, it provides superior protection against rainy weather. There is also a sewn-in flooring for added protection. The color scheme combines green, gray, and white.
The tent sets up pretty quickly and easily. There are 4 color-coded poles included in the package. You just have to put them in designated areas.
This camper shell Toyota Tacoma features one door and 4 windows on the top that let a lot of natural light inside and ensure good ventilation. They all can be covered thanks to built-in storm flips. The lantern holder is also included. The interior area provides plenty of room for two adults. There is one pocket for organizing your items and a gear loft.
Pros
There is a rear access area that allows you to get to the truck interior right from the tent.
The plastic buckles on the tent are covered by fabric pieces, so they won't scratch the truck body.
There is 5.6 ft of headroom, so the tent is enough for tall people.
Cons
The coarse mesh on the windows allows dust, sand, and debris to get inside the tent.
The poles aren't very durable which may be a problem on windy days.
Overall rating: 9/10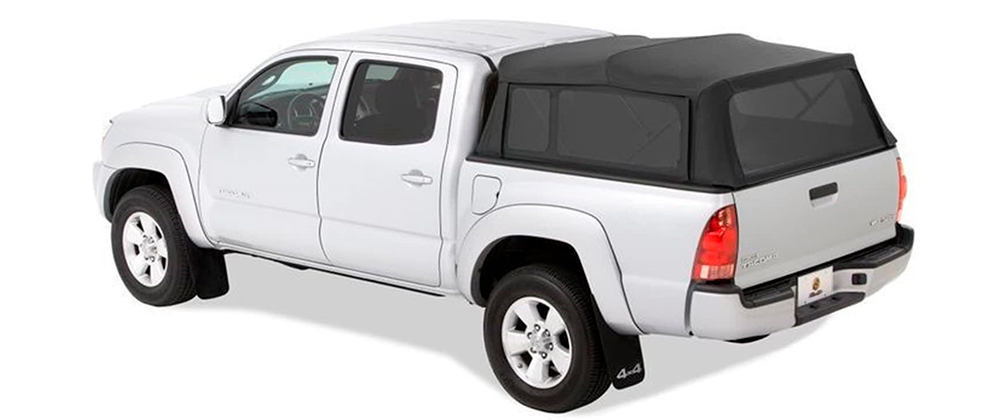 The present camper shell for Tacoma is designed for models manufactured between 2005 and 2019. It has three tinted vinyl windows that zip in and out, so you can easily remove them (they will be held with the straps) when you need more ventilation. The molded heavy-duty zippers are resistant to bad weather conditions and won't cause any issues.
This bed cap is completely black. It's the best Tacoma camper shell on our list, in terms of sturdiness. This tent is resistant to water, mildew in wet climates, and UV rays, so it will not fade. Also, it can withstand a lot of rough use because it is made of high-quality diamond-point grain fabric.
All the hardware required for installation is added to the package, including corrosion-resistant frames. The setup process is hassle-free thanks to the quick-mount belt rail attachment system. The shell fits tightly because it is the same height as the cabinet. The shell is secured to the tailgate. There is a special tailgate bar thanks to which the tailgate operates independently.
Pros
The tent folds down in minutes thanks to the quick bow release.
There is a front retainer bar that ensures a tighter fit behind the cab.
The shell has very dependable seams that inspire longevity and durability while keeping moisture out.
Cons
There are no meshes, so you can't leave the windows unzipped overnight.
According to instructions, 72°F is the minimum recommended temperature, so the shell can be used for warm weather only.
Overall rating: 8/10
Buyer's Guide
Toyota Tacoma Camper Shell Video
Toyota Tacoma Camper Shell FAQ
What is a camper shell?
A camper shell (truck cap or truck topper) an enclosed sleeping place in the truck that comes in handy to dispense with tents and get shell similar to a real bedroom. However, some contractors and other professionals often use them as cargo storage to transport tools, equipment, and any other stuff.
How to build a camper shell?
Since modern camper shells are expensive, let's see how to handle a DIY project and transform the track's back into a livable and weatherproof place for sleeping or storage. 

To avoid welding, use PVC pipe or wood framing with fiberglass or plywood sides respectively rather than metal one with aluminum sides. The camper shell will take two days on average to be created and installed.

1. Measure the width and length of the bed. 
2. Cut 4 pieces of PVC/wood for the measured length and the same amount of material for the width.
3. Cut 3 or 4-feet pieces of PVC/wood to provide the desired height of the shell.
4. Joint 2 lengths pieces and 2 width ones together end-to-end with either nails or glue (note that PVC needs inter-segmental angles) in order to create a square.
5. Make the second square in the same way but don't use the fourth width piece.
6. Take 4 short pieces of the material to hook up one square to another to get a cube. Its dimensions should correspond to the truck bed length and width. The place for the tailgate is that where the fourth width piece is absent. 
7. Once the construction is dried (it usually takes no longer than 20 minutes), attach the sides to make walls. Don't forget to drill holes for installing windows. The front wall should be transparent and plexiglass is the most suitable material to that end. 
8. If you use fiberglass sides, cover them with the fiberglass cloth and coat or with the mixed resin. Plywood sides require just the sealant coating.
9. When installing windows, seal the edges to prevent leaking. 
How to install a camper shell?
Now, it's time to lift the shell onto the truck bed. It's rather heavy, so, the assistant would be appropriate. Make the track as low as possible to get extra working space. Make sure that the bed and the shell are aligned and move the latter on. Use C-clamps and sockets to attach the shell to the bed.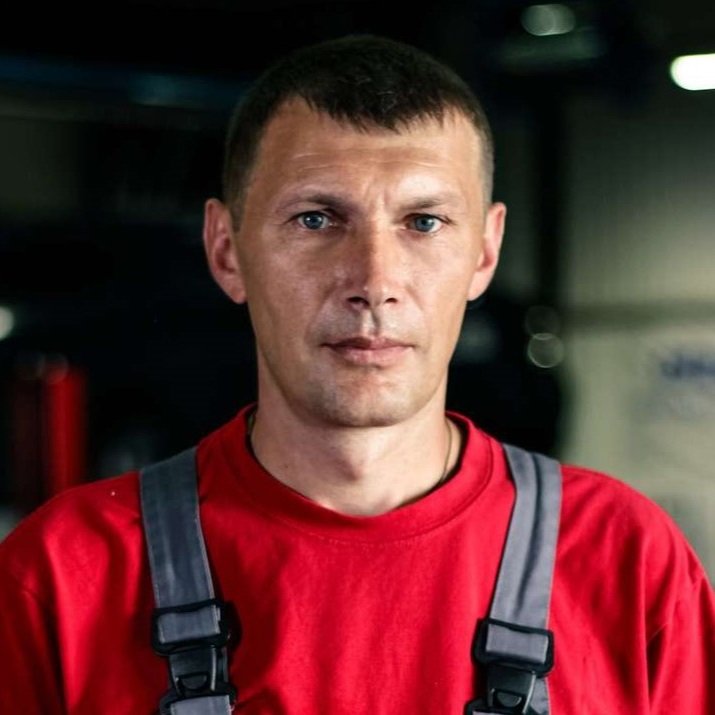 My name is Brandon, and I've been interested in cars since I was a kid. I got a bachelor's degree in Automotive Technology and worked in a private car workshop. I have two cars that have been completely upgraded with my own hands. So I successfully put all my knowledge into practice.
Last update on 2023-02-17 / Affiliate links / Images from Amazon Product Advertising API