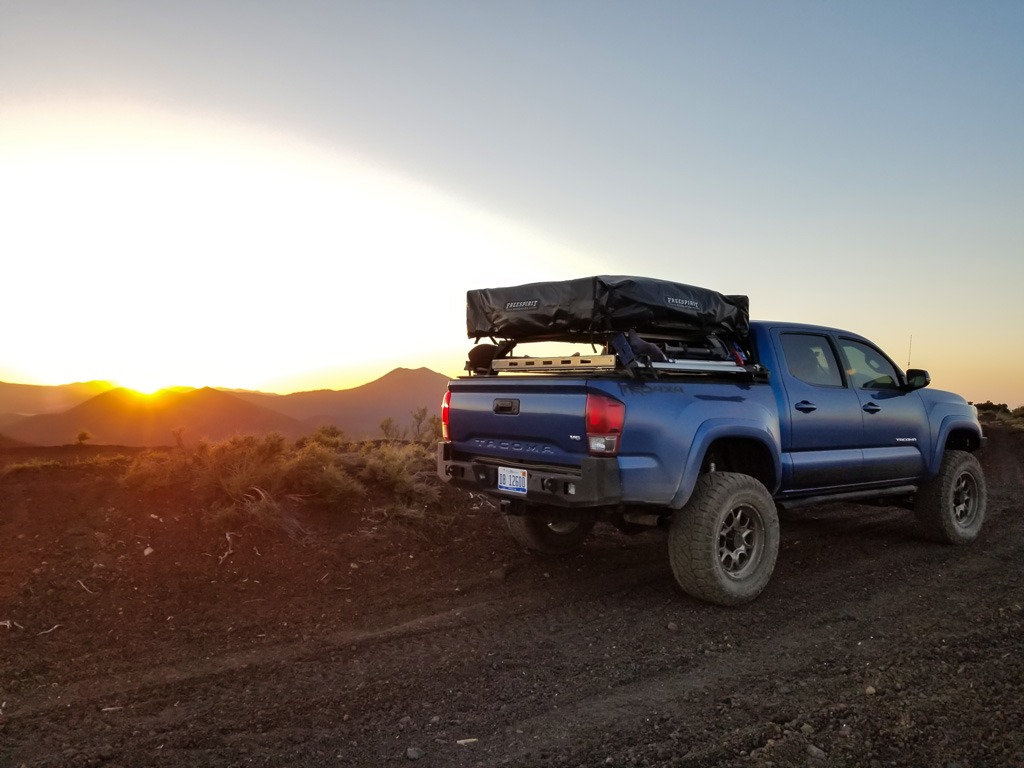 A bed rack is a set of metal (usually aluminum or steel) bars, fixed on the truck bed's side rails. Adding a bed rack to your truck is an excellent way to increase its storage capacity. More precisely, it creates an extra level on the bed allowing you to put more stuff on it. It also gives you the possibility to transport objects that are bigger than the truck bed space.
Of course, the bed rack's capacity is limited. Thus, you should always check the maximum weight capacity of the rack before getting one. As for Tacoma bed racks, they usually have a maximum capacity ranging from 400 lbs to 900 lbs. You should also consider the rack's body style, as it affects the type of cargo you can attach to it. It's also critical to keep the rack's exact dimensions in mind. Furthermore, make sure that the bed rack is higher than the bed itself. Otherwise, the bed's inner storage space will be limited.
There are three types of bed racks:
Crossbar bed rack (consists of two crossbars)
Cargo bed rack (a set of rails)
Expedition bed racks (heavy-duty frame with great load capacity and extended storage space)
A bed rack is indispensable for pickup truck owners who need to transport more luggage than their vehicle can accommodate. Fortunately, many third-party brands specialize in Toyota Tacoma models. To make your choice easier, we have compiled the most decent bed racks for Toyota Tacoma in one top.
Reviews of Toyota Tacoma Bed Racks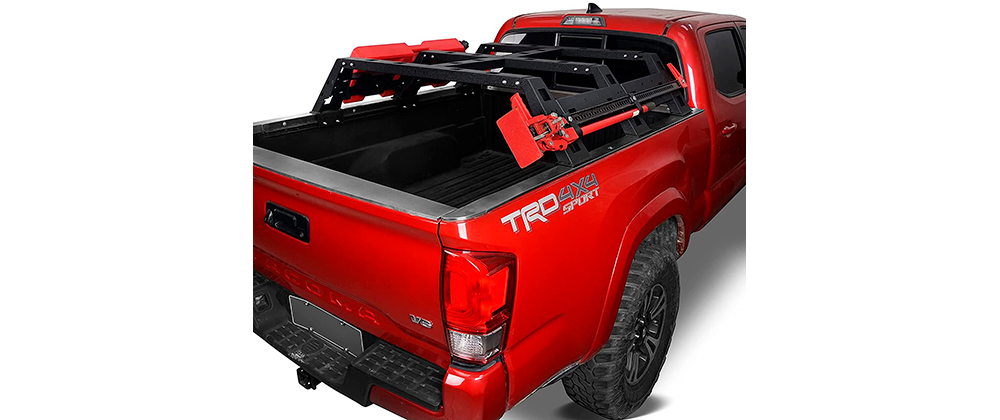 It's probably the best bed rack for Tacoma in terms of durability on our list. This heavy-duty frame consists of 6 CNC laser cut rails that are made of sturdy 14-gauge alloy steel with a black powder coat finish for corrosion protection.
The rack is 62.99 inches long, 49.92 inches wide, and 11.49 inches high. The 11.49 inches of space between the rack's top point and the bed sides mean that its storage space won't be limited. It's compatible with Toyota Tacoma models, manufactured from 2005 to 2021.
The build quality is excellent, and it can be compared to more expensive Toyota Tacoma bed racks. The frame's sturdy construction allows it to carry a diverse range of cargo, including tents, snowboards, bikes, kayaks, spare tires, and so on. It also features numerouscutouts that you can use to fix accessories. The rated dynamic capacity is 440 lbs and static capacity is 880 lbs (note that it's applicable only for the evenly distributed cargo). The weight of the assembled unit is 86.4 lbs.
The rack ships disassembled, but it's not difficult to put it together. You won't have to drill any additional holes or perform any other modifications. The rack attaches to the bed's side rails with the help of T-slot nuts that are included in the kit (along with the other items that are necessary for installation). To begin, use the provided hardware to assemble all of the rack's components. Then, secure the construction to the bed rails.
Pros
The package includes hardware for fixing the spare tire on top of the rack and a RotoPax Fuel pack fixing mount.
The coating has been successfully tested for withstanding 100 hours under the salt spray, so you can be sure of its resistance to corrosion.
The rack provides a good amount of sliding space, making it easier to evenly distribute the weight.
Cons
The provided instructions are poorly printed, so it's better to search for an installation guide on YouTube.
It's easy to damage the coating during installation, so be careful.
Overall rating: 10/10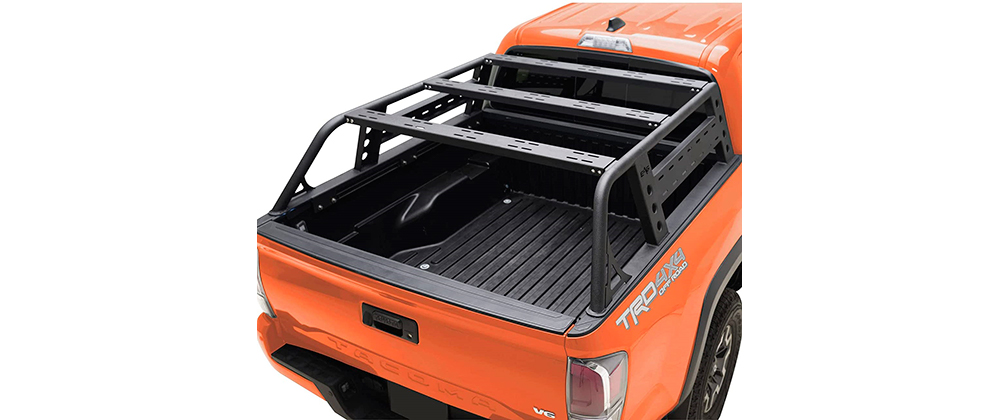 This bed rack fits Toyota Tacoma manufactured between 2016 and 2021. The maximum load capacity is rated at 440 lbs dynamic capacity and 880 lbs static capacity. The total weight is 118.8 lbs.
The rails are formed from steel with a satin black powder coating that provides long-lasting corrosion protection. They have plenty of square cutouts on the bars and side rails that make mounting the accessories easier.
This bed rack for Toyota Tacoma is sized at 62 x 59 x 17 inches. It consists of 3 bars mounted on two side rails and accepts such types of cargo as spare tires, rooftop tents, recovery traction tracks, and many others.
All mounting hardware and instructions are included in the package. The installation is easy to accomplish. Bolt together all of the rack's components before mounting it to the bed rails.
Pros
The rack fits Tacoma Toyota models with both short and long beds.
The high-tensile construction of the rack ensures great durability and longevity.
The mounted tent is almost completely flush with the cab's top. This results in a lower center of gravity and less wind noise.
Cons
The instructions cover how to mount the rack but not how to put it together.
The space between the bars may appear to be too large for some types of cargo.
Overall rating: 9/10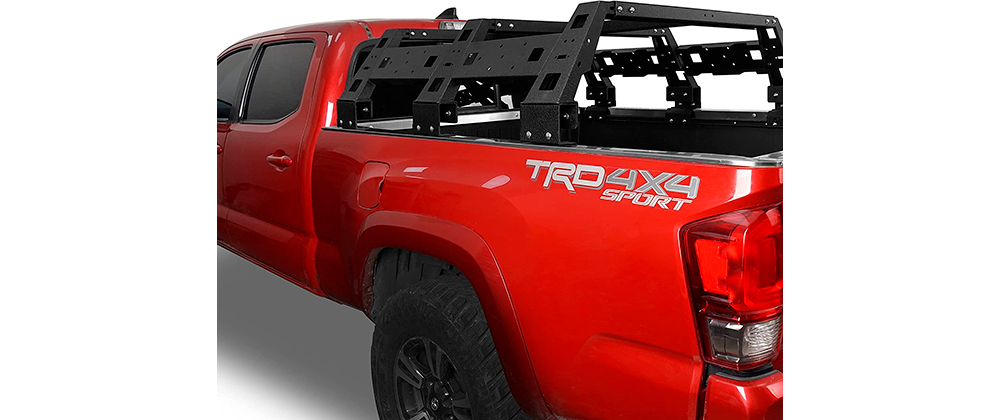 The rack ships in two packages: one contains the rack itself, and the second one includes 6 tonneau cover adapters that raise the overall height of the rack by 3.5 inches.
This model is compatible with the 2005 – 2021 Toyota Tacoma models. In my opinion, it's among the best bed racks for Tacoma with tonneau covers. However, note that the brackets and hardware that ship with the rack are too short for Toyota Tacoma 2021, so you will have to use third-party hardware when installing this rack on this model.
The rack is made of black-coated steel. It has numerous square-shaped cutouts for mounting and organizing accessories such as shovels, axes, bikes, and accessories.
The rack comes with all the washers, nuts, and bolts that you are going to need for installation. It's easy to assemble by yourself.
This Toyota Tacoma overland bed rack measures 62.99 x 49.92 x 11.49 inches and weighs 86.4 lbs. It has 440 lbs max dynamic capacity and 880 lbs max static capacity. The dimensions of each tonneau cover adapter are 13.0 x 7.5 x 5.9 inches.
Pros
The manufacturer guarantees that the coating will prevent the rack from rusting for 5 years under normal conditions.
The robust steel construction allows the rack to constantly withstand heavy loads with ease.
The E-coating provides excellent corrosion protection.
Cons
Not all of the rack's components are powder-coated, and they may rust in the future.
It is incompatible with the factory tri-fold tonneau cover on the Tacoma, as well as covers with integrated T-slot rails.
Overall rating: 9/10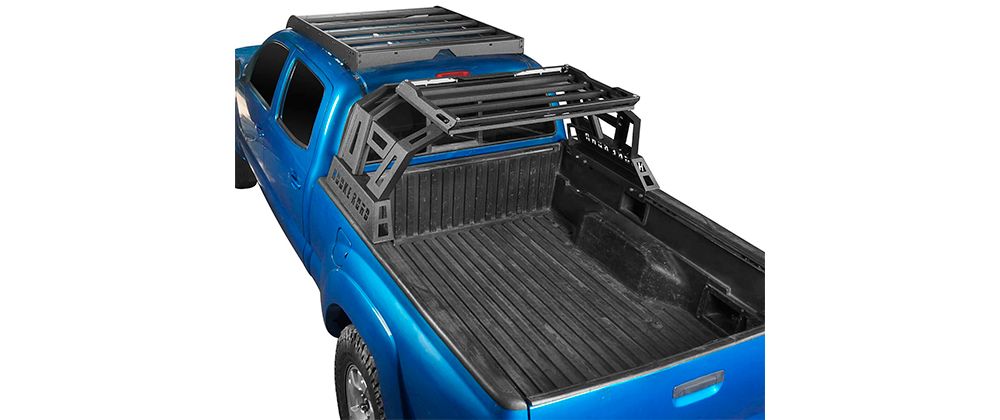 The most notable feature of this rack is its innovative design, which allows you to adjust the distance between the beams (from 6 inches to 3 inches). This way, you can easily mount accessories of different sizes on it. You can even remove all the beams or some of them if you need. This way, it's one of the most versatile bed racks for Tacoma.
The U-clamp installation is very simple, and you don't have to drill any additional holes. You won't even need any hand tools: the bolts can be tightened by hand.
The rack is made of carbon steel with a black, anti-fading coating with a metallic finish.
It consists of 3 arch braces and 8 beams, positioned on its top and sides. There are numerous pre-cut holes on the rack's surface for mounting accessories.
The rack is 60 inches long, 56 inches wide, and 13 inches high. The weight is 93 lbs. The maximum load capacity is 900 lbs. This rack is compatible with the 2005 – 2021 Toyota Tacoma models.
Pros
The bolts that come with the rack have a dacromet coating that makes them weather-resistant and provides long-lasting protection against corrosion.
The electroplating pre-treatment ensures superior durability.
The rack is covered with a carbon substrate that provides additional protection.
Cons
The rack is not compatible with tonneau covers.
The beams take a long time to install.
Overall rating: 9/10
Buyer's Guide
RCI Bed Rack for 2016-2019 Tacoma
Toyota Tacoma Bed Rack FAQ
How to choose the best bed rack for your truck?
If you really want to purchase a rooftop tent, you should pay attention to its type, the number of people for whom the unit will be used, and the kind of bad rack, which accommodates your lifestyle. In order to understand whether the tent is useful for your car, you need to refer to its technical characteristics. Indeed, if you incorrectly determine the permissible load (usually, it is 30-40% of the allowable), the consequences can cost you a pretty penny.

The suitable overland bed rack choosing isn't an easy process, so you should pay heed to the following specific moments.

– Determine its height. Correctly chosen bed rack should be mounted only over the head, otherwise, the person has to bend down head all the time when he or she enters the tent. Created annex room is a good sanctuary for bad weather conditions, so it's also recommended not to mount it high, as a serious fuel consumption can appear (additional MPG loss is possible due to the inappropriate space warming up). If you want to retrench, the tent should be fastened not above the vehicle cab height.
– Choose the required tent size. For instance, popular Toyota Tacoma bed rack is available for 5.5 and 6.5" beds, it's powder coated, and is made from 1/8" steel. The 60" universal bed rack can be used for many other cars, which covers almost all the vehicle, without leaving the unsupported overhangs.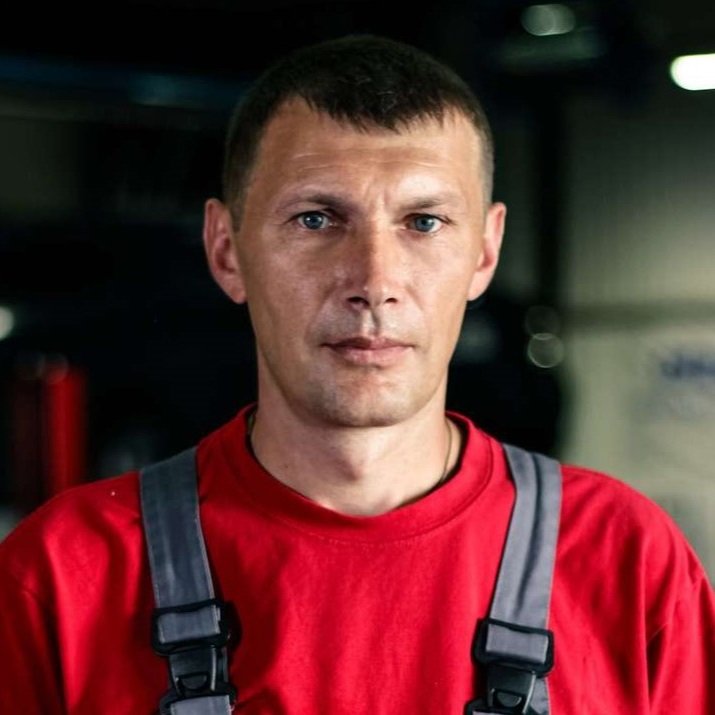 My name is Brandon, and I've been interested in cars since I was a kid. I got a bachelor's degree in Automotive Technology and worked in a private car workshop. I have two cars that have been completely upgraded with my own hands. So I successfully put all my knowledge into practice.
Last update on 2023-02-17 / Affiliate links / Images from Amazon Product Advertising API