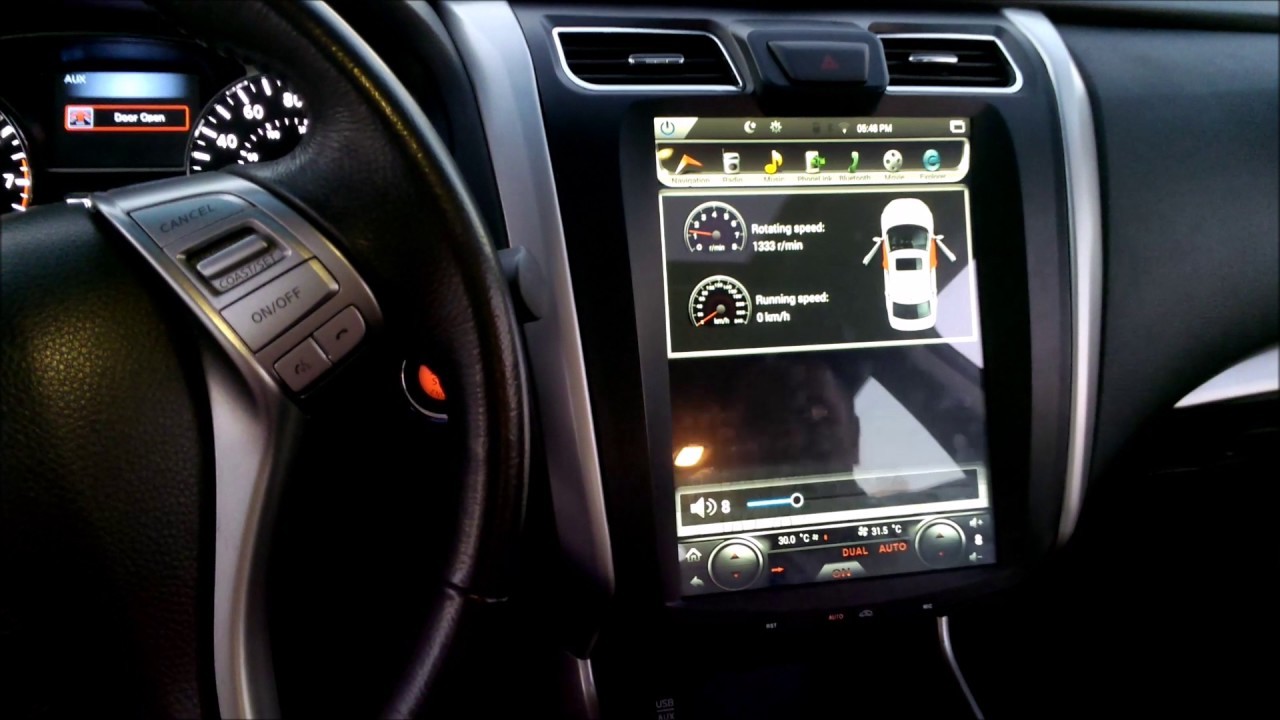 Those who need to replace the original media system in a vehicle should bear in mind a large-screen Tesla Style radio. It supports 100% of native tablets' functionality, having a lower price. Furthermore, the drivers receive the most modern high-tech alternatives that were previously unavailable for their older vehicles. The models in the descriptions below are designed for various car models. Read to choose the best Tesla style head unit to navigate without a problem and enhance the video/audio experience.

Tesla Style Head Unit Reviews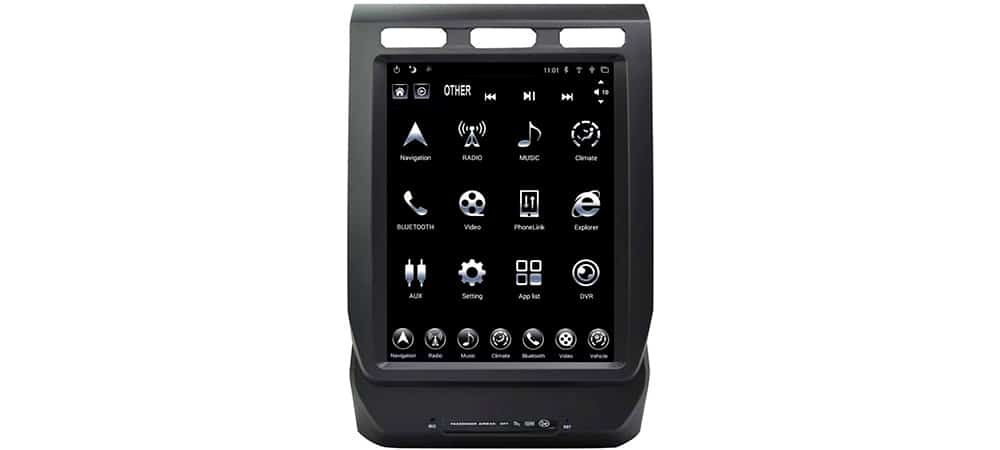 The T-Style radio F150 is an Android-based multimedia center with GPS navigation regarder as the best Tesla style radio for f150. It's a good replacement for the factory unit thanks to the 12.1-inch multi-touch screen with a resolution of 1,280 x 800p and high responsiveness. Climate control and all associated features are easily accessible thanks to the on-screen interface.
This device makes it possible to use different navigation systems (Google Maps, Waze, HERE WeGo, etc.). The unit's Wi-Fi connectivity allows downloading various applications from the app store. The tablet has a File Manager for removing or uploading files from the hard drive.There is also an SD slot and a USB port to download updates. The built-in Bluetooth allows the driver to accept calls hands-free and enjoy music. The unit has 2 GB of RAM and 32 GB of ROM that is not much but quite enough to manage files and use the apps.
Pros
The screen is really bright, and the picture quality is superb.
The Tesla Style radio F150 is easy to install since all the cables are labeled.
Cons
It takes a minute or even a couple of them to start working once the vehicle is turned on.
It lags sometimes while downloading apps.
Video Sintegrate LinksWell Fit for Ford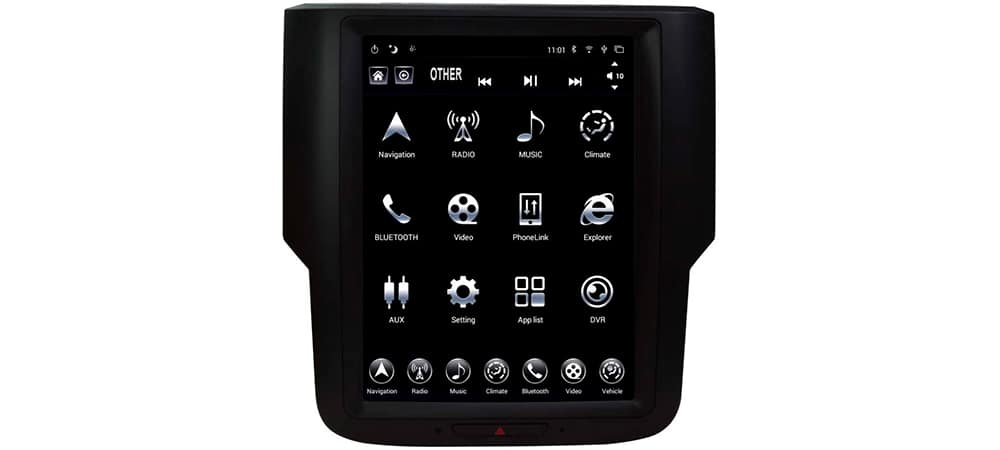 The Android-operated Tesla Style radio for Dodge Ram is designed with a 10.4-inch vertical touch screen. It is notable for its backup camera and full-fledged multimedia. So, the driver can watch videos and enjoy audio with perfect HDTV picture quality and clear sound. It is also possible to utilize a variety of navigation systems and maps, both online and offline.
The Bluetooth will connect a driver to a phone for calling and playing music. The Wi-Fi connection to hot spots and the USB port are onboard. This model comes with 2 GB of RAM and 64 GB of ROM. The device can support manual and auto AC, XM Satellite radio, and voice control via Google Assistant.
Pros
The drivers can mirror their phones to the T-Style radio screen.
The unit has the input for the side camera.
The climate control works flawlessly. It provides a full range of factory radio options, from temperature control to heated and ventilated seats.
Cons
The tablet does not support SIM cards.
It takes almost a minute for this Tesla radio to start working.
Video Sintegrate LinksWell Fit for Ram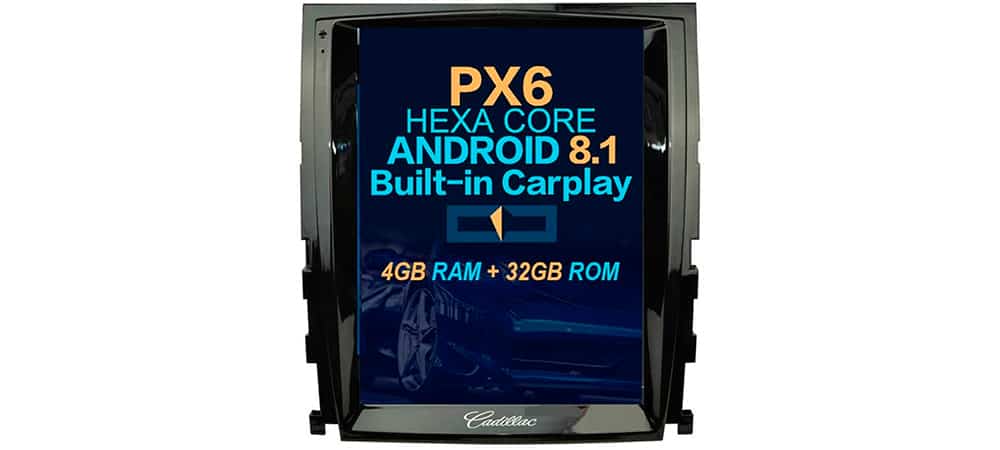 This Tesla Style radio works on Android OS. It has a 10.4-inch screen with 1,024 x 768-pixel resolution and the ability to support 4K video format. It has 4 GB of RAM to provide responsive work of apps without lagging. The ROM is 32 GB.
The GPS Dual Zone function allows you to travel while both listening to music or watching movies. The entertainment is available through the tablet itself, and it's also possible to connect DVDs through an auxiliary jack. For example, the main zone has a full-fledged control panel, and the second one produces DVD content. One can switch between DVD video and radio audio anytime. Another input works to hook up a rearview camera to this Tesla Style screen.
A built-in Wi-Fi modem for mobile phone Wi-Fi hotspots and Bluetooth with a mic to accept calls without using hands are among other useful features. This feature makes it potentially the best Tesla style radio for RAM 1500. The built-in FM/AM tuner on the unit is equipped with a strong radio chip that produces loud, high-quality sound.
Pros
Bluetooth enables downloading contacts from the cell phone and stereo music playback.
Equalization serves to customize the sound, depending on the music genre, by choosing the relevant mode (Rock, POP, Jazz, Classic). Besides, there are Flat, User, Loud, and other modes to regulate sound and volume, considering personal preferences.
Cons
There's no stereo input in this Tesla like screen for car. It makes drivers change the amp volume via the steering wheel and head unit volume via the screen.
The steering wheel controls are not accurate.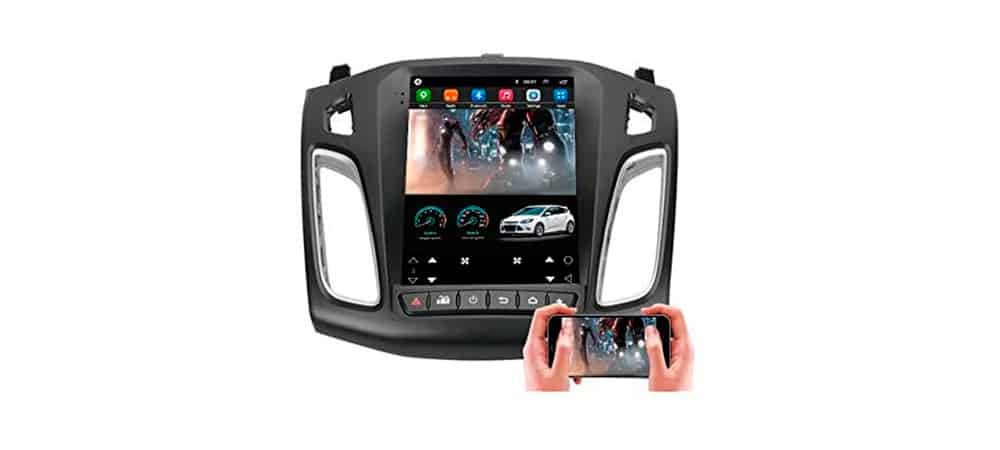 This black-colored Android-based Tesla Style head unit is designed with 10.4-inch IPS touchscreen and steering wheel control. Like most Tesla radios in this class, it comes with 2 GB of RAM and 32 GB of ROM. The latter can be extended up to 64 GB. The unit has a typical set of features, meaning Bluetooth for music and calls, Wi-Fi, GPS, and maps onboard. The entertainment includes watching the video (even in 4K format) and enjoying audio. Besides, it's possible to navigate and enjoy radio at a time.
This potentially the best Tesla style radio is equipped with a Quad-Core A53 1.5GHz CPU, which is strong enough to handle high-resolution films, demanding programs, etc. while maintaining the device's efficiency and stability. The Digital Signal Processing (DSP) features 16 settings to customize sound based on the content.
Pros
The unit supports the CAN Bus system to facilitate the control of all parts of the vehicles.
While watching videos, the visual quality is clear and bright.
Cons
It lacks the input to connect a factory backup camera.
It's challenging to figure out how to install the device since it comes without a manual.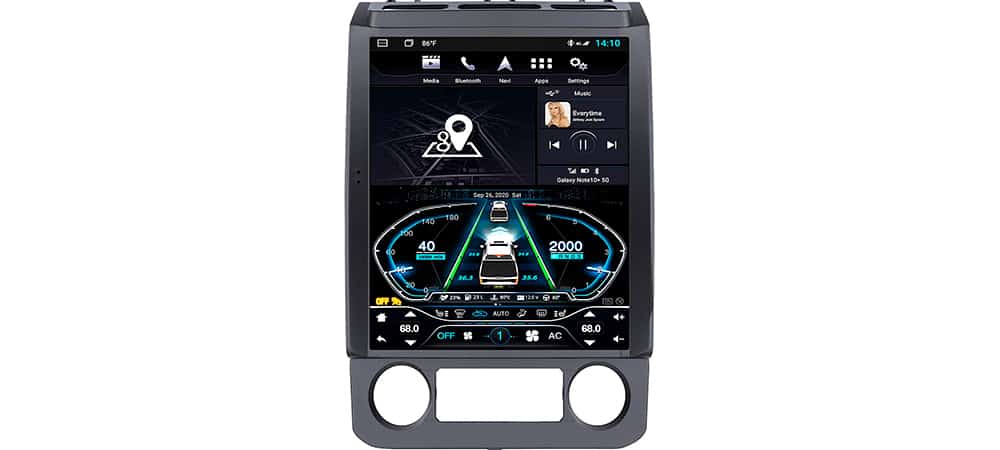 The F150 Tesla Style radio with Wi-Fi connectivity is designed with a 12.1-inch display with a resolution of 1,024 x 768p. It's a Bluetooth-capable unit to manage phone calls and listen to audio. The radio features 4 GB and 64 GB of RAM and ROM, respectively to use pre-installed and downloaded apps seamlessly. GPS is available via multiple systems and maps. The camera input allows connecting either factory or aftermarket backup, front, and side cameras. SIM cards are also supported.
This model has AM/FM radio and SiriusXM radio. The equalization has 32 steps to adjust audio and make it perfectly balanced. The driver can watch a video and navigate simultaneously thanks to the Split display option. To guarantee safe driving, the gadget also displays the status of all car doors.
The Tesla style car stereo features 2 USB inputs for firmware updates and 1 auxiliary input to connect USB-capable devices. This model has voice control to manage both a car and entertainment (audio, phone, lighting, air conditioning, camera, and so on).
Pros
The F150 T-Style radio has CarPlay apart from Android Auto to be compatible with iOS devices.
Nine languages are supported for voice control on the head unit.
Cons
Sometimes, it may run several apps simultaneously instead of one.
It supports only the original backup camera.
Interesting Facts About Tesla Style Head Units
The Tesla style head unit appeared in 2014 on the basis of regular Android head units.
The device doesn't have any direct link to Tesla company – the name comes from the similarity of physical parameters to those of computer interface used in the Tesla cars: vertical screen orientation and large size (the diameter hovers between 10 and 15 inches).
The units were primarily intended for the high-end cars since the big vertical screen in most cases doesn't squeeze up into a smaller torpedo of a regular car.
The majority of manufacturers of the Tesla style head units are China-based companies.
The device lets imitate the phone display and functions completely. This allows using the head unit right out of the box.
Unlike regular Android head units, the Tesla style ones don't have the limitation for the apps installed — you can freely download entertaining and social networking apps. These devices boast large fast (RAM) and stock (ROM) memory capacity for storing various content and powerful processors handling the most demanding applications.
The Tesla style units are great for navigation tracking — due to large display and the possibility to expand the map full-screen, the area can be seen widely and the route programmed easily.
The majority of Tesla's screens are composed of IPS matrix and have great contrast, wide angle vision, high quality, and brightness.
The Tesla head unit can be connected to the car and serve as a car system showing the state of the main mechanisms and letting control the majority of functions (doors, windows, etc.).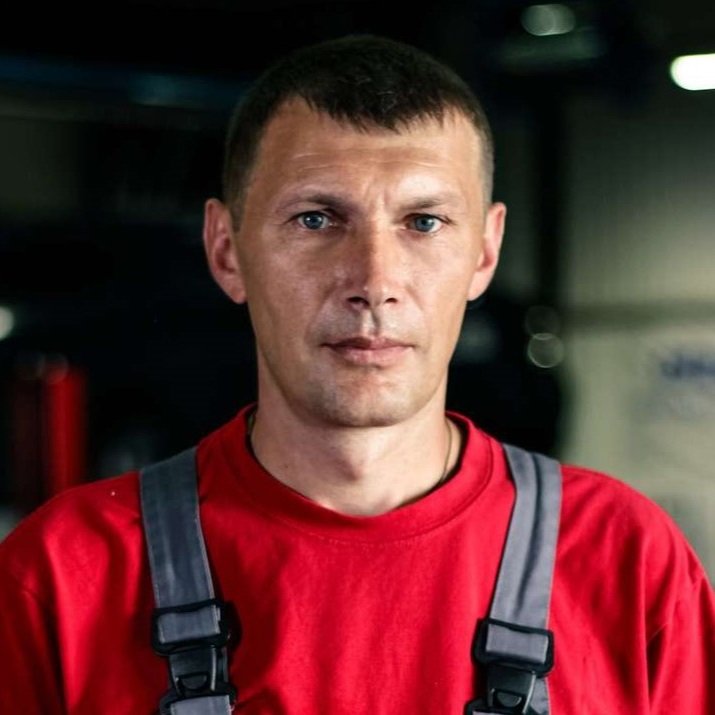 My name is Brandon, and I've been interested in cars since I was a kid. I got a bachelor's degree in Automotive Technology and worked in a private car workshop. I have two cars that have been completely upgraded with my own hands. So I successfully put all my knowledge into practice.
Last update on 2023-02-17 / Affiliate links / Images from Amazon Product Advertising API