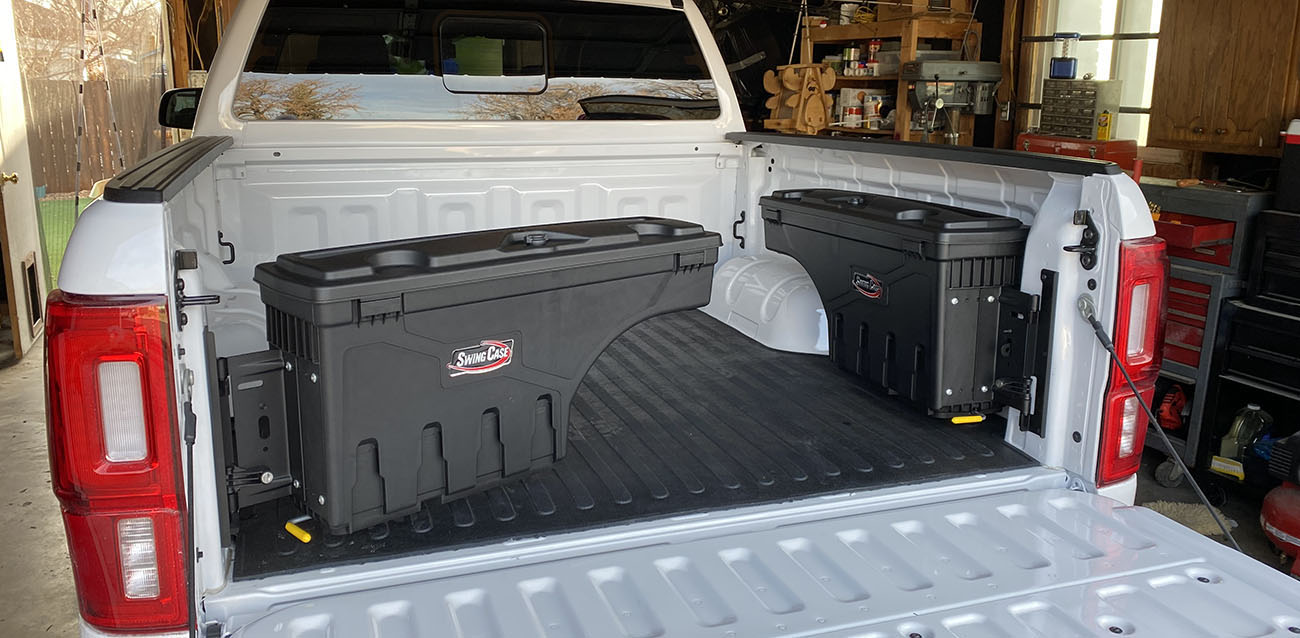 A toolbox is used to organize, store, and protect tools that you may need on the road. If you own a Ford Ranger, take frequent long trips, and constantly need tools on hand, the best tool box for Ford Ranger is definitely a must-have.
Toolboxes can be made from various materials. Modern ones, however, are often made of metal or plastic because of their weather-resistant qualities. Each of them has its advantages and disadvantages.
Plastic is cheap, lightweight, and easy to clean. Plastic boxes can weigh as much as empty metal boxes when they are filled with tools. Nevertheless, even those boxes that are made of dense, high-grade plastic can't compete in strength and longevity with metal ones. In addition, they easily splinter even with minimal overloading.
Metal boxes are typically made of steel or aluminum. They are heavy yet durable, so they can withstand the weight of many tools. However, such boxes are prone to corrosion. They might also harm the truck bed's surface with their sharp edges. In addition, the tools may rattle against the metal walls of the box, causing constant clunking noise.
Tool boxes must be compatible with the type of the vehicle since they are frequently placed on truck beds. That is why we have chosen the most solid yet affordable models that will provide secure storage for your tools. More information about our top picks for the most suitable Ford Ranger toolbox can be found below.
Reviews of Tool Boxes for Ford Ranger
UnderCover SwingCase — Fits 2019–2020 Ford Ranger Drivers Side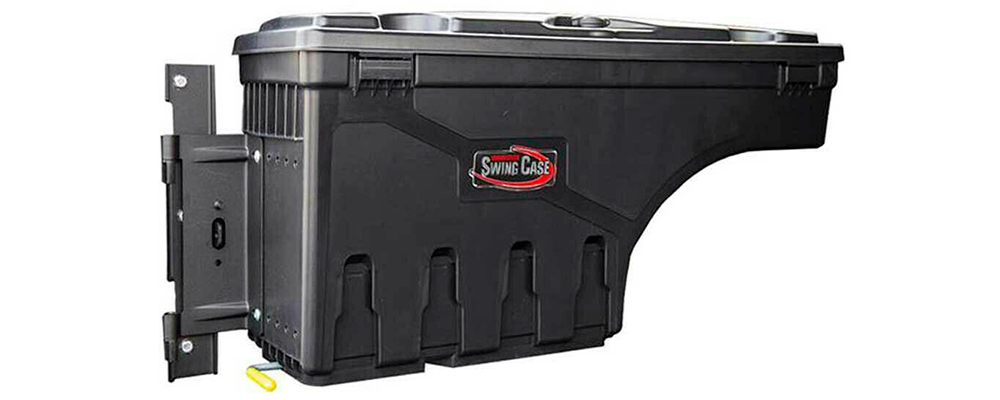 The present Ford Ranger bed tool box from UnderCover is designed for owners of the 2019 – 2020 Ford Rangers. This inexpensive storage solution is made of black, lightweight ABS plastic. It's tough enough to withstand heat and freezing temperatures, but the black finish will probably fade over time.
This Ford tool box is easy to install and remove when it's needed. Just screw it with 6 self-tapping screws; it won't take more than 10 minutes. When mounted, the box has a 3-inch clearance above the truck bed's bottom.
The container allows you to quickly access your instruments because it swings out up to 180°, allowing you to reach it from the tailgate without climbing into the truck bed or reaching over. It locks over the steering wheel, so don't worry about the box moving back and forth while you're driving. The container ensures secure storage thanks to the key-lockable lid that can be closed with the help of a special key that comes in the kit. There are also two molded slots on this lid that may be used as cup holders.
The box measures just 9 x 34 x 16 inches and weighs only one pound. It doesn't take up much space, but it's quite spacious inside and can hold a fair amount of stuff. Its maximum cargo capacity is 75 pounds.
Inside, this Ford Ranger tool box features an organizational tray (removable) and 3 compartments. In addition, the interior of the box features a moisture seal to keep your tools dry.
Pros
There is a particular knob that allows you to open and close the lid without using the key for added convenience.
The box ships with a metal bracket kit for reliable installation.
The box is compatible with any type of truck bed cover.
Cons
Since the box is constructed of plastic, direct sunlight should not be allowed to touch it; otherwise, it won't survive very long.
It doesn't have a cushioned liner for additional protection for your tools.
The Ford Ranger bed box doesn't fully open when it's against the side of the truck bed.
Overall rating: 9/10
UnderCover Swingcase — Fits 2019–2021 Ford Ranger Passenger Side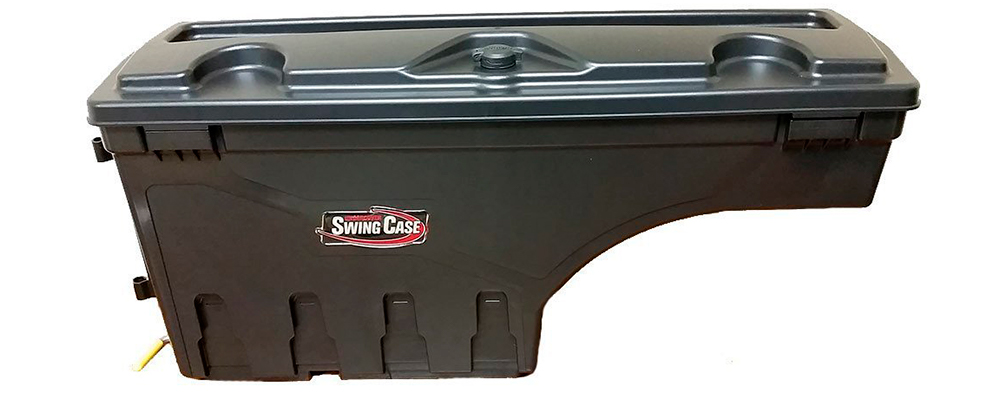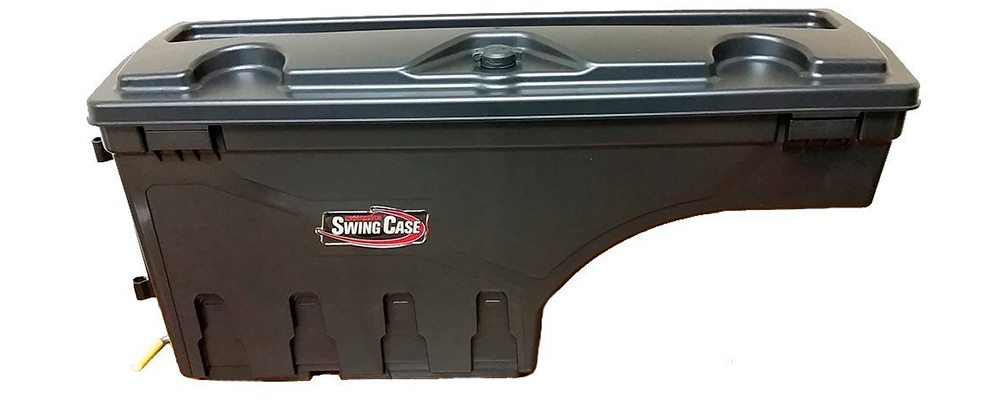 UnderCover offers the SwingCase tool box for a variety of vehicles. The current version is identical to the last one, however it is made to fit Ford Ranger vehicles that go on sale between 2019 and 2021. This Ford Ranger tool box size is 9 x 34 x 16 inches, and it weighs one pound.
Overall rating: 9/10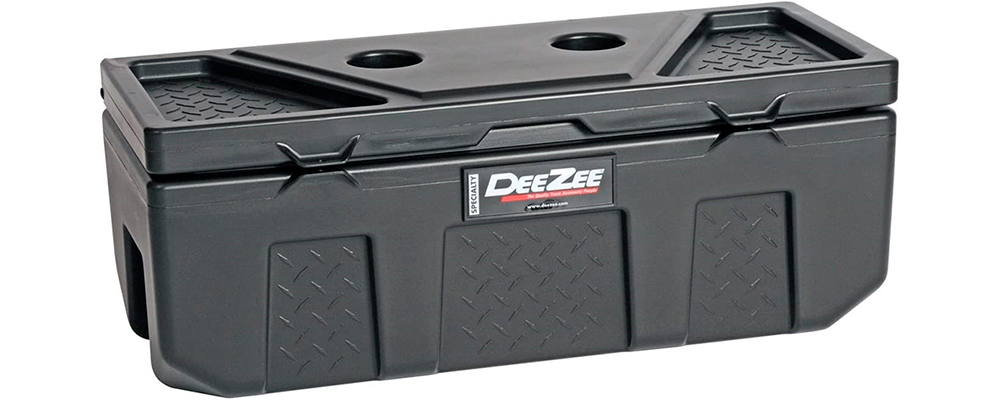 The Dee Zee 6535P is an economical storage box that is shaped like a chest. It will fit older and new models of Ford Ranger. The box may be mounted either on the rear seat or the truck bed. Depending on where you are going to attach it, you can use bolts, washers, or nuts to install the box.
This Ford Ranger truck tool box isn't flat on the sides: there are two cutouts on the left and right that serve as handles. They do, however, take up some of the interior space. This tool storage box is 36 inches long, 14 inches high, and 14 inches wide, and it weighs 1.25 pounds. It's quite spacious inside, with a volume of 3.6 cu. ft. Unfortunately, there is only one storage compartment.
The box is constructed of dense black plastic. Its walls are thick, which suggests that it will last a long time. There is a foam gasket around the lid that makes the box watertight and prevents any moisture from getting inside of the box. The top of the lid features two molded cup holders. The lid also has special built-in tabs, designed for padlocks. If you're concerned that someone could open the box and steal your tools, you can add them.
Pros
It is covered by a lifetime warranty.
The box has a rigid frame that is resistant to warping.
The lid is double-walled for extra durability.
Cons
The walls of the chest are thicker than its bottom.
The tool box Ford Ranger doesn't have any sort of latch or lock.
It comes without any installation hardware.
Overall rating: 8/10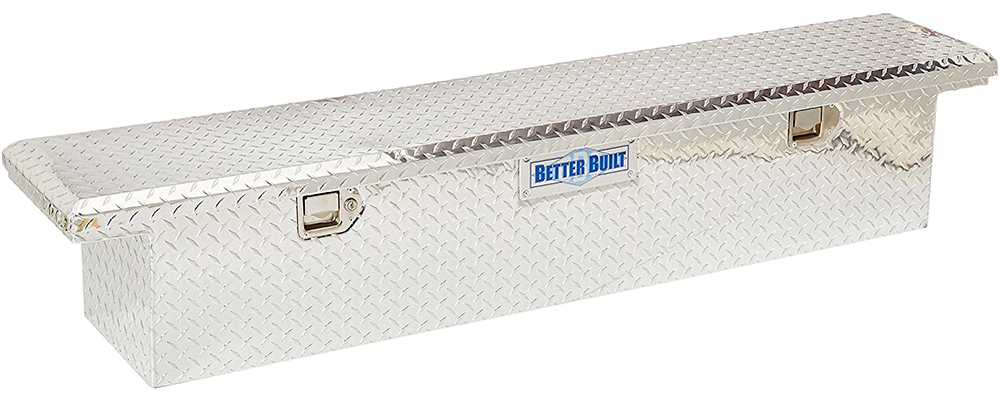 The 73010284 is an aluminum box with a low-profile design (72 x 15 x 18 inches). You are receiving additional free room in your truck bed because of its thin build (it takes up only 12 inches of front to back space). It fits most full-size trucks and is designed to be installed inside of the truck bed against the back window.
This tool box for Ford Ranger weighs 24 pounds, so it's lightweight as for a metal model. However, the lid is heavy and hard to open, so the manufacturer has equipped it with auto-lift self-rising shocks that allow to effortlessly open it with just one hand.
The stainless steel pull handle latches serve as a locking mechanism.
The box has only one compartment. It's constructed of aluminum sheets that are welded together, so it doesn't have a heavy-duty design. So, it isn't designed for very heavy loads.
The box has a traditional metal hue with no coating. Nevertheless, its shiny, reflective surface will probably attract a lot of dirt. Water and snow will not get into the box because of the waterproof membrane with a complete seal.
Pros
It does not block the view out the back window.
The box is rust-resistant.
The self-adjusting strikers that are guided to the latch provide a secure closure.
Cons
The box is composed of thin metal that bends and dents readily, so take care when installing it.
The welding on the corners is bad.
Overall rating: 7/10
Buyer's Guide
Ford Ranger Tool Box Review
Ford Ranger Tool Box FAQ
How to organize a tool box for your car?
Every type of car has its own tool chest on the market. For example, one can get a special Ford Ranger tool box in different bundling. If already having the tool box before buying a new car, consider the following tips to get the ready-to-use guide of organizing tool carts and to skip the quest for finding the optimum arrangement.
The most convenient chests have the multi-level drawers with several compartments in each of them.
Sockets, screwdrivers, and other units coming with the size marked and aligned with fractions should be stored sorted in the dedicated drawers to avoid their mix-up. Because they are often used tools, they should be kept in the chest's upper drawer.
Wrenches, chisels usually take up the middle drawer. The largest, heaviest, and the most specific tools that come in handy quite rare should be stored in the lower drawer. It protects the box and keeps it steady while being transported on the truck.
How to install a toolbox for Ford Ranger?
Some chests are immovable and must be properly placed to meet the vehicle bed. It's not necessary to put screws into the truck or buy a pre-made kit with the hardware. Just use four 5/16-inch j-bolts and the correspondent nuts as well as four big finder-washers and a wrench with the appropriate size. Then, make the following steps:
Put the box on the truck bed, close it and roll it over.
Attach foam padding to the truck rails. It serves as a damper or insulation to prevent surfaces from scratching.
Roll over the box to the place where it should sit.
Open up the box.
Run the bolt up through the hole from the bottom of the truck rail and the box so the j-bolt hooks both of them.
Put the finder washer on the j-bolt and fix them with the nut. Use the wrench to provide thought connection.
For each of the chest's holes, repeat the procedure.
How to open a truck tool box without the key?
The easiest way is to drill out the lock. However, in this situation, there will be no way to utilize the lock to open it. Install the padlock to compensate for this issue. Besides, it's possible to install a combo lock to use a combination code rather than a key.
What size toolbox for Ford Ranger?
If you wonder what size tool box fits a Ford Ranger, it dependd on the toolbox type. Ford Ranger truck toolboxes can be 36″ to 69″ length, 12″ to 24″ broad, and 9″ to 24″ deep.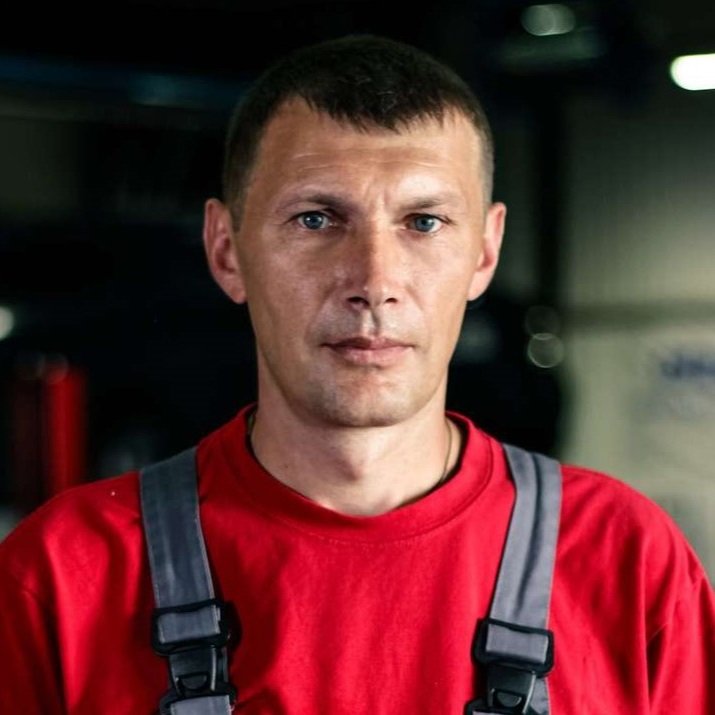 My name is Brandon, and I've been interested in cars since I was a kid. I got a bachelor's degree in Automotive Technology and worked in a private car workshop. I have two cars that have been completely upgraded with my own hands. So I successfully put all my knowledge into practice.
Last update on 2023-02-17 / Affiliate links / Images from Amazon Product Advertising API