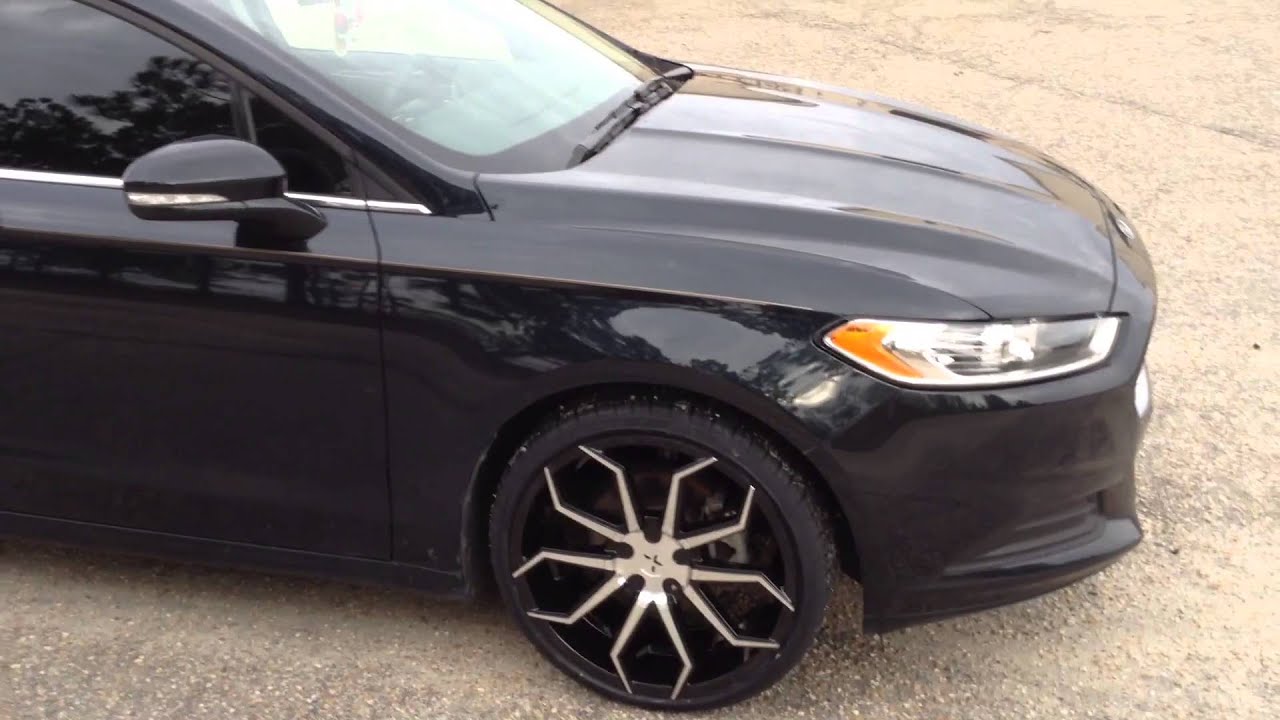 Rims often get scratched and polluted and therefore lose their shiny, like-new appearance rather quickly. So, every Ford Fusion owner will want to get some brand new, high-quality Ford Fusion rims at some point.
The style and finish of your rims can drastically alter the appearance of your vehicle. They can make the profile of your wheels flatter or more convex. However, you should also think about quality and safety. Rims should be durable but lightweight, as well as resistant to heat and corrosion.
Nowadays, high-quality rims are made of alloy (aluminum, nickel, etc.) or steel.
Alloy rims improve braking, are resistant to rust, and also protect your tires, extending their service life. They also come in a great variety of designs. Their main disadvantage is the high price.
Steel rims are easy to clean, and they cost less than alloy ones. They are sturdily constructed and can withstand many rough conditions. However, these rims don't offer much variety in design, so your choices will be somewhat limited.
There are numerous options on the modern market, and many of them are less expensive than the stock ones while not sacrificing quality. In fact, you have to find a balance between the rims' appearance and quality. Considering these points, we have picked 4 models to help you find the perfect ones. So read on and choose wisely.
Ford Fusion Rim Reviews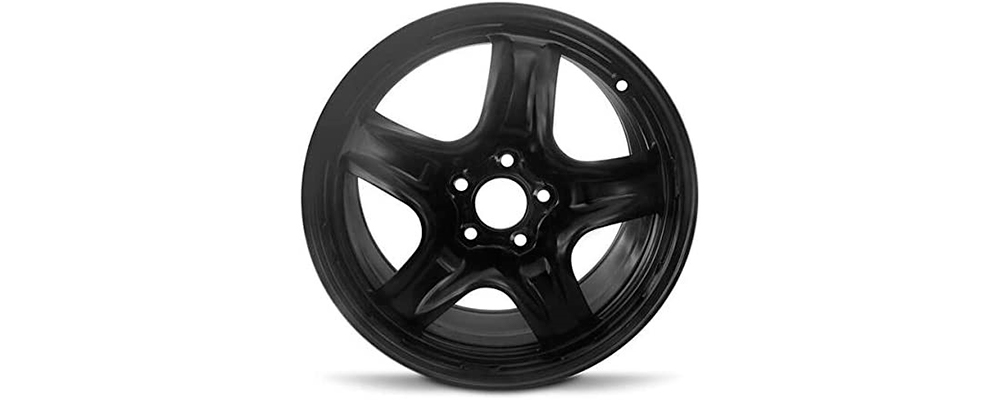 If you want to see your Ford Fusion with black rims, give this model a chance. These rims have a gloss black finish to help you create an all-black look of your Ford Fusion or add some accent to the overall look (the rims go especially well with blue, white, and red models).
These rims are an exact replica of the OEM but much cheaper than the replacement offered by Ford (they belong to the budget range). This way, considering the price, they appear to be a really beneficial option. The discs are 17 x 7.5 inches in size and are intended for Ford Fusion models from 2010, 2011, and 2021. They are also compatible with all factory equipment (wheel covers, TPMS sensors, and mounting nuts), so you can keep them when you replace the rims.
These black Ford Fusion rims are made of steel and have successfully passed all the tests for toughness and ability to withstand harsh weather conditions (heat and extremely cold temperatures) while meeting all safety requirements.
The installation is simple because the rims are manufactured in accordance with all factory specifications and thus do not require a specific mounting system (114.3 mm bolt pattern; 17 inches in diameter). You won't have to pay extra for professional installation this way.
Pros
The manufacturer packs them well, so they won't get damaged during shipping.
The rims are indeed as durable as it's promised by the manufacturer.
They have a thick two-piece construction that ensures durability.
Cons
The finish may fade over time.
The rims don't fit the OEM Ford Fusion 2011 SE hubcaps.
Overall rating: 9/10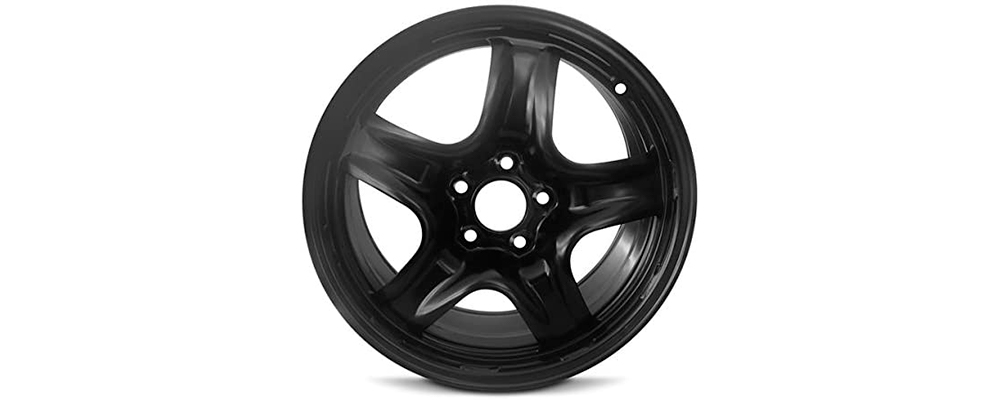 This Ford Fusion black rims and the previous ones are exactly the same, but these are available from Bill Smith Auto Parts (instead of Road Ready Wheels). Just as the previous ones, they measure 17 x 7.5 inches. That way you can keep track of prices at both stores to get a better deal.
Overall rating: 9/10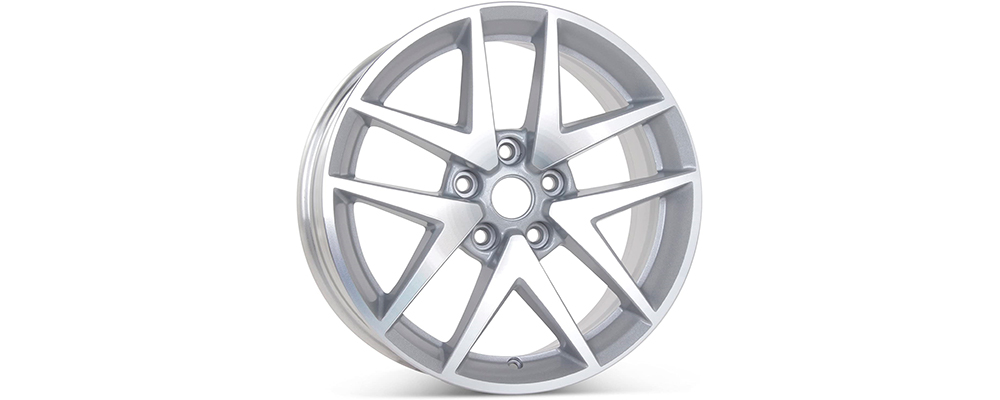 These rims are made of aluminum alloy, have a classic shiny silver finish, and have a 5-V-spoke design. Thanks to these rims, your wheels will have a lower profile. They are also available at a reasonable price.
These 2010 Ford Fusion rims measure 17 x 7.5 inches and have a bolt pattern of 114.3 mm. They are designed for Ford Fusion manufactured in 2010, 2011, and 2012. The discs fit perfectly and I had no problems with the installation process.
The rims come without a center cap, lugs, or TPMS sensor but are compatible with the original ones that you have on your Ford Fusion's wheels.
Pros
The rims are made of the same A356 aluminum alloy as stock Ford Fusion rims.
They come with a lifetime warranty on the finish, so you can be confident in their quality.
This model has been tested for JWL certification compliance (Japanese standard that ensures the safety of aluminum rims).
Cons
They aren't the best in terms of durability, so may crack under certain conditions.
The rims require frequent cleaning because their finish attracts a lot of dust and dirt.
Overall rating 9/10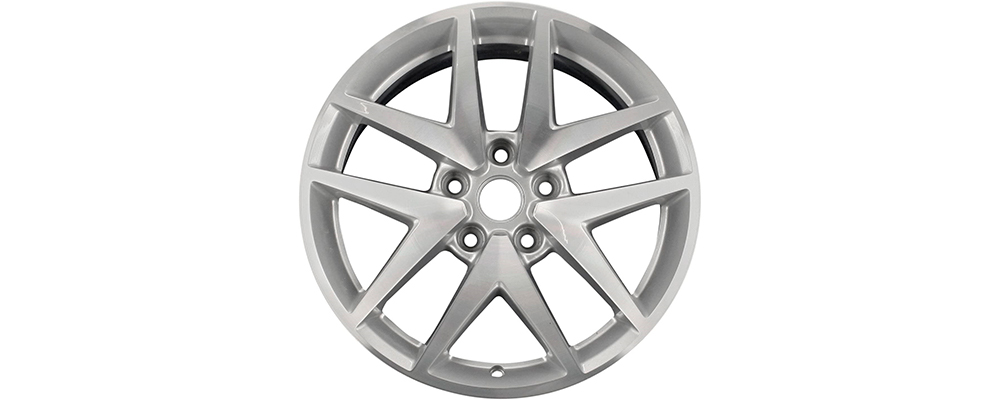 The rims are compatible with the 2010, 2011, and 2012 Ford Fusion models. They have a 17-inch diameter, a 7.5-inch width, and a 114.3-mm bolt pattern. These 2011 Ford Fusion rims are made of aluminum with a silver finish and have a 5-V spoke design.
This model is designed to be the perfect replacement for the stock rims. Nevertheless, they don't just look like classic Ford Fusion rims, but perform like them too, having been tested to SAE and ASTM standards.
Pros
The rims have JWL, VIA, ISO9001, QS9000, and TSI6949 certifications which means that they have successfully passed numerous safety and durability tests.
They have been manufactured to perfectly meet Ford specifications.
The paint is of high quality and will most likely last a long time despite the harsh conditions.
Cons
They are a bit more expensive than the other analogical options on the market.
These rims must be cleaned on a regular basis.
Buyer's Guide
Custom Wheels And Tires For The Ford Fusion
Ford Fusion Rim FAQ
How to put a tire on the rim?
Mounting a tire remember to lubricate all the parts lavishly throughout the process:

1. Set the valve stem firmly in the rim's opening (pull it with the pliers).
2. Put the rim flat, facing up. Make sure it lays flat and stable and install the tire on top evenly.
3. Apply the weight to the tire on opposite sides to make it slide past the upper metal edge.
4. Apply the weight to one side of the tire, making it go fully past the upper lip of the rim. The upper bead of the opposite side of the tire should be above the rim yet.
5. Set a pry bar between the tire and the rim where possible and start pressing the tire upper bead below the rim's lip. You'll need to make a full circle before having the tire fully mounted.
6. Fill the tire with air.
How to remove a tire from the rim?
For taking off the tire, you'll need a valve core displacement tool, a flat wide pry bar, a flat-head screwdriver, and a dish soap liquid. Once you're set, take the next steps:

1. Take off the valve core with a special tool and deflate the tire.
2. Put the rim face-down on the ground and apply the weight to the rubber to release the tire bead from rim's edge. You can step on the tire sides or even drive over them (but don't drive over the rim).
3. Apply dish soap along the rim's edge for debris removal and lubrication.
4. Get the rubber down on the rim and push a pry bar between. Pull the side of the bead up, insert a screwdriver and pry the bead up, inch by inch, around the rim. Repeat the procedure on another side of the rim.
How to fix a scratched rim on the car?
Got a scratch on your Ford Fusion rim? For this and the majority of other car rims, it can be repaired in an easy and cheap way:

1. Clean and degrease the entire rim.
2. Apply masking tape around the harmed area. Cover the wheel with the masking paper.
3. Sand the scratch. Then, cover it with Bondo putty and sand again until getting a smooth surface.
4. Spray the paint (the same color with the rim's finish) onto the scratch. Sand and spray again. Fix with the clear lacquer.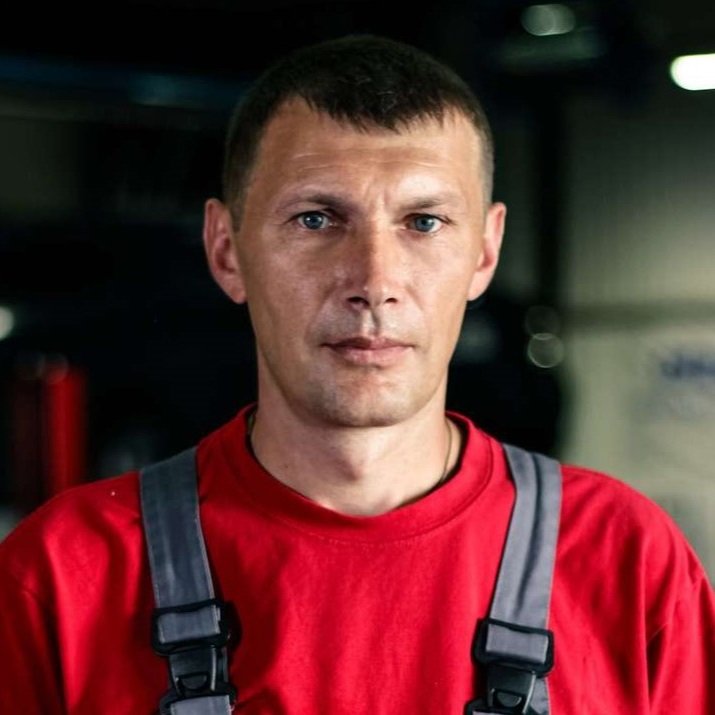 My name is Brandon, and I've been interested in cars since I was a kid. I got a bachelor's degree in Automotive Technology and worked in a private car workshop. I have two cars that have been completely upgraded with my own hands. So I successfully put all my knowledge into practice.
Last update on 2023-02-17 / Affiliate links / Images from Amazon Product Advertising API