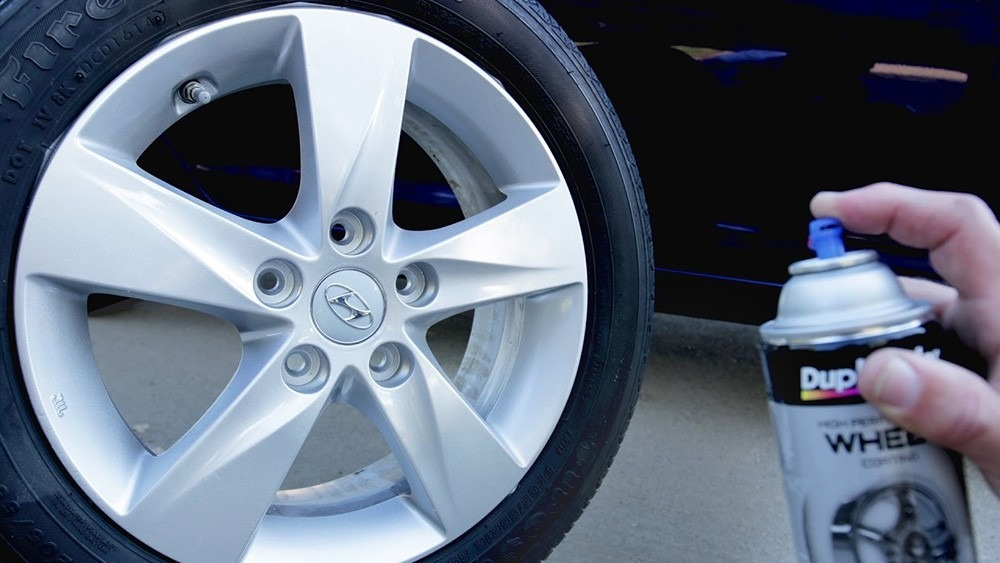 Sooner or later, in every driver's life comes a moment when the overall look of the wheels deteriorates, but the purchase of the new ones will be way too expensive. In such cases, the best wheel paint appears to be the most reasonable solution. After all, the wheels are constantly exposed to high temperatures and mechanical damages. Besides, the painting of the wheel is necessary for protection from different environmental influences.

Additionally, this is a great way to change the overall look of your car. The wheels also can be painted before car sale. This will increase its cost by giving it an attractive appearance, enhancing the chances to sell the car profitably.
The wheel paint reviews are aimed to help you pick the most appropriate and cost-effective product that either will return the wheels to their original appearance or will significantly change it. Read on to provide yourself with all the necessary information on the topic!
Wheel Paint Reviews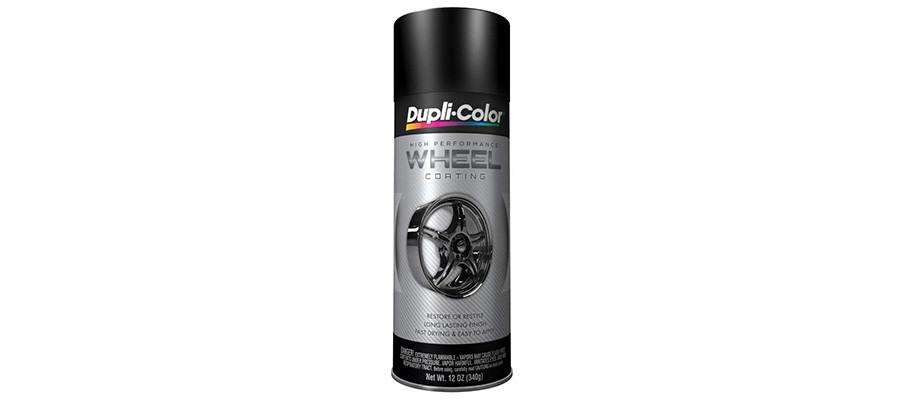 The Duplicolor wheel paint can be the best spray paint for you if you would like to give your wheels a glossy look and prolong their use. It's able to make the wheels resistant to peeling. Being supplied with an abrasive tip, it ensures convenient applying even in hard-to-reach places.
This black wheel paint can renew the worn-out wheels – its acrylic formula has the ability to recover their initial look. It's designed for non-professional use and dries quickly (for about 30 minutes) so you don't have to waste hours on the painting even if you will be applying two or three layers. You can already start finishing it after an hour after the painting is done.
After applying, it leaves a light metallic shine which will last in its original state for a long time due to peeling resistance. The paint doesn't spatter at all during the process of applying. It also can withstand frequent exposure to chemical detergents.
It should be noted that this automotive wheel paint is quite thick, so be very careful with application, using a reasonable amount​.
Pros
This aerosol can is very easy to use.
It protects the wheels from scratching.
It's still durable even if you don't use a protective spray.
Cons
The uniform spreading of this paint requires some effort.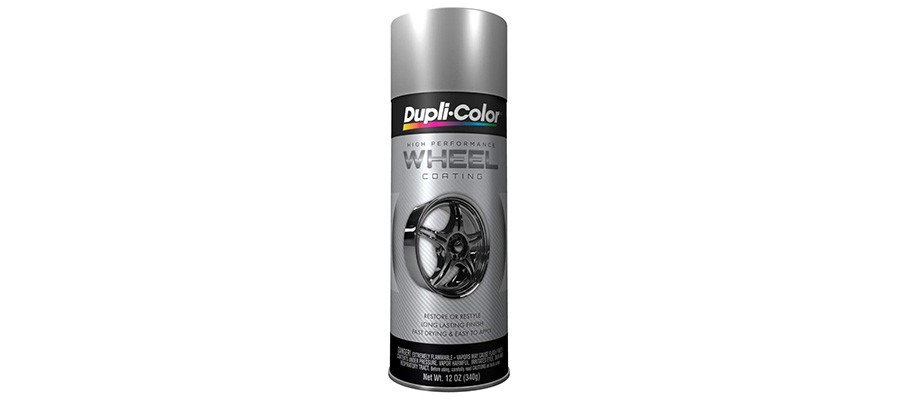 This rim spray paint will imitate metal on your plastic wheels or will refresh your metal wheels, making them look like they were new. Being offered for a quite moderate price, it's a really cost-effective solution. The paint has a solid finish and the ability to resist chemicals and high temperatures — just make sure that the paint has fully hardened before you drive out of the garage. It doesn't just change the overall look of the wheels, thanks to the acrylic formula with quite a thick coating, it's also capable of protecting the wheels against damages.
This silver wheel paint applies very well even without primer coating. Although we don't recommend neglecting preparation of the surface before using this spray as applying without primer can't guarantee durability. It dries completely after just one hour.
Pros
It is able to resist bad weather conditions.
The spray covers a lot of area.
Cons
It's hard to control the spraying area while applying.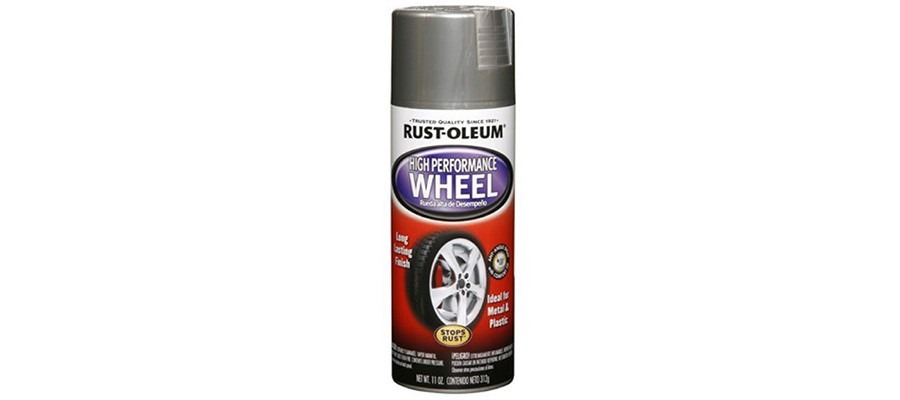 This product is probably the best spray paint for rims in terms of rust resistance on our list. Its formula mainly focuses on preventing your wheels from corrosion. It's resistant to moisture and all the other conditions that can be a reason for corrosion. Plus, it works not only with metallic surfaces but can be applied to plastic as well. The oil-based formula additionally protects against mechanical damages. Plus, it's able to withstand heat up to 500°F.
This Rust-Oleum wheel paint is also quite economical. It will be enough even if you paint both the front and back sides of your wheels.
The wheel spray paint features any-angle spraying technology which means that the application process will be easy even for amateurs. It becomes touch dry for about 10 minutes.
Pros
It can bring the wheels and hubcaps to a like-new condition.
This product comes along with a convenient nozzle.
Cons
The longevity is not guaranteed, as it's a very low-priced product.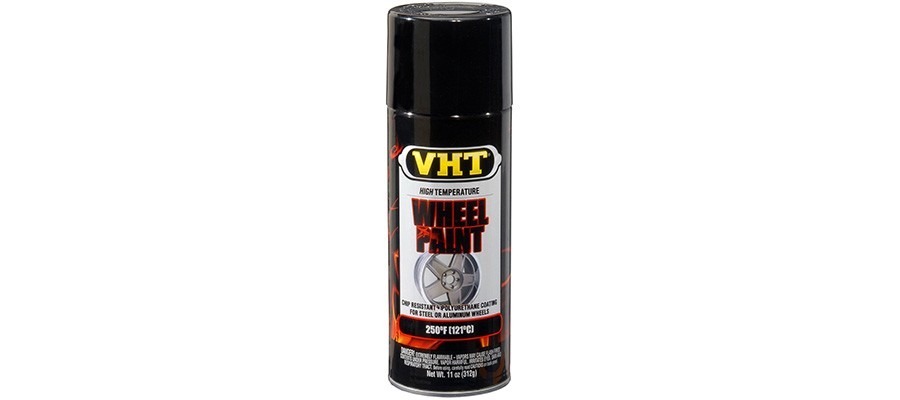 This spray from VHT is a universal product for wheels made of any material (plastic, steel, etc.). This is a polyurethane paint with formula, resistant to high temperatures and chemicals. In fact, it can possibly be the best wheel paint with protective qualities if applied correctly. It is able to withstand the most severe conditions without being cracked or faded.
The VHT wheel paint has a quick drying time: about 30 minutes. However, it's better to leave it overnight. Its coating is heavy enough which means that you don't have to waste your time applying several layers.
This automobile wheel paint actually settles on the surface very evenly. However, its spray mechanism is not perfect, it can clog up when the can is used at its middle. Plus, it can flake off if applied without priming.
Pros
This paint is able to protect wheels from rust and corrosion.
It can stick for a long time if applied correctly.
Cons
The nozzle is not very convenient to use.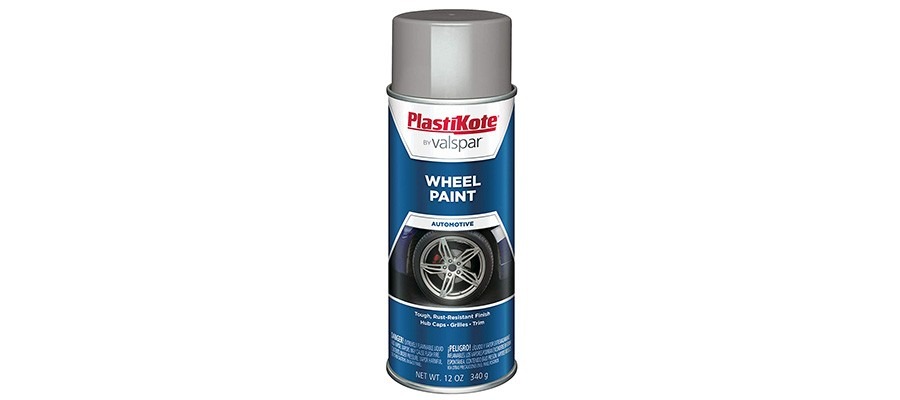 This is one of those wheel paint kits that were primarily designed to provide protective qualities. It may not give your wheels a fancy look but will definitely increase their life expectancy by protecting them from negative environmental conditions, like bad weather or extreme temperatures. For a budget price tag, you can get the natural silver coating.
The quality of coverage of this spray actually depends on how good the surface is prepared. Any kind of contamination on the surface can make this paint lose its good properties. Otherwise, the painting will not cause problems: it has a quick-dry formula, and its thick, non-transparent coating requires less time for application as you will not have to apply several layers. However, the spray button appeared to be clogged up after you have been using it for a while.
It's potentially the best rim paint in terms of its universality and not only for car wheels. This product can be easily used for motorcycles or even bicycles.
Pros
The paint sticks up well, even if exposed to adverse conditions in one hour after applying.
Cons
It's easy to accidentally apply an excessive amount of this paint. And if you do that, it will require twenty-four hours for full drying.
Buyer's Guide
How to Choose Wheel Spray Paint
When you have decided on painting the best paint for wheels, the first question that comes to your mind is "what kind of paint to use on car rims?". There is a great variety of paint types on the market, and each of them has its benefits and shortcomings.
The powder paint is resistant to moisture, mechanical stress, metal corrosion, and aggressive chemistry. The use of such paint has one significant disadvantage – it requires expensive equipment for the operation. Therefore, they are usually used by professionals in workshops.
The acrylic paint is more suitable to be used by non-professionals, but it's inferior to the powder in some characteristics. However, it still delivers a good result with minimal effort. Its advantages include resistance to inclement weather, extreme temperatures, and road reagents. It also dries quickly after application and doesn't require special equipment for applying. Its shortcomings include low covering ability which forces to apply several layers of paint. It's also quite a pricey type of paint.
The rubber paint is in great demand among those who want to highlight their car in every possible way. It can be used on metal, plastic, and glass. The coating can be either matte or glossy. There is also a rubber luminescent paint that glows as its composition contains a special pigment – phosphor, which accumulates light during the day and begins to emit it in the dark.
However, any paint that goes in an aerosol can is the easiest and the most affordable way for car painting. This coating option fits for almost any type of wheels (titanium, stamped steel, magnesium, cast), and the color variety, available on the market, can satisfy even the most demanding customers. Despite the fact that the coating thus applied will be inferior in quality to other painting options requiring special equipment, its affordable price and the possibility of the application by any car owner are its undeniable advantages.
Guide on How to Paint Car Rims
It may take long to color wheel paint but it is not a hard process. Just follow the instructions step by step:
1. Preparation for painting and required materials
In addition to the paint itself, you will also need a degreaser, sandpaper, an anti-corrosion primer, and a rust converter.
Firstly, you must prepare wheels for the process. They must be thoroughly washed, preferably with detergent.
Then the surface must be sanded to remove corrosion. Don't use too rough sandpaper for these purposes, as it will leave deep scratches on the surface. After that, the wheels must be cleaned from dust and then processed with rust converter to prevent corrosion. Then, after some time, the processed area must be thoroughly rinsed with water.
After this, the surface must be degreased. To do this, moisten a napkin or a clean cloth in the degreaser and wipe areas that are prepared for painting.
2. Security measures
You shouldn't forget about your own safety during the working process:
wear safety glasses so the paint doesn't get into your eyes;
use gloves to protect your skin;
paint only in a room with good ventilation;
prevent all the possible sources of fire as all the paints are extremely flammable.
3. The painting process
The painting process begins with the preparation of the working place. Find a small area and cover it with plastic wrap. It's also desirable to eliminate the drafts.
After that, you need to ground the wheels – the quality of the paint layer directly depends on the grounding. The first primer layer must be thin. After drying, apply a thicker layer and let it dry for 5-6 hours. The exact time is indicated by the manufacturer on the can. Then the surface must be sanded with sandpaper. As a result, you must get a smooth matte surface.
Next, the polished areas must be degreased again, after which you can finally start painting. For more easy application, you may even hook the wheels to paint them while they are in a hanging position.
Shake the can thoroughly. The first layer must be applied thinly. Try to spray it evenly, holding the can all the time at the same distance from the wheel surface. After the first layer dries, the second layer must be applied in the same way, but its thickness can be slightly increased.
The professionals recommend to prepare and paint all the wheels at once so you don't have to wait for each layer to dry. Thus, you can save your time: while one wheel dries, paint the next one. It's also important to paint over all the inaccessible places, relief areas, and prevent drips.
You can protect the painted surface with other liquid compounds, you will only need a soft cloth or napkin. The remedy must be applied on the surface and then polished with a rag.
Now the painting process is completed.
Things You Should Know Before Buying a Wheel Paint
Before buying a wheel paint, it's necessary to consider some points:
Color
You should make sure that the color or the wheels match with the car's body color. The most universal color variations are black and silver.
Painting issues
It's necessary to clarify in advance how much paint you will need. Buy it with a margin so you won't face any problems with tone selection. Some paints are offered in packs, this means that you can buy several cans at a reduced price.
Finish
You can pick from satin, gloss, or matt finishes. Which one you will choose won't actually spoil the overall look, but we recommend choosing a finish that is different from the finish on your car body.
Versatility
Most paints can be applied to other parts like hubcaps or stopping support. This universality is a good thing when you want to update more than just the overall look of the wheels.
Ease of use
If you have never had an experience with painting wheels and know nothing about the process, it's better to use paints with thin, transparent coating. This way, you will have a bigger chance to successfully paint the wheels.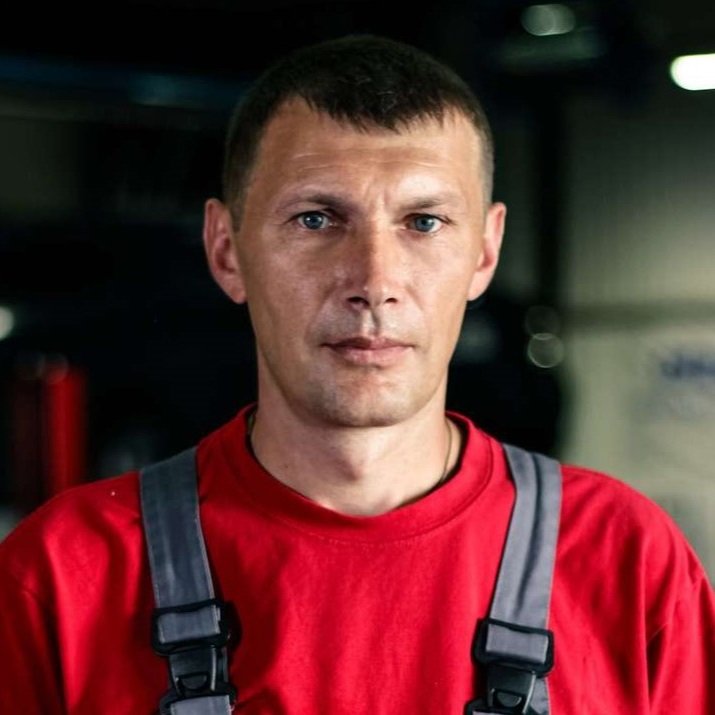 My name is Brandon, and I've been interested in cars since I was a kid. I got a bachelor's degree in Automotive Technology and worked in a private car workshop. I have two cars that have been completely upgraded with my own hands. So I successfully put all my knowledge into practice.
Last update on 2023-02-17 / Affiliate links / Images from Amazon Product Advertising API