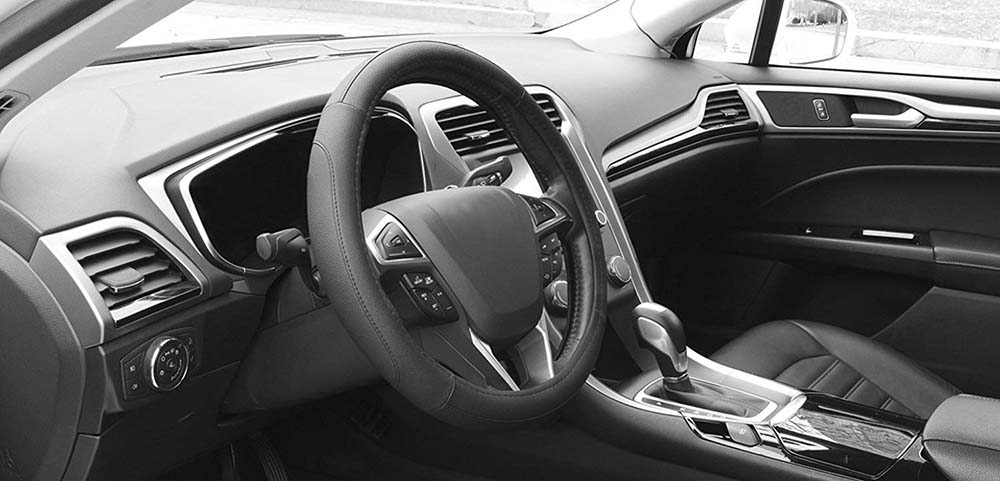 Is your steering wheel old and broken? It is high time to upgrade it smartly. Look into these seven high-class and amazing wheel cover options. Read all reviews to find the best steering wheel cover that will greatly improve your ride comfort.

It happens to every driver that one day you can no longer feel comfortable with your steering wheel because it is no longer in use. It does not provide a good grip; it feels inconvenient and difficult to control; at last, it looks damaged and obsolete. It is important to fix these issues quickly and stay safe. There are many reasons why you shouldn't put off the purchase of a new wheel skin. First, you will substantially increase your ride comfort. It will become easier for you to feel at ease when making tight turns. Second, you will start feeling more comfortable when driving because good wheel covers are nice to the touch. Finally, a new wheel skin gives a new look to your car, so it is visually beautiful.
Some wheel covers are not only beautiful but helpful as well. They use the latest advanced technologies and can heat up your car's environment. Below are presented the most superb wheel cover options that all promise excellent specs. Get more details about each product to define the one having the largest number of advantages for your vehicle.
Steering Wheel Cover Reviews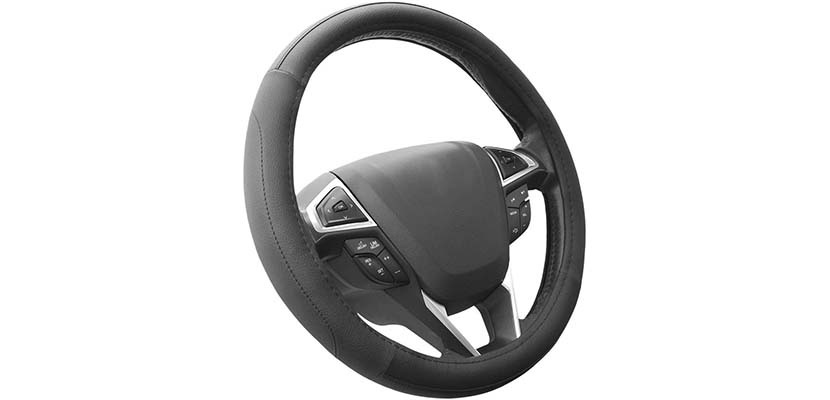 The first option is produced by the SEG direct brand, which has a very positive reputation on the market. This particular steering wheel cover is made of very soft microfiber leather, which still looks very durable and smooth. Moreover, this microfiber cloth belongs to eco-friendly and healthy materials, so you can be sure that it will be harmful neither to the environment nor to your health.
It should be also mentioned that the model has a universal design, which allows drivers to put this cover on middle-size steering wheels with a diameter of 14.5 inches to 15 inches. Thanks to its classic design, the model not only protects your steering wheel but also makes it look stylish. Additionally, this 15 inch steering wheel cover is skid-proof, which means that sweaty hands will not affect your driving experience. Comfortable grip and heat-resistant properties of this tool provide drivers with much better road control. However, this steering wheel cover is not that helpful when it comes to cold winter days, so be ready that your hands will hold the cold steering wheel. The product's dimensions are 15 x 15 x 0.2 inches with a weight of 11.2 ounces.
Pros
It is sold at a very reasonable price.
The item is customized coming at different colors and designs.
Cons
This steering wheel cover is very difficult to stretch over the wheel.
It has no sweat-absorption function.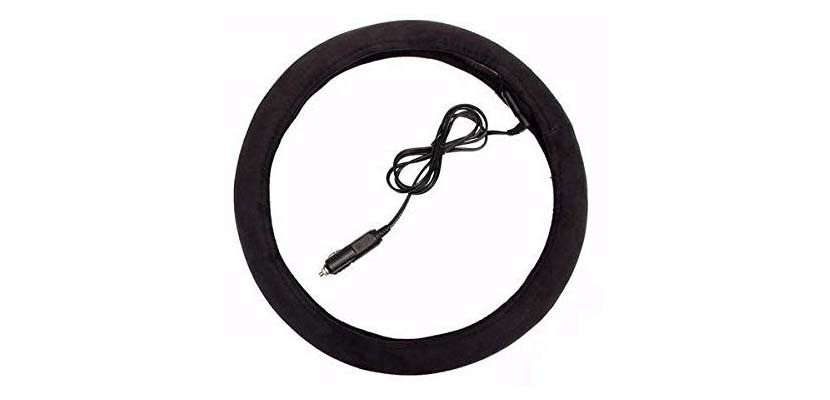 This handy and soft steering wheel is fit for every season. It has a built-in cigar lighter that allows for easy smoking and lets you stay focused on driving. The wheel gets heated in less than 3 minutes and thereby creates a work climate inside your car very quickly. Its temperature varies between 95 and 120 degrees. This range is the most advantageous to your hands. This heating feature is of much use for drivers that live in colder conditions and need extreme comfort on the road.
The wheel cover is standard-sized and suited for the majority of cars with 14.5-15.5 diameter. It is made of superior materials that boast enhanced durability and yet remain soft to the touch. The cover has inner soft padding characterized by high air permeability and anti-slip properties. All the materials are high-quality and have no toxic effect on your health. This means that the Zadin wheel cover is eco-friendly and causes no harm to the environment. The Zadin is a luxury steering wheel cover that offers amazing comfort and protects the driver from extreme climate. It is compatible with a vast variety of vehicles, including cars, SUVs, trucks, etc. It is super-light, easy-to-use, and fit for all drivers trying to ensure safe driving.
Pros
Heat transfer efficiency reaches up to 99%.
Cons
It doesn't come with the cord for the 12V plug.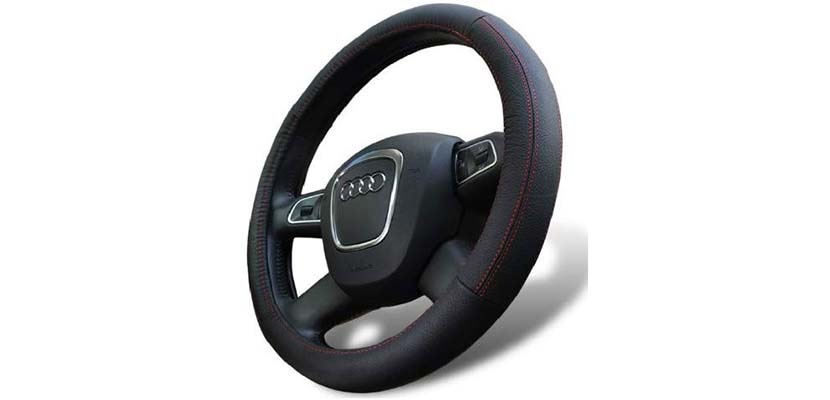 This unique and comfortable wheel cover is an excellent way out for all drivers that seek to increase ride comfort. The D8 wheel cover cannot be compared to any thin steering wheel cover. It is made of premium-quality leather that is resistant to wear and promises a long lifespan. The cover is also remarkable for amazing anti-slip properties. If you are used to fast ride, chances you will lose control over steering are ridiculously small. The materials of D8 are breathable and contain no toxic elements that may affect your health badly.
Other advantages include extra padding that delivers absolute comfort as well as a perfect grip. The item comes in black only but three basic sizes. It is versatile in terms of application and matches many vehicles, including SUV, cars, or trucks. It is easy to install because it does not slide and sits on the steering wheel tightly. My recommendation is to go with the D8 Universal Fit Leather Steering Wheel Cover if you are intent on making your ride more convenient and your car interior more stylish.
Pros
Cons
Stitching is not symmetrical.
There is a strong odor of leather.
The price point is a bit elevated in comparison with other options on the list.

After testing this item on my car properly, I can confirm that using this simple but effective steering wheel cover is associated with lots of conveniences. Although this particular model has a minimalist design, it does not mean that this product is bad at its main functions. This leather steering wheel cover is made according to eco-friendly standards and it poses no threat to the driver's health. This full-leather product is a perfect fit for those vehicles having leather interior. By the way, this 14 inch steering wheel cover is odorless, unlike most other 100%-leather products. The item's double-stitched seams are called to guarantee extreme durability.
Also, the product delivers outstanding protection against sweat, rip, and mold, so you will not be concerned with anything but the road in front of you. What I really like in this model is that has traction contours along its sides to deliver firm grip and extra control for hazardous conditions and bumpy roads. The BDK SW-899 works perfectly with different types of vehicles having a steering wheel of at least 13.5 inches and up to 16.5 inches (the product comes in 3 different sizes). In my opinion, this product offers excellent protection against peeling and cracking of your steering wheel as a result of extreme weather conditions.
Pros
The product is designed to prevent a slippery wheel.
It keeps the steering wheel warm even during cold winter days.
The item can be installed quickly and easily.
Cons
Double-stitching design can cause unpleasant feelings.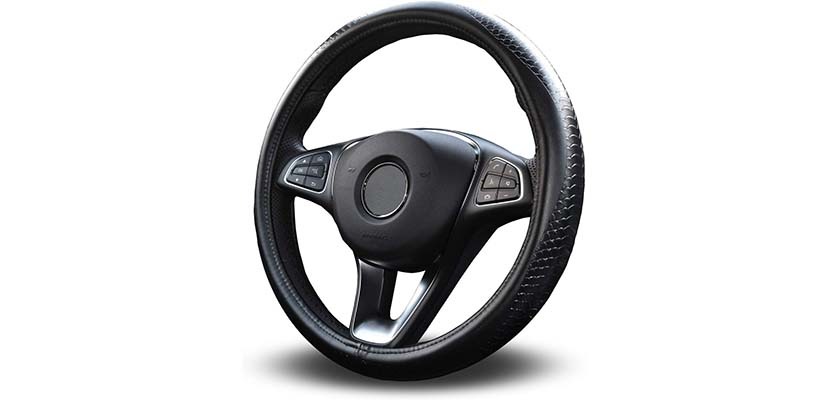 The wheel cover is made of top-level washable leather used in most cool steering wheel covers. It features anti-slip and anti-wear properties that allow for good ease of use and durability. The design is largely focused on enhancing your car's interior and providing a soft and firm grip when you are on an uneven road. The leather is nice to the touch. It protects your hands in unpleasant climates and lets you feel at ease anytime you drive your vehicle. The leather is also not toxic and odorless.
Unlike other cheaper leather options, this one does not need time to go out of its smell. You can upgrade your steering wheel and immediately drive off. The other upsides of the Vitodeco leather are that it is single-piece and hence not prone to tearing even with active use. It also boasts an anti-scratching coating that keeps the cover intact if you accidentally make a hard turn. The Vitodeco wheel cover comes in black and grey and three sizes. This extended palette allows every driver to choose an ideal wheel cover for their vehicles.
Pros
The leather is invulnerable to sun exposure and doesn't fade after long-term use.
Easy to install.
Cons
The scale pattern on the edge is in the same direction all the way around, so you always turn smoothly in one direction and harshly in the other direction.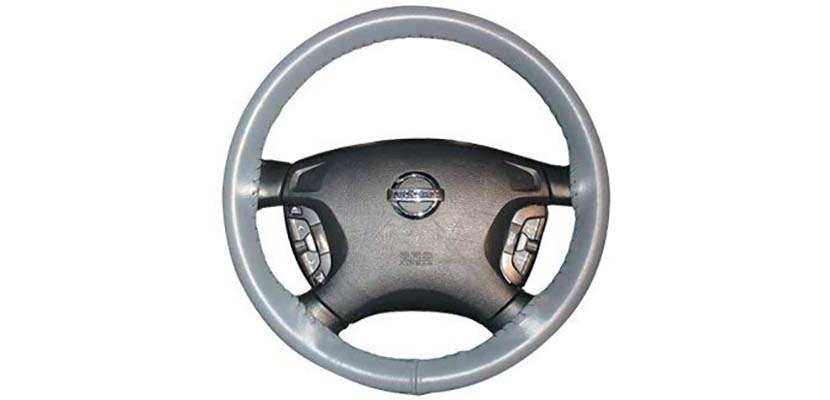 This AXX steering wheel cover is a superb car accessory that is an ideal choice for drivers being allergic to artificial leather. This wheel skin is made of cowhide only and not treated with dangerous chemicals that may impact your breathing or cause headache. The design boasts patented lacing holes that ensure a good fit in your car. The cover features a waxed thread that allows for a firm grip when installing it. The leather feels pleasant and soft. It is universal and suited for many types of vehicles that typically involve cars, SUVs, and various trucks.
The item comes in numerous colors that include classic and vivid tones. It also comes in different sizes, so you should indicate which one you need when making an order. The AXX steering wheel cover is a smart way of upgrading your old plastic wheel as well as protecting your hands from damage. The primary upside of this model is eco-friendliness. So if you are trying to live an eco-friendly life, the AXX wheel skin is a perfect match for your vehicle.
Pros
The leather does not smell bad.
Cons
The price is way higher compared to the other products.
It takes about an hour of stitching to install.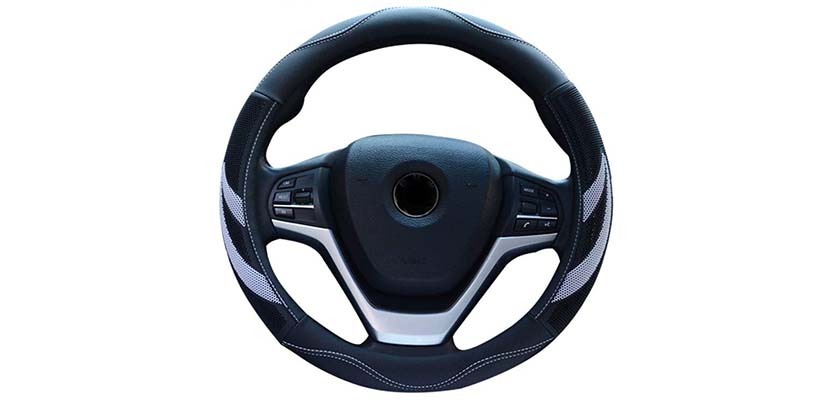 The steering wheel cover is made of microfiber leather coupled with rubber. Neither material is toxic or has an unpleasant smell. Both are of superior quality and fit for users that are allergic to bad chemicals. The leather is breathable and heat resistant. This means you won't suffer from sweating and will have a solid grip. The other significant advantage of the leather is good anti-slip properties that allow for excellent control over the road. The item is standard-sized and suited for all vehicles with the wheel diameter between 14.5 and 15 inches. The wheel cover also comes in three colors, allowing you to choose any that fits your car most.
The Alusbell model is universal when it comes to a variety of applications. You can use it to upgrade your car, truck, or SUV. My say is that you should think about the Alusbell wheel skin thoroughly if your goal is to get an eco-friendly and high-class wheel cover that will enhance your car's interior and provide you with increased safety on the road.
Pros
The price point is extremely cheap and fit for all buyers on a low budget.
Cons
The installation takes 1 to 2 hours.
Buyer's Guide
How to Put on a Steering Wheel Cover?
Today, more and more drivers realize that by purchasing this relatively cheap item, they can eliminate so many annoying problems that interfere with a comfortable and calm ride. However, this product can deliver minimum benefits in case you do not know how to install it properly on the steering wheel of your vehicle. Hence, this small guide should help you learn once and for all how to install your best steering wheel cover quickly and easily.
The first step is sometimes neglected by inexperienced drivers, so they write poor reviews on very decent models. Do not make similar mistakes and always remove dust and dirt from the steering wheel carefully with a vinyl cleaner.
Then take the steering wheel cover and align it with the steering wheel. All tie-downs and/or wraps should be removed. Start wrapping the cover around the wheel from the top. Push the cut around the inside curve and over the wheel.
The next step will be pushing the cover further moving it to the center inch by inch constantly changing the sides. This step will be finished right after the top half is wrapped with the cover.
Now you need to slowly wrap the cover over the bottom half. It is essential to still keep one hand on the upper part to prevent it from slipping off. The same inch-be-inch method should be used on both sides of the steering wheel.
The final step will be to concentrate your persistence in your hands to complete the process and stretch the remaining part over the wheel. However, control your strength in order not to ear the cloth apart. Keeping your hand over the top half of the cover to secure the product, pull down the cover in the final effort to stretch it over the steering wheel. Make both parts symmetrical.
How to Remove Steering Wheel Cover?
Although most steering wheel covers are made of high-quality materials to be durable, they may also get worn out after some time. Dirty hands after eating cheeseburger, sweaty hands, and even friction force can damage the most reliable covers. This is why it is of utmost importance for drivers to replace these items from now and then to keep your steering wheel protected and maintain positive driving experience. Many drivers think that removing this item from the wheel can be very challenging. This guide will help you complete this task with minimum efforts.
The first thing you should do is to park your car with the wheels straight ahead, so you can prevent the steering wheel from getting broken. Check out if your wheel has an airbag. If so, try to disconnect it carefully.
Now disconnect the negative terminal from the battery and shift to removing the wheel cover. In most cases, using a flat head screwdriver to pop off the cover will be enough. However, some covers are attached with several screws from behind the wheel.
Then disconnect the horn and any wheel controls. Hold the steering wheel in place is done with a large nut in the center of your wheel. Remember that the keys should be kept out of the ignition in order to initiate the steering lock.
Finally, you should use a flat screwdriver to pop off the car steering wheel cover. Be careful and make sure that you do not make any damage to the wheel. Start from the middle and detach the upper part and the bottom part one by one.
Are all Steering Wheels the Same Size?
Those persons who have dealt with various vehicles throughout their life course should certainly know the answer to this question. However, many drivers are still willing to know whether different cars have different steering wheels, so let's try to satisfy their curiosity.
The first thing that should pop in your mind is that trucks and buses might have definitely larger steering wheels compared to passenger cars as they require much longer diameter to make such a large vehicle turn. The second thing to be mentioned is that the manufacturers of some sports cars usually prefer to install a customized steering wheel to differentiate their vehicles from mediocre cars. You might have noticed that sports cars usually have a half-circle wheel to make it easier for the driver to control the vehicle at a higher speed.
Additionally, the manufacturers of conventional passenger cars also install the steering wheels in the diameter range of 13.5-15.5 inches, depending on the vehicle's technical characteristics and road performance. Moreover, aftermarket wheels usually come without an airbag, so they have to be a bit smaller compared to the stock ones. Hence, there is no universal steering wheel size that could fit all the vehicles.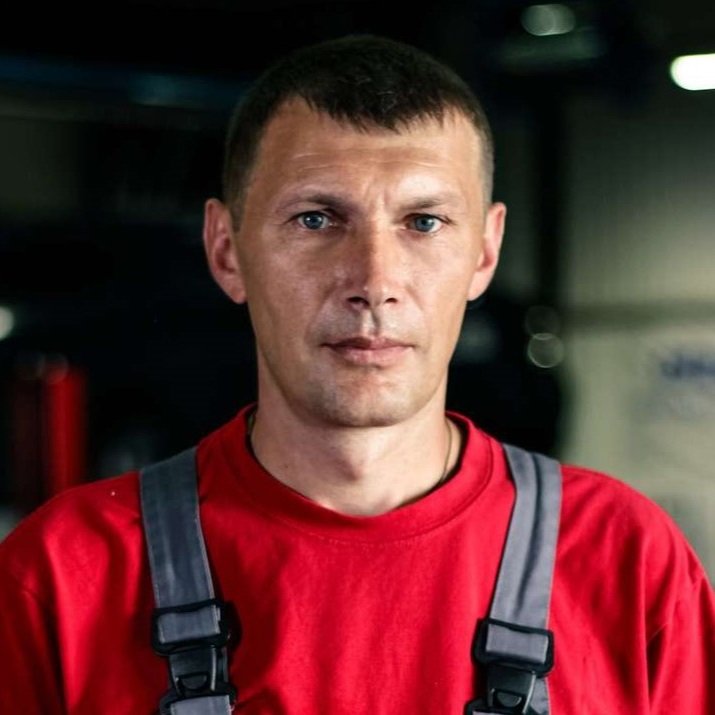 My name is Brandon, and I've been interested in cars since I was a kid. I got a bachelor's degree in Automotive Technology and worked in a private car workshop. I have two cars that have been completely upgraded with my own hands. So I successfully put all my knowledge into practice.
Last update on 2023-02-17 / Affiliate links / Images from Amazon Product Advertising API