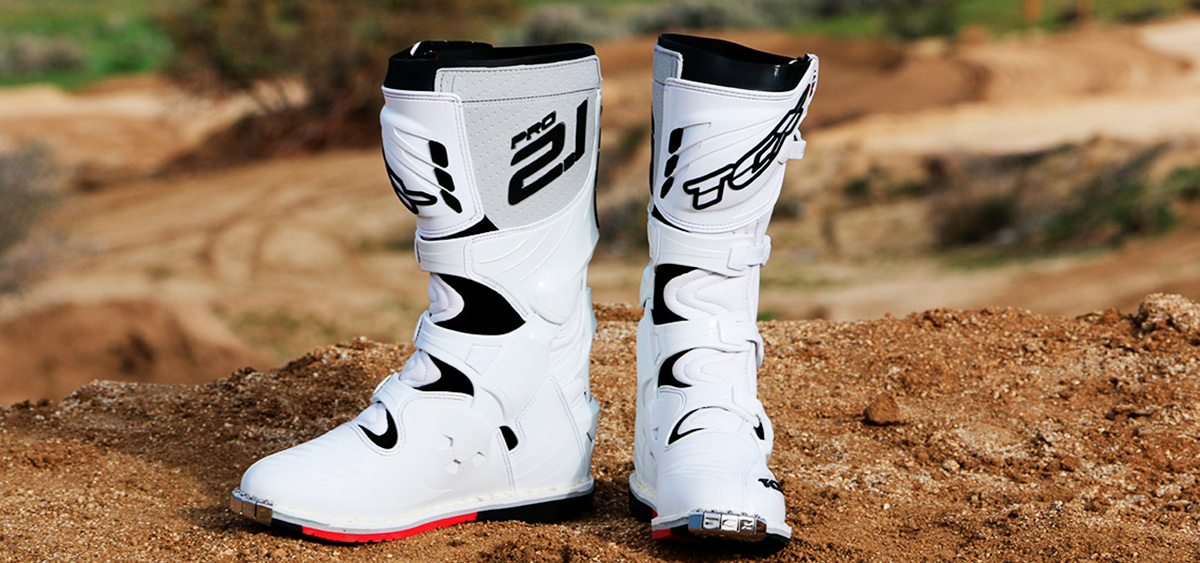 The best motocross boots must be able to withstand even the toughest conditions without showing signs of wear for a long time. They are supplied with lightweight armor designed to protect your lower leg from a hot engine, mud, water, branches, and stones that fly at you at high speed and can cause injury. Having the load-distributing padding and the ability to absorb shocks, they protect your ankle joints from excessive pressure without limiting their flexibility. In addition, they provide the necessary grip on the footpegs of the motorcycle.
Therefore, like a helmet, motocross boots are a very important part of any rider's outfit. They differ from ordinary motorcycle footgear by a noticeably better level of protection as they are specifically designed for off-road and all-terrain racing. Leather, metal, rubber, and plastic are often used in such shoes.
We have picked options suitable for a wide array of users to make your choice easier. Each motocross boots review listed below provides information on the benefits, peculiarities, and drawbacks of each model.
Motocross Boots Reviews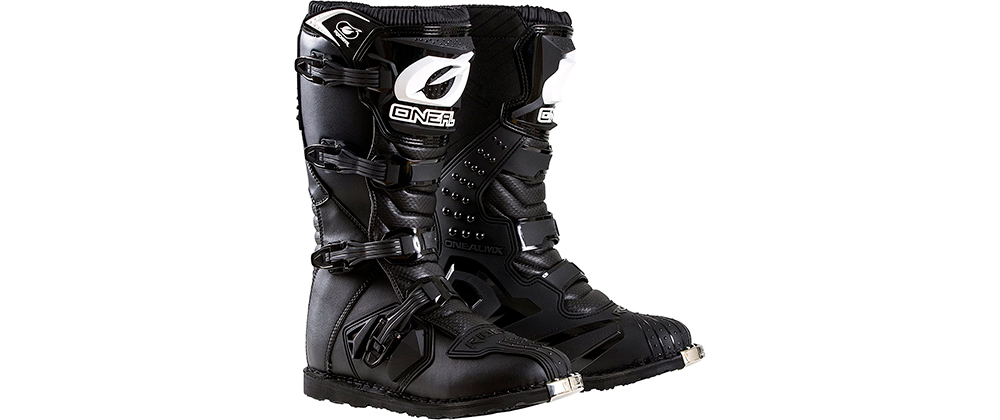 The present shoes from O'Neal are an inexpensive, well-made option. Thus, they may be the best dirt bike boots for people who aren't ready to spend a lot of money. This model is mainly made of synthetic leather that is proof against heat. Inside, they have breathable, cushioned air mesh that will prevent your feet from excessive sweating.
As for safety features, special plastic plates are intended to protect your feet during bumps. A steel guard in the toe area protects your toes when you hit the ground or kick the bike. The stitched-on type sole gives quite an average level of grip.
This men's model is manufactured in 9 sizes (ranging from 7 to 15) and is suitable for both kids and adults. This model also has an easy-to-regulate closure system that makes finding your perfect fit an easy process. The boots are available in one color, a traditional black, have a slim design (one boot weighs 4.3 pounds), and look neat on the feet.
This boots model lacks any specific protective layers and most likely has a short service life. However, the boots are definitely robust. They provide good shin and ankle joint protection and are comfortable enough for all-day riding. These shoes are surprisingly flexible than many other motocross models, allowing you to move more freely.
Pros
The buckles and straps are readily replaceable.
The boots have a spacious toe area, being perfect for people with wider-than-average feet.
Additional stability is provided by the internal steel shank.
Cons
The boots are not resistant to water.
They feel very stiff in the heel area while walking.
The fit adjustment system is made of poor-quality plastic.
Overall rating: 9/10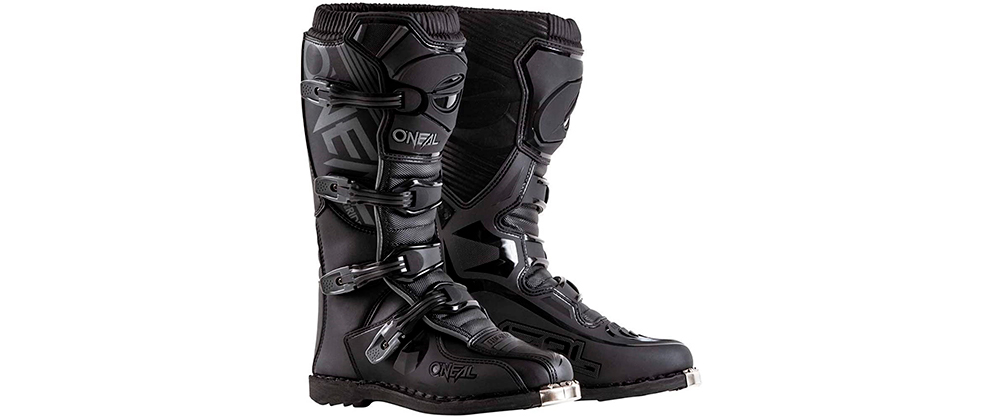 These dirt biking boots are cheap, but they provide enough protection and, as for me, look stylish. They are available in 9 sizes (from 7 to 15). There is a choice between 4 colors: black, red, white and gray.
When you kick the ground, the steel toe cap protects both your toe and your sole. The shank is also made of metal. The boots are still lightweight despite all of the metal components (one boot weighs 3.25 pounds).
The provided pair of boots has extra cushioning in the ankle area. The Goodyear welt soles ensure mediocre grip, but even the best motocross boot for such a low price couldn't provide better. The soles are double-stitched, which inspires durability.
The outer part is made of solid synthetic leather that can withstand a lot of tough conditions. In addition, it can't be damaged by heat. These dirt bike shoes feel sturdy. The straps snap on and off very easily. However, note that these boots have a narrow fit, so they may be overly tight for some people. They aren't extra durable but will be suitable for races on an Enduro bike.
Pros
The velcro strap on the top allows for a better seal.
The boots are comfortable enough for walking.
Impact protection is provided by special injection-molded panels.
Cons
The plastic toe area makes it difficult to maintain a secure hold. It would be better if it was made of rubber.
They are not very breathable.
The manufacturer claims that these shoes are water-resistant, but, in fact, the level of protection is extremely poor, and they may be soaked through when it rains.
Overall rating: 9/10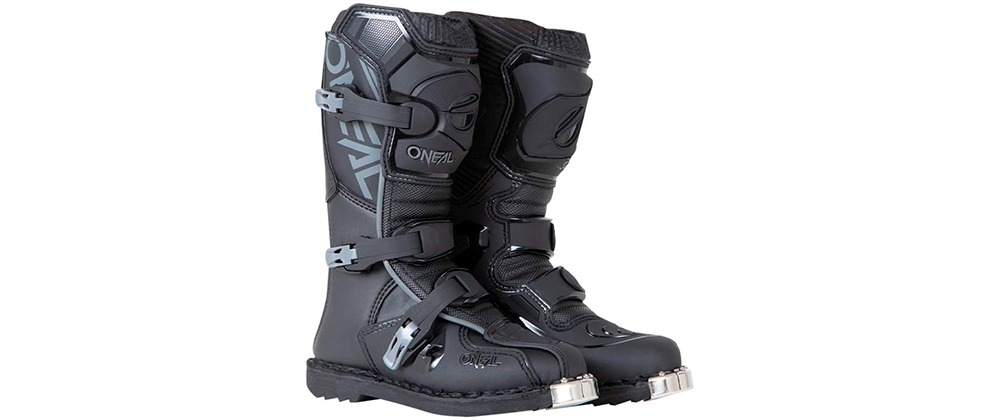 This model is a pair of unisex boots made especially for kids. You can select them in one of 7 sizes. The fit adjustment system makes them versatile for kids with slim and thick calves alike. Costing under 200 dollars, this model is less expensive than many other dirt biking shoes on the modern market. However, their quality is better than I could expect for the price.
The boots are colored in black. Of course, it's the most universal color, but it may be an issue for those who live in hot regions. They also feature a cushioned footbed and offer extra support in the heel area. They are lighter than the same model for adults (one boot weighs just 2.86 pounds), giving your child more comfort.
The toe part feels very solid and gives protection not only from impacts but also against the heat generated by your motorbike, which might hurt you if you were wearing ordinary shoes. There is also a steel guard wrapped around the front of the sole. With such characteristics, this model has everything to be considered as potentially the best MX boot for the money.
Nevertheless, it should be noted that these boots may feel stiff on your feet during the first few wears. However, they definitely get softer over time.
Pros
They are TPU-reinforced for added protection.
The accordion panels on the ankles make flexing easier.
Because the metal protection on the toe is screwed in, you won't lose it even on the wildest rides.
Cons
They have poor resistance to water, so they are recommended for dry weather only.
The buckles are fragile, so it's necessary to be careful with them.
Overall rating: 9/10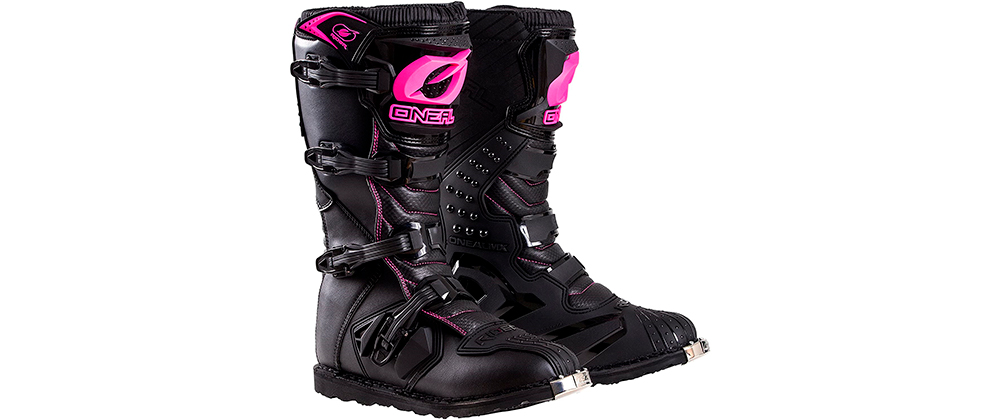 This model is a women's version of O'Neal's rider boots, and we consider them as the best MX boots for women in our top. These boots are mainly black but have vivid pink accents. You can choose from 8 sizes (from 5 to 12). One boot has a weight of just around 3 pounds. They are more lightweight than their analog for men. For fit adjustment, there is a snap-lock pin type buckle system. The buckles feel a little stiff at first, but they will loosen with time.
The feet and lower legs are well-protected from mud and harsh weather but not from water. So be cautious while biking in the rain. Fall protection is provided by the reinforced construction. These are cheap MX boots, so synthetic leather is used instead of real leather for heat protection.
The body of this women's model is made of solid materials. The microfiber is soft and allows your skin to breathe. The air mesh inside keeps your feet from sweating too much.
Pros
The slip-resistant welt sole gives a sufficient grip for good traction.
The exterior of the boots is mostly made of hard materials that don't retain stains and mud marks, so it's easy to clean.
The bottom buckle is TPU-reinforced.
Cons
It takes a lot of effort to take the boots off.
The stiffness of these boots can make you less sensitive to motorcycle handling.
Overall rating: 9/10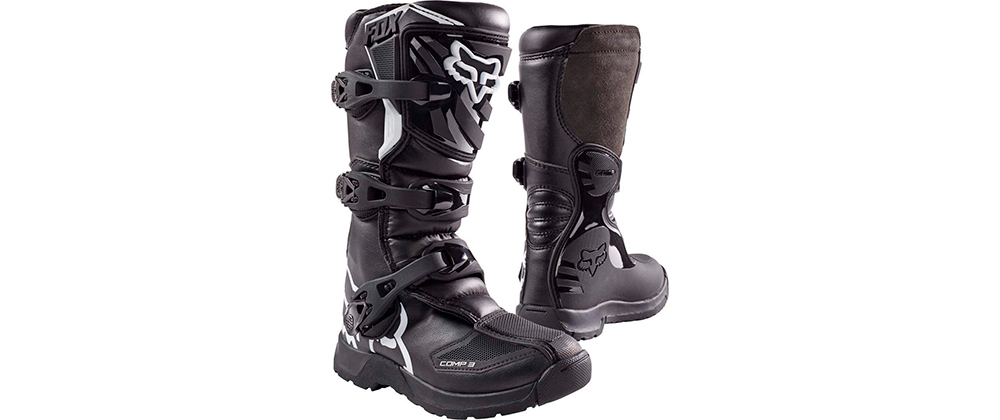 This pair from Fox is designed specifically for teenagers and kids (from 6 to 14 years) learning to ride an MX bike. Besides, they will be appropriate for adults with small feet. The boots are available in 8 sizes. This model is non-expensive and can be the best dirt bike boots for the money as it gives you even more than you expect for the price.
The boots aren't heavy, weighing just 2.9 pounds each. The outside is made of dirt-resistant faux leather that promotes longevity and durability. Furthermore, the boots break in fast and readily as a result of this.
The boots are spacious, do not push on the calves, and do not feel stiff. Because they are so comfy, you may wear them when riding or walking.
Pros
There is a mesh on the toe and calf areas for better breathability.
The size chart exactly matches the fit.
The pivot lock buckles are secure and easy to lock and unlock.
Cons
The plastic buckles are very fragile, so you have to be careful with them.
Only a small layer of synthetic leather protects toes.
Overall rating: 8/10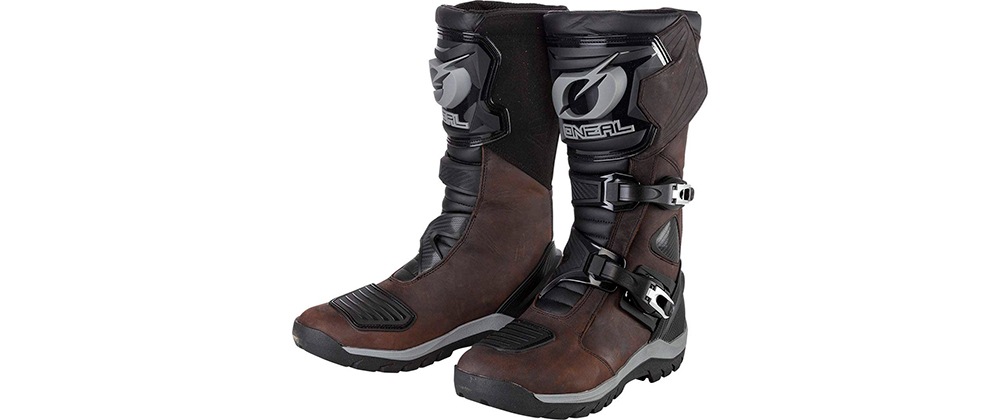 The boots feature an appealing black and brown color design (other colors aren't offered). They come in 7 sizes and look more fashionable than many other motocross boots.
The quick-action buckles are simple to use and help find your fit. Moreover, they are made of metal, being much more durable than plastic ones, and won't require replacement.
TPU protection, along with a layer of faux leather, will keep your legs safe during the rides. Hence, these shoes are sufficiently protected to be regarded as potentially the best dirt bike boots for trail riding.
The boots slip on the feet with ease. However, they may feel a bit tight out of the box, but they will take the shape of our feet pretty quickly. Note that these shoes are quite heavy. One boot weighs 3.85 pounds.
The inner sole is made of nylon. The footbed has a special anti-sweat coating. There is a steel shank that runs along the entire length of the sole for extra support. This is one of the most comfortable motorcycle boots that I have ever tested.
Pros
The footbed is removable, so you can easily wash it.
The pair is completely waterproof.
For long-term comfort, the heel cup is anatomically designed.
Cons
This is a very warm model and may not suit summer periods.
The protection in the toe area is absent.
Overall rating: 9/10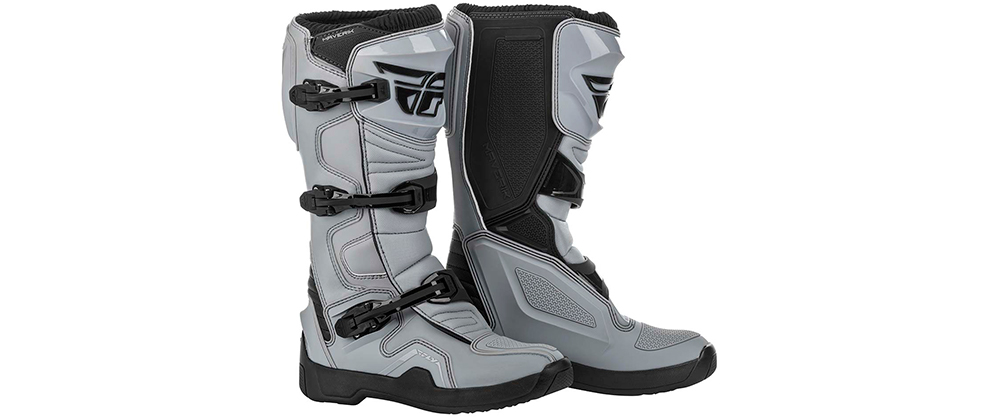 These boots can be bought in one of 10 sizes. The 3-buckle closure for fit adjustment locks and unlocks pretty quickly. You can choose this model in one of 4 color schemes: black/red and black/ white and black/gray and black.
These shoes do a good job of protecting the feet during crazy races. Their inner sides include rubber inserts for protection against heat. The shoes provide a superior grip. They are also lightweight (one boot weighs 3.31 pounds) yet durable. This is especially important during jumps and rides over bumpy surfaces.
Even though this pair is flexible, they are still sturdy. They don't restrict the foot and can potentially be the best moto boots in terms of mobility.
Pros
The protective features of these boots are CE-compliant which means that they meet the EU safety, health, and environmental protection standards.
The buckles have an open design, so the dirt won't be clogging into them.
The boots feel very soft inside and are easy to adjust for a perfect fit, thanks to an internal lacing system. These are great advantages for people with disproportionate feet.
Cons
The gripping material doesn't seem to be long-lasting.
The boots aren't perfectly true to the size and may appear to be too small or too spacious.
Overall rating: 8/10
Buyer's Guide
How to Clean Motocross Boots
You must take care of your footgear if you want to extend their service life and maintain their like-new appearance for a long time. Considering the fact that dirt bike boots are completely different from ordinary shoes in their components and tailoring peculiarities, it's necessary to adhere to some special instructions when cleaning them. They also need specific shine and color protection sprays since they are continuously contaminated. Some people even use different remedies that enhance the boots' waterproof and dirt-repellent features.
Anyway, you should start by cleaning. Here is the easiest way to clean your motocross boots:
Prepare the following items:
High-pressure washer
Degreaser
Scrub brush
Sponge
Soap
Warm water
Step 1
The first thing you should do is evaluate how dirty your boots are. If there is caked mud on them, you will need to rinse them under high water pressure (however, remember being careful with the soft parts of the boots). If they are not very dirty, give them a quick rinse under low pressure and leave for several minutes to soften the dirt.
Step 2
As the majority of the dirt has been rinsed away, apply a thick layer of degreaser. It will aid in the removal of any oil or lubricant that may have accumulated on your boots as a result of riding your bike. Allow a few minutes for the degreaser to absorb into the boots.
Step 3
Wash away the degreaser with the help of a high-pressure washer and use a sponge and warm water to apply soap to the boots. Scrub them with a brush to get rid of any residual dirt if necessary. Double-check if all the hard-to-reach areas are clean.
Step 4
Rinse the soap away with a strong stream of water. This will help get rid of the dirt that hides under the buckles or under the sole.
Step 5
Place your boots in fresh air to let them dry but keep them out of direct sunshine (it can cause a damaging effect on paint and coating). Open up the buckles and take off all the removable parts to speed up the process.
How Should Motorcycle Boots Fit?
As usual, the motocross boots are nearly knee-high and have around 16 inches in height. Most of them feature adjustable straps that allow tightening the boot for the most comfortable fit. Even though they are considered as a part of the gear, they should fit and feel just as comfortable as regular shoes. So you shouldn't be able to move your foot inside of the boot.
Even the best biker boots won't provide the necessary protection if they don't fit properly. The manufacturers use different fitting systems. The size is also determined by the type of boots. Hence, you won't be able to choose the size of your regular street shoes. You have to measure the longitude of your foot and search for your size in the special table that the majority of brands provide for each model (for example, a longitude of  9.4 inches corresponds to size 6). If you can't decide between the two sizes, go with the bigger one.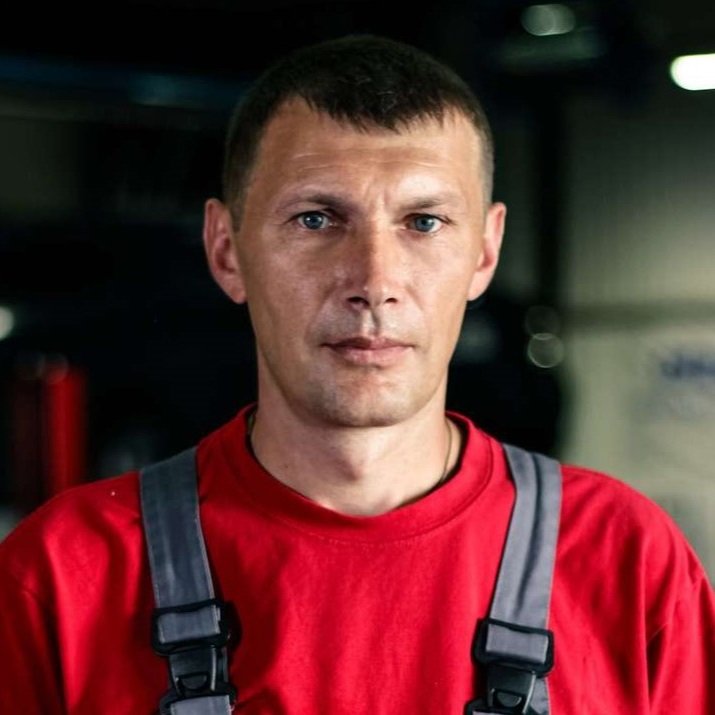 My name is Brandon, and I've been interested in cars since I was a kid. I got a bachelor's degree in Automotive Technology and worked in a private car workshop. I have two cars that have been completely upgraded with my own hands. So I successfully put all my knowledge into practice.
Last update on 2023-02-17 / Affiliate links / Images from Amazon Product Advertising API