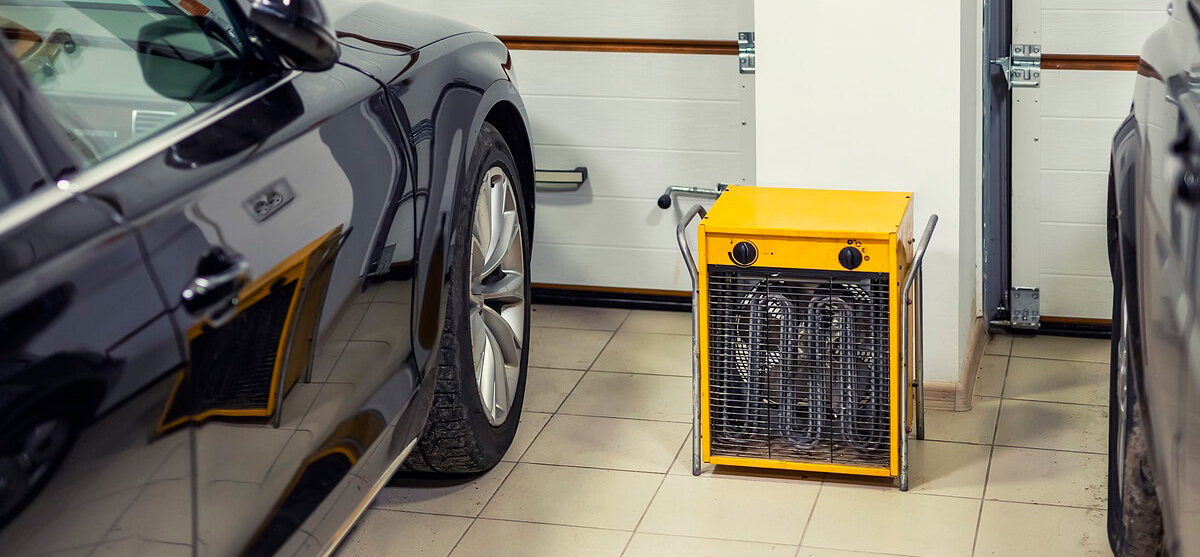 Garage heaters are needed for two purposes: to maintain an optimal temperature for your vehicle and tools during the winter period and to warm the garage space. The best electric garage heater (120V) should be economical but still, provide enough heat to warm the whole garage space.
The vast majority of 120V heaters are rated up to 1500W at the maximum setting. It's pretty much enough to create a normal temperature while working or having a rest in your garage. Furthermore, such heaters are inexpensive and quite silent. If you want to warm a vast space, you can use several of these heaters.
Heaters use different heating methods, different mounting types, have different heating modes, and come in various sizes. We offer you to choose between 6 models. Read the following reviews, weigh the benefits and drawbacks of each model, and select the 120V garage heater that will be suitable for you.
Reviews of 120V Garage Heaters
Lasko 751320 — Best Electric Garage Heater (120v) Overall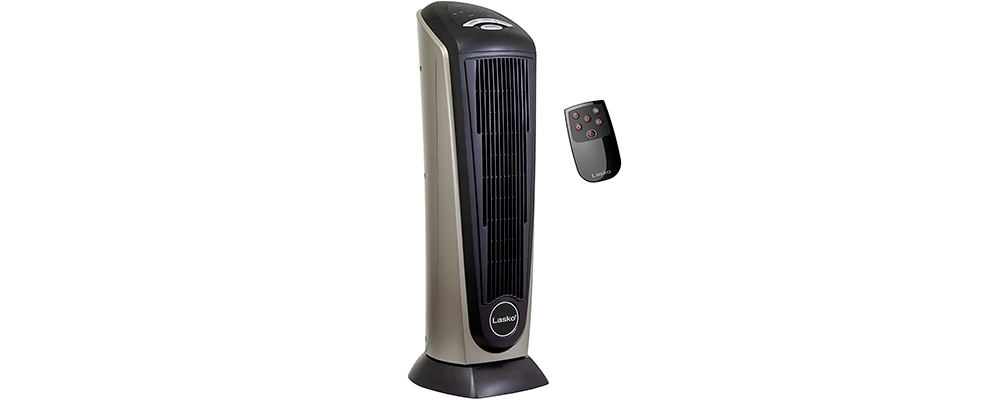 This 120-volt garage heater from Lasko employs convection heating to deliver constant heat with uniform heat distribution. It heats up a medium-sized garage in about 15 minutes. Thanks to the self-adjusting heating element, the appliance automatically switches to standby mode when it reaches a certain temperature.
The heater automatically shuts off when it overheats. But the cabinet always stays cool to the touch, so it's safe.
On the unit's top, you can see a control panel that includes a thermostat, an auto-off timer (1hr, 2hr, and 4hr), oscillation, and two heating modes (900W and 1500W). By the way, both modes are almost equally quiet. There are also 7 temperature settings (from 60° to 85° and MAX). This garage heater electric (120V) also comes with a small remote control that has 6 buttons to change temperature, fix timer, etc.
The 751320 is 22.5 inches tall so that it can provide much more heat than compact, boxy models. Still, it's slim and has a small footprint (7.25 x 8.38 inches). It's also lightweight (5.6 pounds).
Pros
The heater comes fully assembled: just plug it in an outlet, and it's ready to work.
Since the heater uses oscillation to distribute the heat, it can be used for heating up really large areas (up to 350 square feet).
It has a non-slip base that reliably sticks to the surface.
Cons
The cord is only 6-feet long.
It may smell like burning plastic during the first hours of use.
There is no tip-over safety switch.
Overall rating: 9/10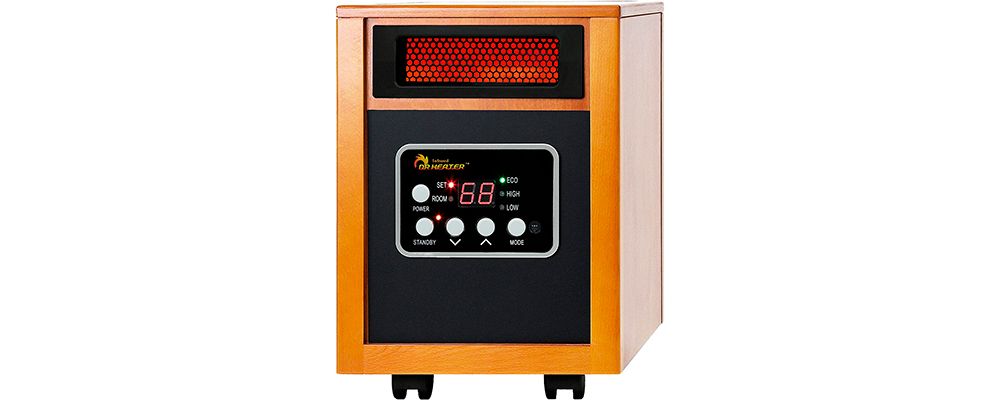 If you don't want a noisy and non-economic heater, the DR-968 can be the best 120V garage heater for you. It not just has a low-noise blower (emits only 39 dB on the maximum settings) but is also supplied with an Eco mode. There are also Low and High heating modes.
The DR-968 has a full pack of safety features:
overheat protection
knock-over protection
cool-touch cabinet
The blower is large, having 7 inches in diameter. It heats by using a dual heating technology that speeds up the heating process. Thanks to that, the heater does not need to run at high speeds to heat vast areas.
You can fully control the heater via the provided remote control. For example, you can select the comfortable temperature (from 50° to 85°) or set the timer up to 12 hours.
In terms of the external look, the body is made of light wood laminate and looks aesthetically pleasing. This infrared garage heater is also quite bulky: weighs 19 pounds, is 16 inches tall and 11 inches wide. Nevertheless, it has wheels that make it easier to move the heater across the floor surface.
Pros
The DR-968 is UL listed, which means that it has passed all the tests to correspond to the US standards for safety.
The heater does more than merely circulate hot air; it also produces an incredibly natural sort of warmth comparable to that provided by the sun.
The filter inside of the heater is washable, so it doesn't require regular replacement.
Cons
The control panel of the machine is cluttered; it is tiny and packed with buttons and indicators.
The fabrics get really hot near the heater, so keep them away from its front and rear parts.
Overall rating: 9/10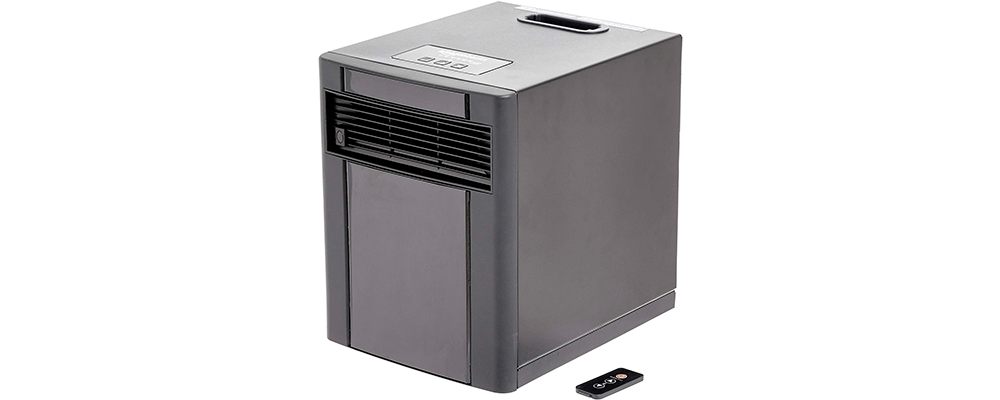 The DF1515 is a smart heater that uses heat and energy as sparingly as possible in order to provide enough warmth without wasting energy. Besides, it's probably the best garage heater (120V) on our list in terms of affordability. The DF1515 spreads heat uniformly rather than centering it around itself.
This electric garage heater (120V) has only 3 buttons on its top-mounted control panel: Power and 2 arrow buttons to adjust the temperature (from 65° to 85°). The remote controller has the same buttons.
As for the safety features, there is an overheat sensor. The heater is very stable; you will have to put an effort to tip it over. During the heater's operation, the cabinet doesn't stay cool but also never gets hot either. It's just warm.
The DF1515 is designed in a traditional all-black boxy style. Its dimensions are 11.42 x 14.53 x 14.72 inches. At 14 pounds, it's easy to move around the garage. It is especially considering the fact that the bottom has hidden wheels.
Pros
On the back of the unit, there is a cord storage area.
Unlike other heaters, its cord doesn't get hot at all.
The Eco mode doesn't actually lower the temperature but turns the heater off and on to maintain the same level of heat.
Cons
The manufacturer claims that the unit is able to heat up 1000 square foot space, but it's far from the truth.
The heater emits a noticeable amount of noise, which may annoy a lot of people.
Overall rating: 8/10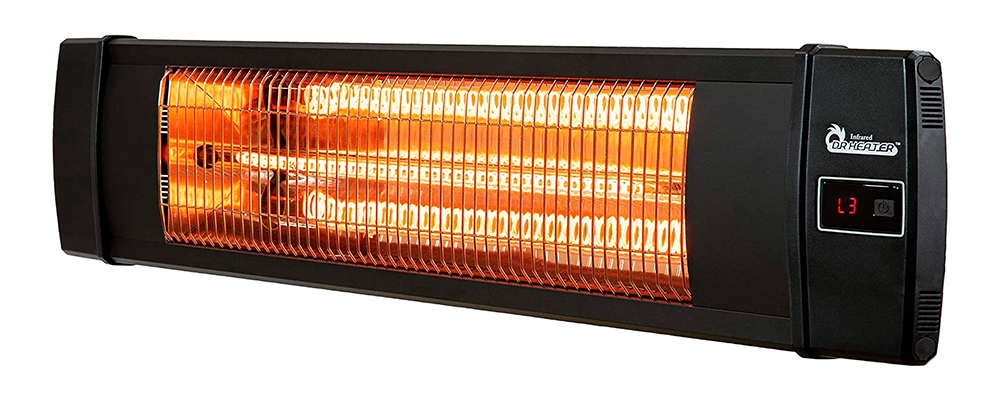 The DR-238 is potentially the best 120-volt heater for a garage that is poorly insulated. It's, in fact, a wall and ceiling-mounted model that throws enough heat to even be used outdoors.
It has a backlit LED display that is visible from a distance. Only a provided remote control can be used to operate the heater. It can be used to set the timer and control the temperature. There are several temperature modes to choose from:
Low (900W)
Mid (1200W)
High (1500W)
At its maximum settings, this 120V electric garage heater can cover an area that is around 150 square feet large, thanks to its wide heating angle. It starts to spread heat instantly as you turn it on. Over-temperature protection is provided.
The heater is 35 inches long and 8 inches wide, so it's quite compact. The depth is only 4 inches so that it won't protrude from the wall. The model is built of rugged anodized aluminum and has an IPX4 waterproof rating, meaning it won't get wet from rain, snow, dampness, or condensation.
Pros
It is shipped with a special tripod if you don't want to mount it.
The heater doesn't emit any noise at all.
The included fasteners allow you to change the direction of the heater slightly.
Cons
The remote controller will not operate until you are pretty close to the heater.
The manual that comes with the heater is concise and doesn't go into great detail about how to set up the heater.
It emits a lot of bright red light, which may be irritating in the dark.
Overall rating: 8/10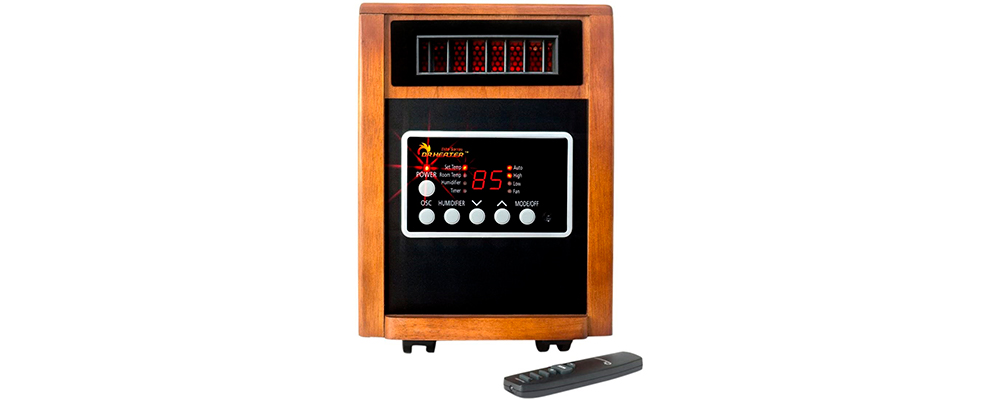 The DR-998 has so many features that it can be considered as the best 120-volt electric garage heater on our list in terms of versatility. The DR-238 features an overheat sensor, an always-cool cabinet, and knock-over protection. It also includes such standard features as a timer (up to 12 hours) and a programmable thermostat. Using arrow buttons on the heater's control panel (or "+" "-" buttons on the remote), you can set the most comfortable temperature (from 50° to 85°). It's also possible to check the temperature in the room by pressing Mode and V buttons simultaneously.
You can use a remote control or onboard buttons to switch between 5 modes:
Energy-saving mode
High
Low
Fan
Standby
The unit is endowed with a ceramic heating element and dual heating system and uses oscillation that spreads the heat evenly and quickly and will help to heat up an uninsulated space. The oscillation mode can also be turned off.
The heater measures 16 x 11 x 16 inches, being quite a portable model. It weighs 26 pounds for easy transportation—especially given the fact that the bottom of the machine has 4 wheels.
Pros
It's equipped with a built-in humidifier that compensates for the lack of humidity that occurs when the heater is turned on for an extended period of time. You also can use it in summer as it can function independently of the heater.
The heater has a Night mode that allows for entirely silent and autonomous operation.
A reusable, lifetime filter ensures that only fresh and clean airflow will come out of the heater.
Cons
The fan is definitely not whispering quiet at the highest settings.
The humidifier water tank leaks sometimes.
Overall rating: 9/10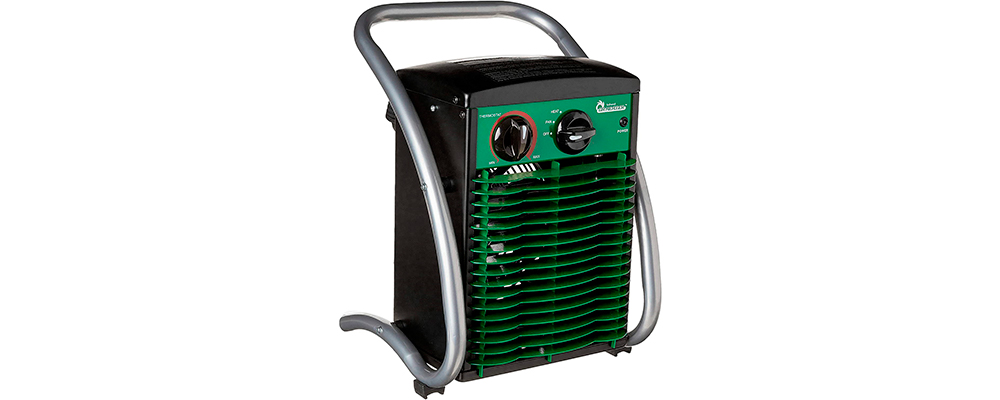 The DR218 is a 120-volt electric garage heater with simple functionality and a minimalistic interface. It has only two control knobs: one for temperature adjustment and the other for switching between fan and heat modes. The front of the heater is green, while the back is black. It's only 13 inches high and weighs 13 pounds, being the most compact option on our top.
The unit's exterior is resistant to harsh circumstances and rigorous use, with an IPX4 rating for water splash resistance and a sturdy steel housing that keeps cool to the touch. Inside, the heater includes a heavy-duty ball-bearing motor with overheat protection. This means that it can work for hours without performance degradation.
It uses an infrared heating method with a totally enclosed heating element. Thanks to the inbuilt fan, it distributes heat very evenly. If you run it in the fan mode for a couple of hours, it can heat a well-insulated 150 square foot area. It also operates silently, even when the fan is turned on.
Pros
The heater is permanently lubricated and does not require any maintenance.
There is a special stand that provides a stable position of the heater. If you unintentionally knock it, it will most likely not fall.
It has a temperature sensor that is quite accurate.
Cons
Because there are no fixed points or numbers on the temperature control knob, it will be difficult to keep it at your preferred temperature all of the time.
The heater blows warm but not hot air and, therefore, may not be very helpful when it's really frosty outside.
It can't be controlled remotely.
Overall rating: 7/10
Buyer's Guide
How Many BTUs Does Your Garage Heater Need to Have?
The acronym BTU stands for British Thermal Unit. It denotes the unit of measurement for thermal energy in the English system of measurement. Although it's used in the US as well.
To find out the perfect heating capacity that a heater should have to provide a perfect level of warmth in your garage, you will need to perform some simple measurements. The heating appliance should have 10W of power to heat one square foot. 1W of power equals 3.41 BTU. This way, you are going to need 34.1 BTU for each square foot. For example, let's say you own a 240 square feet garage. This way, you will need a heater rated at 8200 BTU. Here is the formula:
1 square feet = 10 Watts = 34.1 BTU
| | | |
| --- | --- | --- |
| Garage Size | Watts | BTU |
| 300 sq ft | 3,000 W | 10,200 BTU |
| 450 sq ft | 4,500 W | 15,300 BTU |
| 650 sq ft | 6,500 W | 22,200 BTU |
| 800 sq ft | 8,000 W | 27,300 BTU |
| 1200 sq ft | 12,000 W | 50,000 BTU |
Which Garage Heater Is The Most Effective?
Some 120-volt garage heaters electric can boost the garage's temperature in a limited time; the others are designed for outdoor use and can heat poorly insulated spaces. Here are the pros and cons of the most popular types of electric heaters:
Infrared. Because infrared heaters only heat the area surrounding them, they aren't the ideal solution for heating the entire space. In fact, such heaters are focused on heating objects and people instead of simply emitting warm air. In this case, they require a long time to warm the space. However, since such heaters don't simply heat air, they are especially good for garages since they perform well in poorly insulated areas.
Fan. It works by blowing air across the heating element, creating warm airflow. Typically, fan heaters use a metal heating element. It's one of the most cost-effective and simple-to-use/install options. They are also very compact (as usual). Fan heaters belong to a convection type of heaters which means that they can retain heat in the room for a long time even after you turn them off (depending on the room's size and insulation, of course).
Ceramic. Such heaters use a heating element made of ceramic. To transfer heat, they can use either a fan or infrared method described above. Ceramic models can be considered the safest since they don't take heat from electrical resistance.
Convection. Heaters of this type work like a convection oven. They transfer heat by moving gas or liquid. And the temperature increased faster than in infrared models. Nevertheless, convection heaters take a long time to heat spaces with high ceilings since they start heating from below.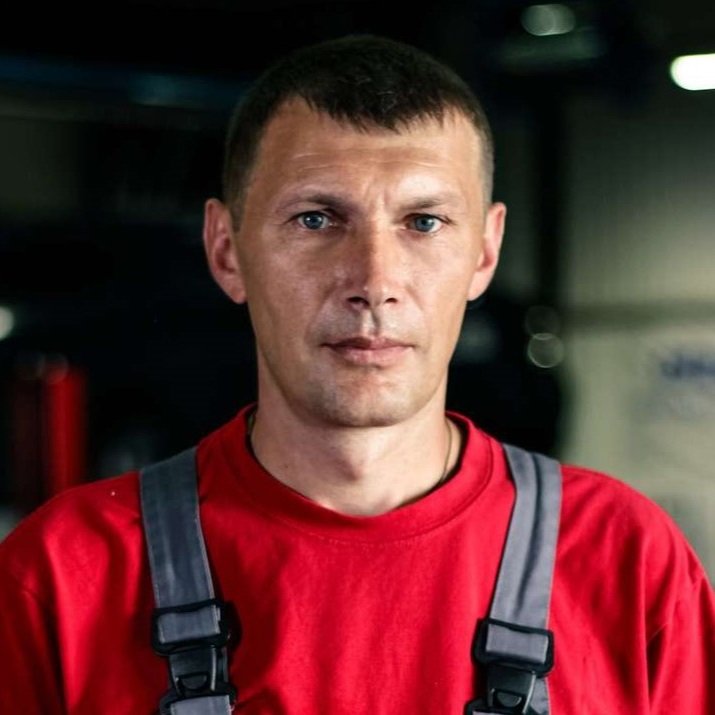 My name is Brandon, and I've been interested in cars since I was a kid. I got a bachelor's degree in Automotive Technology and worked in a private car workshop. I have two cars that have been completely upgraded with my own hands. So I successfully put all my knowledge into practice.
Last update on 2023-02-17 / Affiliate links / Images from Amazon Product Advertising API