We all know that sometimes cars need some help. I have tried many best lithium ion jump starters, some of them were quite expensive and large, while other were too weak. I was looking for a good device that is able to help me start up my automobile and I found it – JF.EGWO.

A simple device but it has so many functions that make it a perfect device for every driver. It doesn't matter where you go, you should have this device with you. It can help you start up your vehicle (even if it is a truck).
It does not have an LCD display, but it has a good mechanical gauge that is enough. The device has helped me when I was in a middle of nowhere at night. The device has 2 very powerful LED flashlights, so I could see anything I needed.
By the way. the flashlights has several modes. And that is not the best one about this jump starter. Another great thing about it is that it has an air compressor! It is quite powerful and it can be used to inflate your tires. It is a device that can help you in the most difficult situations. It is a compact device that you can take with you.
JF.EGWO – the device that can amaze you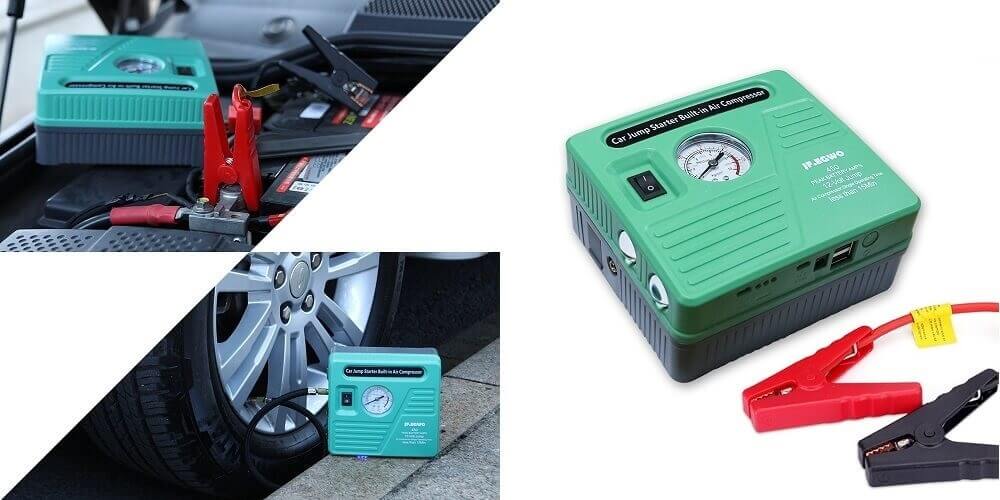 The product is with intelligent- detective function. When there is no work or finish charging for digital product, the product will automatically enter sleep mode to save power.
It is not a simple jump starter, but a super useful device that can save you.
Pros of JF.EGWO:
The 450 amps peak current. It can start up an up to a 6.0L gas engine or an up to 5.0L diesel engine.
The battery capacity is enough to start up engine up to 20 times without recharging.
The power bank is 13,000 mAh.
2 USB ports to charge devices like tablets, smartphones, laptops, etc.
The device is designed in accordance with the latest safety regulations. It uses technologies to prevent overheating, overcharging, short circuit, etc.
An air compressor. It is provided with 3 needles to fit any kind of connection.
2 LED flashlights with 3 working modes (SOS, Warning, Illumination).
The weight is 2.4 lbs.
The dimensions are 6.6×6.0x3.1 in.
Cons of JF.EGWO:
The power maybe not enough to start up an engine.
Some people may find the battery capacity low.
This is a compact device with many functions. It can be extremely useful.
Why do drivers need JF.EGWO?
A jump starter is a useful device that can start up your vehicle. JF.EGWO is a compact device but despite its small size, it has many functions. It will not take much place, but it can help you if you get in a trouble. Some people may claim that it does not have an LCD display and it is not that crucial, since its main function is to start up engines and it can do it flawlessly. I would like to recommend this device to every driver, especially if your car is not new.