If you are a driver and you are used to travel long distances, then you should be ready to deal with different kinds of problems. The same is true if your car is not a new one. The problem that I had to deal with was problem with starting up an engine. In that case, you need the best car jump starter and I found Bolt Power N02 1200.

It is a small device but it is powerful enough to start up even a truck! This is the device that every driver should have. This device can be used in dark areas as well, since it has a very powerful LED flashlight (it has three modes). I find it attractive as well. It has a very modern design. It has an LCD display that shows the charge level of the battery or the USB output amperage. Moreover, it can be used as a power bank. This is a perfect device that can help you a lot and you should consider buying it. Moreover, it is not that expensive.
Bolt Power N02 1200 — strong and weak sides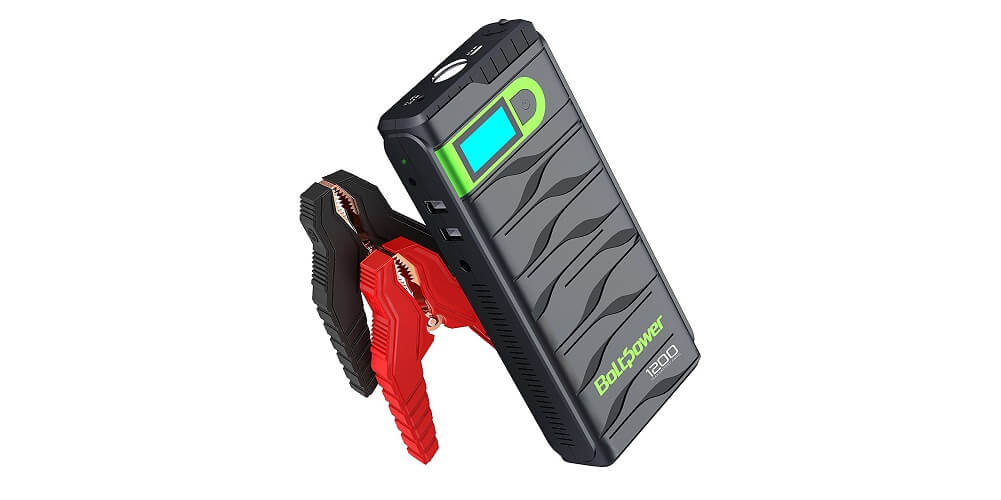 This modern jump starter has the functions that are especially crucial for drivers.
Pros of Bolt Power N02 1200:
The peak is 1200 amps. This device can start up cars, motorcycles, boats, etc. It can start up an up to 7.0L gas engine and an up to 5.5L diesel engine.
The clamps are super durable. They can be used in different weather conditions.
The device is designed in accordance with safety regulations. The clamps have circuit protection, so you will not be able to connect the clamps in a wrong way. It has also overheating, overloading, over-current and other protections.
Two USB ports can be used to charge devices that use USB to charge their batteries.
The weight is 1.3 pounds.
The dimensions are 7x3x1.4 in.
The voltage is 12 volts.
The wattage is 44.4 watts.
Cons of Bolt Power N02 1200:
No air compressor.
The clamp cords are quite short.
The device is provided with clamps, wall charger, a USB cable, a car charging cable, a cigarette lighter charger cable.
The reason why you need this device
This is a useful device that can help start up the engine of your vehicle, no matter if it is a small motorcycle or a heavy-duty truck. It has the most important functions only and it is very small and light, so it is highly mobile. Some people may claim that it does not have an air compressor or something like that, but it does what it has to – start up an engine. I would like to recommend this device, since it is extremely reliable. It is safe, light and ergonomic. It does not take much space, but it can be super useful, moreover, it can be used to charge different kinds of devices.